FORMER Melbourne football operations manager Chris Connolly has been banned from football for 11 months and former senior coach Dean Bailey suspended from coaching for 16 rounds as a result of the AFL's investigation into the club's on-field performance during the 2009 season.
The Demons have been fined $500,000.
After interviewing 58 current and former players, coaches, administrators and officials, the League found the Demons had not deliberately set out to lose matches.
However, it found both Connolly and Bailey "had acted in a manner which was prejudicial to the interests of the AFL".
Connolly will not be allowed to "occupy any office or perform any function (including attending matches or training sessions) for or on behalf of any club" until February 1, 2014, the AFL announced on Tuesday.
Bailey, now an assistant coach at Adelaide, will be forced to sit out the first 16 rounds of this season.
The price we have to pay: McLardy
A statement from the AFL said:
- There had not been a directive from the Melbourne Football Club board or executive management that the team should deliberately lose matches in any game during the 2009 season.
- Demons coaches and players did not set out to deliberately lose in any matches during the 2009 season.
- Connolly had made comments during a football department meeting concerning pre-game planning that were "prejudicial to the interests of the AFL".
- Bailey, in regard to Connolly's comments, had also acted in a manner prejudicial to the interests of the AFL.
Click here to read the AFL's full statement
The findings mean CEO Cameron Schwab has escaped sanction, and the club will, as expected, not face any draft penalties.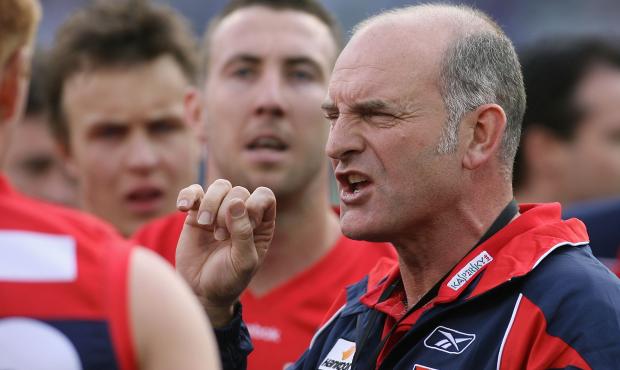 Dean Bailey in 2009 with key investigation instigator Brock McLean in the background. Photo: AFL Media
Former AFL football operations manager Adrian Anderson instigated the full-scale investigation into Melbourne's
2009 season in early August 2012 after former player Brock McLean inferred that winning games had not been the club's No.1 priority as it was more interested in qualifying for a priority draft selection.
Melbourne won just four games in 2009 and qualified for the extra pick.
From priority picks to claims of tanking, how it got to this
The rule has since been changed, with the AFL admitting the alteration was necessary to end the perception that clubs tanked.
On Tuesday morning, the wife of revered Melbourne AFL star and club president Jim Stynes defended him on Melbourne radio.
Stynes, who died almost a year ago, was club president in 2009, but his wife Sam said she didn't think the saga would tarnish his reputation.
The man who took the fall: Chris Connolly's 11-month ban
She said Stynes, who battled cancer, was gravely ill in 2009.
"He wasn't working 24/7 in the club, he did the odd thing when he was needed and he didn't know what was going on all the time," Sam Stynes told Fairfax radio.
"He was gravely ill; it's not like he had a cold, he was fighting for his life and he had other more important issues that he was focusing on."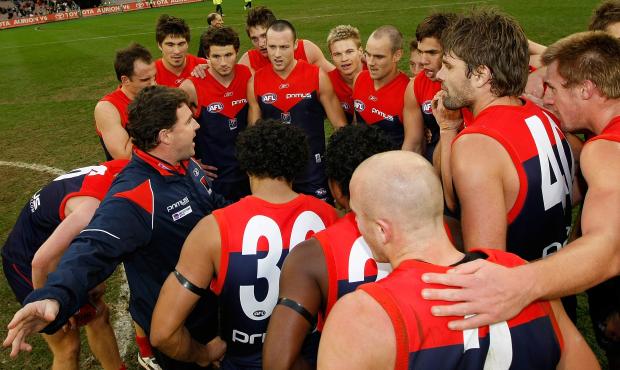 Chris Connolly addresses the players in 2008 Photo: AFL Media