JOSH Battle has barely put a foot wrong at St Kilda in his first 12 months, performing well enough to make a debut last season.
Off the field, the forward has also been building strong rapports, with girlfriend of five months Mia a healthy distraction from the all-encompassing nature of football.
When you begin a relationship, it helps if you a make a good impression on your partner's parents, and Mia's stepfather just happens to be former Carlton and Brisbane Lions' goal machine Brendan Fevola.
While Battle and 'Fev' get along famously, one occasion saw that solid bond put to the test in more ways than one.
"I went over there one night and Fev asked me what my strengths were," Battle told AFL.com.au.
"He said he was a better contested mark than me, so we decided to test that out at the park and have a few contests.
"The first few we went pretty easy but then we really started going at it.
"I got off to a pretty good start but ended up getting done in the end.
"We both know now he's the big dog."
Battle, who was taken with pick No.39 in the 2016 NAB AFL Draft, is lucky enough to have two greats of the goalsquare to bounce off as he looks to establish himself in the Saints' best 22, with recently-retired club legend Nick Riewoldt also a confidante.
While he vies with fellow marking targets Paddy McCartin, Josh Bruce and Tim Membrey for a forward spot, Battle often seeks advice from his mentor Riewoldt.
Remarkably, the apprentice had his first ever beer with his master at the club's 'Mad Monday' celebrations in August.
"'Rooey' has been great for my development, and he was good enough recently to catch up for a chat," Battle said.
"We discussed the season ahead, and he gave me some pointers on how to get the best out of myself.
"The high half-forward role is the position I'm eyeing off this year with Rooey gone but there are a lot of good players vying for that spot.
Brendan Fevola and Mia at the basketball in 2015. Picture: Getty Images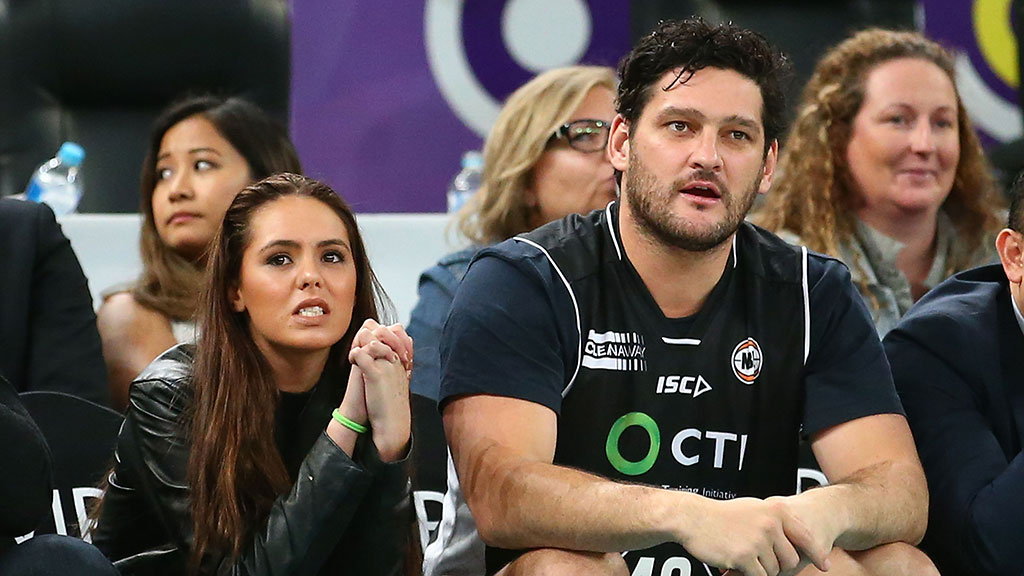 "He was a phenomenal player, one of the game's greats, so it was great playing with him, and hopefully I can use that to my advantage."
Getting a taste of senior footy in his debut year has been a massive driving force this pre-season, with 19-year-old keen to improve his already formidable aerobic base.
Standing 193cm, Battle is well aware his ability to run all day is an attribute he needs to exploit.
"Over the break I worked hard on my running because everyone talks about turning your strength into a weapon, so I've tried to improve it more, and this will help me blow defenders away," he said.
"And I want to improve my body work in the contest by getting a bit physically stronger, and get mentally tougher too."
Ben McGlynn lined-up alongside modern-day greats Lance Franklin and Jarryd Roughead in his playing days with Hawthorn and Sydney, and after 12 months at the Saints as an assistant coach, he's been impressed with what he's seen of Battle.
Fevola in action in the EJ Whitten Legends game in 2016. Picture: AFL Photos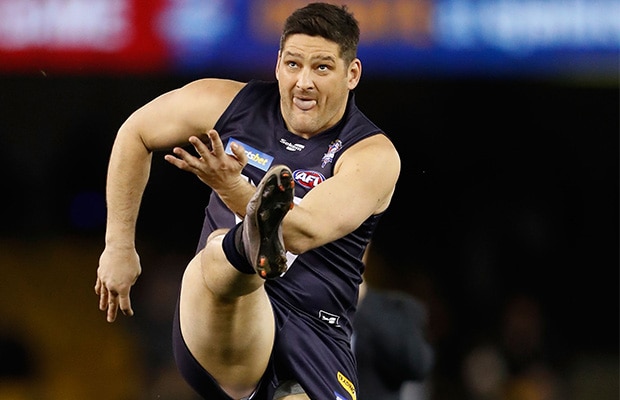 Whether it's the youngter's steady development as player, or the ability to complete his year 12 studies while juggling a professional football career, McGlynn has high hopes for the former Dandenong Stingrays.
"He really applied himself in both his schooling and footy, and handled himself really well in both areas," McGlynn told AFL.com.au.
"His strength is his running capability, and he'll play as that hybrid forward that gets up and down the ground for us.
"He's also a strong target deep forward, so he's definitely got a few attributes that suit our forward line."
With his time at Haileybury College a fond memory, Battle is now firmly committed to becoming a regular at the Saints in 2018.
"It's good to be back at the club after ticking off school, so I feel like a full-time player now," Battle said.
"The expectations on myself have lifted now being a second-year player, so being lucky enough to play one game last year, hopefully I get the chance to play more next season."
Mia and Fevola after Carlton's 2005 Wizard Cup triumph. Picture: AFL Photos