BRAYSHAW brothers Hamish and Andy will step into a rivalry that is "as ferocious as it gets" after joining West Coast and Fremantle respectively at Friday night's NAB AFL Draft.
Andrew Brayshaw, who was in contention for the No.1 pick this week before landing at the Dockers at No.2, was a sure thing to find an AFL home on Friday night, joining older brother and Melbourne midfielder Angus at the top level.
But Hamish had no guarantees after being overlooked last year and splitting his time between the Sandringham Dragons as an overage player and the Sandringham Zebras in the VFL in 2017.
When West Coast called out the tough midfielder's name at pick No.68, his mother Deborah and father Mark – a former Claremont and North Melbourne player – were overjoyed.
It will thrust the brothers immediately into the middle of the bitter West Australian rivalry between the Dockers and Eagles and leave the Brayshaws with three of their four sons in the AFL.
"I am just blown away and I am so happy for Hamish in particular," Mark Brayshaw told AFL.com.au.
"It is an extraordinary night for us. Both of us are from WA and it's just unreal to think they are both there … the rivalry over there is as ferocious as it gets.
"I watched Angus and Hamish play last year in the VFL and I felt like one of those chameleon lizards with an eye going each way.
"I can't imagine what I will be like if they're both playing in a Derby. It's another dimension."
Videos not available on mobile
Andy's bolt to No.2 has given him bragging rights as the highest picked player in his family – Angus was snared by the Demons with pick No.3 in 2014 and father Mark was recruited by North Melbourne with pick No.6 in 1989.
It was Hamish's fate he was most nervous about, however, with the 17-year-old midfielder hopeful his older brother wouldn't be overlooked again.
"Andrew said prior to tonight that it would make his night if Hamish's night was called out as well as his," mother Deborah said.
"I haven't seen Andrew since Hamish's name was called out, but he will be beside himself.
"He'll be so thrilled for his brother, because he knew how hard it was for him last year and what he had to go through."
(L-R) Hamish, Angus and Andrew Brayshaw are all in different jumpers now. Picture: Supplied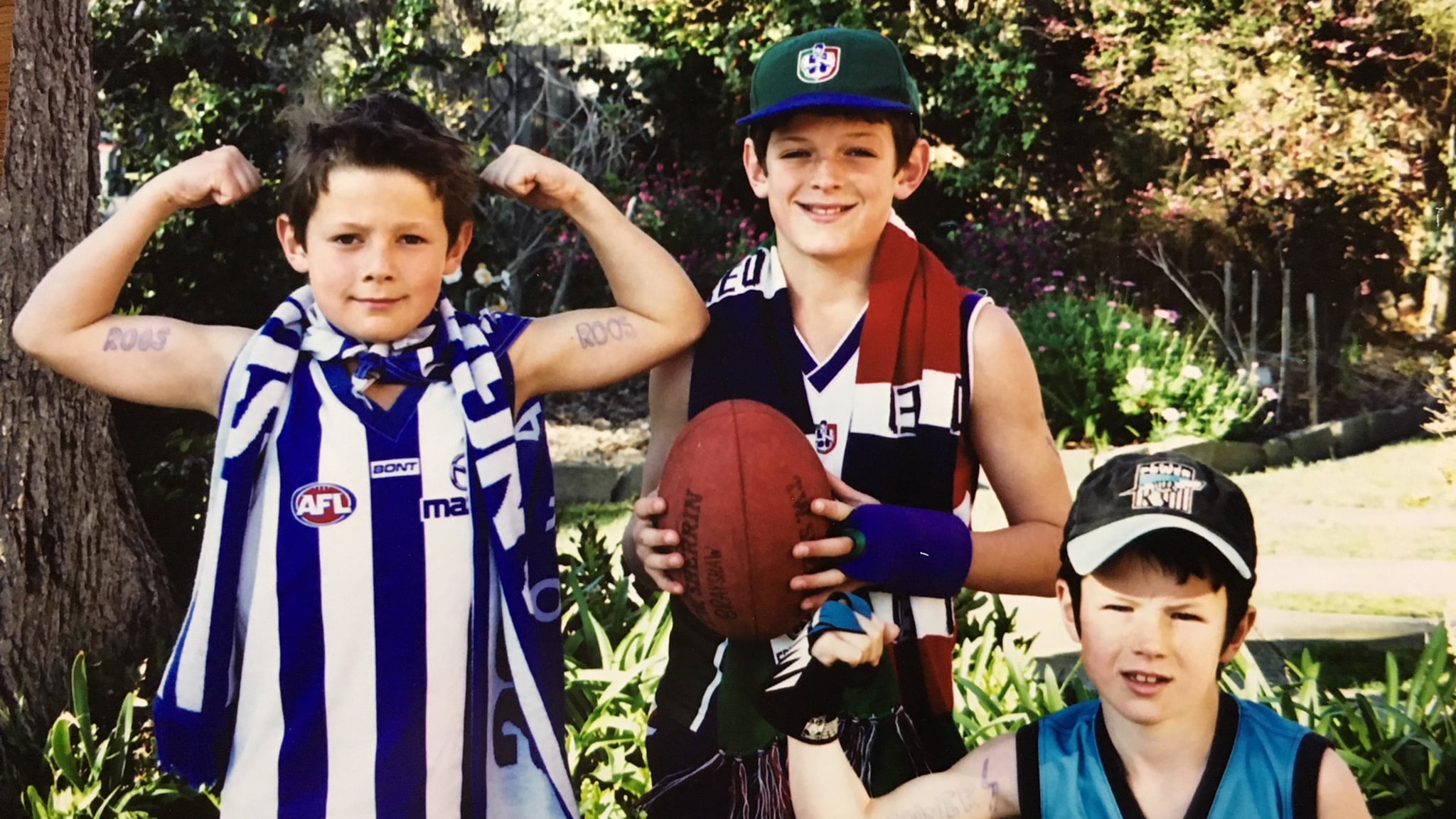 Both Mark and Deborah were born and bred in WA and have extensive family and a wide network of friends in the state to help the boys with their move. A two-week holiday for Christmas is already planned.
The parents, whose eldest son Will is an army lieutenant in Brisbane, have had their work cut out for them watching Angus start his AFL career, with a series of head knocks forcing him to take stints on the sidelines in the past two seasons.
Deborah even underwent hypnotherapy to help with the anxiety of watching her son play, but the 21-year-old's perseverance has made him a role model to his younger brothers.
"Angus was the most natural out of all of them and the other two just sort of came along behind him and grew into themselves," Deborah said.
"It was only sort of recently that both of them realised they had the potential having seen how Angus made it.
"It was great having Angus as their role model.
"I just keep pinching myself. Lucky I had that hypnotherapy last year, I think I might be going back for some more."
Read more
• Check out every pick made in the Draft Tracker
• Draft wrap: Lions reveal top pick, Freo's big call
• The verdict: we rate your club's draft haul
• The bolter they didn't see coming
• How did the guru go? Cal Twomey's Phantom Draft