COLLINGWOOD ruckman Brodie Grundy has been inducted into the AFL Fantasy Pig Pen, joining Dane Swan, Tom Rockliff and Tom Mitchell as an official Fantasy Pig.
The 25-year-old makes his way into the sty following his career-high 181 points against the Giants on Saturday.
Players awarded Pig status are Fantasy favourites for going above and beyond what is necessary. They stick their snout in the trough and feast on the Fantasy points. They can be greedy.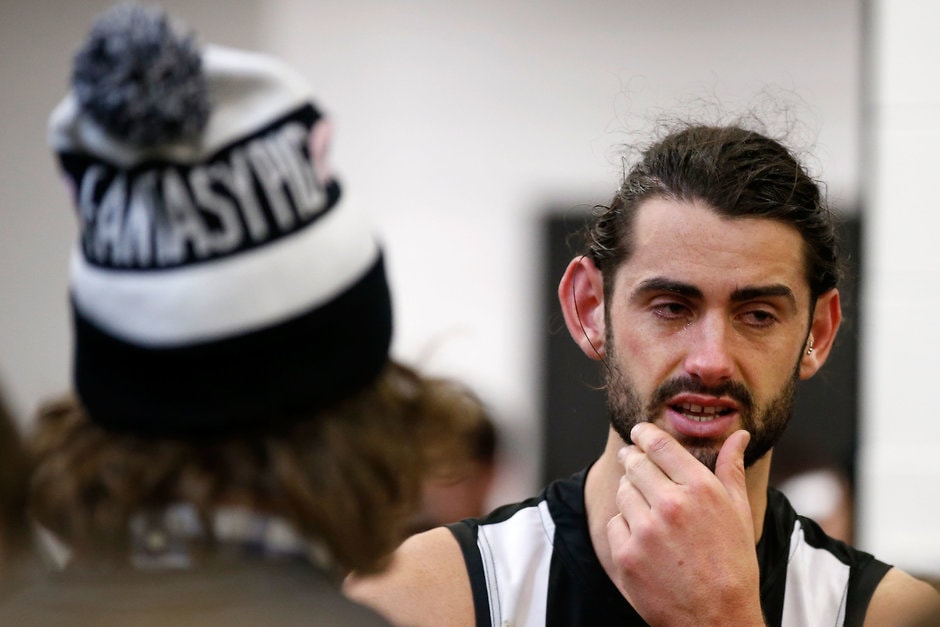 Grundy regularly takes the opportunity to rove his hitouts to get an extra disposal. To take his score over 180, the magic number all Pigs have achieved, Grundy kicked a goal from 65m out.
In 2015, Grundy's third season, he averaged a notable 91 points. Since then his output has gradually increased to average 101, 106 and 120 over the last three seasons. This year he is averaging 125 from 17 games to be the highest scoring player in the competition.
Listen to the AFL Fantasy Podcast with The Traders at Apple Podcasts, Spotify and Google Podcasts.
Fantasy coaches have seen a year-on-year improvement from Grundy. He finished the 2016 season averaging 114 after the bye. He took this form into 2017 and recorded 13 tons from his 20 games before pushing aside the Mason Cox effect to score triple figures in all but three games.
This year, Grundy is the most selected player in Fantasy Classic and was the most popular player to be taken with the No.1 pick in Draft.

Grundy's current season average has only been eclipsed by Swan once, Rockliff once and Mitchell twice and if he continues racking up these numbers, his two-year stretch will be better than any previous Pig snouted.
The most impressive stat to come out of this season is that Grundy has scored 149 or more in six matches.
The Ruck Pig can be relied upon as a captain option every week.
It's official! Put your Pigs out! Tweet @brodiegrundy a to congratulate the fourth Pig the pen alongside Swanny, Rocky and Tich. It's a special night for all. So proud #AFLFantasy pic.twitter.com/VvlIHAClAU

— Adam Roy Davey (@RoyDT) July 22, 2019
Comparing him to arguably the best Fantasy ruckman of all-time, Dean Cox, Grundy has equalled the big Eagle for 100-plus seasons in half the amount of time. Cox's highest season return was an average of 108 and finished his career averaging 88. Grundy currently averages 101 in his career.
Grundy has the opportunity to score highly again this week when the Magpies take on the Tigers on Friday night. Richmond has given up the most Fantasy points to ruckmen this year. Couple that with recent form and the snout, lock in the Ruck Pig as your captain for maximum points.
Congratulations, Brodie. The Fantasy community thanks you for your achievement so far and what is to come. Oink!
Get expert advice from The Traders throughout the season in the Fantasy Hub. Follow AFL Fantasy on Twitter and 'like' the Facebook page to join in the conversation.