WESTERN Bulldogs president Peter Gordon has urged people not to jump to conclusions about the Lachie Hunter betting drama, and believes both players involved could be cleared of wrongdoing by the AFL's investigation.
Gordon was backed by League CEO Gillon McLachlan, who said on Friday the AFL's investigation had so far uncovered "nothing more systemic or broader" than a "one-off transaction".
The 20-year-old informed Bulldogs officials of the incident at half-time on Saturday, immediately after becoming aware a bet had been placed on the match, from his betting account, by a Footscray VFL player.
That player is expected to appear at AFL House on Friday.
McLachlan urged people to let the facts play out before passing judgement on the players.
"The concept of something broader, more systemic, a plunge, or anything like that is actually not factually accurate based on the information we have at hand," he said.
"It involves an isolated one-off transaction that had a couple of legs to it … on the information we have, nothing more systemic or broader than that.
"It was actually self-reported to the integrity department before the game had even finished."
Gordon spoke in a pre-arranged interview on ABC Radio on Friday and said the investigation could easily clear both players after an "initial hysterical reaction" when the situation became public on Thursday night.
"I think the media ought to be careful not to jump to conclusions about this case," Gordon said.
"I'm not in a position to outline all the facts that I know because there's an AFL investigation going on, and because we'll conduct our own investigation but we've been asked to abide the AFL investigation before we do.
"Don't assume this is some kind of great bookie robbery type conspiracy type thing.
"This is young men having a bet on a Saturday afternoon and something erroneous may have occurred.
"You're making all sorts of assumptions about what might have gone wrong.
"Don't make those assumptions because it's entirely possible that when the facts are revealed … that it's nothing like the sort of initial hysterical reaction that came out yesterday."
Gordon added he believed every AFL club had players that engaged in "some form of betting", and didn't think it was an issue at Whitten Oval.
"There are a lot of our players who bet on horses and there are a lot of AFL players in every club – and in every sporting organisation. Betting is endemic to the culture," he said.
"I do not believe there is a particular problem with the Western Bulldogs and I certainly believe that our players understand the game rules and the betting rules for the AFL."
The Bulldogs players started arriving at training at 8am on Friday ahead of the morning session, which Hunter took part in away from the main group.
Captain Bob Murphy was tight-lipped on the situation as he arrived, other than to say the matter would be further discussed during the day.
"I'm just going to get into the club and probably have a couple of meetings I guess," Murphy said.
"I've known (about Hunter) for a few days."
Bulldogs president Peter Gordon has warned people not to pre-judge Lachie Hunter. Picture: AFL Media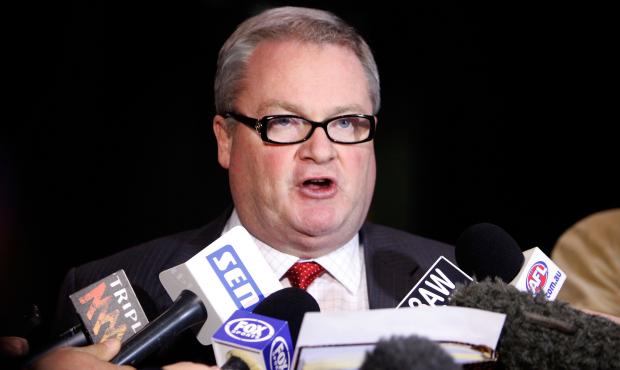 The club's head of football Graham Lowe has spoken to AFL integrity officer Brett Clothier.

The bet is believed to be a $10 multi-legged bet which also included soccer matches.
Late on Thursday, the Bulldogs released a statement confirming the investigation.
It can also be revealed Hunter did not participate in Saturday's match following a matter stemming from the club's opening NAB Challenge fixture against Richmond.
The club's new-look leadership group, headed by Murphy, stepped in to suspend Hunter for three matches after he arrived late for a recovery session.
It includes the club's opening home and away game against West Coast.
Hunter has not been named in the Bulldogs side for Saturday's NAB Challenge match against Collingwood.
The son of former Footscray player Mark, Lachie has played 23 matches, including 14 last season.
In 2011, Essendon assistant coach Dean Wallis was banned for 14 weeks over three bets he made on AFL games - one of them involving the Bombers.
Earlier that year, Collingwood defender Heath Shaw fell foul of the League's strict anti-gambling rules and was banned for eight games.
His captain Nick Maxwell was also fined after it emerged Shaw had bet on him kicking the first goal in a match.
Maxwell was fined after his family also placed bets on him.
Last month, it emerged that a former player was under police investigation for bets placed on last year's NAB AFL Rising Star Award.
- with Nathan Schmook and AAP