AT THE start of last season, Collingwood swingman Tyson Goldsack set himself the goal of becoming a recognised leader among his teammates.
He knew he wouldn't be included in the leadership group of 2014; his previous season had been hampered by a hip injury that kept him to 13 games.
So he made it a strong focus to make sure his peers considered him this season after responding to a challenge from Nathan Buckley to step up as the Magpies fought for a finals spot in August.
"I worked on it throughout the year and towards the later stage of last year I was sitting in most [leadership] meetings," Goldsack told AFL.com.au this week.
"It was a good feeling and I got a bit of a taste for it."
The Pies were light on for experienced players – and leaders - late last season.
Former captain Nick Maxwell retired mid-year, Dane Swan missed three games and Luke Ball was battling a calf problem at the same time.
It was around the time of the loss to West Coast in round 20 that Buckley called on the likes of Goldsack and Steele Sidebottom to take on more ownership of leadership roles as the Pies tried to solidify a top eight spot.
Goldsack, in his eighth season, had already started to show the necessary traits to hold down an official leadership title more frequently.
"I think the first port of call is consistency in performance," Buckley said.
"I think Tyson in the last 12 months, his ability to challenge and demand from his teammates was a real standout for us.
"I think Steele has developed in that regard as well.
"The other two big boys run their respective divisions really strongly and bring different things to the table and I think all four of them will support Pendles."
Goldsack, Sidebottom, Travis Cloke and Nathan Brown were named this week as joint vice-captains underneath Scott Pendlebury.
Goldsack, 27, doesn't think much will change with his personality or style despite the promotion to the group for the first time in his 124-game career.
But he is prepared to have the hard conversations with his peers when they're required.
"I don't think I'll be very different from anyone else, I'll just call it as I see it," he said.
"If something happens I'm not happy with, I'll be open and honest.
"It's my ninth year so I've got experience being around the club and I guess with such a young squad you kind of need that at times.
"I'll just call it as I see it and we'll just work together as five to get the best out of each other."
Tyson Goldsack has always wanted to be a leader at Collingwood. Picture: AFL Media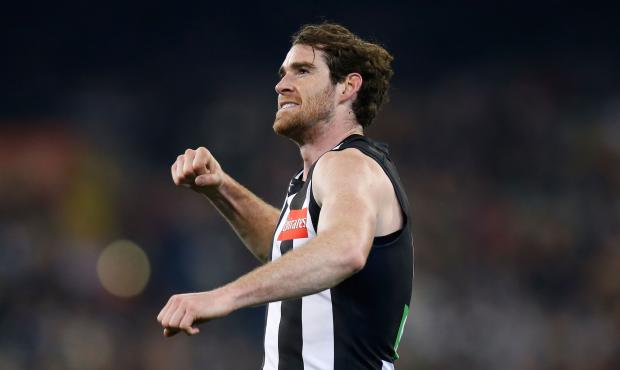 Goldsack started last season as a defensive forward and spent 73 per cent of his time in attack before round 12.
But as injuries started to mount, he was required in the backline and spent more time in the defensive half after round 13.
This season, with Lachlan Keeffe training as a forward and Ben Reid slated to play in defence if his body holds up, Goldsack is optimistic of a more settled position.
"We're focusing on that forward role again and I think that's where I can play my best footy," he said.
"All things aside and hopefully injury free, I'll be up forward I'd say but we haven't played any games yet and you don't really know until you play some games and you work out how the team's playing.
"But in training, it's been most of the time up forward."
Goldsack has recently been managing back soreness that he believes is caused by the general wear and tear associated with pre-season.
He's not expecting the "niggly" issue to stop him from playing in the Magpies' opening NAB Challenge match against Hawthorn on February 26 in Tasmania.
"It hasn't really held me back, it's just been a little concern to monitor as we go through," he said.
"I've done most of the training and I'm feeling good now, which is very timely coming into games. I should be cherry ripe."