PAPUA New Guinea is again the best men's team outside Australia after beating New Zealand by a point in a thrilling division one Grand Final of the AFL International Cup on Saturday afternoon at the MCG.
The Mosquitoes won bragging rights as the first team in AFL International Cup men's competition to win back-to-back titles in a war of attrition with Oceania neighbours, the Hawks.
The youngest player in the men's competition, Hewago 'Ace' Oea, kicked a crucial goal on the half-time siren and Clyde Palah kept Papua New Guinea in front when he won a loose ball and pumped it home in the third.
Oea – just 16 – was named best on ground with a comprehensive display, utilising lightning speed and tremendous ball skills.
"I am feeling proud for all the boys and our supporters here and back home," Oea said.
"I loved kicking that goal and celebrating. That is a moment I will remember forever.
"It was amazing to run out at the MCG for the first time. I'll be back in three years to make it three consecutive titles."
The Mosquitoes know how to play under pressure, having won the title in 2008 by eight points and 2011 by just three points.
Half the team, including captain John James Lavai, was playing in a second AFL International Cup Grand Final, with Amua Pirika kicking two goals to win an historic third title.
Papua New Guinea voices rang out across the MCG as the raggiana flag soared high in the stands, and players soaked up the triumph with supporters who were out in numbers as they have been for the fortnight-long carnival.
Barclay Miller hit the post from close range for New Zealand as the Hawks piled on pressure deep into the fourth quarter before Kataha Siwee had the opportunity to wrap up proceedings, but hit the post against the run of play.
New Zealand pushed hard at the death, but the Papua New Guinea defensive wall held tight.
"We're pretty heartbroken right now but we'll work hard and be back in three years," Miller said.
"I tried to stay calm in the build-up and kicking the goal early on helped to settle my nerves. There are some of my best mates in this team –it's been a special couple of weeks."
Both teams forged strong bonds during the tournament, but the Mosquitoes stayed relaxed, true to their game plan, as a tense final quarter unfolded. Broken play suited them and they retained ascendancy.
With a short spell of hail during pre-game team photos, Papua New Guinea's running game was under threat, but the Mosquitoes were happy to switch the footy around as the sun dried out the MCG.
"The standard continues to improve throughout the tournament," AFL CEO Gillon McLachlan said after handing over the trophy.
"I thought Papua New Guinea might rue the missed goal at the end but they stayed calm and got up again."

Papua New Guinea celebrates after the game. Picture: AFL Photos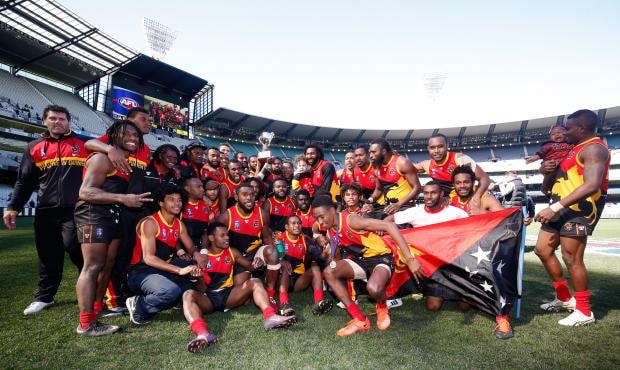 PAPUA NEW GUINEA 1.1 3.2 4.4 4.5 (29)
NEW ZEALAND 2.0 3.1 4.3 4.4 (28)
GOALS
Papua New Guinea: Pirika 2, Oea, Palah
New Zealand: Miller, McKenzie, Johnson, Donnell-Brown
BEST
Papua New Guinea: Oea, Pirika, Johnson, Lavai, So-Ong
New Zealand: Clark, Johnson, Clince, Miller, Baker-Thomas
Umpires: J. Cannon, M. McGinnis, N. Van Schote

New Zealand players celebrate a goal. Picture: AFL Photos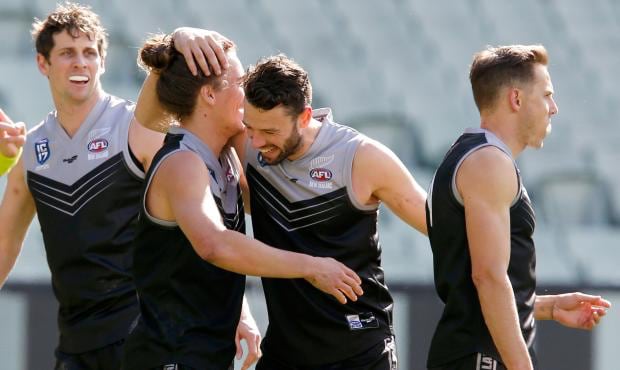 Players threw themselves into the contest. Picture: AFL Photos