LUKE Hodge's transformation from "unprofessional" to Hawthorn's most dedicated footballer is being hailed as a major pillar in his remarkable career.
The champion Hawk – a four-time premiership player, including three as captain, dual Norm Smith medallist and triple All Australian – announced his retirement on Monday, five days out from playing his 300th game against arch-rival Geelong at the MCG.
Hodge, 33, will play out the season before considering whether his immediate future is in the media, coaching or elsewhere.
His wife, Lauren, and their children, Cooper, Chase and Leo, and his Hawthorn teammates were among those on hand to hear his emotion-charged farewell, written off by the man himself as his usual nerves with public speaking.
Hodge's 16-year evolution from prodigiously talented Colac lad to father-of-three and elder club statesman was played out in fast-forward with laughs and more than a hint of respect.
The ultimate decision, Hodge said, was made in the past month and with the Hawks' best interests in mind, a sacrificial trend his coach Alastair Clarkson said the dux of the 2001 draft class demonstrated across his football journey.
"After the end of the season, I'll be hanging up the boots," Hodge told reporters.
"It's probably a decision we've been pretty clear on for a while … I think it's the best thing for the footy club and myself.
"I'm still loving football. I still really enjoy it. My body feels good, but … if I play on next year, I'll be taking the spot of a younger guy and, as a senior bloke, I'd never want to do that."
Luke Hodge and Alastair Clarkson share a laugh during the media conference. Picture: AFL Photos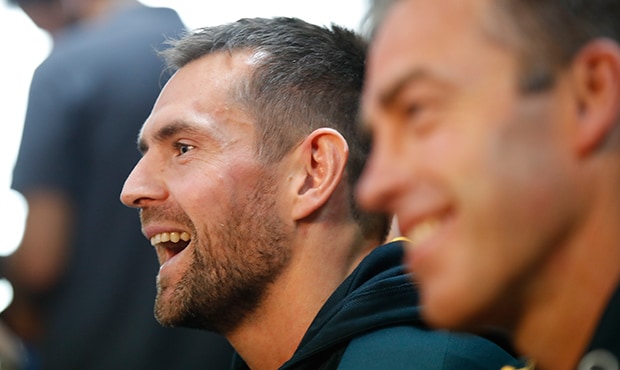 Clarkson dubbed Hodge a "once-in-a-generation" footballer, but pinpointed him missing a Monday training session after his 21st birthday celebrations in 2005 as the turning point.
That was the same year Hawthorn's elite performance manager Andrew Russell arrived at Waverley Park and described Hodge as "the most unprofessional person he's seen".
Hodge still recalls finding himself in Clarkson's office – along with renowned rebel Campbell Brown, who had also struck trouble that weekend – after those milestone antics.
Oh wow how he will be missed. What a great player to watch and cheer for. Thanks for giving us Hawks fans so many fun memories. #whatastar https://t.co/vEfm0uWhIP

— Tamsyn Lewis Manou (@tamsynlewis) July 10, 2017
What a star Luke Hodge is. Amazing career. Only beaten Hawthorn once in my career, he's a big reason why #AFLlegend

— Sam Jacobs (@samjacobs24) July 10, 2017
Been a star Hodgey, bit flat we might not get another chance to butt heads.. always bloody competitive but a lot of fun! @LHodge15 #welldone

— steve johnson (@Steviejohnson20) July 10, 2017
He copped a one-game club ban, but Clarkson said the frank discussion at the time was the moment Hodge realised he could be "something really special" if he committed himself.
"I think the journey since then has been first-class, and that's why he's got to 300 games," Clarkson said.
"Those people in the back of the room who see him every day; they would say he's put more time and effort into his body the last four or five years than any other player on our list.
"That's one thing Andrew Russell is enormously proud of; that he's been able to have the influence on him to enable him to have longevity and durability in his career.
"He's benefited from that, but so has our footy club enormously, because otherwise he might have got to 200 games and that might have been it."
WATCH: Career highlights of Hawks legend
Hodge drew much mirth from club staff and players as he thanked Mark McGrath, a "movement coach" who specialises in sports performance and rehabilitation.
McGrath's experimental style isn't for everyone, but he spent as many as three days a week with the Hawk in recent years as he sought every advantage possible. They would have been an odd couple back when Hodge was a teenager.
There were a few more hiccups – on field and off it, including a drink driving charge two years ago – but Hodge is not one for regrets. Instead, he saw each one as a chance to learn.
That was reflected in part, he said, in his leadership style developing from ranting and raving at player wrongdoings to being a more considered disciplinarian and better listener.
Hodge was Hawthorn's captain from 2011 to 2016, overseeing one of the greatest AFL teams of all time and being an integral playing member as they won a three-peat of flags between 2013 and 2015, to go with the one in 2008.
"There are certain things you'd like not to happen, but I'm a big believer if you make mistakes, you learn from your mistakes," he said.
"If you went through life and a career and haven't made many mistakes, I reckon it would be a pretty boring career or life."
Hodge will forever be attached to that famous 2001 draft, where he was taken No.1 ahead of fellow future stars and AFL premiership players Luke Ball and Chris Judd. Jimmy Bartel, Gary Ablett jnr, Steve Johnson, James Kelly, Dane Swan and Nick Dal Santo were other stars borne in that same draft.
Hodge's uncle remarked on Judd's retirement in 2015, a year after Ball did the same, how unlikely it was that the "fat, slow one" outlasted them both.
His professionalism early was questioned, but never his passion – something he said still remained as the clock started ticking on his illustrious career.
"The life lessons I've learned through a lot of people here at the footy club (were invaluable)," Hodge said.
"A lot of people have moved to other clubs and moved onto other jobs, but it's been something I've really enjoyed. Footy is a rollercoaster ride, but I tell you what, we've had some really good times here.
"We're probably lucky enough that every 10 years there will be four opportunities to come back as a group and celebrate what we've achieved as a footy club."
Ohhhh! The crowd roars in appreciation of a Luke Hodge cracker! #ohwhatafeeling #AFLGF http://t.co/wlesuI6BDj

— AFL (@AFL) October 3, 2015
Career highlights
No.1 overall pick, 2001 NAB AFL Draft
Games: 299
Goals: 192
Captain: 2011-2016
Premierships: 2008, 2013, 2014, 2015
Norm Smith Medal: 2008, 2014
All Australian team: 2005, 2008, 2010 (captain)
Peter Crimmins Medal: 2005, 2010
NAB AFL Rising Star nominee: 2002