SYDNEY this week celebrated the 20-year anniversary of Tony Lockett, its highest-profile recruit in club history, booting his record-breaking 1300th goal.
So it was somewhat fitting his successor of sorts, Lance Franklin, put on a vintage display in booting 5.4, while dishing off a couple of others, as the Swans pulled off a 45-point upset of reigning premier West Coast at the SCG.
'Buddy' was simply sublime.
FIVE-STAR PAPS, BRILLIANT BUD Full match coverage and stats
He's always been a man for the moment, going back to his third year when the then-Hawk slotted a difficult goal in the dying seconds of an elimination final against Adelaide to edge his team ahead.
Despite an impressive past month, overcoming the Eagles, who looked to have clicked their flag defence into gear after disposing of the Western Bulldogs last week, seemed a stretch too far.
However, when Franklin is on song, the Swans look so, so dangerous.
Franklin in full flight against the Eagles. Picture: AFL Photos/Getty Images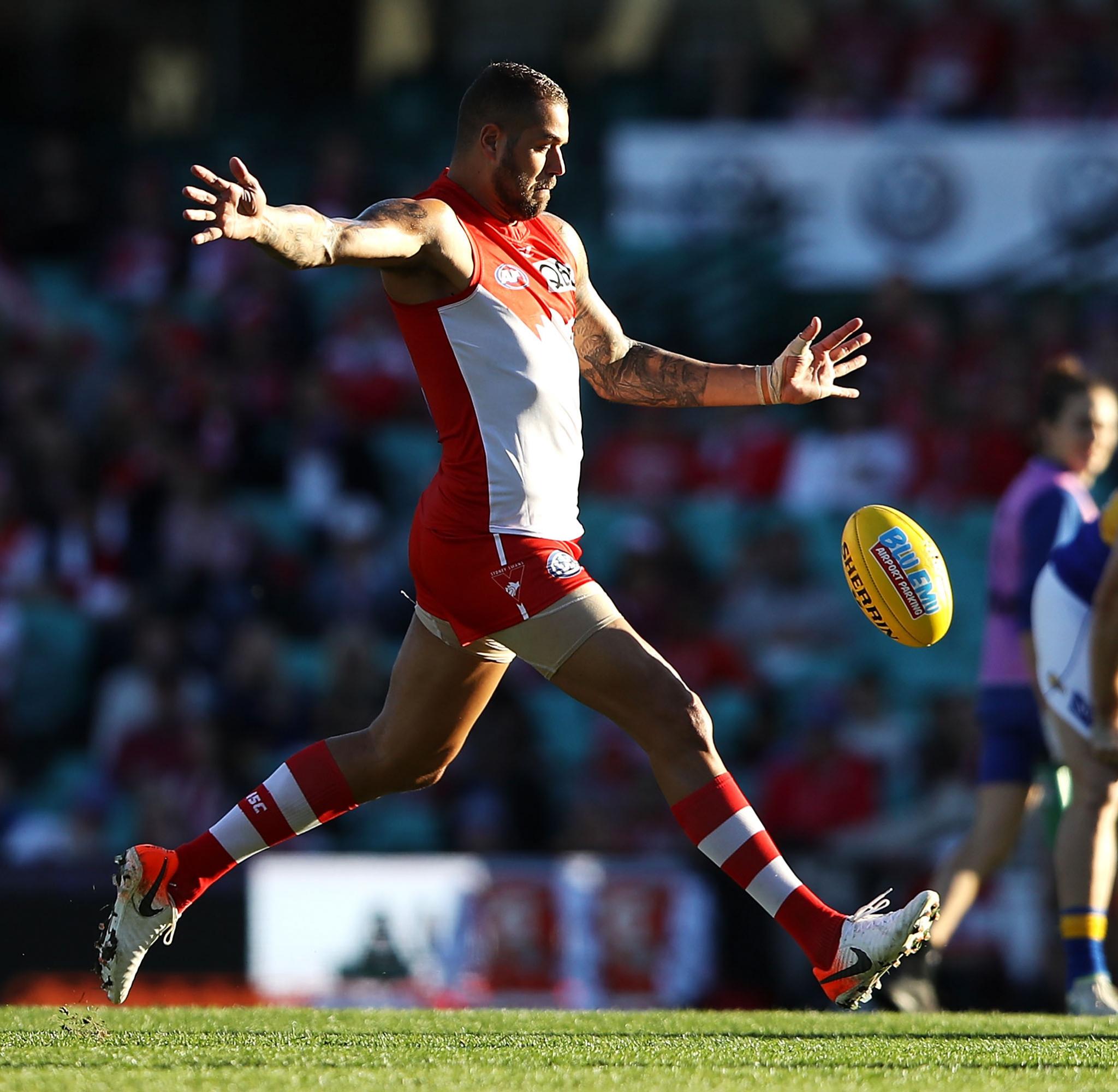 He can do things that should be impossible for a 199cm spearhead. Take, for example, his fourth goal.
Late in the third term, Daniel Menzel put it on a platter for the four-time Coleman medallist, who was running into attack.
That's one of the most fearsome sights in footy for any opposition, and it was particularly so for West Coast defender Tom Cole on this occasion.
Franklin celebrates a goal with teammate Sam Reid. Picture: AFL Photos/Getty Images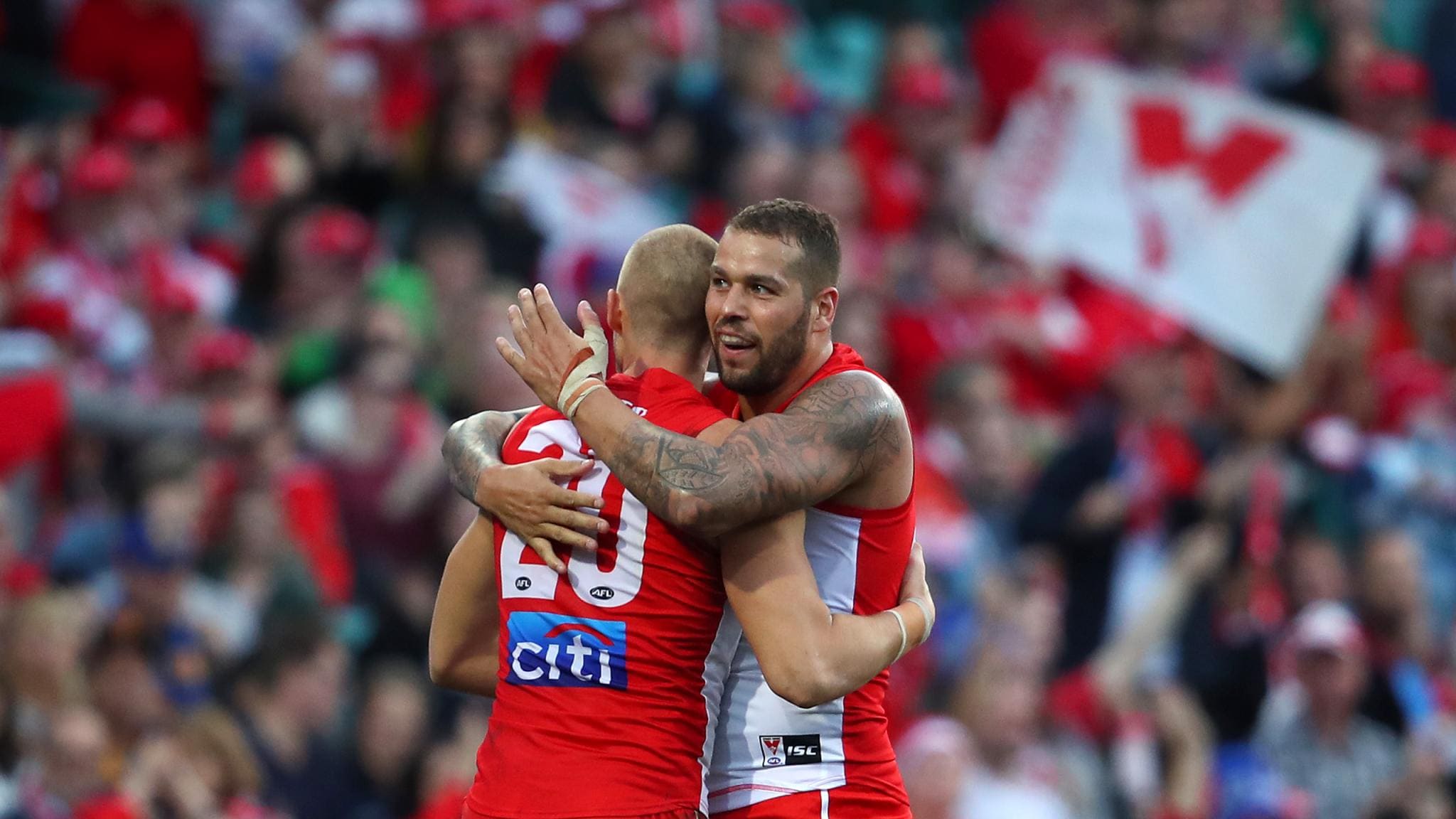 He tried to stop the rampaging Franklin, but needn't have bothered, because the backman was disposed of in a manner others might brush away an irritating fly.
A few steps to steady were all that were necessary before the eight-time All Australian speared it through.
That he's still doing this is extraordinary. Franklin is 32 and is two games away from his 300th. Nevertheless, the athleticism that has made him arguably the most watchable player of the modern era doesn't look like deserting him anytime soon.
More importantly for the Swans is how well the forward line meshed. For so long the critique has been Franklin was the sole target, overshadowing others around him who hadn't been able to flourish while in the midst of his presence.
Not on Sunday. Sam Reid booted three second-quarter goals to help set up victory, Tom Papley put on a clinic with five himself, along with 27 disposals, and Nick Blakey showed more of the glimpses indicating the Swans have yet another key forward who will end up being something special.
In scoring 18.8 (116), it was the first time since round 17 last season that Sydney cracked triple digits, when it did so against North Melbourne.
A jubilant Franklin and his teammates after one of his five goals against West Coast. Picture: AFL Photos/Getty Images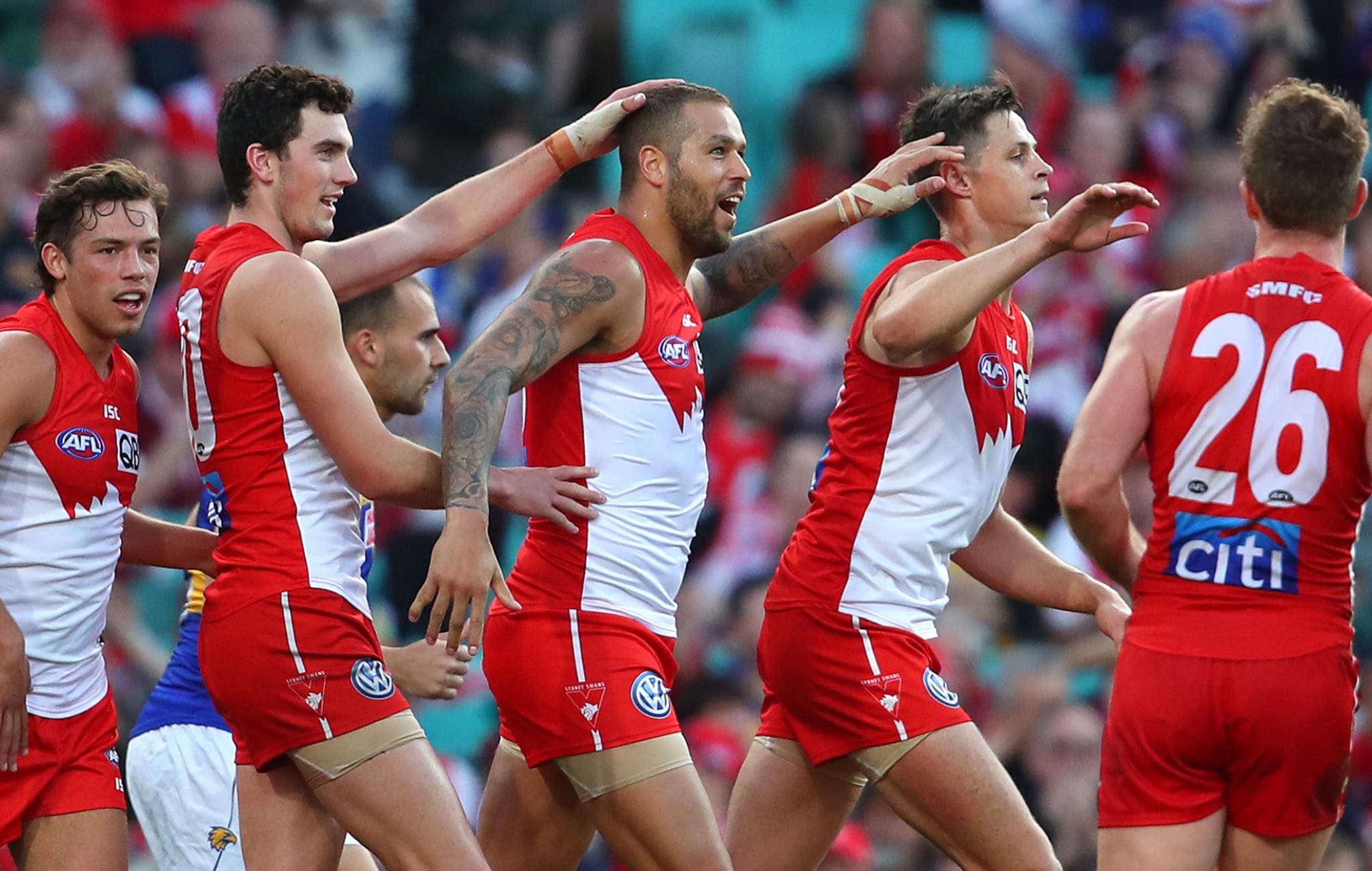 That's the analysis, though. What Franklin has done for so long is remind everyone that football is fun, and he did so again after the final siren.
The recipient of a free kick, pressed up against the boundary on the tightest of angles from just inside the 50m arc, every pair of eyes inside the stadium was trained intently upon this brilliant forward who has wowed audiences for almost 15 years.
Was there every any doubt it was going through?
The cherry on top for Buddy and the Swans!#AFLSwansEagles pic.twitter.com/JuuFLVm37U

— AFL (@AFL) June 9, 2019
Coaches will always talk about how they want to see the goals shared around, but even John Longmire and his assistants allowed themselves to be caught up in the moment as they enjoyed the show.
Sydney's coaches box loved Buddy's goal after the siren!#AFLSwansEagles pic.twitter.com/IYvKR5bFoc

— AFL (@AFL) June 9, 2019
Find In the Game on Apple Podcasts, Google Podcasts or Spotify