CAMPBELL Brown has conceded his AFL career is over after being sacked by Gold Coast on Wednesday, but has denied he has an anger problem.
Brown's contract, which was due to expire at the end of 2014, was terminated after he broke the jaw of teammate Steven May during an altercation outside a Los Angeles bar last week. 
The Suns reached their decision following a week-long investigation that included interviews with Brown, May and a number of players and staff.
The announcement was made by Gold Coast CEO Travis Auld at a media conference on Wednesday afternoon, which was also fronted by Brown himself.
"I'm really disappointed," Brown said. 
"It's not the way that any player wants to finish his career, but I think the process the club went through was thorough and very fair. 
"I take full responsibility for my actions on the night. 
"Actions have consequences, and clearly it has finished my career early."
Brown vowed not to change approach ahead of 2013 season
However, despite a history of on and off-field incidents, Brown said he did not have an anger issue.
"I'm the type of guy that has given everything I've got for two footy clubs," he said. 
"I've left nothing in the tank. 
"I trained as hard as I could and tried to play as hard as I could. 
"I've crossed the line a few times, but I think I can walk away from the game with my head held high.
"I don't think I have a problem."
May had surgery on Saturday, requiring two plates in his left jaw to repair the fracture.
Brown said the pair had apologised to each other and would remain friends.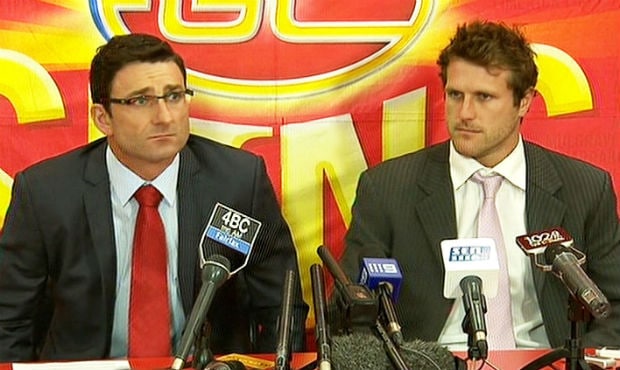 Suns CEO Travis Auld and Brown at Wednesday's press conference. Picture: AFL Media
In reflecting on his career, the 205-game defender, who was an All Australian in 2007 and a member of Hawthorn's 2008 premiership team before crossing to the Suns ahead of their inaugural season in 2011, said had given all he had.
"I'm pretty proud of what I've achieved with what I see as fairly minimal ability," Brown said.
Last act: Brown suspended for boot to Demon's face
The 30-year-old said he was unsure what he would do next year, but he would not play football at a lower level.
Auld said it was important to recognise that Brown had not "king hit" May.
May is still at home recovering from surgery, and Auld said the club would speak to him upon his return to the club, leaving the door open for sanctions for his part in the incident.
Auld said the Suns had "no choice" but to part ways with Brown, but said the former Hawk would leave with the respect of the club, having taken responsibility and apologised for his actions.
The Gold Coast CEO said he was confident the incident would not distract the young playing group from its preparations for 2014.
AFL Players' Association player relations manager Ian Prendergast said the organisation understood the basis for the decision. 
"The AFL Players' Association respects and supports the process the club has gone through in its investigation of the matter and we will continue to provide ongoing support for both players."
Cheers every1 for ur words, kind or not. That passion is what make our game great. Loved every minute of the last 12 yrs with hawks and suns

— Campbell brown (@Browndogg_30x) December 5, 2013
THE CAMPBELL BROWN RAP SHEET
AFL Tribunal record
Charges: 14
Guilty: 13
Matches suspended: 29
Fines: $6,400
Suspensions
One week for striking Brett Montgomery (Port), R3, 2004
Four weeks for striking Jason Winderlich (Ess), R11, 2004
Four weeks for striking Matthew Lloyd (Ess), R20, 2005
Two weeks for striking Lynden Dunn (Melb), NAB Cup 2007
Two weeks for charging Matthew Kreuzer (Carl), NAB Cup 2008
Two weeks for striking Nick Dal Santo (StK), R17, 2010
Two weeks for forceful front-on contact on Barry Hall (WB), R3, 2011
Two weeks for striking Callan Ward (WB), R3, 2011
Six weeks for forceful front-on contact on Aidan Riley (Adel), R23, 2012
Four weeks for unnecessary contact to the face of James Strauss (Melb), R20, 2013
Off-field issues
2005: Dropped for one week by Hawthorn coach Alastair Clarkson as punishment for breaking a convenience store window after Luke Hodge's 21st birthday party.
2007: Fined $15,000 for giving misleading evidence to the AFL Tribunal in a bid to help Chris Judd escape a misconduct charge.
2009: Described Essendon spearhead Matthew Lloyd as, "One of the biggest snipers in the game" and promised retribution after Lloyd charged into Brad Sewell, fracturing the midfielder's jaw.
2011: Stripped of leadership position at the Suns after being detained by police in Thailand following an altercation during an end-of-season trip. He was released without charge.
2013: Sacked after fracturing the jaw of teammate Steven May in an altercation in Los Angeles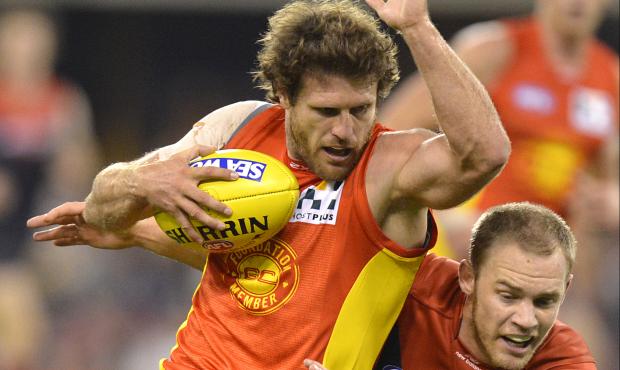 Brown attracts the attention of Melbourne's Dean Terlich in what was his last game. Picture: AFL Media