IT WAS a busy and long season for Noah Anderson.
Across his 2018 campaign, the 17-year-old played with school side Carey Grammar and featured in Vic Metro's under-18 carnival.
He was a key member of the Oakleigh Chargers side that reached the TAC Cup Grand Final, and then took to the MCG on AFL Grand Final day to play in the NAB All Stars clash.
Anderson, who looms as a top-10 draft pick next season, contemplated giving himself a break after his jam-packed end to the year. But that tends not to be his style.
"I get bored if I'm not doing anything," he told AFL.com.au this week, saying he had kept up his running program only days after his final game of this year.
NAB AFL DRAFT HUB Latest news, video and more
"I took it back a bit with my intensity, so it was only three runs a week just ticking the legs over. I think of it like when others are resting, where is the opportunity to get better?"
Things haven't slowed down since then, and won't next year.
As part of his involvement with the NAB AFL Academy he spent last week training at Melbourne, and this week has been with Vic Metro in Ballarat, where the squad for next year's under-18 championships has taken part in a training camp.
Anderson will enter 2019 as one of the most talked about players given his performances already.
The robust 189cm midfielder has proven himself as a ball-winner and elite endurance runner, and he can also push forward, which he showed for Vic Metro last season with a four-goal game against Western Australia in the opening round.
His form continued for Oakleigh's finals series, capped with a two-goal effort in the Grand Final defeat, before he starred with another two goals from 15 disposals in the All Stars clash.
"I don't want to be satisfied with the bottom-age year. I want to use that as an advantage to keep getting better," he said.
I don't know any specifically, but I feel like kids could get in that trap of feeling comfortable and not realising that everyone else is getting better as well, so you've got to keep going.
His stint at the Demons saw him mix with co-captain Jack Viney and midfielders Angus Brayshaw and Billy Stretch, and taught him the importance of the simple things: not fumbling the ball at ground level, being composed with your kicking and running through to the cones.
"I thought it showed no matter what level you're at, it's always the fundamentals that hold up. And if they were training them then there's absolutely no reason why we shouldn't be training them as well," he said.
That has been a focus this week, with Anderson one of the leaders during Metro's week-long training camp. The group has had two main training sessions, with another set for Friday, but has also interspersed its football program with cultural experiences, including time at the Salvation Army and a trip to Halls Gap on Thursday.
Noah Anderson with Vic Metro assistant coach Travis Cloke. Picture: AFL Photos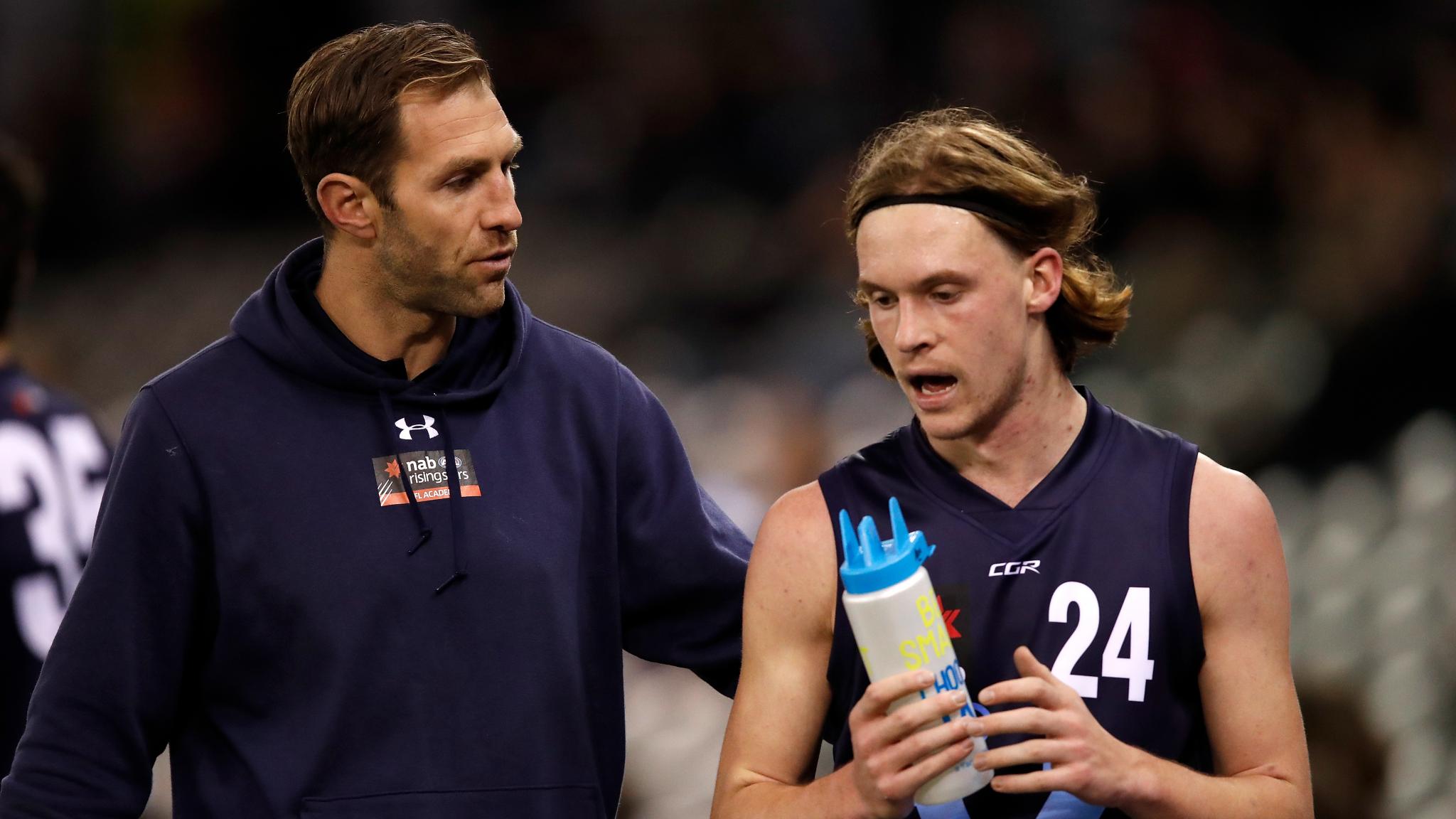 North Melbourne champion and games record-holder Brent Harvey and Collingwood premiership forward Travis Cloke are also working at assistant coaches with the group.
Anderson also has a strong footy mentor at home, with his father Dean playing 83 games with Hawthorn (including in its 1989 and 1991 premierships) and 67 games at the Saints, where he is now a board member.
It means Noah, who barracks for Richmond, is unable to join either club under the father-son rule next year, putting him on the open market for clubs.
The second premiership was a recent surprise to Anderson's little brother Luca, who is two years' Noah's junior.
"A family friend sent through a highlights package of dad and I watched it. He's a better player than I thought he was. My younger brother only realised two weeks ago that he played in two Grand Finals, not one," he said.
"Dad brings up his career a little bit just to have a laugh about it."