TWO YEARS ago, when Billy Stretch was searching for a place to do his week of year 10 work experience, he was encouraged to find somewhere that would give him an insight into his dream job.    
He thought about it for a bit but had a clear idea: give the Melbourne Football Club a try, where his father Steven played 164 games from 1986-93, and the team Billy had always barracked for and wanted to join.
Then living in Adelaide, where his family moved when Billy was five, he travelled to Victoria and stayed with Demons list manager Todd Viney and his family, including son Jack, who was then already at the Demons having committed as a father-son selection.
Stretch, who helped out mostly in administration, remembers wanting to be in Jack's position, of playing for the same club as his father, and the team he supported.
This year, things could go that way, given Stretch's eligibility to be a father-son pick for the Demons. They have kept a keen eye on his development and will make a call on whether they nominate him later in the year.
Stretch knows he still has to prove himself and throughout his under-18 season he wants to show every club – not just the Demons – that he is good enough to be picked at November's draft.
"It's something a bit out of my control. Obviously I'd love to play for Melbourne but there's still so much to go yet and I'm just trying to keep the enjoyment up in my footy," Stretch told
AFL.com.au
in London on the AIS-AFL Academy's European tour.
"Whether it happens or not, we'll just have to wait and see.
"I think they just want to keep seeing how I progress through the year. The [Demons] have been really good and I think they just want to take a step back and see how I go and go from there.
"Nothing too formal has been said or spoken about with them."
Having experienced the football club behind the scenes, Stretch got a proper taste of things in January, when he trained with the Demons for a week as part of the Academy program.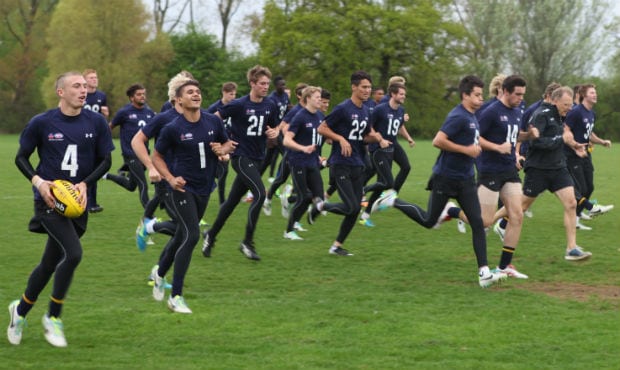 The AIS-AFL Academy training at Harrow School in London. Picture: Callum Twomey
That too was an eye-opener. He was again partnered with Viney, who took him into the club every day and did some extra sessions with him before driving him home.
"We were training out at Casey Fields that week so there was a fair bit of travelling. I just stuck with Jack," he said.
"He was actually injured at the time but he stayed behind after training and did an extra touch or swim session. It was great to see the way he goes about it at home and at the club."
Stretch was a member of South Australia's under-18 squad last year, and although he didn't break through for a game in the division one winning team, he gained much from training three times a week with the best players in the state.
At 179cm Stretch isn't big, but he played first three trial games of Glenelg's season in the SANFL senior team, and probably would have kept his spot for round one if not for the Academy's overseas tour.
His best spot is on the wing, where he can use his hard running, but he also adds some zip around half-forward. At Glenelg, he has already picked the brains of new teammate and former Bomber and Richmond midfielder Sam Lonergan, who has joined the club this season.
"We go through scenarios, sit down and talk about things, look at some GPS data and see how I can improve my running efficiency," he said.
The Academy's Europe tour is Stretch's first time overseas, and he wants to take it all in. So far the boys have trained at the prestigious Harrow School in Wembley, and on Saturday they will play the European Legion side.
"I probably don't realise how good we have it … I'm trying to learn as much I can," he said.
Twitter: @AFL_CalTwomey