AARON Naughton pointed to a spot about 10 metres away, turned Jake Lloyd inside-out, ran to the area he nominated and plucked the Sherrin from the air.
The Bulldog's first goal followed seconds later, 22 minutes into the opening quarter. His performance accelerated from there.
He also hauled in a Billy Gowers misfire before quarter-time, then his extensive bag of tricks came out in the second term.

HAMMER TIME Full match details and stats
Naughton stalked the football outside of the 50m arc, instantly spun around after gathering it and made the quick decision to pass to Marcus Bontempelli inside 50.
Not long after, the 19-year-old – the No.9 pick in the 2017 draft and a NAB AFL Rising Star nominee last year – marked again and nailed his second goal.
One of Saturday night's storylines was locked in, owing as much to what Naughton was doing as how he was doing it.
His coach, Luke Beveridge, made a pre-season commitment to seeing if the one-time defender could be the answer to this club's long search for a spearhead.
It followed a campaign where Billy Gowers, a Carlton reject given a second chance at the Kennel, led the Western Bulldogs' goalkicking with 26, from Bontempelli (22) and Mitch Wallis (20).
Only three clubs scored fewer points in 2018.
"We've got to find a way to score," Beveridge told SEN radio.
"In the four years that I've coached (the Dogs), we haven't been able to piece together any uniformity for various reasons."
MATCH REPORT Dogs stave off late Swans fightback
The decision to thrust Naughton into attack raised some external alarms, including references to the cautionary tale of young Blue Jacob Weitering.
Weitering, like Naughton a star junior backman, lost form so badly last year after being sent into an unfamiliar forward post that he went back to the VFL for a period.
So why risk stunting a talented kid's progress after a promising debut season?
Beveridge flirted with using Naughton as a target last year, and the Melbourne-born West Australian's eye-catching overhead marking against North Melbourne stuck with the coach.
Aaron Naughton lays a strong tackle on Sydney's Lewis Melican. Picture: AFL Photos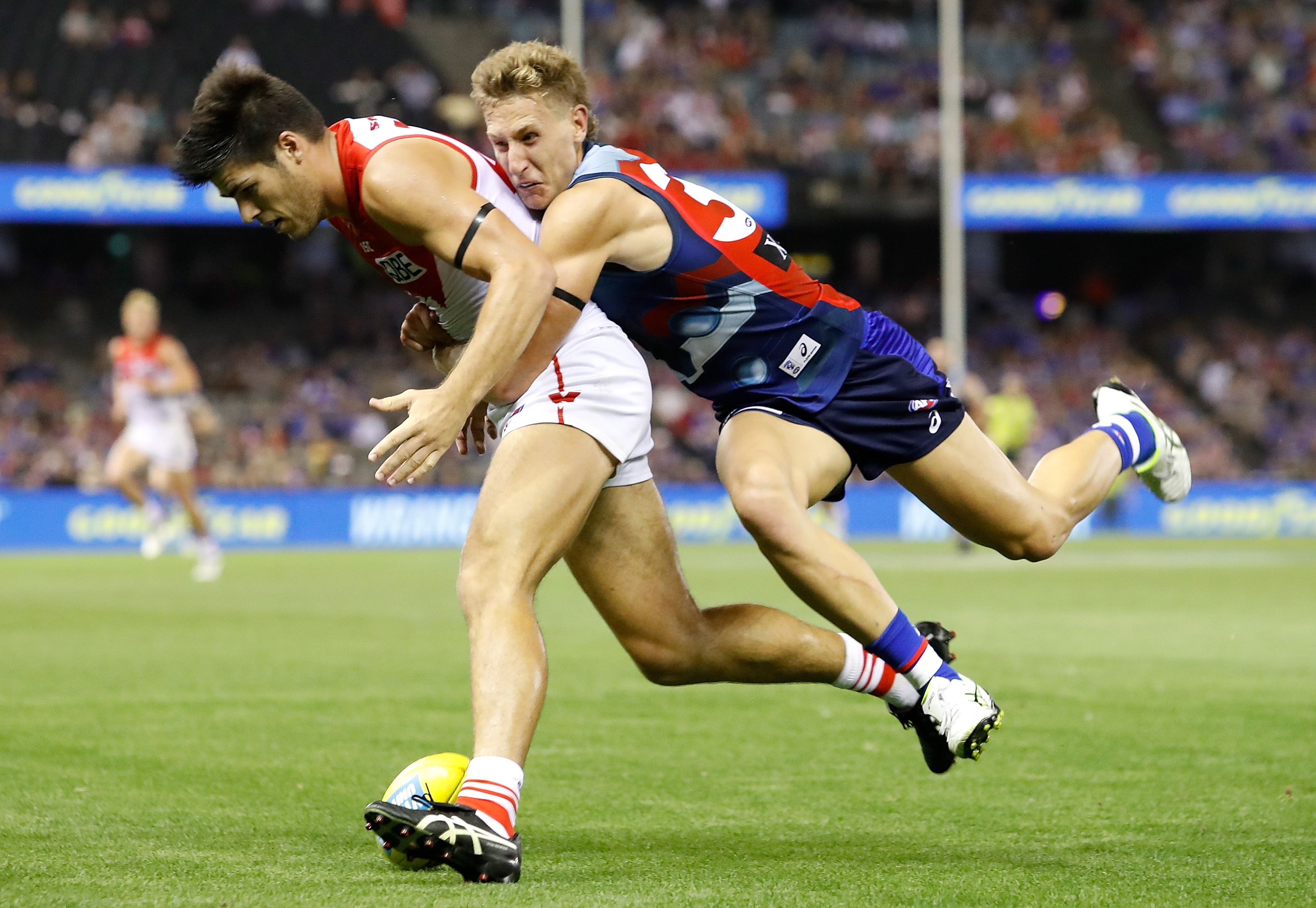 The late switch didn't bother the player himself, who has embraced the responsibility thrust upon him to lead the forward division in just his second season.
"I'm confident in my body and the work I've done in pre-season that I'm not going to be pushed around and I'm confident I've got the tank to run out the game," Naughton told AFL.com.au.
"I want a little bit of the pressure and for 'Bevo' to come to me before JLT2 and say, 'We want you down forward and creating a presence' (was a good feeling).
"He knows what I'm capable of and I think it showed tonight I'm more than capable down there, but him giving me the belief I can play down there was a big deal."
Swan Lewis Melican figured out quickly he was going to have a difficult time of it against Naughton on Saturday night.
He scored a reprieve when Beveridge sat Naughton on the bench for about 10 minutes in the second quarter, after he had already dragged in four of the Dogs' nine marks inside 50 to that point.
Almost immediately on returning, Naughton chased down the loose ball with sheer work ethic and won a free kick.
'ALL ABOUT THE FUTURE' Beveridge praises new-look Dogs
It's the sort of stuff his coaches must love, elevating the marking to just the cherry on top.
What Naughton also achieved, admittedly off a small sample, was to make his team's forward line dangerous.
Gowers nabbed three marks inside 50 to the main break, sharpshooter Tory Dickson had two and Bontempelli had another.
Ten in total for the Bulldogs, who averaged only 11 for an entire match last year. They finished with 14.
Naughton outmarked his new opponent Aliir Aliir to earn a set shot in the third quarter, then forced Melican into conceding another free kick with a leap that resulted in his third goal.
Then came the twist.
With Sydney charging and threatening to spoil a great night for the Dogs, Beveridge employed him in the same role he filled in the corresponding clash with the Swans last year.
Lance Franklin was finally breaking loose of Easton Wood, so Naughton reverted to the backline with a particular focus on limiting Buddy's potential damage.
He wasn't greatly needed, with the Western Bulldogs responding late to hold off the Swans, but he's a difference-maker – forward or back – despite his tender years.
Where do the Doggies need him most? Beveridge might just be onto something.