LUKE McDonald twisted, turned and immediately felt a twinge.

Until round 15 last year, McDonald's debut AFL season with North Melbourne had gone exactly to plan, if not better.

He had played every game, found his spot across half-back, and was headed to the finals with the club he had always adored.

But in the wet against the Brisbane Lions at the Gabba, McDonald gathered the ball and changed direction. His shift was too dramatic for a body already under duress and dealing with the demands of being a first-year footballer.

He pulled up sore the following day – well, sorer than usual – felt tight, had some back spasms and found he had flared up a pars stress fracture in his back.

Though a common condition among young athletes, where some joints are placed under extra pressure in the lower back during exercise, it wasn't ideal for McDonald.

From that point on, the tough and attacking left-footer barely trained during the week between matches, instead resting his body for the games.

"It was just a bit of stress on the area, but I had to manage my loads more," McDonald told AFL.com.au.
"We only really had the one main skills session each week so I'd just do my own program and chime in at the end.

"When I went out there during a game, there were so many other things on my mind that I didn't even think about my back. It would have been nice if it didn't happen, but I wouldn't say it affected me too much."

Grima out for at least three months

Even still, his back injury bordered on a fracture. But not even that could stop McDonald from throwing himself into packs of bigger and stronger players with the ball in the air; it couldn't prevent him from chasing, tackling and then running off to create.

The only time the lack of training had an impact was at the beginning of games, when he was naturally already a little nervous.

"When you don't train every session, you are a little rusty in games early on, especially as it was my first year," he said.
"You don't have that same confidence when you're not doing everything."

Not that it seemed to matter too much for McDonald, who was close to the best first-year player in the competition in 2015.

The father-son recruit played 23 games, including all three of the club's finals as they made the preliminary final, and finished third in the NAB AFL Rising Star Award.

Training at the club throughout his draft year in 2013, and playing with its VFL affiliate Werribee, meant McDonald entered his draft year with greater expectations on himself. He was "hell-bent" on playing round one, and after doing that was desperate to hold his spot.

With that secured, he found more and more enjoyment in the team's success.
"I couldn't have asked for much more than to play in those finals," he said.
Luke McDonald celebrates with Jack Ziebell after last year's semi-final win over the Cats. Picture: AFL Media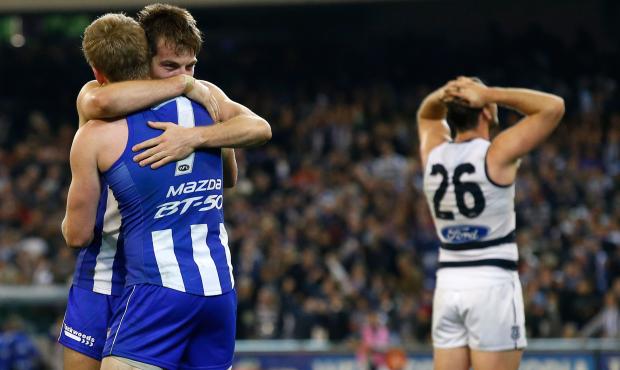 The challenge for McDonald, and the Roos, is now to back it up. The 20-year-old was instructed to ease up during the off-season and give his back a chance to rest and recover, so wasn't able to do as much preparation for summer training.

It meant he started his program a little slower than he had hoped, but after a family trip to Hawaii over Christmas, McDonald has come back in strong condition, running better times and feeling he can back up training day after day.

He's added six kilograms to his frame, and for the first time since about year eight has grown taller, even if it is just one or two centimetres. "I'm pretty stoked about that," he said.

McDonald plans to use those traits a little further up the ground in 2015. Towards the end of last year, in between occasional tagging roles, he pushed onto the wing and drifted forward.

"I loved creeping up to the forward line, getting more inside-50s and using my kicking skills a bit more. That comes with a lot more with confidence," he said.

McDonald, Higgins, Bastinac set for more midfield time, says Brad Scott

So, too, does becoming a stronger voice around the club. On Monday the Roos announced their leadership group for this season and some predict McDonald to be featuring in that company soon. He's a vibrant, confident personality but one who is always striving to be better, with an in-built competitive instinct.

He noticed recently how Ollie Wines was added to Port Adelaide's leadership group after only two seasons, and saw it as something to aim for.

"My on-field leadership is probably one of my strengths, with my communication," he said.
"But it also connects with getting to know the game-plan better, which (coach) Brad [Scott] wants me to do, so I can pull players up and be accountable.

"You can't be a leader if you're not doing what you preach. That's one of the main things I've got to get right. We've got a lot of great leaders around the club. I'm very lucky and in a good position."

McDonald was last a captain in 2013, when he led Vic Metro during the NAB AFL Under-18 Championships. That was a learning experience for him. Until then, he'd been able to have a laugh in the change rooms, go out and do his job, and stay more relaxed.

Being captain meant he had to curb his joking a little, knowing not everyone was able to switch into game mode like he could. That took some tinkering, but also allowed him to enjoy leading a team and wanting to do it again in the future.

"When I play my footy I just try to lead as best I can anyway. Obviously I'd love to be in the leadership group over the coming years but I've got a lot to develop both on and off the field.

"It would be a dream to captain the club, but I think anything like that's a while off," McDonald said. "I've still got to get a kick first."
Luke McDonald is a $367,000 defender in NAB AFL Fantasy this year. Create and fill your AFL Fantasy Classic league by March 2 to win a free AFL Live pass.