NICKY Winmar hopes a bronze statue depicting his iconic stand against racism helps deliver a strong message to future generations.
Winmar was overwhelmed as hundreds gathered to pay their respect on Saturday, declaring the statue was "for everyone" as it was unveiled at Optus Stadium.
Wayne Ludbey, who captured the iconic photo of the St Kilda champion lifting his shirt and pointing to his skin in the face of racist abuse from Collingwood supporters at Victoria Park in 1993, was among those present for the emotional event.
Neil Elvis (Nicky) Winmar immortalized in bronze. pic.twitter.com/leO7HcKdKV

— AFL (@AFL) July 6, 2019
"I am very happy. I had a few tears earlier when I saw my family and loved ones and my dad's brothers are here and my mum's family," Winmar said.
"I hope they look after it for me. I did get fond of it back home where it was in Melbourne, I was going to keep it, but it found a home.
"This is here for everybody to come and tell their next generation about respects of persons and the people we are.
"We've still got a long way to go. It's a fight that will go on for a long time."
No words. Just pride. pic.twitter.com/pYPt3f7vSJ

— AFL (@AFL) July 6, 2019
Winmar is still stopped on the street across Australia to talk about the moment he stood for his indigenous heritage at Victoria Park, when he declared "I'm black and I'm proud".
"It (abuse) hurt me, it always has. I don't understand it, personally. Footy is for everyone, this statue is for everyone," Winmar said.
Saturday's event started with the Western Saints fans group crossing the Matagarup Bridge and a host of former indigenous stars supported Winmar, including Michael O'Loughlin, Gavin Wanganeen, Peter Matera, Gilbert McAdam, Michael Johnson and Des Headland.
AFL CEO Gillon McLachlan, West Coast and Fremantle CEOs Trevor Nisbett and Steve Rosich, WA Premier Mark McGowan and the League's general manager of inclusion and social policy, Tanya Hosch, were also in attendance.
VIC PARK 'SCARED ME' Winmar's own words about that day in 1993
"It's a great moment for Nicky, for football, for Indigenous Australia and hopefully the broader community," McLachlan said.
"It's an iconic moment and it's fantastic it's recognised so dramatically in such scale here.
"I think sport, generally, plays an incredibly important role in having the conversation (about racism), showing leadership and moving the conversation forward.
"The leadership and courage of Nicky and Gilbert McAdam that day sparked a conversation.
"To put it up in lights like this means a lot of people can continue to have a conversation when they see it."

AFL CEO Gillon McLachlan, WA Premier Mark McGowan and Nicky Winmar at the unveiling. Picture: AFL Photos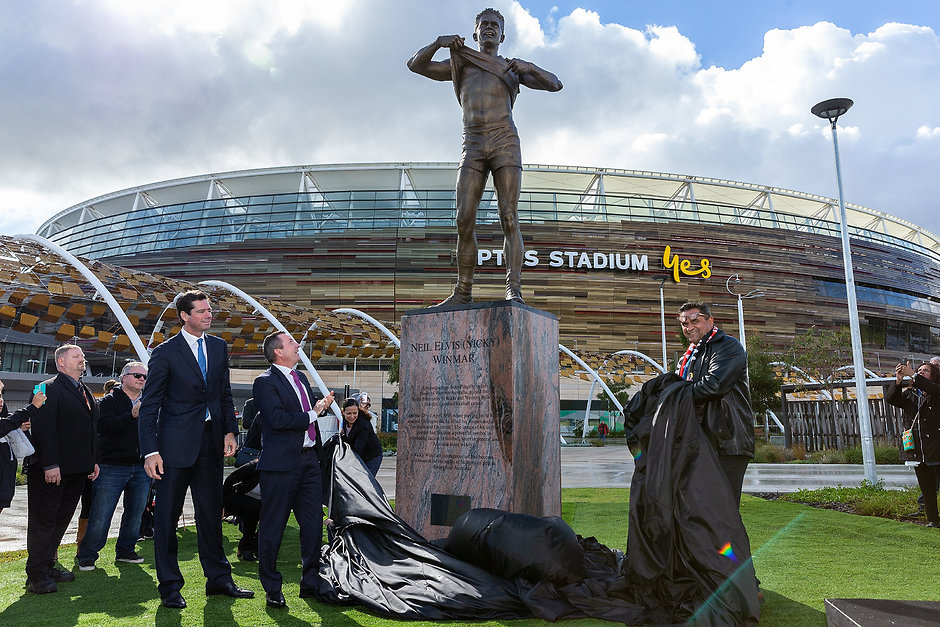 The 2.75m statue of Neil Elvis "Nicky" Winmar was sculpted by Louis Laumen and has been erected on Nyoongar ground, acknowledging the South Fremantle product's roots in Western Australia.
"The fact that it stands for more than football and more than just an individual, it stands for respect and stands for saying racism is not OK is incredibly significant and I think it's still relevant today, as it was then," AFL general manager inclusion and social policy Tanya Hosch said.
"I'm so pleased for Nicky, for the Nyoongar people and for Western Australia to have that recognition on Nyoongar country."