THE EARLY discussions between Melbourne's new national recruiting manager Jason Taylor and list boss Todd Viney centred on one key phrase.
They spoke about "tipping the balance" when Taylor arrived from Collingwood in 2013, with a focus on recruiting footballers with a competitive edge and the resilience to perform every week.
As Taylor previously told AFL.com.au, the Demons' midfield cupboard was "quite bare", so strengthening that position – along with the criteria above – was a key plank in their rebuilding strategy.
REBUILDING THE DEES How the holes were filled
Only the expansion clubs ranked worse than Melbourne in contested possession differential the season before Taylor joined the club, and the ladder reflected the same.
That has changed dramatically this year, with the Demons averaging 17.7 more contested possessions than their opposition, the second-best differential recorded, behind West Coast's 20 in 2006.
It's also no coincidence they are one win from their first Grand Final in 18 years, benefiting from midfield bulls like Clayton Oliver, Jack Viney, Angus Brayshaw, Christian Petracca and James Harmes.
Only Viney, a father-son selection, was at Melbourne before Taylor. The Demons clearly saw the same qualities in their new recruiting chief.
Angus Brayshaw, Jack Viney and Clayton Oliver have helped make Melbourne's midfield a force. Picture: AFL Photos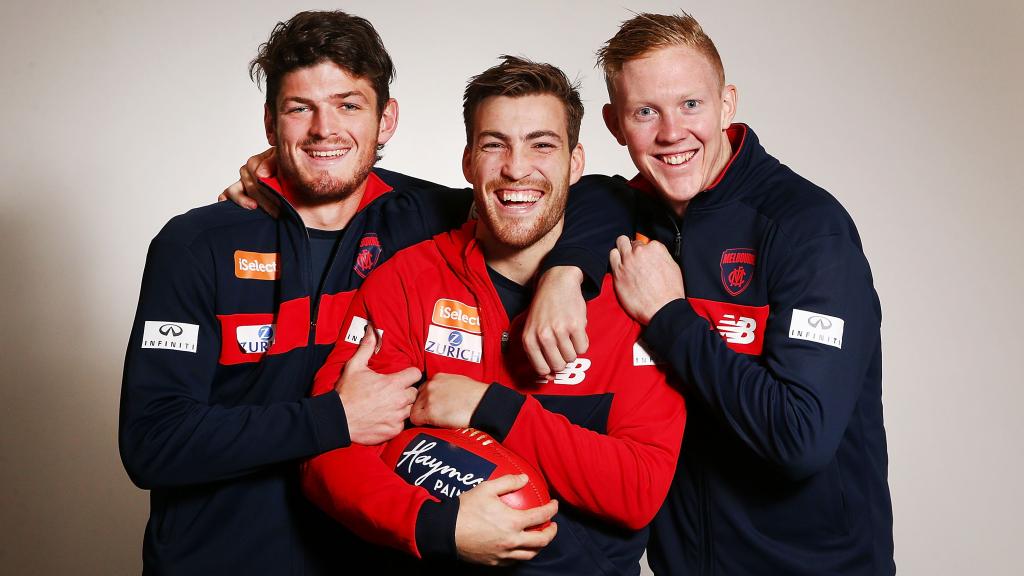 "In my job, ideally you don't want to be going to a club after they've won a premiership. You want to be going to Melbourne, who hasn't won one (since 1964) – it's a challenge you're seeking to show your competitive spirit," Taylor told AFL.com.au.
"That was the real, natural excitement of the job. I'm a behind-the-scenes guy – I don't seek out attention and don't really like it – but I get an inner-satisfaction out of seeing us rise.
"I suppose you're putting your skills on the line a little bit, and everyone wants to do that in their job or life, don't they? So that was definitely the appeal."
Taylor is a fascinating subject himself, especially with how he broke into recruiting ranks, although it took some cajoling to get him to agree to tell his story.
This is a man who grew up with Western Bulldogs premiership coach Luke Beveridge – they remain best mates – and Beveridge's father, John, was Taylor's first junior football coach.
John Beveridge also happens to be a legendary recruiter, who was responsible for picking the likes of St Kilda champions Robert Harvey, Stewart Loewe, Nathan Burke, Lenny Hayes and Nick Riewoldt.
Taylor played senior football for St Paul's in Melbourne's Southern league, then joined his coach Mark Williams on VFL club Sandringham's match committee for the first of its three straight flags in 2004.
But the 47-year-old earned his living running an air-conditioning business before telling Luke of his interest in recruiting.
"John was my first coach when I was six or seven, but I didn't want to go through that channel. But 'Bevo' said, 'No, just give him a call'," Taylor said.
"I did a trial for him the year before and then I just sent a letter in to the club and he said he'd give me a go. That was a big moment for me, when you look back. I can't thank John Beveridge enough.
"Back then, I'd buy an extra VHS (video home system) for the office at home, so Johnny would still be cutting the VHS footage."
Long-time St Kilda recruiter John Beveridge gave Jason Taylor his chance. Picture: AFL Photos

Taylor was working one day a week at the Saints when Beveridge announced he was cutting back his commitments, and he respectfully asked if the long-time talent scout minded if he applied for his job.
He ultimately missed out to John Peake, but impressed enough throughout the process to earn a second day a week at the club in 2007, meaning more salary sacrifice.
Taylor actually worked double as many days as he was paid for, so hell-bent was he on forging a career in recruiting.
"I set myself two five-year goals," he said.
"The first one was to be full-time and the second one was to be a national recruiting manager, which was probably a bit gung-ho, but I reached them both."
There's a reason Taylor feels he made his own luck.
He was still operating his air-conditioning business, albeit on a reduced scale, when he was asked through a mutual friend to quote an installation in Magpies recruiting boss Derek Hine's home.
During that process, Taylor steered the conversation with Hine onto the fact he was putting a presentation together to apply for Beveridge's former role at St Kilda.
"I'd never met Derek, but he helped me with it," he said.
"He ended up ringing me later that year and got me across to Collingwood. I was full-time after about two months."
That go-getter attitude has served Taylor well in the tough recruiting world, as well as in tackling the huge challenge of reinvigorating the Demons' list.
Below: Recruitng manager Jason Taylor after the 2017 draft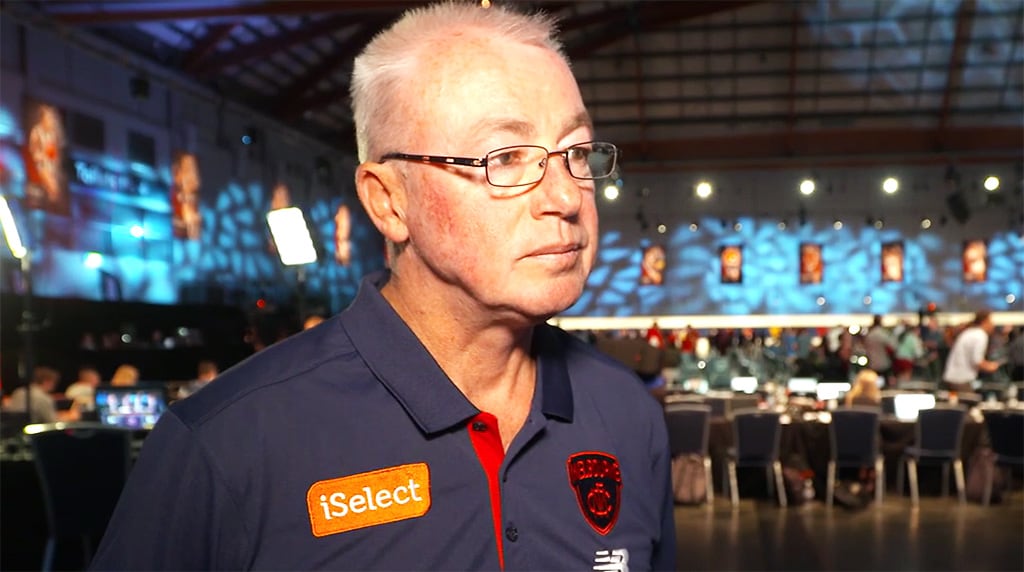 He, Viney – who Taylor rates as his greatest influence – pro scout/player contract manager Tim Lamb, national recruiting officers Darren Farrugia and Kelly O'Donnell and academy talent manager Todd Patterson work closely, along with part-time staff scattered across the country.
They put together a blueprint soon after Taylor's arrival almost six years ago and it has mostly unfolded as they hoped.
"We needed to build quality of depth in players we felt could be best 22, but also if they were squeezed, provided us with a good 30-odd players," he said.
"So you're always looking at that and you're looking at opportunity and what it costs you, and that evolves and involves trades sometimes."
There was the much-debated deal in 2013, when Melbourne parted with pick two, which became Josh Kelly, for Dom Tyson and the No.9 selection (Christian Salem).
Both Greater Western Sydney and the Demons received other picks beyond that, but that was the crux of it.
Under Simon Goodwin, ex-Giant Dom Tyson is one win away from a Grand Final. Picture: AFL Photos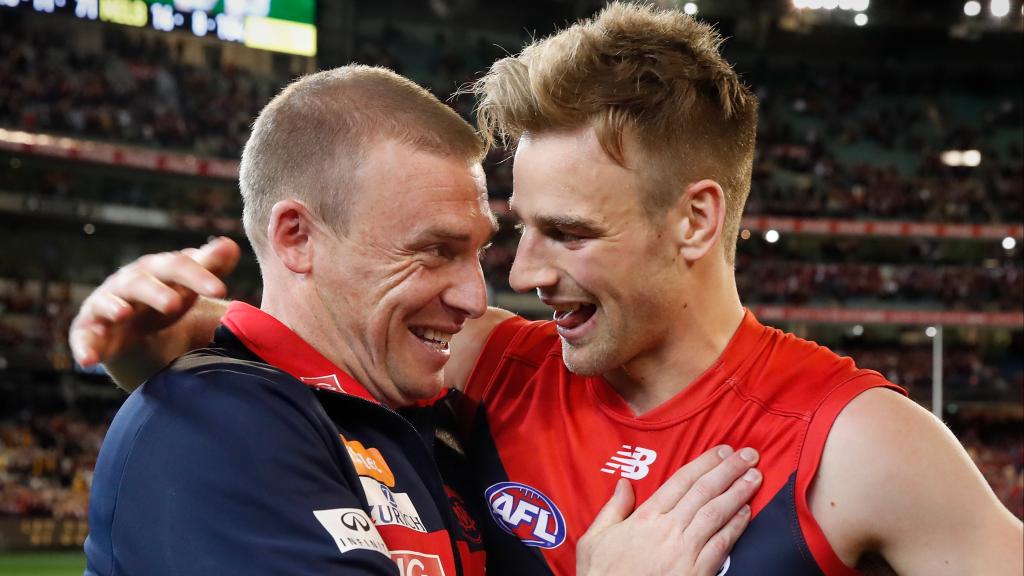 Then Melbourne wheeled and dealed to make sure it had two top-10 choices in each of the 2014 and 2015 drafts, where it netted Petracca, Brayshaw, Oliver and Sam Weideman.
THREE KEYS How a trio of young stars shaped the Dees
The Demons also offloaded second-round selections to bring in experienced talent: Bernie Vince (2013), Sam Frost (2014), Jake Melksham (2015) and Michael Hibberd (2016).
Once enough elite young talent was hurriedly brought in, they were then willing to shop their first-round picks for the right player.
That was evidenced in last year's deal for Adelaide defender Jake Lever, which cost Melbourne two top-end selections, in 2017 and 2018.
Some thought that was too steep a price, even for someone with Lever's potential and age profile, but Taylor explained their logic.
"If we target a player we think can help our list improve and it's an area of need; we believe in dealing fairly with the other clubs involved," he said.
Melbourne had to pay a high price for Jake Lever, but the Demons didn't blink. Picture: AFL Photos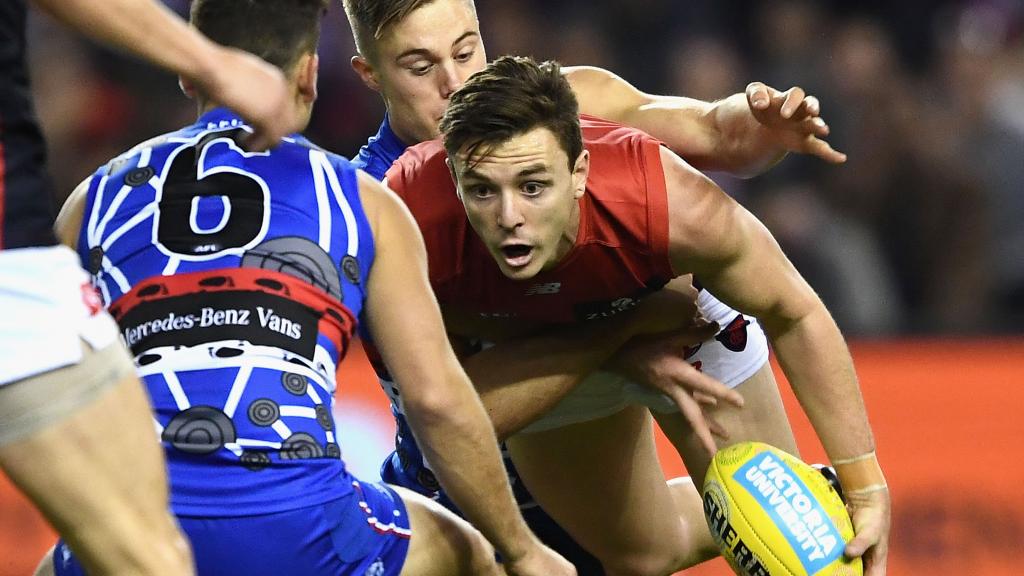 "If we're happy with our outcomes and the net result, we'll do a deal accordingly within reason."
Taylor and his team have barely missed in the past five years, even down the draft order, with Alex Neal-Bullen, Oscar McDonald, Harmes, Aaron vandenBerg and Mitch Hannan all selected No.40 and below, or even in the rookie draft.
His own recruitment from the Magpies now appears an inspired one, too – and it was then-Demons coach Mark Neeld, a former Collingwood assistant, who was the connection.
"Collingwood was a great club and gave me an opportunity and I easily could have stayed there, but it was a strong appeal to come here," Taylor said.
"I'm glad I did, because it's been the best thing I've done in my life, of course besides my wife Nicky, our son Lenny and my stepson Tyler, and I love the people I work with.
"The journey is only worthwhile sharing it with my family."