POWERFUL midfielder Maddy Prespakis prioritised staying close to her family over any ambition to be the No.1 pick in Tuesday's AFL Women's Draft.
The new Blue's football resume was the equal of any player in the draft and she and Nina Morrison, who Geelong selected first overall, shared the two major individual awards in 2018.
They tied for the TAC Cup best and fairest award and were also co-players of the AFLW Under-18 Championships.

AUSKICK TO TOP THREE Maddy Prespakis' football journey
Prespakis claimed Vic Metro's MVP for the second successive season, won Calder Cannons' club champion with 113 of a possible 120 votes and was best afield in the AFLW under-18 exhibition game.
However, the 17-year-old forewent the chance to be this year's No.1 choice when she elected to be available to Melbourne metropolitan clubs only.
Footballers could nominate a state or region to be drafted from, with Victoria split into Geelong, metropolitan Melbourne or all of the state.
AFLW DRAFT WRAP Who did your club take?
The Cats had the first two picks – used on local product Morrison then Greater Western Victoria Rebel Sophie Van De Heuvel – before Carlton didn't hesitate snapping up Prespakis.
"Geelong did come in to talk, but for me, my family comes first, and to be closer to home I felt I had to be in a Melbourne-based team," Prespakis said.
"After nominating metropolitan for the draft, I didn't have any regrets and now I'm a Bluebagger, so I'm excited.
"I'm feeling very relieved at the moment (and you) can't wipe the smile off my face just yet. I can't wait to start now."
The Blues also drafted Abbie McKay (pick 16), daughter of club great Andrew, who became the AFLW's first father-daughter selection, and then followed with Jayde Van Dyk (21), Charlotte Wilson (27), Rhiannon Watt (40) and Jessica Edwards (42).
Prespakis, who started playing football alongside boys at Romsey, was looking forward to playing alongside Brianna Davey, Darcy Vescio, Tayla Harris and the Hosking twins, Sarah and Jess.
To be closer to home I felt I had to be in a Melbourne-based team.
As part of the teenager's new reality, Vescio interviewed her for Carlton's website after the mainstream media finished.
Vescio was a marquee signing ahead of the first AFLW season and is one of the competition's household names, so is well placed to offer Prespakis advice.
"I've heard she's an absolute jet and that she knows how to find the footy and is very clean, so I'm really looking forward to seeing how she mixes in with the team," Vescio told AFL.com.au.
"(The leap to the AFLW) can be pretty tricky to navigate, but you just have to focus on becoming the best player you can be and if you focus on footy first then you can't really go wrong.
"You'll get other opportunities along the way, but just remember why you're playing football."

Maddy Prespakis starred at the National Championships. Picture: AFL Photos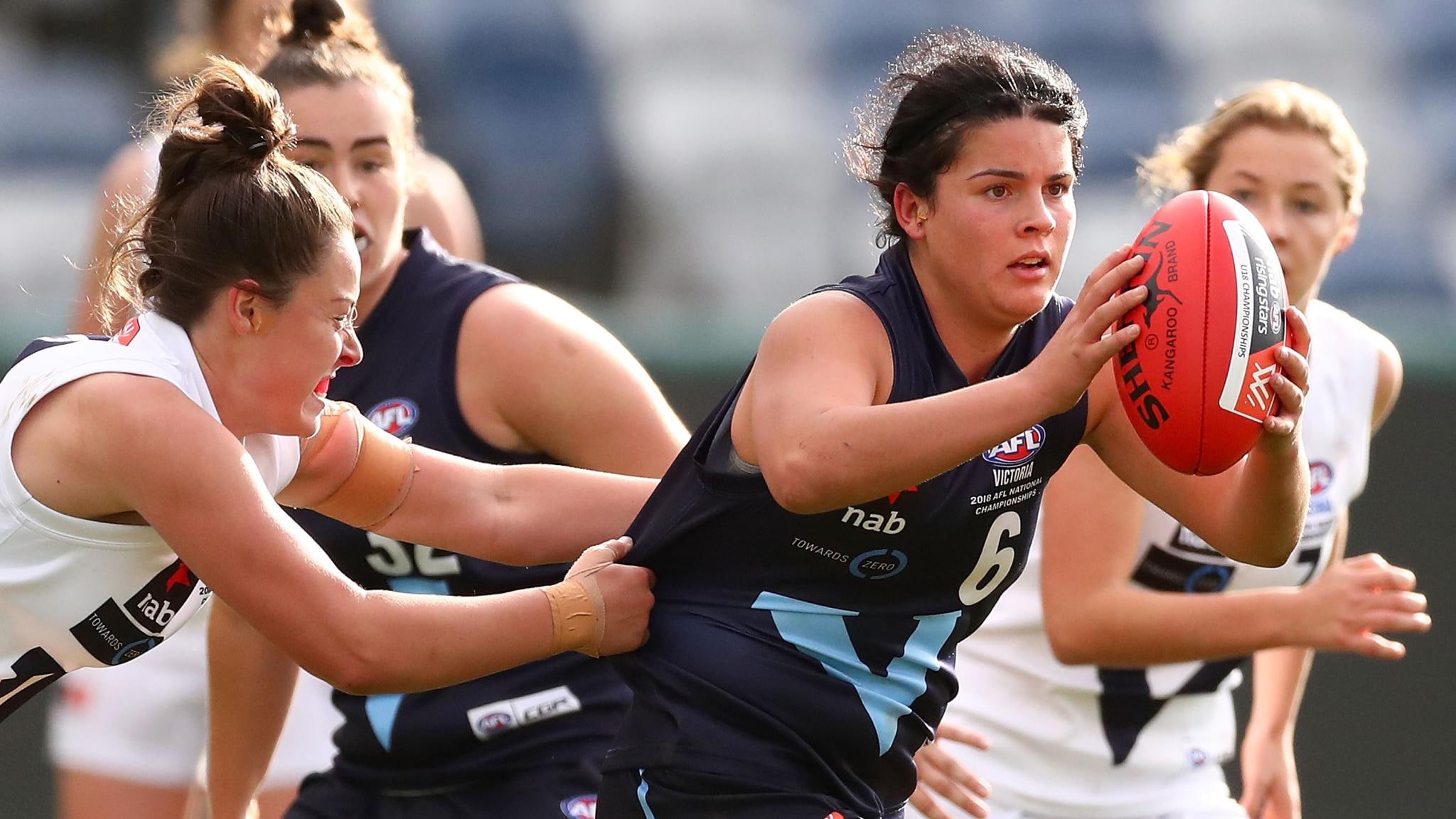 Prespakis' mother Jody's side of the family hails from the indigenous Dja Dja Wurrung tribe in Bendigo, about 150km north-west of Melbourne.
Her heritage is something she wants to explore more and she is keen to work in the indigenous area outside of football.
As for her AFLW goals and potentially making an instant impact, like Collingwood's Chloe Molloy and Western Bulldog Monique Conti before her, Prespakis wasn't making any big predictions.
"I haven't really thought about that just yet," she said.
"I just want to play good footy, keep playing the footy I play, and play whatever role the team gives me.
"My goal now is to get through pre-season and play in round one."
Full NAB AFLW Draft
ROUND ONE

GEEL

1. Nina Morrison (Geelong Falcons, VIC)

GEEL

2. Sophie Van De Huevel (GWV Rebels, VIC)

CARL

3. Madison Prespakis (Calder Cannons, VIC)

FRE

4. Jasmin Stewart (Claremont, WA)

COLL

5. Jordyn Allen (Dandenong Stingrays, VIC)

MELB

6. Tyla Hanks (Gipplsland Power, VIC)

GEEL

7. Rebecca Webster (Murray Bushrangers, VIC)

ADEL

8. Nikki Gore (South Adelaide, SA)

BL

9. Paige Parker (Coorparoo, QLD)

WB

10. Eleanor Brown (Sandringham Dragons, VIC)

COLL

11. Katie Lynch (Oakleigh Chargers, VIC)

GWS

12. Alyce Parker (Thurgoona Bulldogs, NSW)
ROUND TWO

COLL

13. Mikala Cann (Eastern Ranges, VIC)

GEEL

14. Olivia Purcell (Geelong Falcons, VIC)

MELB

15. Madeline Brancatisano (Northern Knights, VIC)

CARL

16. Abbie McKay (Sandringham Dragons, VIC)

FRE

17. Sabreena Duffy (Peel Thunderbirds, WA)

COLL

18. Lauren Butler (GWV Rebels, VIC)

COLL

19. Maddie Shevlin (Melbourne rookie list/Gungahlin Jets, ACT)

GEEL

20. Denby Taylor (Geelong Falcons, VIC)

CARL

21. Jayde Van Dyk (Eastern Ranges, VIC)

BL

22. Natalie Grider (University of Queendland, QLD)

WB

23. Aisling McCarthy (Tipperary, Ireland)

GEEL

24. Georgia Clarke (GWV Rebels, VIC)

NMFC

25. Daisy Bateman (Oakleigh Chargers, VIC)
ROUND THREE

WB

26. Kate Bartlett (Peel Thunderbirds, WA)

CARL

27. Charlotte Wilson (Eastern Ranges, VIC)

FRE

28. Philipa Seth (East Fremantle, WA)

COLL

29. Sophie Alexander (Eastern Devils, VIC)

ADEL

30. Jessica Foley (Sturt, SA)

MELB

31. Jordann Hickey (Northern Territory Thunder, NT)

COLL

32. Georgia Gourlay (Casey Demons, VIC)

BL

33. McKenzie Dowrick (Subiaco, WA)

WB

34. Selena Karlson (Southern Saints, VIC)

GEEL

35. Rene Caris (GWV Rebels, VIC)

NMFC

36. Courteney Munn (Southern Saints, VIC)
ROUND FOUR

ADEL

37. Chloe Scheer (Central District, SA)

COLL

38. Emerson Woods (Eastern Ranges, VIC)

FRE

39. Courtney Stubbs (Subiaco, WA)

CARL

40. Rhiannon Watt (Southern Saints, VIC)

ADEL

41. Katelyn Rosenzweig (Salisbury, SA)

CARL

42. Jessica Edwards (Collingwood VFLW, VIC)

GWS

43. Brittany Perry (North Adelaide, SA)

MELB

44. Shelley Heath (Southern Saints, VIC)

BL

45. Lauren Bella (Bond University, QLD)

WB

46. Jessie Davies (Western Bulldogs VFLW, VIC)

GEEL

47. Maighan Fogas (Geelong VFLW, VIC)

ADEL

48. Danielle Ponter (St Mary's, NT)
ROUND FIVE

CARL

49. Pass

FRE

50. Parris Laurie (Claremont, WA)

COLL

51. Jordan Membrey (Wilson Grange, QLD)

MELB

52. Pass

ADEL

53. Hannah Martin (West Adelaide, SA)

GWS

54. Lisa Whiteley (South Adelaide, SA)

NMFC

55. Chloe Haines (Burnie, TAS)

BL

56. Tori Groves-Little (Coorparoo, QLD)

GEEL

57. Elise Coventry (Geelong VFLW, VIC)

NMFC

58. Libby Haines (Burnie, TAS)
ROUND SIX

FRE

59. Laura Pugh (West Perth, WA)

GWS

60. Ingrid Nielsen (UNSW Bulldogs, NSW)

BL

61. Jesse Wardlaw (Coorparoo, QLD)

GEEL

62. Madeline Keryk (Geelong VFLW, VIC)

NMFC

63. Nicole Bresnehan (Clarence, TAS)
ROUND SEVEN

FRE

64. Matilda Sergeant (Claremont, WA)

GWS

65. Renee Tomkins (Auburn Giants, NSW)
ROUND EIGHT

FRE

66. Ebony Dowson (Peel Thunder, WA)

GWS

67. Delma Gisu (Wilston Grange, QLD)
ROUND NINE

FRE

68. Pass

GWS

69. Haneen Zreika (Auburn Giants, NSW)

COLL

70. Erica Fowler (Collingwood VFLW, VIC)

GWS

71. Ebony O'Dea (Norwood, SA)