WHEN Lewis Roberts-Thomson first joined the Sydney Swans, he brought with him those familiar shaggy locks, a background in rugby union and a whole lot of doubts about his chances of making it at the top level.
Thirteen years later, he is leaving as a two-time premiership player, a life member of the club and holding a position as one of the most popular figures in the Swans' successful modern era.
Brought in as a zone selection in the 2001 draft, there were few hints of what lay in store as the teenaged Roberts-Thomson, who only picked up the sport at the age of 14, took his first steps into the AFL world.
Injured for most of 2002, he earned his debut in round eight the following year, but there were still some sniggers and plenty of uncertainty about the project player with the shock of blond hair and slightly awkward gait.
LRT is OUT
What he may have lacked in natural Australian football gifts, however, Roberts-Thomson more than made up for with his grit and determination to become the best footballer possible.
"When he first came to this club, he went toe-to-toe with Barry Hall in the goalsquare at training night after night after night," Swans coach John Longmire recalled on Thursday.
"He had a few losses, and a few blood noses, but he never stopped going back.
"'Hally' had the better of him in the early days, but as the sessions went on and the years progressed, he never stopped testing himself against the best."
The progress was palpable as Roberts-Thomson played all but one game the rest of that 2003 season, including the preliminary final defeat to the almighty Brisbane Lions side, the first real hint the Swans were on the rise.
Within two years, they had reached the Grand Final against West Coast, and Roberts-Thomson's performance that day was the true making of the man.
Giving up around five centimetres and 13 kilograms to Eagles forward Michael Gardiner, his main opponent, Roberts-Thomson flourished.
LRT with teammate Leo Barry in 2006. Picture: AFL Media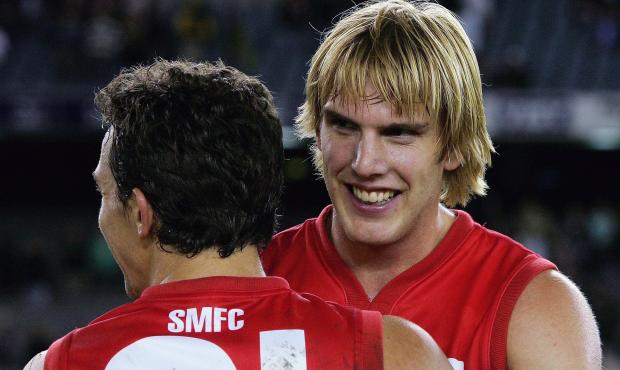 In front of almost 92,000 fans, the man known as LRT kept Gardiner to just six touches and two behinds, while picking up 17 possessions and six marks of his own.
If not for a 29-possession, 11-clearance return in a losing effort from a young Eagle by the name of Chris Judd, Roberts-Thomson could also now call himself a Norm Smith medallist.

But it is probably more fitting for such a selfless individual that it is team success he has enjoyed, rather than any individual honours.

Asked about the cult status he has carried for most of his career, Roberts-Thomson replied: "The support that this footy club has is fantastic.

"The supporters that turn up, rain, hail or shine, are really good.

"When you run out onto the SCG and hear the roar from the crowd, it's certainly something that's pretty inspiring and pretty exciting.

"I think in terms of being a cult hero or what have you, I just prefer to play my role for the team, do what's required and enjoy my footy."

Longmire commented on Thursday that whenever No.30 ran out through the Paul Kelly Race at the SCG, the crowd, his teammates and everyone else in attendance knew what he would provide.

That was an all-encompassing effort to beat his man, force a contest and do his bit.
Lewis Roberts-Thomson gets in a kick ahead of Nick Riewoldt. Picture: AFL Media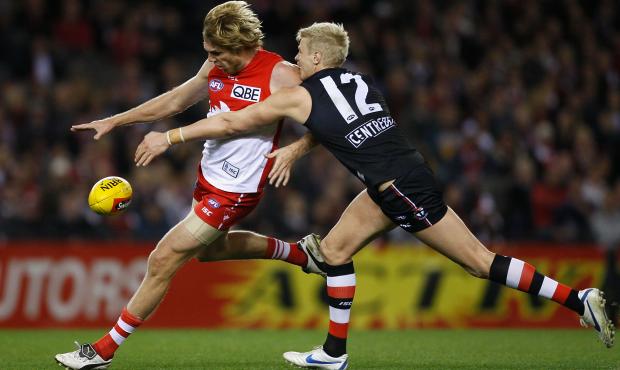 His big-game temperament was again on display in the 2012 decider, when the Swans were stark underdogs against Hawthorn.
Once again Roberts-Thomson would play a pivotal role, first in the forward line – famously getting a holding-the-ball decision for his tackle on Hawks champion Luke Hodge – and pinch-hitting in the ruck.

With the game on the line, and the Hawks with plenty of momentum, LRT then shifted back into defence with aplomb, extinguishing a number of Hawthorn's forward entries as the Swans claimed the flag.

His cult following reached new heights following that performance, including the launch of a range of t-shirts which had 'LRTee – September's finest' emblazoned upon them.

Always happy just to play one AFL game, Roberts-Thomson ultimately squeezed 179 games out of a body that sometimes let him down.

He did consider the prospect of battling on and trying to get himself back into the senior team this year for a tilt at one more September special, but he knew he was mentally and physically shot and his time had come.

During Thursday's press conference, which had a ring formed around it by the entire Swans' playing staff, Roberts-Thomson was asked to reflect on Leo Barry's game-saving mark in the dying seconds of the 2005 Grand Final.

As Barry set himself, Roberts-Thomson just charged towards the contest, hoping to affect it somehow.

He ended up on the ground, and was the first man to give Barry a tap on the backside, barely a moment before the final siren sounded to end a 72-year wait for a Swans' flag.

"No idea (what I was doing) to tell the truth – and that's pretty much the story of my whole career," he said.

"Just run around and try your hardest. I think that's a pretty good attitude to go in with."
LRT with Swans fans on the day after the 2012 premiership win. Picture: AFL Media