IN AN unregulated draft, New South Wales' Alyce Parker could easily be a No. 1 pick.
As it stands, the state-based NAB AFL Women's Draft means Parker is expected to land with Greater Western Sydney with pick 12, meaning she will make the big move up from the family farm on the outskirts of Holbrook, near the state's southern border, to the busyness of Sydney.
Parker's a born-and-raised farm girl who loves nothing more than getting out on the motorbike she got for her 17th birthday and riding around the course she's fashioned for herself at the back of the property.
The youngest of three girls, she spends most of her free time helping her mum and dad, Donna and Fraser, on the mid-sized farm about a five-hour drive south-west of Sydney, where the Parkers tend to sheep and grow canola, wheat and lupin.
"I've been on the farm down in the Riverina with dad since I could walk, I reckon," Parker said.
"It's my favourite place in the world, to be honest, on the farm with dad, my two sisters (Emma and Laura) and my mum. It's incredibly special.
"I rarely sit down on the couch and do nothing, I'm always outside when I can. It's just awesome, not only for your mental health, but physical health too," she said.

Parker in action for the Giants at the AFLW Winter Series. Picture: AFL Photos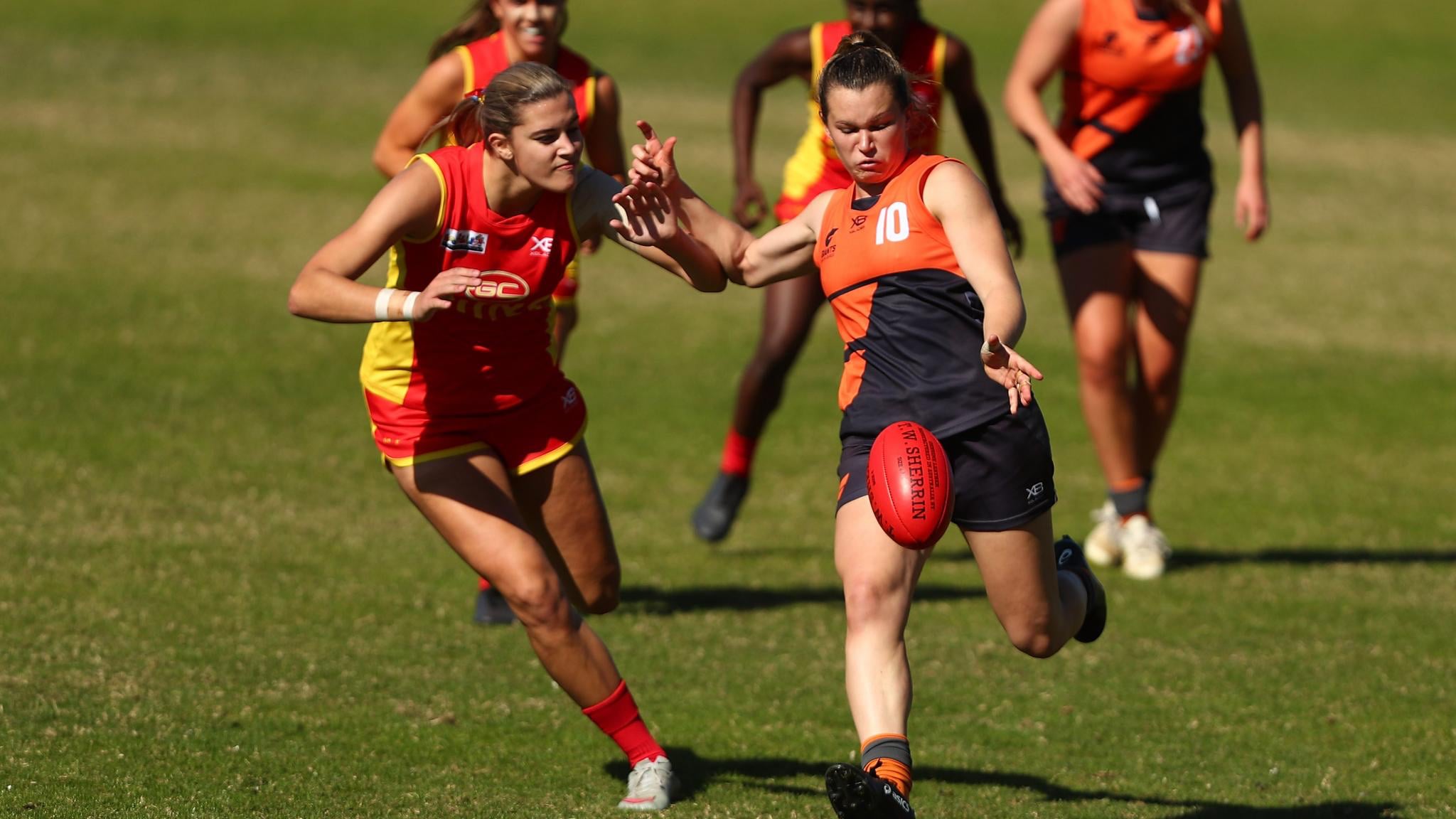 Parker's a multi-sport star, at one stage participating in seven disciplines: swimming, tennis, netball, cricket, football, soccer and athletics.
A naturally talented athlete, Parker once made the state schoolgirls' competition in high jump –much to the surprise of her family – continuing to win through rounds of competition until she was up against the best in the state.
Her parents drove her and her older sisters literally thousands of kilometres for their sporting commitments, one year clocking up 92,000km, the majority of which was the 200km round trip to Wodonga for swimming training five days a week.
Swimming is Parker's other strong suit – she competed at national competitions as a sprint freestyler.
"Coming from a swimming background has definitely helped my football, not only my body composition, but also aerobic fitness and resilience. It's been one of the biggest parts of my journey," Parker said.
"I was often at events where (Olympic gold medallist) Mack Horton was swimming and the whole crowd would just be amazed at his long strokes.
"Watching him swim was a highlight, even when I was swimming myself. To be able to sit in the marshalling area and have Mack Horton sitting next to you was pretty cool."
Parker grew up kicking the footy on the front lawn with her dad, playing her first game in grade six with boys at Holbrook Public School.
Her secondary school, Billabong High School in nearby Culcairn, has a strong girls' footy program and has won multiple inter-school competitions.
She quickly moved through the ranks, representing NSW/ACT for four years, culminating in state MVP titles in 2017 and this year.
Parker also represented the combined Allies (in 2017) and the Eastern Allies over the past two years in the second stage of the revamped NAB AFLW Under-18 Championships and was named the Eastern Allies' MVP this year.
Her biggest assets are her power and competitiveness.
Honed over years of activity, whether that was organised sport or general farm work, Parker bursts from packs, brushing off opponents in a manner eerily reminiscent of one of her favourite players, Richmond's Dustin Martin.
The midfielder has a strong kick, sure hands and an indefatigable desire to simply win the ball.

Parker dominated for the Eastern Allies in a losing side. Picture: AFL Photos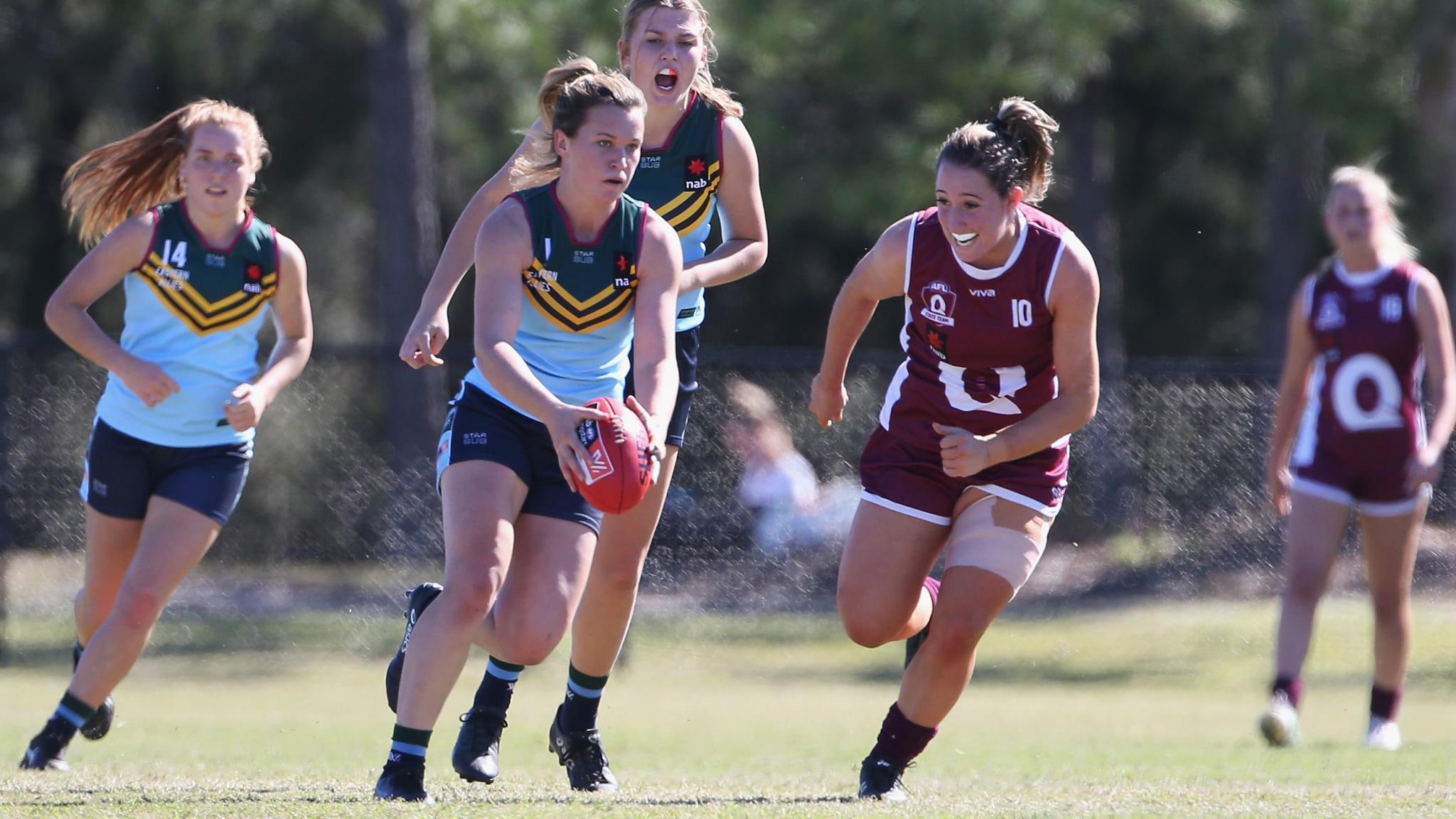 "Coming from a background of sports, I've developed skills for reading the game," Parker said.
"The contest is also a big thing for me, so when the ball is going up in a ruck contest, I want to read that tap. There's no better feeling than getting a clean getaway, having a bounce, kicking it and hitting up a target."
There's little doubt Parker will have an immediate impact in the AFLW.
She played for the Southern Giants against a Brisbane team stacked with AFLW players in the Winter Series organised between the northern state AFLW teams this year.
The Giants team, which was made up of players from southern New South Wales, lost heavily, but Parker was best on ground with the Lions struggling to contain the teenager despite their dominance.
Next year, she'll be playing at Greater Western Sydney alongside her NSW/ACT coach, Alicia Eva.
"She covers the ground really well aerobically, but her ability to break out of traffic, drive her legs through into space and then get the ball moving long is her hallmark trait at the moment," Eva said.
"She's got really solid hands, so she can go forward and take a grab as well.
"She's very switched on, but she can be very quiet. She's a ripping kid, works really hard and ticks all the boxes in terms of recovery and preparation," she said.
"She's all ready to go in terms of being the ultimate professional."