THIS time last week, Mark Thompson's coaching stocks were at a career high.
For a two-time premiership coach, that's lucrative stock.
Two AFL clubs - Gold Coast and Essendon - were about to sack senior coaches contracted for 2015, and Thompson believed, with sound reason at the time, that he would have a tough decision to make.
Stay to coach the Bombers or uproot and head to south-east Queensland to coach the Suns. He seemingly couldn't lose a week ago.
But the strange behaviour that has punctuated Thompson's time in football in the past five years then took hold.
Firstly, he peculiarly chose to make public an interest in the Suns job, despite, at that precise time, Guy McKenna technically still holding that position.
Club best-and-fairest nights are normally about the season just completed, and the players and coaches who represented the club. And it was fact that under Thompson in 2014 the Bombers, despite the ASADA-related stresses of the year, achieved extraordinary things on-field, making the finals and very nearly winning one.
Thompson, intentionally or not, and no one can say with certainty what it was, instead sent a message to the gathering that effectively made the entire night about him.
"The plan was to leave after this year - I don't really want to because I love this footy club and I love the players and I want them to do really well," he said on the night.
"I can't do a job that doesn't actually fill a need, so we'll have to wait and see how we go in the next few days.
"You don't go backwards in this world. We don't ever want players to play in the AFL and then go back to the VFL and expect them to enjoy that. They hate that and that's a little bit about how I feel."
Thompson's address surprised Essendon powerbrokers, who watched and listened in dismay from the prime seats. They claim they had no idea he was going to use the event to vent.
Thompson's actions meant that he relinquished the right to ever work again with Hird. That's what happens when you use a microphone to talk about coveting that person's job. And it also clearly confirmed what had been doing the rounds in the past two months - that Thompson was "off" Hird.
Maybe if Thompson hadn't spoken the way he did the night before, he would have been installed as Bombers coach.
Mark Thompson and James Hird share a lighter moment in 2011. Picture: AFL Media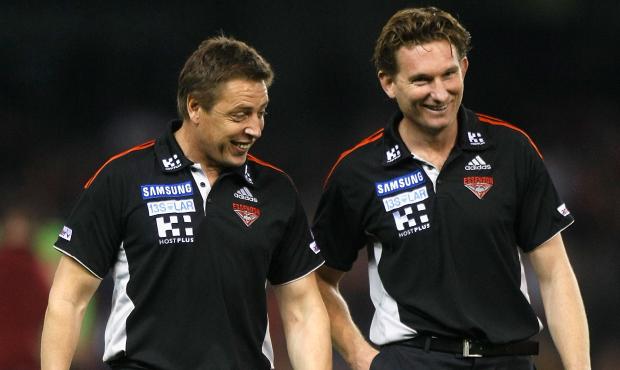 Essendon's decision-makers seemingly change their minds hourly these days, so this too could change, but at the time of writing, those people have, since the best-and-fairest night, determined that Thompson would not be back in 2015, in any capacity.
Mind you, some of the same people had made the same determination this time last year when considering options for 2014. Fact. Then they conducted a charade of a coaching process that didn't involve Thompson, and then appointed Thompson interim coach.
Mark Harvey is expected to play a key role in the Bombers' coaching
structure from next year.
Gold Coast, too, is now divided on even asking Thompson to consider being part of its coach search. Key powerbrokers at the Suns are considered conservative, process-driven people, and they have since asked questions of key AFL industry people about Thompson they may not have otherwise thought the need to ask.
Thompson coached Essendon extraordinarily well in 2014. So well that, given the personal and team distractions relating to ASADA, one could line up his effectiveness as a coach this year with his premierships of 2007 and 2009.
When it comes to straight coaching, Thompson has few peers. Ask those who are familiar with his credentials on match day, and in direct preparation for match day, and they say he is a genius.
But outside the match day and getting his players ready for it, Thompson can be frustrating, distant, flippant. He will miss meetings, as he did with key officials in the lead-up to the best-and-fairest count, and not be seen at other times.
A week after seemingly having the luxury of two AFL clubs wanting him to be coach, Thompson finds himself in well-deserved relaxation in North America, but without any certainty that upon return he will have a job in the AFL.