HAWTHORN and Brisbane champion Luke Hodge has retired, this time for good.
The star defender initially called time at the end of 2017 after 16 seasons at the Hawks, before being talked around and playing a final two years with the Lions.
Saturday night's three-point semi-final loss to Greater Western Sydney was officially the final bell on Hodge's storied career.
Luke Hodge has announced that the 2019 season will be the last of his stellar career. Thank you for your amazing contribution to the Brisbane Lions and to AFL, Hodgey. pic.twitter.com/LK8U9kzXmq

— Brisbane Lions (@brisbanelions) September 14, 2019
Coach Chris Fagan said Hodge didn't want to come to the post-match press conference, preferring to "walk away quietly", but indicated he would stick around at the Lions next year.
"That's his last game for the club. He won't be lost to the club, I can't tell you what his role will be at the moment because we haven't sorted that out fully," Fagan said.
"He's hung [the boots] up, the old fella. He's finished on a high note and he's been unbelievable for us."
GIANTS' GREAT ESCAPE Full match coverage and stats
Hodge hadn't told the club before the semi-final that he was intending on retiring when the team's September chances ended.
"I sort of knew, but I never directly asked him the question," Fagan said.
"I just said, 'Is that it?' He goes, 'that's it'. So, that's it."
Fagan spoke affectionately about the champion player he talked out of retirement to help rebuild the floundering Lions.
'A BRILLIANT SEASON' Fagan all smiles despite straight-sets exit
"He's a bit of a rascal sometimes, but mostly he's good. He's the best leader I've seen, one of the toughest players I've seen. He's a warrior, that's for sure," he said.
"[He's a] really intelligent player though, he sees the game as good as anyone I know, probably [former teammate] Sam Mitchell is his only equal.
"He's a giver of his time and his knowledge, he's been particularly that to our group of young players and there's no doubt the development of our team has been accelerated by his presence."
The 35-year-old retires as one of the most decorated footballers of the current AFL playing group, including:
* Four-time premiership player (2008, 2013, 2014, 2015)
* Two-time Norm Smith medallist (2008 and 2014)
* Three-time All Australian (2005, 2008 and 2010, when he was named captain)
* Hawthorn captain from 2011 to 2016
* Two-time Hawthorn best and fairest (2005 and 2010)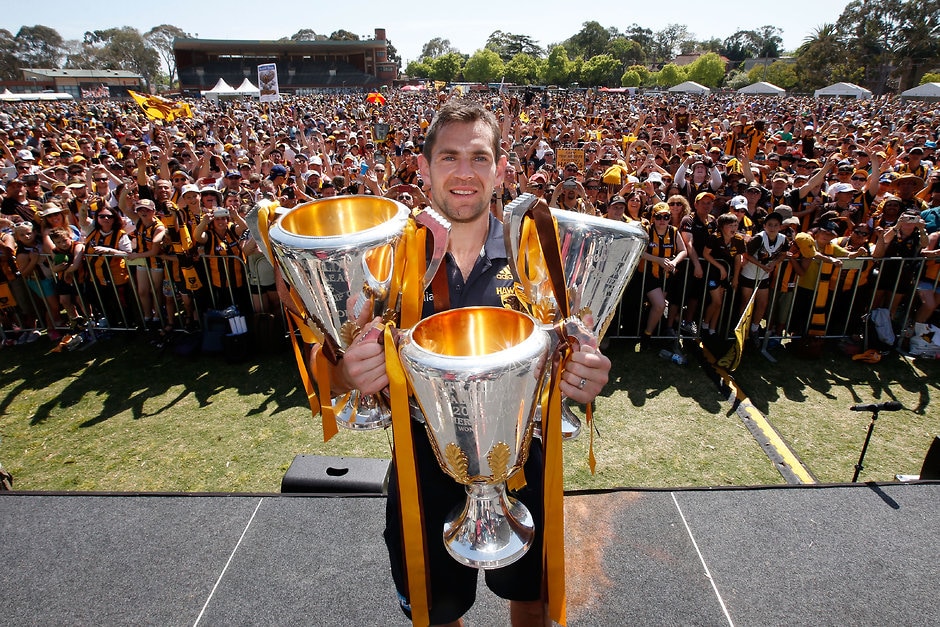 THINGS WE LEARNED A week of scrutiny hasn't changed Toby
He was selected with the No.1 pick by the Hawks in the 2001 draft, finishing his career with 346 games and a reputation as a hard-nosed, clever defender who was the lynchpin of Hawthorn's success and instrumental in Brisbane's rise up the ladder.
The final words on Hodge's career come from Fagan, who also worked closely with him at Hawthorn when he was the club's football boss.
"I'm so glad that he made the decision to come (to Brisbane). When a guy's that old and he's played that much footy and bashed himself around, you're not 100 per cent certain he'll go the journey, but he's done so with great form all the way through, really," he said.
"The time has come. He's one of the all-time greats. More than anything, he's a good friend."