• Get to know your club's future stars at the NAB AFL Draft Hub• Going places: Four incredible draft stories• Draft trumps: Insider access to this year's gun prospects• Check out the latest indicative draft order
HAWTHORN premiership player Rick Ladson says AFL clubs would be "mad" not give country football star Jack Geary a shot at the big time next season.
AFL.com.au
understands Geary, a teammate of Ladson's at Bendigo Football League club Golden Square, is on the radar of AFL recruiters.
The 23-year-old "beast" is the only bush footballer chosen to play for the VFL's International Rules side against Ireland at Trevor Barker Beach Oval on Sunday.
Ladson said if recruiters weren't looking at Geary, then they weren't doing their jobs.
"You don't come across them too often, the ones like Jack, that have the running capacity, the strength, the speed and the skill level to go with it," Ladson told
AFL.com.au.
"His leadership quality, for a young guy, is something I haven't seen too often either in my time down in Melbourne.
"(Recruiters) aren't doing their jobs if they're not looking at him, put it that way."
Geary, who played TAC Cup for the Bendigo Pioneers, has long been a star of Victorian country football.
The strongly built, dreadlocked, six-foot utility also has a history of lifting his game up to higher levels.
In July, Geary was awarded one of Vic Country's two best afield medals for his efforts in defence in a loss to Metro.
Previously he has captained the Vic Country under-19s, won two best-on-ground medals during Square's run of five-straight flags and this year he skippered the BFL's senior interleague team to victory.
Geary's third quarter in Golden Square's fifth flag is already the stuff of folklore, after he inspired his side to turn a four-point half-time deficit into a match-defining lead at the final change - despite kicking into a breeze.
"A lot of people look at country footy and go 'If he hasn't done it at VFL level then it's not worth even looking at'," Ladson said.
"If you look at the games where he's really stood out (such as) our Grand Final last year … I still thank him every day for it, his third quarter.
"It was one of the best 30 minutes of footy I've seen from someone his age."
Draft smokey Jack Geary in action for Golden Square. Picture: Bendigo Advertiser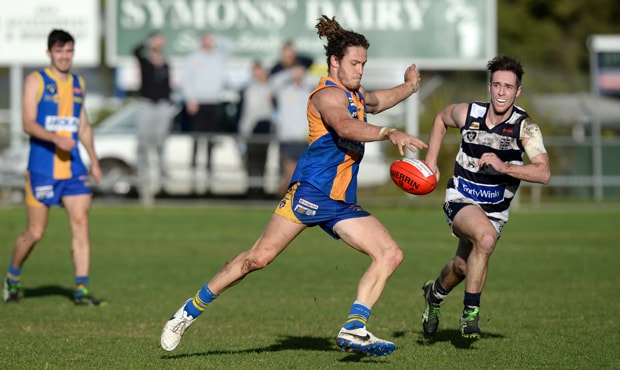 Ladson, who played 125 games for the Hawks between 2003-11 before returning to his junior club Golden Square, has no doubt fitness freak Geary could make an immediate impact at an AFL club if given the chance.
"Someone's mad not to give him a go on a rookie list or something I would have thought," he said.
"He's a beast, Jack. It honestly makes me sick how hard he works. That's during the year, but he just doesn't stop running and training every day on top of doing landscaping every day – he's just a unit.
"It's irrelevant that he's a country footballer. I've got no doubt that he's ready – and he's readymade.
"I just hope he plays well again this weekend against the Irish. You never know who's there."
Sunday's match against the Damian Carroll-coached VFL outfit is a warm-up game for Ireland before they take on Australia at Patersons Stadium on Saturday, November 22.