THE CAREER of dual Brownlow medallist Chris Judd hangs in the balance with Carlton confirming the veteran midfielder has ruptured the ACL in his left knee.

Judd, 31, went down 21 minutes into the first quarter of Saturday's clash with Adelaide at the MCG.

He emerged from the rooms on crutches in the second quarter and left the MCG in a car to have scans that confirmed the extent of the injury.

The look of resignation on Judd's face immediately after his leg buckled – and the way he acknowledged the crowd as he left the MCG for possibly the last time – indicated he knew straight away.
The injury happened when he landed awkwardly on his left knee after contesting for a mark with Adelaide star Patrick Dangerfield on the Southern Stand wing.
He lay on the turf in visible pain after badly twisting the knee when his foot planted in the ground and his body kept rotating.
Judd then tried to hobble off with the aid of trainers but didn't get far before he realised he couldn't put any weight through his left leg.
A stretcher was called and he was taken off the field on the motorised cart.
There was a stunned silence around the MCG as trainers worked to move Judd to the rooms.
He was then applauded as he left the ground, and sat up and acknowledged the crowd – and nearby standing Adelaide cheer squad - as he approached the race.
Judd was treated by medical staff in the rooms at quarter-time before leaving the ground to get scans on his knee.
Chris Judd grimaces in pain after hurting his knee against Adelaide. Picture: Getty Images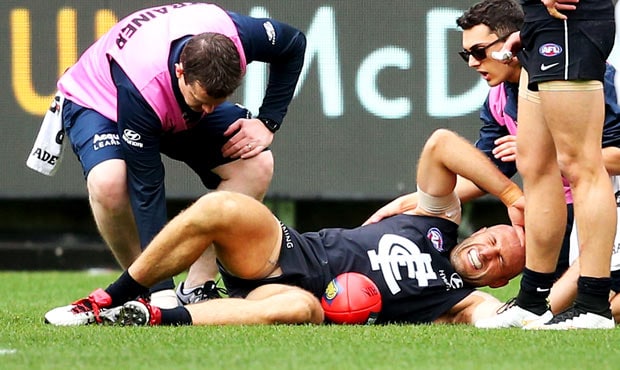 It was just last week Judd revealed in a radio interview he hadn't made a decision about whether he'd play on into a 15th season.
He almost retired last season after achilles and hamstring issues, but opted to play on as the Blues' culture shifted and he found some touch late in the season.
He missed last week's loss to the Sydney Swans with knee soreness, and didn't play in round four in New Zealand because of a back issue.
The Carlton players were clearly rattled by the incident. The Crows kicked a goal – their fourth – straight after Judd went off, which gave them their first lead of the afternoon as the Blues activated Jason Tutt as their substitute.
They steadied in the second and trailed by 19 points at the main break. The Blues rallied after the main break, but ultimately went down by nine points in a thrilling clash.
Not what we want to see - @CarltonFC star Chris Judd has been helped from the field after this incident. http://t.co/ZZxAGh5yLb

— AFL (@AFL) June 6, 2015
Chris Judd's career:
Games: 279
AFL Premiership: 2006
2× Brownlow Medal: 2004, 2010
2× AFLPA MVP: 2006, 2011
6× All-Australian Team: 2004, 2006, 2008, 2009, 2010, 2011
2× West Coast best and fairest: 2004, 2006
3× Carlton best and fairest: 2008, 2009, 2010
Norm Smith Medal: 2005
West Coast captain: 2006-2007
Carlton captain: 2008-2012
Sad day in footy! #juddy #champion

— Mitch Duncan (@mitchduncan22) June 6, 2015
Absolutely gutted for Juddy. Let's hope it's not the last we see of him. Can be such a cruel game at times.

— Nathan Jones (@nathan2jones) June 6, 2015
Be such a sad way for a champion to go out if Chris Judd has in fact done an acl. Let's hope it looked worse than it is... #AFLBluesCrows

— Nick Maxwell (@maxy_5) June 6, 2015
Really hope that's not a serious knee for the champ #prayingforjuddy

— Mitch Clark (@mitchjclark) June 6, 2015
Hope that's not the last time we see the great Jman #AFLBluesCrows

— Mitch Robinson (@MitchRobinson05) June 6, 2015
Really hope that wasn't what it looked like.. All the best Juddy!! Fingers crossed it's not to serious

— pearce hanley (@pearcehanley) June 6, 2015
Flattening sight seeing juddy carried off. Lets hope with the form he has shown this year he has a quick recovery in time for rd1 next year.

— Luke Hodge (@LHodge15) June 6, 2015