• Check out every confirmed move on the Trade tracker• NAB AFL Trade Hub: moves, rumours and your reaction• All the free agency moves and news• Click here for the 2014 indicative NAB AFL draft order
ADELAIDE
Draft picks: 14, 35, 43, 59, 86, 104, 122.
Arrived: Kyle Cheney, Luke Lowden, picks 14, 35, 43, 59.
Departed: Ben Rutten (retired), Jason Porplyzia (retired), Jared Petrenko (delisted), Lewis Johnston (delisted), Shaun McKernan (delisted), Angus Graham (delisted), picks 10, 31, 50, 68.
2015 premiership odds: $26
Trade misses: The club was heavily linked with former Greater Western Sydney ruckman Jonathan Giles, only to see him join Essendon. The Crows were also keen to increase their key defensive depth and although Cheney will bolster the backline, they remain in need of another tall defender.
Trade period mark:
Given the list requirements flagged by the club before the trade period, the Crows were surprisingly quiet. They waited until almost the last minute before finalising their only trade and a swap of picks and even then failed to add outside speed or a key defender. Still,
coach Phil Walsh insists he's pleased with his acquisitions
and declared he's been a fan of Cheney for quite some time. Their strategy of downgrading early picks in the belief that their first target will still be available will either work perfectly or fail badly – time will tell.
6/10. -
Harry Thring
BRISBANE LIONS
Draft picks: 44 (Liam Dawson), 63 (Harris Andrews), 67, 81, 99 (Josh Clayton)
Arrived: Dayne Beams, Allen Christensen, pick No.67
Departed: Jonathan Brown (retired), Brent Moloney (retired), Ash McGrath (retired), Andrew Raines, James Polkinghorne, Jordan Lisle, Patrick Wearden, Sam Michael, Nick Hayes, Isaac Conway, Joel Patfull (GWS), Jack Crisp (Collingwood), pick No.5, pick No.25.
2015 premiership odds: $67
Trade activity: Joel Patfull to GWS for pick No.21; pick No.21 to Geelong for Allen Christensen; picks 5 and 25 and Jack Crisp to Collingwood for Dayne Beams and pick No.67.
Trade misses: It could hardly count as a miss, but the Lions were right into Paddy Ryder late in the season before the former Essendon ruckman chose Port Adelaide as his desired home. Ryder had initially expressed an interest in the Lions, but with Matthew Leuenberger, Stefan Martin and Trent West on the list, not getting Ryder shouldn't hurt too much.
Trade period mark:
Coach Justin Leppitsch said he wanted to bring in some A-grade talent
and that's exactly what the Lions did with Beams and Christensen
. Both are premiership players, highly skilled, in the prime of their careers and add polish to an already exciting midfield group. Losing reliable Patfull was definitely a blow, but it was on amicable terms and young Darcy Gardiner appears a ready-made replacement. This time last year the Lions were waving goodbye to five first-round draft picks who wanted out, so the turnaround to this trade period could not be more stark. There's now renewed optimism around the Gabba.
9/10
- Michael Whiting
CARLTON
Draft picks: 19, 28, 61, 65, 79, 101, 119.
Arrived: Kristian Jaksch (GWS), Mark Whiley (GWS), Liam Jones (Western Bulldogs), pick No.19, pick No.61, pick No.79.
Departed: Jarrad Waite (North Melbourne), Jeff Garlett (Melbourne), picks 7, 46, and 83, Andrew McInnes (delisted), Tom Temay (delisted), Jaryd Cachia (delisted rookie), Luke Reynolds (delisted rookie), Heath Scotland (retired), Nick Duigan (retired), Josh Bootsma (contract terminated).
2015 premiership odds: $34
Trade activity: Jarrad Waite to North Melbourne (unrestricted free agent); Jeff Garlett and pick No. 83 to Melbourne for picks 61 and 79; pick No. 7 to GWS for Kristian Jaksch, Mark Whiley and pick No. 19; pick No. 46 to the Western Bulldogs for Liam Jones.
Trade misses: The Blues missed out on securing Western Bulldogs utility Jason Tutt, but remain confident of signing the 23-year-old via the NAB AFL Pre-Season Draft. They were also interested in Sydney Swans midfielder Tom Mitchell. The futures of out-of-contract players Kane Lucas, Brock McLean, Mitch Robinson and David Ellard remain in limbo.
Trade period mark:
There will be renewed optimism at Visy Park over the pre-season.
The additions of key position players Jaksch and Jones will fill the void left by Waite.
Jaksch, who has been likened to swingman Lachie Henderson, has the ability to fulfil a role in defence, but expect to see the 20-year-old play at both ends of the ground. Inside midfielder Mark Whiley will strengthen the midfield and can also perform a tagging role. The Blues maintained a first and second-round draft selection (No. 19 and 28) in next month's NAB AFL Draft
. 7.5/10
-
Giulio Di Giorgio
Click here to see how we rated your club (Adelaide to GWS)
COLLINGWOOD
Draft picks: 5, 9, 30, 48, 85, 103, 121
Arrived: Jack Crisp, Levi Greenwood, Travis Varcoe, pick 5, pick 25 (on-traded to North Melbourne).
Departed: Dayne Beams, Heritier Lumumba (traded), Luke Ball, Ben Hudson, Quinten Lynch, Nick Maxwell (retired), Caolan Mooney, Marty Clarke, Peter Yagmoor (delisted), picks 25 and 67.
2015 premiership odds: $26
Trade Activity: Dayne Beams and pick 67 to the Brisbane Lions for Jack Crisp and picks 5 and 25. Pick 25 to North Melbourne for Levi Greenwood; Heritier Lumumba to Melbourne in a three-way deal involving Mitch Clark from Melbourne to Geelong and Travis Varcoe to Collingwood.
Trade Misses: The Pies set the bar high early with the Lions and named the likes of Pearce Hanley, Dayne Zorko, Sam Mayes, Jack Redden and James Aish as potential trade bait for Beams. After being firmly told all were off limits, they settled for Victorian Crisp.
Trade Period mark: With two more members of the 2010 premiership side making it known they wanted out early on in the period, it looked as though the Magpies would have their work cut out for them to find suitable replacements. They left with a Kangaroo who just had his career-best season, a talented young Lion, and an experienced, quick Cat who got his body right this season. Add to that a second top 10 draft selection from the Beams deal and the Pies have emerged pretty well after things looked dicey in the opening week. 8/10. - Jennifer Phelan

Levi Greenwood has swapped his blue and white stripes to black and white. Picture: AFL Media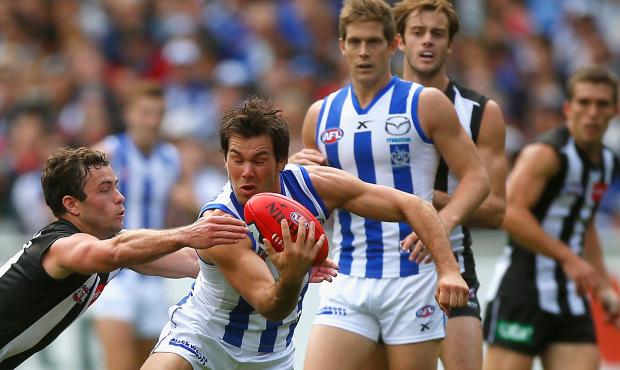 ESSENDON
Draft picks: 17, 20, 62, 71, 89, 107, 125.
Arrived: Jonathan Giles, Adam Cooney, James Gwilt, pick 17, pick 62.
Departed: Paddy Ryder, pick 53.
2015 premiership odds: $21
Trade activity: Paddy Ryder traded to Port Adelaide for pick No.17 and 37; pick No.37 on-traded to Western Bulldogs for Adam Cooney, pick 53 traded to GWS for Jonathan Giles and pick 62, James Gwilt (unrestricted free agent).
Trade misses: Daniel Gorringe was on the club's radar and would have been an excellent replacement for Ryder given his youth. But Gorringe rebuffed Essendon's interest and ended up staying at Gold Coast. They are also believed to have made a play for Mitch Clark as he was weighing up options.
FREMANTLE
Draft picks: 13, 34, 54, 72, 90, 108, 126.
Arrived: N/A
Departed: Kepler Bradley (retired), Scott Gumbleton (retired), Sam Menegola (delisted rookie), Michael Wood (delisted rookie).
2015 premiership odds: $9
Trade activity: N/A
Trade period mark: It's hard to measure the Dockers' trade period given they were inactive. It isn't necessarily a failure though, if they have success with this list. They made a play for Frawley but missed. Coach Ross Lyon had indicated the club was in the market for key position players but did state he was keen to develop the ones already drafted, which might explain why the Dockers were not as aggressive at the trade table. 5/10. - Alex Malcolm
GEELONG
Draft picks: 10, 47, 55, 60, 73, 91, 109 and 127
Arrived: Mitch Clark (Melbourne), Rhys Stanley (St Kilda), picks 10, 47 and 60
Departed: Allen Christensen (Brisbane Lions), Travis Varcoe (Collingwood), George Burbury (delisted), Jordan Schroder (delisted), Jesse Stringer (delisted), Jackson Sheringham (rookie delisted), Nick Bourke (rookie delisted), picks 14 and 35
2015 premiership odds: $13
Trade Misses: The Cats added plenty of size in attack but missed out on a key defender when Melbourne free agent James Frawley decided to sign with Hawthorn.
Trade Period mark: It's tough to rate Geelong's trade dealings given the question marks hovering over key forward additions Clark and Stanley. At his best Clark is an attacking weapon, although it's impossible to know what he will deliver after his foot and mental health battles. Stanley has potential, but he frustrated St Kilda fans in 58 matches and pick 21 is arguably too big a price to pay. Letting Christensen go for that pick was a blow, albeit understandable in the circumstances. Geelong then lost even more pace following smooth mover Varcoe's departure. 6/10 – Travis King
GOLD COAST
Draft picks: 8, 15, 29, 66
Arrived: Nick Malceski, Mitch Hallahan
Departed: Nathan Bock (retired), Tom Murphy (retired), Karmichael Hunt (retired), Campbell Brown, Jackson Allen, Jack Hutchins, Leigh Osborne, Jeremy Taylor, Matthew Warnock, pick No.47, pick No.49
2015 premiership odds: $26
Trade activity: Nick Malceski (unrestricted free agent from Sydney Swans); picks 47 and 49 to Hawthorn for Mitch Hallahan.
Trade misses: The Suns were interested in former Melbourne free agent James Frawley but fell out of the race fairly early. Frawley may have helped prop up a defence that looked thin at times in 2014, but led by young stars Steven May and Rory Thompson, the key posts still look in safe hands.
Trade period mark:
A relatively quiet but very productive period for the Suns.
They targeted Malceski and got their man,
which adds experience and poise to a very young back six. Hallahan is also an excellent addition, with the hard-bodied midfielder expected to take some heat off Gary Ablett, David Swallow and Jaeger O'Meara around the stoppages. And best of all, the Suns gave up nothing (aside from two draft picks they weren't using anyway), to get the duo.
7.5/10.
- Michael Whiting
Nick Malceski will offer plenty of drive from half-back for Gold Coast. Picture: Getty Images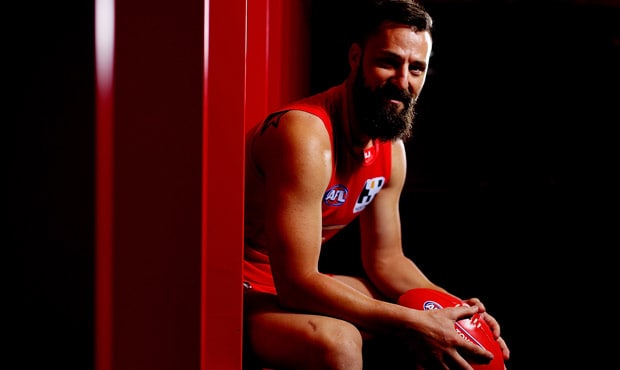 GREATER WESTERN SYDNEY
Draft picks: 4, 6, 7, 23, 24, 80, 98, 116
Arrived: Pick No.6, pick No.23, Ryan Griffen, pick No.7, Joel Patfull.
Departed: Tom Boyd, Jonathan Giles, Sam Frost, pick No.40, pick No.53, pick No.62, Kristian Jaksch, Mark Whiley, Jono O'Rourke, pick No.21, pick No.43.
2015 Premiership odds: $101
Trade activity: Sam Frost and picks No.40 and No.53 to Melbourne for pick No.23; Jonathan Giles and pick No.62 to Essendon for pick No.53; Tom Boyd to Western Bulldogs for Ryan Griffen and pick No.6, Kristian Jaksch, Mark Whiley and pick No.19 to Carlton for pick No.7; pick No.21 to Brisbane Lions for Joel Patfull; Jono O'Rourke and pick No.43 to Hawthorn for pick No.19 and pick No.40.
Trade misses: In each of their three seasons in the League, the Giants have had the first overall pick in the draft, using it on Jonathon Patton, Lachie Whitfield and Boyd. They were again linked with the No.1 pick this year, with reports they were prepared to offer picks six and seven to St Kilda to attain it, but the deal failed to eventuate. They were also initially considered an outside shot at getting Paddy Ryder, while there was speculation about a potential move for Steve Johnson. Otherwise they achieved their goals of improving their overall draft position and bringing in Patfull to address a key defensive weakness and Griffen to bolster the midfield.
Trade period mark:
Once again it was a busy trade period for the Giants, who were very active throughout.
The biggest deal was the incredible departure of former No.1 draft pick Boyd,
who got his wish of a return home to Melbourne. It could be a move that ultimately haunts GWS, with the 19-year-old set for long-term stardom. But bringing in former Bulldogs captain Griffen, pick No.6 and some financial help with Griffen's contract was a reasonable return. O'Rourke is yet to prove himself at AFL level, so his progress will be watched with interest, while some significant height left the club in the form of Giles, Frost and Jaksch. But three picks in the top seven means they will have a major say on draft day once more.
6/10.
- James Dampney
HAWTHORN
Draft picks: 31, 49, 50, 68, 77, 95, 113 and 131.
Arrived: Jono O'Rourke (GWS), James Frawley (free agent), picks 31, 49, 50 and 68.
Departed: Mitch Hallahan (Gold Coast), Kyle Cheney (Adelaide), Luke Lowden (Adelaide), Jordan Kelly (delisted), Ben Ross (rookie delisted), Derick Wanganeen (rookie delisted), Brad Sewell (retired), picks 19, 40, 43, 47 and 59.
2015 premiership odds: $4
Trade Activity
Jono O'Rourke from Greater Western Sydney for pick 19.
Mitch Hallahan to Gold Coast for picks 47 and 49. Kyle Cheney, Luke Lowden and picks 43, 47 and 59 to Adelaide for picks 31, 50 and 68.
Trade Misses: Hawthorn enhanced its reputation as a destination club when Frawley and O'Rourke turned down other suitors and nominated Waverley as their new home. As far as we know, the Hawks didn't chase any other players.
Trade Period mark:
Big tick for bringing in another quality key defender in Frawley
and adding a former No.2 draft pick in O'Rourke to help regenerate an ageing midfield. Beating arch-rivals Geelong to Frawley would have added to the satisfaction, at least for some Hawthorn fans. Losing tough midfielder Hallahan for picks 47 and 49 was under the going rate, but the Hawks nipped inside the trade deadline and packaged the first of those picks along with depth players Cheney and Lowden to move back up the draft order to pick 31.
8/10
–
Travis King
MELBOURNE
Draft picks: 2, 3, 40, 42 (Billy Stretch), 53, 83, 97, 115.
Arrived: Heritier Lumumba (Collingwood), Jeff Garlett (Carlton), Sam Frost, pick No.3 (free agency compensation, James Frawley), pick No.40, pick No.53, pick No.83.
Departed:
Mitch Clark (Geelong), James Frawley (Hawthorn), Sam Blease, Daniel Nicholson and Mitch Clisby (delisted),
Shannon Byrnes (retired), pick No.23, pick No.61, pick No.79.
2015 Premiership odds: $501
Trade activity: Pick No.3 as compensation for James Frawley; Mitch Clark for Heritier Lumumba; pick No.23 for Sam Frost and selections 40 and 53; picks 61 and 79 for Jeff Garlett and selection 83.
NORTH MELBOURNE
Draft picks: 16, 25, 36, 56, 74, 92, 110 and 128
Arrived: Jarrad Waite (free agent), Shaun Higgins (free agent), pick 25.
Departed: Levi Greenwood (Collingwood). Yet to announce delistings.
2015 premiership odds: $13
Trade activity: Levi Greenwood to Collingwood for pick 25.
Trade misses: North was in the market to lure Adam Cooney from the Western Bulldogs but the Brownlow medallist signed with Essendon. Had an interest in ex-Cat Travis Varcoe, who ended up at Collingwood.
The Roos are set for a flag tilt after bringing in Shaun Higgins and Jarrad Waite. Picture:

Getty Images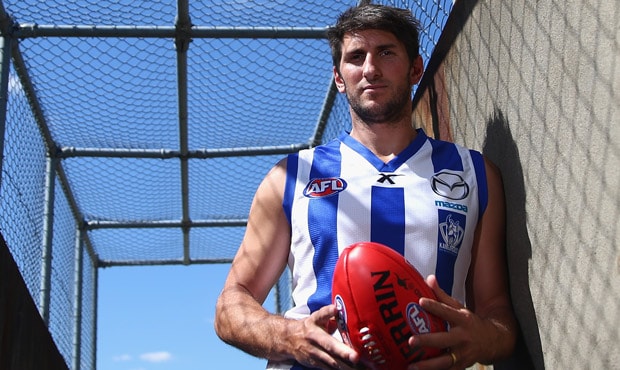 PORT ADELAIDE
Draft picks:
57, 75, 93, 111, 129
Departed:
Dom Cassisi (retired), Brent Renouf (delisted), Campbell Heath (delisted), Cam Hitchcock (delisted), picks 17 and 37.
2015 premiership odds:
$6
Trade activity:
Picks 17 and 37 to Essendon for Patrick Ryder.
Trade period mark: Port nailed the trade period. It already has a young, well-rounded list, but finding support for ruckman Matthew Lobbe given the injury concerns of Jarrad Redden was paramount. The club has also talked of its desire to add another tall attacking option to the mix and so it's difficult to think of a better recruit than Ryder. The age of the list means the loss of early draft picks won't hurt and Ryder's arrival at Alberton surely turns Port into a genuine premiership contender in 2015. 9/10 - Harry Thring
RICHMOND
Draft picks: 12, 33, 52, 70, 88,
Arrived: N/A
Departed: Todd Banfield, Ben Darrou, Aaron Edwards, Brad Helbig, Dan Jackson, Jake King, Brett O'Hanlon, Orren Stephenson, Cadeyn Williams
2015 premiership odds: $21
Trade activity: N/A
Trade period mark:
The Tigers entered the trade period hoping to increase their midfield depth and speed. On that measure they failed, but they still have the opportunity to address their shortcomings in the NAB AFL Draft. Nothing was gained, but nothing was lost, suggesting the Tigers are happy with their list.
5/10 -
Nathan Schmook


ST KILDA
Draft picks:
1, 21, 22, 41, 78, 96, 114.
Arrived:
Pick 21.
Departed:
Rhys Stanley (traded), James Gwilt (free agency), Lenny Hayes, Beau Maister (retired), Trent Dennis-Lane, Sam Dunell, Clint Jones (delisted), pick 60.
2015 premiership odds:
$501
Trade Activity:
Rhys Stanley and No.60 to Geelong for pick 21.
Trade Misses:
They were offered four packages of draft selections for pick No.1 but none were considered enough to give up the chance to recruit this year's top draftee. They spoke to Kristian Jaksch and Jono O'Rourke before they picked Carlton and Hawthorn, and will have to secure Tim Membrey through the NAB AFL Pre-season Draft after failing to deal with the Sydney Swans.
Trade Period mark:
The Saints were always going to be in a winning position given their hold on the No.1 pick (they could either hang on to it and land gun midfielder Christian Petracca or forward Paddy McCartin, or potentially turn it into multiple top-10 selections). They opted to keep it, which will gift them a talented youngster to go with the three top-20 selections they welcomed to the club 12 months ago. They didn't quite manage to secure the three inside 20 picks they were after but
the trading of Stanley landed them a selection just before their No.22
- so they got close. They weren't able to convince O'Rourke and Jaksch to come on board but will add Membrey (a medium-sized forward) to their list.
8/10.
- Jennifer Phelan
Young Swan Tim Membrey is set to join St Kilda via the NAB AFL Pre-Season Draft. Picture: AFL Media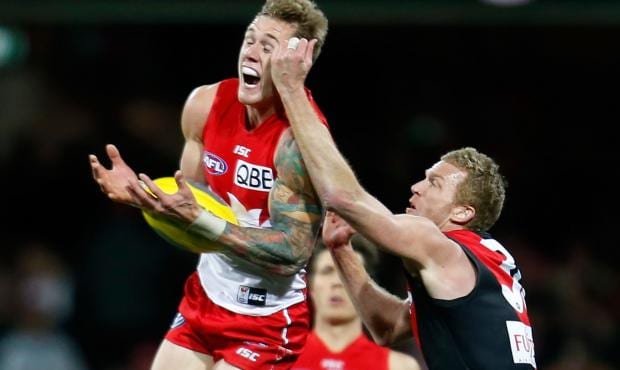 SYDNEY SWANS
Draft picks: 18, 37, 38, 58, 76, 94, 112, 130.
Arrived: Pick No.37, pick No.39.
Departed: Shane Biggs, pick No.39, Nick Malceski.
2015 premiership odds: $4.50
Trade misses: N/A
Trade period mark: The Swans have built a well-earned reputation for finding diamonds in the rough in the NAB AFL Draft. They will need to be at their best again this year, as the trade penalties left their hands tied when it came to improving their list or their draft order. Mark out of 10: N/A - James Dampney
WEST COAST
Draft picks: 11, 32, 51, 69, 87, 105, 123.
Arrived: Alec Waterman (father/son selection via final pick in the NAB AFL Draft – currently 123).
Departed: Dean Cox (retired), Darren Glass (retired), Jacob Brennan (delisted), Ashley Smith (delisted).
2015 premiership odds: $23.
Trade Activity: N/A.
Trade misses: The Eagles were interested in recruiting Travis Varcoe from Geelong but he ended up joining Collingwood. They were also in the race for Nick Malceski but the free agent signed with Gold Coast.
Trade period mark: West Coast's spine is its greatest asset but the club has made no secret of wanting to add some midfield depth. The Eagles were seeking size, skill and speed but failed on all three fronts. Adam Simpson did state they were more likely to go to the draft rather than trade, however, the Eagles did not even improve their place in the draft order. The Eagles are obviously comfortable with where their list is at. 4/10. - Alex Malcolm
WESTERN BULLDOGS
Draft picks: 26, 27, 39, 45, 46, 82, 100 and 118.
Arrived: Tom Boyd, Shane Biggs, Zaine Cordy (father-son), picks 39 and 46
Departed: Ryan Griffen, Adam Cooney, Liam Jones (traded) Shaun Higgins (free agency) Daniel Giansiracusa, Tom Williams (retired) Brett Goodes, Tom Young, Christian Howard (delisted), picks 6, 37 and 64
2015 Premiership odds: $101
Trade misses: The Bulldogs made the best offer for Levi Greenwood, but he chose Collingwood. Kangaroo Kieran Harper had a medical at the club but a deal never eventuated. The 21-year-old may still end up at Whitten Oval as delisted free agent. They were also into Cat Tom Lonergan but that deal fell through when coach Brendan McCartney was sacked.
Trade period mark: Long criticised for having a conservative approach at the trade table, the Dogs for once have been daring and they should be applauded for it. Boyd may have come at a high cost, but you don't often get the chance to recruit a blue-chip 200cm key forward, something they have craved since club great Chris Grant retired in 2007. Griffen, Cooney, Jones and Higgins all wanted out after a turbulent 2014, so the Dogs did well to get what they did for them. 8/10 - Ryan Davidson