THERE are two stages to the NAB Challenge, the first of which came to an end at the conclusion of Sunday's entertaining Collingwood-Carlton clash at Bendigo.
That the AFL happily organised a match between the game's most traditional rivals in Bendigo suggests that these games are staged with the right perspective in mind.
There has been a bit of frothing over the weekend that these games detract from the overall season, but I'm not buying that.
For starters, there is no suggestion that these games are anything more than sponsored practice matches. Even Dwayne Russell on Fox Footy has managed to temper his enthusiasm with steady reminders that the results count for nought.
They serve an important purpose – minutes on the ground and playing against (and hitting) opponents that aren't your teammates still serves as the best preparation for the opening of the season, despite what critics might say.
But you take your chances in the opening three weeks of the pre-season if you choose to watch. Buyer beware when you hand over the cash for your ticket because while some teams load up with their big guns, others play the kids.
The Western Bulldogs ran over a below-strength Richmond in the opening week of the pre-season a fortnight ago. On Saturday, it was a near full-strength Richmond that feasted on a youthful Port Adelaide.
The Power travel every second weekend of the home and season, so who could blame them for sparing their veterans from making a trip they didn't really need to.
Fremantle also travels every fortnight, further than Port of course, but are so keen to make a fast start to the season that many of Ross Lyon's big guns were there at Drummoyne Oval against the Swans on Sunday.
Lyon wants them cherry ripe for a ferocious opening to the season that includes Port, Geelong and an away derby clash with West Coast.
It's March, so Ken Hinkley wasn't wrong to take the approach he did. Nor was Lyon.
NAB Challenge detractors argue that the games are sub-standard and because so many are televised, it doesn't paint the game in the best picture. That they're televised is probably due to a TV rights agreement signed four years ago that stipulates the delivery to Fox Footy of a certain number of pre-season games. Where pre-season footy might feature in the next broadcast agreement will be a talking point.
And it's not like the ratings figures stink. According to industry bible MediaWeek, the Fox Sports TV ratings for the Port-Richmond game were higher than the two A-League games played on the same day. They were only marginally less than the Super Rugby games and only World Cup cricket and the NRL beat them comfortably.
Another theory floated on the weekend is that the games aren't worth it for the sponsor. NAB owns the naming rights to not just the pre-season games, but the entire talent pathway, and these games, with an emphasis on 'playing the kids', are part of that.
But how could the sponsor be displeased, considering the fabulous optics (as they call it in the marketing game) in the NAB Challenge. Packed rural and suburban venues that don't see much top line AFL football, and the players have been treated like rock stars.
On Sunday alone, Chris Judd and Scott Pendlebury stood each other at the opening bounce in Bendigo. Josh Kennedy and Nat Fyfe the same at Drummoyne, where Lance Franklin stood at full-forward.
To me, the first three weeks of the NAB Challenge works well because it ticks multiple boxes – match practice, player development, game promotion and media content at a time when the other footballing codes are in full swing.
Bright lights, big cities
And this week it steps up a gear. It has been smart fixturing by the AFL to get the off-road games done in the first three weeks, with the move to the big cities and better venues from Thursday night.
Nine games in four days - five at Etihad Stadium and three others at active AFL stadiums. The other (Adelaide v Port) is at AAMI Stadium, just one season removed from hosting AFL matches. Let's hope the pie stands are still open and the plumbing still works out at West Lakes. Only two teams (the Swans and Giants) have to travel and then only to Canberra, which is a just a short hop away.
And the games should be good. These are the final dress rehearsals before the season and barring any niggles, teams will be close to full strength. Experimentation will be largely shelved; structures and game plans need to stand up.
We've learned bits and pieces about all 18 clubs in three of footy so far.
We'll learn plenty more again over the ensuing seven days as the pre-season continues to serve its proper purpose.
The comeback kid
A familiar face was among the four umpires to take charge of the Geelong-Adelaide game last Thursday.
After three years in retirement, Shaun Ryan was one of the men in green and the umpiring hierarchy at AFL House is delighted to have him back.
Ryan was one of the best in the game when he walked away at the end of 2011, having umpired the previous five Grand Finals, including the replay of 2010.
But between umpiring, being a husband and father to three young children and the daily commute from his home at Torquay on the Victorian surf coast, something had to give. So he put the whistle away.
But he wasn't forgotten at AFL House and when Wayne Campbell and Haydn Kennedy took control of the umpiring department last year, an immediate concern was the paucity of experienced umpires. And after lots of persuasion, particularly from Kennedy, Ryan decided late last year to make his comeback.
"Hayden always thought I retired too early," Ryan told AFL.com.au. "He was coming at it that when I get older I might regret giving it up three to five years early.
"There was an opportunity to fill a role and perhaps take on a mentoring role as well."
When Ryan last umpired there were eight games each weekend. The addition of Gold Coast and Greater Western Sydney has increased that by one game a weekend and given the team structure the umpires have started to adopt – having the same three umpires work together for weeks at a time – the ideal structure is for each grouping to feature one of the more experienced umpires.
Ryan, with 215 games under his belt, fits that bill.
Shaun Ryan (c) with fellow 2010 Grand Final umpires Brett Rosebury and Ray Chamberlain. Picture: AFL Media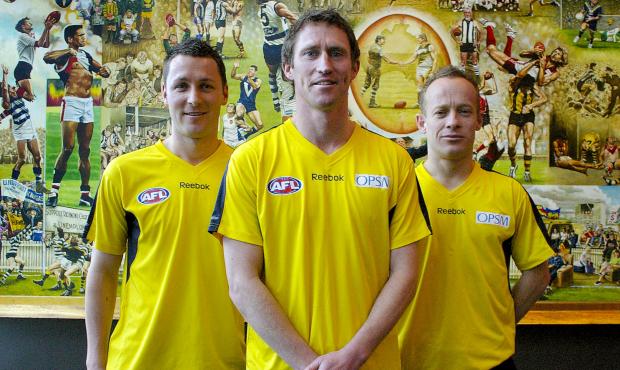 Still, footy has changed even after three years away and Ryan has had to adjust. There are score reviews and sliding tackles, and even just the way teams structure up.
"It was only the NAB Challenge game, but it was pretty quick," he said of the Cats-Crows clash. "It seemed the teams really moved up and down, so that basically both teams are inside the same 80m of the ground.
"When I retired that was starting to happen but it's now extreme where teams flood up and flood back. There's a lot of running."
At 39, there were a few niggles to his calves and hamstrings when he resumed umpire training. The short, sharp repeat sprints required of field umpires use different muscles than the long-distance triathlons he ran while on his sabbatical.
But there is also the appeal of being something of a pioneer.
"At 39, not everyone gets the chance to come back and be involved in an elite sport," he said. "My family were all for it, so I thought why not give it a crack.
"I thought it would be a good challenge and I like a good challenge."
Getting in the game
Adam Davis was studying some data recently and the feedback was surprising.
The AFL's national umpiring development manager discovered that the main attraction for umpires across all levels of the game wasn't the money or that it kept them fit.
It was that it got them closer the game. Or as former AFL umpires boss Jeff Gieschen used to say, umpiring afforded its participants the best seat in the house.
"It's the adrenalin that comes from being out there," Davis told AFL.com.au.
And that's the spark behind a new campaign to attract more people to umpiring. A new website and TV campaign, getinthegame.com.au

Using some great Go-Pro vision, a 30-second TV commercial has been created to demonstrate just how close the umpires get to the action. It really is the best seat in the house, and it illustrates just as significantly that the game cannot take place without them.
"With the game growing, we need more umpires and to entice more people to choose umpiring," Davis said.
"What we're trying to do is focus on the positive side. It's a positive call to arms."
The campaign will launch shortly on Fox Footy. AFL coaches will also feature prominently in the campaign as the season grows closer.
QUESTION TIME
@afl_hashbrowne Hi Ash, interested in how Melb fans would feel seeing M Clark's form? How did it that work; and how was Melb compensated?
— James Dunn (@jameshdunn) March 15, 2015


Ashley Browne: They'll be a bit twitchy about it. Without detracting for a moment from Clark's condition, I was never that comfortable that he didn't return to play for Melbourne. I would have liked him to have given that club at least another season. He looked good on Thursday, with six goals for Geelong against Adelaide and looks a good thing to line-up on former teammate James Frawley in the season-opener against Hawthorn on Easter Monday. The deal was Clark to the Cats, Travis Varcoe to Collingwood and Heritier Lumumba to the Demons. Early days, I have the Cats leading the deal, ahead of the Demons and Magpies. But these are very early days.


@afl_hashbrowne why did @AFL chose a practice game that wasn't being telecast as the #pridematch? Why not chose a home & away game?

— Melissa Harris (@M3lizza) March 15, 2015


AB: Quite simply, this pride match was a quite recent idea from the AFL, Swans and Dockers, whereas the TV fixture for the pre-season was determined months ago. The good news is that St Kilda is discussing a pride match during the season and rest assured, that match will be nationally televised.


@afl_hashbrowne was the tigers win more important than the same game 6 months earlier?

— Adam Broder (@tigerbrodes) March 15, 2015


AB: Umm, no. But Dusty Martin looked fantastic.