TIM KELLY is his mum's second cousin. The Kickett brothers – Dale and Derek – are on his dad's side of the family, while Nicky Winmar and Paddy Ryder are also in his bloodlines.
On family links alone, Elijah Taylor looks a first-round pick at this year's NAB AFL Draft.
He might be anyway. Taylor proved himself to be one of the most exciting prospects in this year's draft crop at the under-18 championships, pushing himself into top-20 contention.

Elijah Taylor shows a clean pair of heels to Vic Country in the championship-winning game. Picture: AFL Photos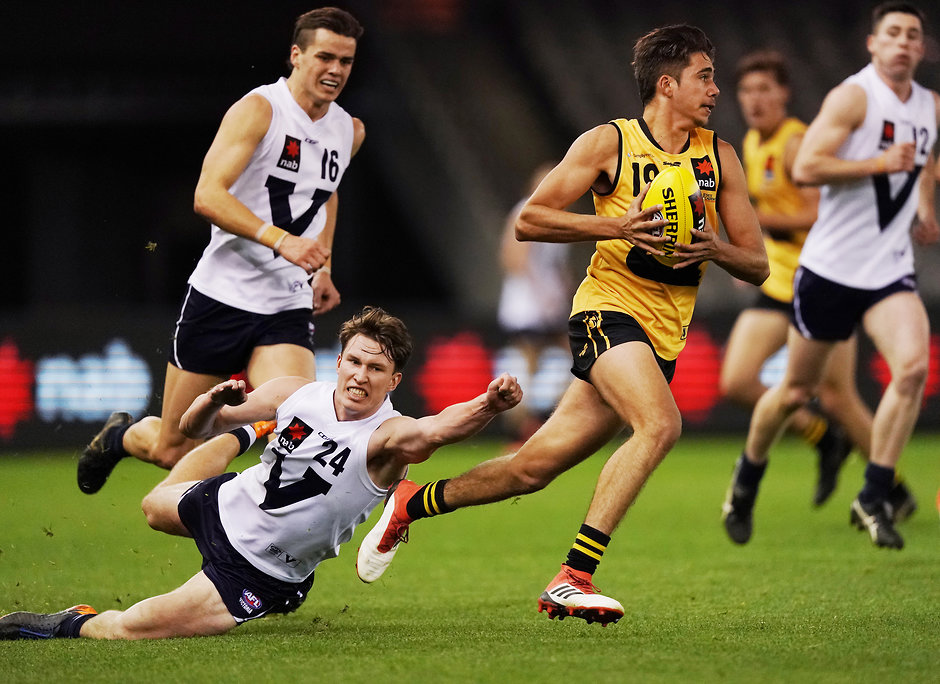 He played every game for Western Australia, helped it claim the title and was named an All Australian at the end of the carnival.
"I've been a little bit surprised. In the games I played I did pretty well, so I'm just trying to get more consistency in my game," Taylor told AFL.com.au.
The 185cm forward combines a number of skills to have a bag full of tricks. He has a high natural leap, is strong overhead and is dangerous around goal. He booted six for the carnival, including three against the Allies.

THE BEST OF TOMORROW The full 2019 Under-18 All Australian team
"I didn't play last year and didn't play state under-16s, so I didn't know what to expect," Taylor said.
"Playing in the first game was pretty good, in the first five minutes I got a mark and a goal and it was a good start to the championships."
Without gathering huge numbers, Taylor showed flashes of his ability across the championships, including daring runs and even a double blind turn that dumbfounded South Australian players in WA's second game.
Find Road to the Draft on Apple Podcasts, Google Podcasts and Spotify.
"I just had one glimpse and saw there was three players there. I'm pretty aware of what's around me when I get the ball, so I didn't really have many options. I just took the game on and it worked out," the 18-year-old said.
"[WA coach Peter Sumich] always says show a little flair, and I try to do that and show my goal sense."

WHO STAKED A CLAIM? The big risers from the U18 Championships
Taylor wants to build on what he has shown so far. He is aiming to feature at senior level in Perth's WAFL side, and wants to add some reliability to his game, making his best games more common and rounded.
He has received some advice from his footballing family members on how to do that, occasionally speaking to Geelong star Kelly about his progress.
"I've had a few messages with him here and there, and he's said to just keep going," Taylor said.
"I try not to think about it all too much but when I do it is pretty exciting. For now I'm just focused on my footy," he said.