BAILEY Smith admits he maybe overdid it. During the pre-season, the hard-working draft hopeful decided he would spend a week in Sorrento, on Victoria's Mornington Peninsula, for what he described as "a mini boot camp".
He took a mate with him and they ran 72km over seven days. Their mornings consisted of two hours of training at Sorrento Oval, before they would ride to the gym for another two-hour session. They would head back to where they were staying for something to eat, then spend the afternoons at the nearby beach. And then do it all over again the next day.
It was over Christmas, and they saw a number of AFL players, including Jarryd Roughead, Jordan Lewis, Tom Lynch and Jordan De Goey also completing their own off-season programs in the neighbourhood. On New Year's Day, early in the morning, they even had a kick with Hawthorn midfielder Tom Mitchell.
"When I see someone like him doing that, I feel like I'm doing the right thing," Smith, an avid Hawks fan, told AFL.com.au.
"It was a full-on week. I got a bit obsessed and ended up getting a sore hamstring from doing too much running and skills. But it's helped me a lot."
There won't be any better prepared players heading into this weekend's NAB AFL Under-18 Championships than Smith, who has rocketed into top-10 draft calculations after an excellent first half of this season. He sits alongside Geelong Falcon Sam Walsh as the leading midfielders in a pool with plenty of talls at the top end.
YOUNG GUNS 20 prospects to watch at the championships
It hasn't happened by chance. Smith was in year seven when he started going to the local park near his house in Melbourne's south-eastern suburbs every night after school to do his running, chin ups, sit ups and skills work.
He played for East Malvern and after the team finished training would do his own 'extras'. One night, a boy in the year above his age group, Jack Higgins, was doing the same and asked if they wanted to partner up. Higgins was drafted to Richmond last year and gained a reputation for his extremely dedicated training program before joining the Tigers.
The pair became close, with Smith following Higgins to training sessions, and even enlisting the same speed coach, who he still uses now. "Jack was the one who did everything I wanted to do before I did it," Smith said.
Smith set himself early on to be an AFL player. His parents, Nick and Sinead, recall it as the only thing he ever wanted. As an eight-year-old he told them he wanted to play football and they could tell he meant it. "He's always been very self-driven," Nick said. "We've never needed to push him. He's sometimes had to push us."
Part of that has been his diet. As a 14-year-old Smith became meticulous with what he ate. He started to count the calories in his food and cut out anything processed. He mainly eats meat and vegetables and rice, and steers clear of sugary foods. He doesn't like soft drink so sticks with water or milk, and he has never had any alcohol.
Smith's family half-jokingly suggests they have needed to put in a separate pantry for Bailey, and he avoids the tuck shop at his school Xavier College, opting instead for grilled chicken, rice and some steamed greens for his lunch-time feed. He's fastidious, but for a reason.
"Whenever I see a competitor or someone else eating bad foods I think that's a little win for me. As many little advantages as I can get is the aim," he said.
Smith is driven to succeed. Picture: AFL Photos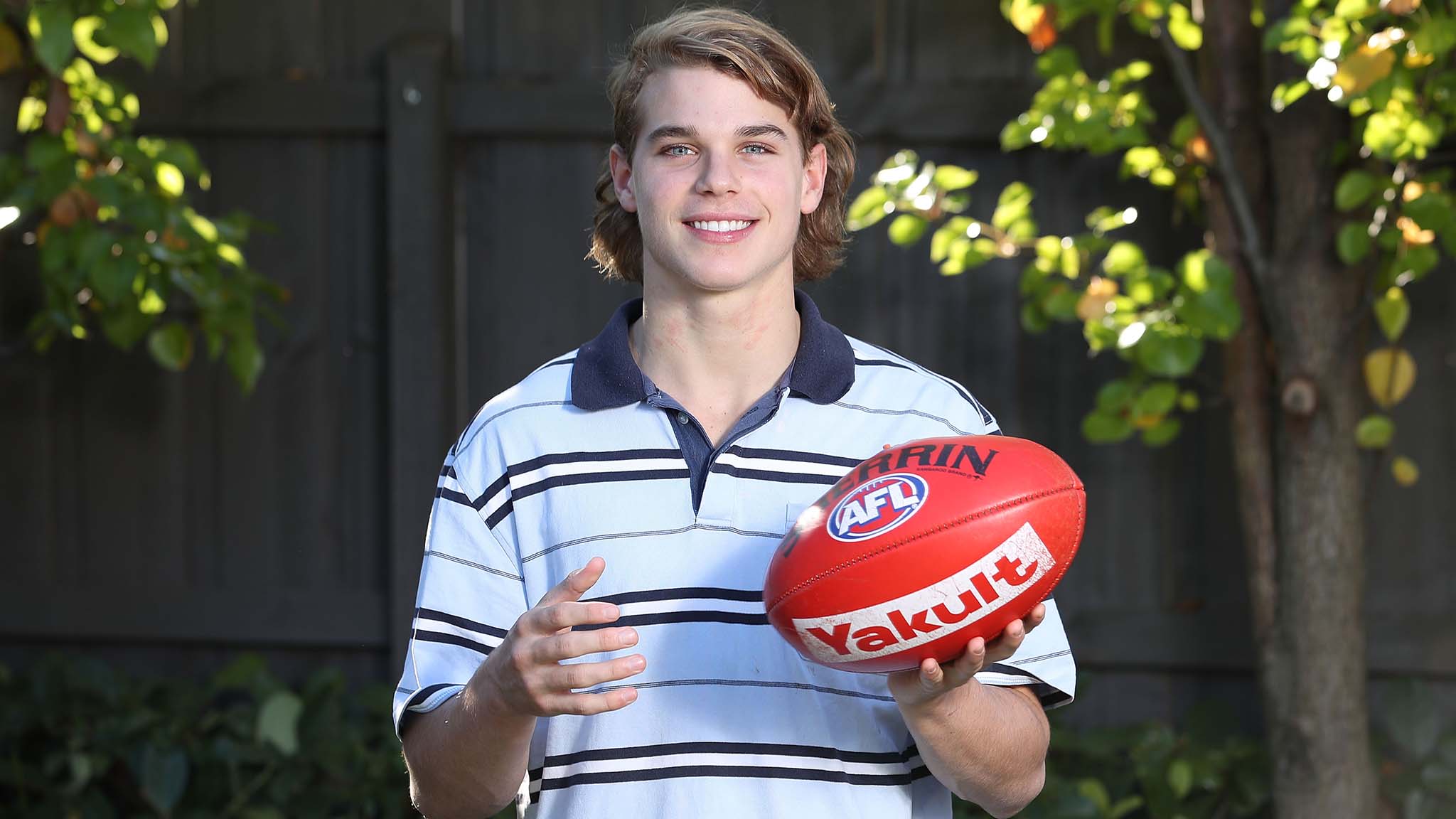 The preparation for games continues at night with ice baths – something he started in the backyard when he was 14 – and a trip to Elwood beach every Sunday for a recovery dip. All the work has translated into a blossoming year, starring for the Sandringham Dragons, his school team and also showing his wares for the NAB AFL Academy.
Last year Smith played for the Dragons as a smaller defender, but the 17-year-old has become an all-round midfielder this year: he wins the ball himself, has the pace to get out of the contest, the body to match it with others fighting for it and the composure to be damaging with it in his hands.
There is football in his blood; Sinead's grandfather was Leo Merrett, a premiership player alongside Jack Dyer at Richmond in 1943. Merrett was a cousin of former Essendon and Brisbane player Roger Merrett and decorated Collingwood player Thorold Merrett. Thorold's great nephews are Essendon pair Jackson and Zach Merrett, linking Smith with one of the game's best young midfielders.
He has links elsewhere, too. As a year seven at school Smith volunteered to be a water boy for the team's First XVIII football side. A year later he became something of a designated water boy for Billy Gowers, then vying to get onto an AFL list. Smith and the now Western Bulldogs goalkicker still keep in touch and had arranged to have a kick earlier this season before bad weather struck.
"Bailey got home once and said 'Mum, Billy Gowers knows my name!'," Sinead said. "He just loved it."
And still does. He will be one of Vic Metro's key players in its under-18 carnival, which starts on Sunday against Western Australia at Optus Stadium, and shapes as an early pick at November's draft. Smith's hard work won't stop there.
"The draft's on my mind a lot. Every day. Morning and night I'm thinking about it. I've worked forever and sacrificed a lot for it and always been so obsessed about the one goal," he said. "Without trying to put all my eggs in one basket, it's the main thing that I love doing and I can't get it off my mind."