PEOPLE were telling Blake Acres he had done enough. He wasn't so sure.
Acres had made Western Australia's under-18 squad, which surprised him, and started the season with West Perth better than he hoped.
It was the mobile midfielder's first season "in the guts" and he was loving it. He liked going and getting the ball and starting things, then running, flying for marks and slotting goals.
Then, with two minutes to play in a game his side was losing heavily in May, Acres went for a tackle. He grabbed his East Fremantle opponent, but got his own arm caught in an awkward spot, and his right shoulder dislocated.
Click here for all the latest draft news
It took a few minutes to be eased back into the socket, and the pain only died off an hour or so later, at the local hospital. He realised he had a decision to make.
The choice was to have surgery straight away and miss out on playing for his state, and impressing recruiters, at the NAB AFL Under-18 Championships that were soon to start, or play through the pain and delay going under the knife.
He sought and heard a lot of opinions – many saying he could have surgery immediately knowing he would still be drafted – but Acres knew his view was the most important.
"I had a few people saying I should call it a season," Acres told
AFL.com.au
.
"But I just thought I still had something to prove. I wanted to play the under-18s from the start of the year so I decided to wait for surgery.
"I got to see Melbourne and then play at Etihad Stadium with my state. Even though I didn't play the way I wanted to, I thought it was fun."
Acres had about five weeks out to recover from the injury, returned in some good form for West Perth's colts side, and was then picked to play in Western Australia's clash with Vic Country at Simonds Stadium at the end of June.
He kicked the opening goal and felt good, before being pushed over the boundary line and into a cameraman three minutes into the game, which saw his shoulder again 'pop' out. Off he jogged, again, with the joint aching.
He thought his season was over but the team doctor said he was fine to finish the game off. He ended up with 15 touches, a few marks, and helped his side to an after-the-siren win.
"My decision to play the under-18s was because I wasn't going to cause any more damage to it, even if it came out again," he said.
"If I went back out there, I was just playing with pain and nothing else. We had a lot of injuries that day but we pushed through. Everyone else was doing it, so I decided to do it as well."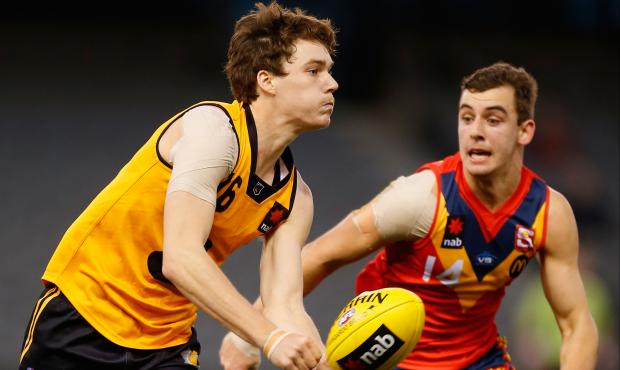 Acres in action for WA against SA at the NAB AFL Under-18 Championships. Picture: AFL Media

He played again five days later against South Australia under the roof at Etihad, but by then, didn't feel like the player he wanted to be.
At the beginning of the year he was either bounding out of defence with the whole ground ahead of him, or winning the ball, busting through the middle and hitting targets. Now, the shoulder was playing on his mind.
"I was scared it was going to come out again, because it hurt pretty bad. It had a bit of a mental impact on me. Usually I like to get my own footy and play in the guts but I couldn't do it because of my injury so I had to play a more outside role," Acres said.
"I thought I could have done better if I didn't do my shoulder. I couldn't find my own footy a lot because I didn't have that strength in my shoulder. I was just relying on the other boys a bit to find the footy."
That was his last game of the season, having undergone arthroscopic surgery after the national carnival was over.
When he has spoken to clubs about the draft, the conversation has always come back to the shoulder, and the injury.
Eight weeks since surgery and another eight to go before he is back to full fitness, Acres understands why some see him as a bit of a mystery in this year's crop, and sort of agrees.
"I think that," Acres said. "Some recruiters probably saw me for the first time playing against Vic Country or South Australia. They probably think that's all I am. I think I'm more than that."
Watching games from the sidelines has given Acres a new insight into footy, and what the life of a professional athlete can be like. He was approached at West Perth to help with the opposition analysis in the second half of the year and has enjoyed thinking more about the game, how it's played, and how to devise strategies.
He has got to know the younger players at the club better, and once a week goes to the gym with one of them, each pushing the other to get fitter, stronger and better.
Acres has genes on his side for that, though.
While his marking comes from growing up alongside state basketballers at school – before the surgery he was still playing three or four days a week – his endurance is from his dad, who was an 800m runner.
His dad's brother, Barry Acres, was a champion runner over that distance too, while his mum's sister, Nicole Redford, won a swimming bronze medal at the Commonwealth Games in 1990.
"They are an athletic bunch," Blake said.
So, too, is he. Acres has grown a touch to now measure a rangey 190cm, and feels like he can play nearly anywhere on the ground, a big reason why he is seen as a likely pick inside the top 20.
At the start of the year, when his TAFE studies were colliding with his footy training, Acres put the fitness course on hold to focus on his sport. He has worked all year at a family friend's car maintenance business, and been given time to do it around his sport.
When he has had an interview with a club, he has told his boss, who has let him take one of the cars at work and drive it to the meeting. He feels he has done everything he can to have his name read out next month, but won't be too confident until it is.
"I've heard a fair bit but you can't really listen to it. Who knows what the recruiters are thinking on the day? Something could go terribly wrong or go very good," he said.
"Not being able to play footy, you try not to think about it, but you always think about it a fair bit. It's just that anxiousness ... wanting to know where you're going to go, if you're going to go. The wait's pretty bad."
Twitter: @AFL_CalTwomey