DEPARTING Adelaide coach Don Pyke didn't believe he was part of the solution to turn the Crows around in arriving at his decision to step down with two years to run on his contract.
Pyke had been considering his future since the season ended before informing chairman Rob Chapman and chief executive Andrew Fagan on Wednesday night that he would be resigning.
"When the side is performing as it is, I recognise that, with others, I'm part of the problem, quite clearly," Pyke told reporters on Thursday.
Don Pyke and the Crows do the 'power stance' before the 2017 Grand Final. Picture: AFL Photos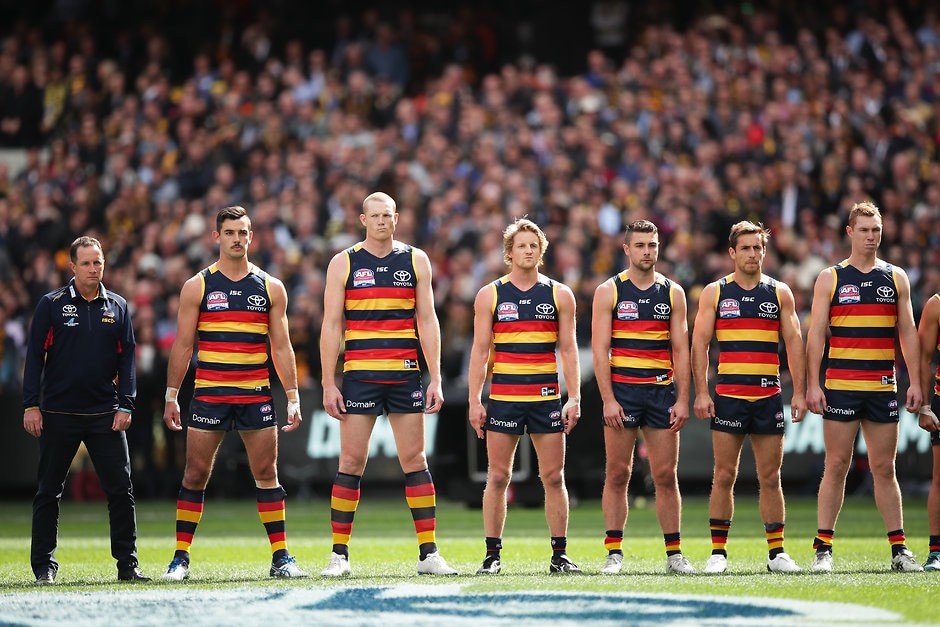 "The real question I've grappled with in the last couple of weeks since the season finished is, 'Am I also part of the solution?'
"My feeling in the conversations I've had and in my personal self-reflections, I've reached the decision it's best to hand over to a fresh face with a new voice to move the club forward."
Pyke coached the club for four years in a stint that included the 2017 Grand Final loss to Richmond.
AFL TRADE HUB All the latest news
However, Adelaide has plummeted in the two years since, with the Crows finishing 12th and 11th on the ladder amid a period plagued by off-field controversies that started with the contentious pre-season training camp ahead of the 2018 campaign.
An external review is currently underway, but Pyke said that didn't have any impact on his decision.
"The review's been on-going," he said.
Adelaide's coaching history
| | | | | | |
| --- | --- | --- | --- | --- | --- |
| Coach | Years | Wins | Losses | Draws | Win % |
| Graham Cornes | 1991-94 | 43 | 45 | 1 | 48.88 |
| Robert Shaw | 1995-96 | 17 | 27 | 0 | 38.64 |
| Malcolm Blight | 1997-99 | 41 | 33 | 0 | 55.41 |
| Gary Ayres | 2000-04 | 55 | 52 | 0 | 51.40 |
| Neil Craig | 2004-11 | 92 | 74 | 0 | 55.42 |
| Mark Bickley | 2011 | 3 | 3 | 0 | 50 |
| Brenton Sanderson | 2012-14 | 39 | 30 | 0 | 56.52 |
| Phil Walsh | 2015 | 7 | 5 | 0 | 58.33 |
| Scott Camporeale | 2015 | 7 | 4 | 0 | 63.64 |
| Don Pyke | 2016-19 | 56 | 36 | 1 | 60.75 |
"I've been having my own reflections and my own consideration around what is ultimately best for the club and for the playing group and for myself, that's how I reached the decision."
He admitted he changed his mind several times before eventually deciding to stand down.
"I've ebbed and flowed in terms of, do I, don't I, but at the end of it, I've always said to the players, we always make decisions at times in the best interests of the club," Pyke said.
INDICATIVE DRAFT ORDER Dons, Dogs locked in, Giants' double win
Crows players were sent a text message earlier on Thursday telling them to be at the club for an announcement.
Pyke didn't believe he had lost the support of the players.
"I didn't feel that," he said.
"Certainly, the conversations I had with people, I wasn't feeling that necessary was the case.
"I went with what I thought was my gut that the group needed a change."
Pyke admitted the past two seasons had been challenging, especially in a two-team town like Adelaide.
"The pressure when you're losing games of footy in this town is real," he said.
"It's different to other markets and at times it does become quite draining, especially when you deal with some of the things that are fictional that you have to respond to consistently.
"It makes it a bit more challenging."
INDICATIVE DRAFT ORDER Dons, Dogs locked in, Giants' double win
Pyke said his immediate focus was to spend time with his family, but he left the door open to continue coaching.
"I'm keen to keep coaching, I think I've got something to offer in that space and we'll see what presents," he said.
The Crows will appoint a coaching panel who will select the next coach, but insist they won't be rushed into making their decision.
"We want to find the best possible person, not the person we can find the quickest," Fagan said.
"It's an important decision, we'll identify the criteria we're looking to match against potential candidates.
"We'll go through the process as quick as we can, but it will take as long as it needs to, to find the best person."
Pyke, who was appointed coach for the 2016 season after the death of Phil Walsh in 2015, finishes with a 56-36-1 record in his four years at the helm.