A MONTH training at the Western Bulldogs last year has made Rhylee West confident he is good enough to reach the top level as the draft prospect aims to emulate his father's career.
The Dogs have first access at this year's NAB AFL Draft to the 17-year-old, who is the son of club great and seven-time best and fairest winner Scott West, who played 324 games between 1993-2008.
Similar to his dad, West is a shorter midfielder with a knack of winning the footy, and his stint at the Bulldogs as part of the NAB AFL Academy has solidified his self-belief.
"That was one of the greatest experiences I've had that will help me understand what you need to be to be an AFL footballer," West told AFL.com.au.
"Whether it's the Dogs or any other club, it's such a great experience to be exposed to elite training, elite facilities, elite habits and what it really takes to be a footballer.
"I was there for about a month which gave me a bit of extra time to get to know the boys better and feel more confident in drills and stuff, so it was good to go down and see how I'd go against people who have already made it."
The Calder Cannon missed a large chunk of last season with a stress fracture in his foot, but his competitiveness has stood out during the Academy's training sessions in America on its high performance camp this week.
He would follow a line of players – Mitch Wallis, Tom Liberatore and Lachie Hunter – to come out of Melbourne school St Kevin's College and join the Dogs as a father-son pick if the club grabs him later this year.
"You have to go about playing footy and not let [the father-son discussion] distract you. It doesn't really matter that I'm tied to a club. They've got the rights over me, but it's up to them whether they want to take that or not take it, I just have to play my footy to the best I can and see what happens at the end of the year," he said.
"It would be pretty special playing at the same club my dad did. Obviously 'Hunts' can keep the number (Hunter wears Scott West's No.7), because he doesn't look like he's leaving any time soon, but as long as I'm there in the same colours I think it would be pretty special to Dad, too. But we'll have to wait and see."
Rhylee West handballs during a drill in Florida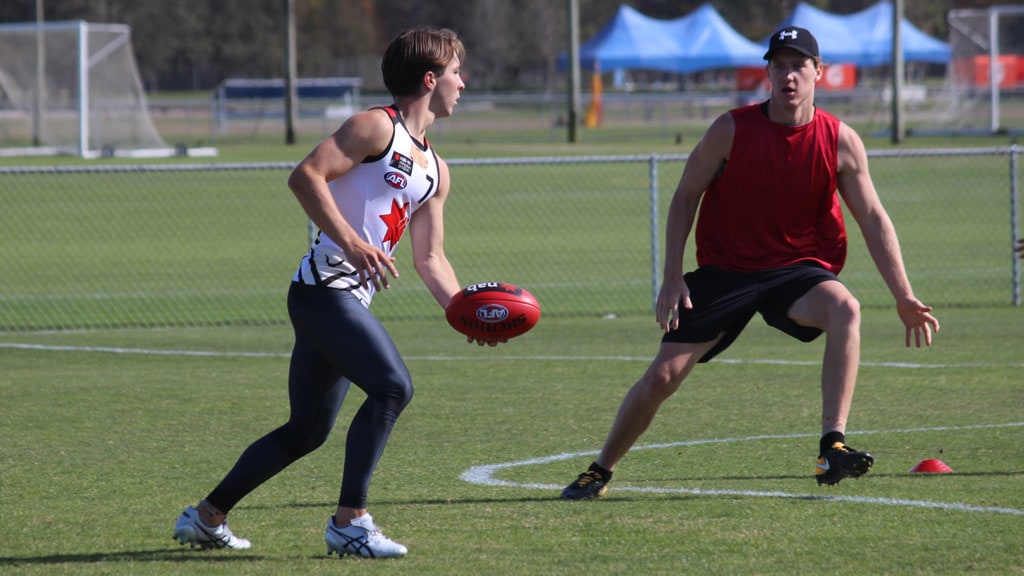 West is focused on improving his endurance this pre-season, as well as polishing his kicking. The Academy's training camp at the world-class centre in Florida was a starting point for that, and also included individual testing at the Gatorade Sports Science Institute.
"We've been exposed to the facilities and I've just been trying to use them as much as we can," he said. "We've done things that you can't do in Melbourne for your training, so I've tried to make the most of that."
He's also made the most of his father's football knowledge. West describes Scott as his "biggest teacher", drawing on his experience at the Dogs and as one of the game's premier midfielders.
"The achievements he's had through his career just makes me hungry for what I want to do in mine," he said.
"I've always looked up to him and I want to be as good as him. Obviously that's going to be hard, but it puts what I want my ceiling to be a little bit higher than some of the boys that come through. It's a motivation factor that is pretty good, I think."