ONGOING injury concerns surrounding several players and a reality that near enough isn't good enough forced Geelong into making hardline list management decisions at the end of the 2018 season.
The Cats traded Lincoln McCarthy to Brisbane (he was offered a one-year deal to stay at Geelong, but decided on a fresh start), and did not offer Daniel Menzel (signed as a delisted free agent by Sydney) or Cory Gregson new contracts, with injury preventing the trio from becoming the players the club had hoped they might become.
Put simply, Geelong knew it was time to move on.
Consequently, the Cats targeted experienced duo Swan Gary Rohan (traded for pick 61 in the 2018 NAB AFL Draft) and Bulldog Luke Dahlhaus (an unrestricted free agent) for a specific purpose. They wanted players who could pressure the opposition and have the speed and two-way running ability to play the high half-forward position consistently.
CLUB LISTS COMPARED Oldest? Youngest? Most experienced?
With Menzel, McCarthy and Gregson failing to feature in the same lineup together in 2018, and with Nakia Cockatoo facing his own injury battles, the Cats had to turn to first- and second-year players Brandan Parfitt, Quinton Narkle, Lachlan Fogarty and Jamaine Jones to play in those positions.
From a developmental point of view, it was a positive to get games into players the Cats have tagged as the future of the club. However, their inexperience was telling at points of the season and inconsistency followed, while also highlighting a deficiency in Geelong's game style.
Despite winning 13 games and making the elimination final in 2018, Geelong's ability to keep the ball locked in its forward half was severely lacking and a level below its fellow competitors.
FULL FIXTURE Every round, every game
The Cats ranked 12th for forward half intercepts, eighth for points from forward-half intercepts and equal seventh for forward 50 tackles – amazingly led by key forward Tom Hawkins' total of 30.
Under coach Chris Scott, Geelong has been a team that has preferred to fold back defensively and win the ball back off errant opposition kicks in its own back half. From there, the Cats have banked on their ability to transition the ball from defensive 50 to attacking 50.
This pre-season, Cats football manager Simon Lloyd tells AFL.com.au the club's focus has been on adjusting its game style to become more territory-based. In other words, Geelong wants the ball to "live in its own forward half".
PROS AND CONS Our verdict on your club's fixture
However, as Lloyd explains, controlling field position also relies on how the ball is delivered inside 50 and then how quickly players can set up with a 'press mentality' (an aggressive form of defence where a team tries to squeeze its opposition by bringing its players up the field).
Rohan and Dahlhaus are two players the Cats hope can make an instant impact in this area.
"Gary and Luke's forward pressure both in the air and at ground level are going to be critical," Lloyd says.
Rohan ranked fourth in the AFL for direct turnovers, behind Anthony McDonald-Tipungwuti, Eddie Betts and Mark LeCras, with the Swans generating a score from 36 per cent of the turnovers the forward forced between 2017 and 2018.
WHO MAKES FINALS? Do the 2019 Ladder Predictor
Dahlhaus played in a Western Bulldogs team in 2016 that was the competition benchmark for pressure and work rate and his understanding of how such a system operates will be significant at his new club, according to Lloyd.
In his first press conference in a Geelong polo in October, Dahlhaus said he had become "drained" and "not himself" in the last 18 months, with a few question marks raised internally about his work ethic and professionalism.
The 26-year-old is hopeful a move closer to his family, which lives in Anglesea on the surf coast, will help him recapture his best form. Dahlhaus has averaged 21.6 disposals and 4.5 tackles across his 154-game career.
Rohan, pick No.6 in the 2009 NAB AFL Draft, also decided on a move home – his family is from Cobden almost two hours south-west of Geelong – after a challenging year on the personal front during which one of his twin daughters died just hours after wife Amie gave birth.
NAB AFL DRAFT HUB Latest news, video and more
Geelong's decision to recruit Rohan is not without risk, with the 27-year-old yet to complete a full season in a 106-game career that has been impacted by a horrific leg injury in 2012 and persistent soft-tissue problems.
There will be inevitable comparisons between Rohan and Menzel, too, particularly if the new Swans forward proves to be a match-winner for his new side. However, Menzel's preparations for the 2019 season have hit an early hurdle with the Swan having undergone groin surgery meaning he will not be able to train until February.
The decision to let Menzel go and bring Rohan into the fold was made with an aim to recruit personnel who might better perform their role in Geelong's adjusted gameplan, while also easing the pressure on the salary cap and providing freshness to a team that thinks it can be a premiership contender in 2019.
The Cats are believers in Rohan's ability and think he'll not only lead the way with his forward line pressure, but become a handy marking target at 189cm alongside Hawkins and Esava Ratugolea.
WHO SMASHED IT? Your club's draft verdict
Rohan has not been a high possession winner in his career, averaging 9.9 disposals, but he makes things happen when he gets the ball, with Sydney scoring 42.6 per cent of the time he was involved in a scoring chain in 2017-18 – ranked second at the Swans behind Lance Franklin.
"Gary's got an intricate understanding of forward craft, even knowing how to create space and leading patterns for his teammates," Lloyd says.
The Cats have also earmarked Rohan to act as a mentor for Fogarty, Narkle and Parfitt.
You can't miss Rohan's electric speed either, as Lloyd points to a specific example from a full-ground transition drill during the former Swan's first week training with his new club.
Gary Rohan's speed has already been highlighted at Geelong training. Picture: AFL Photos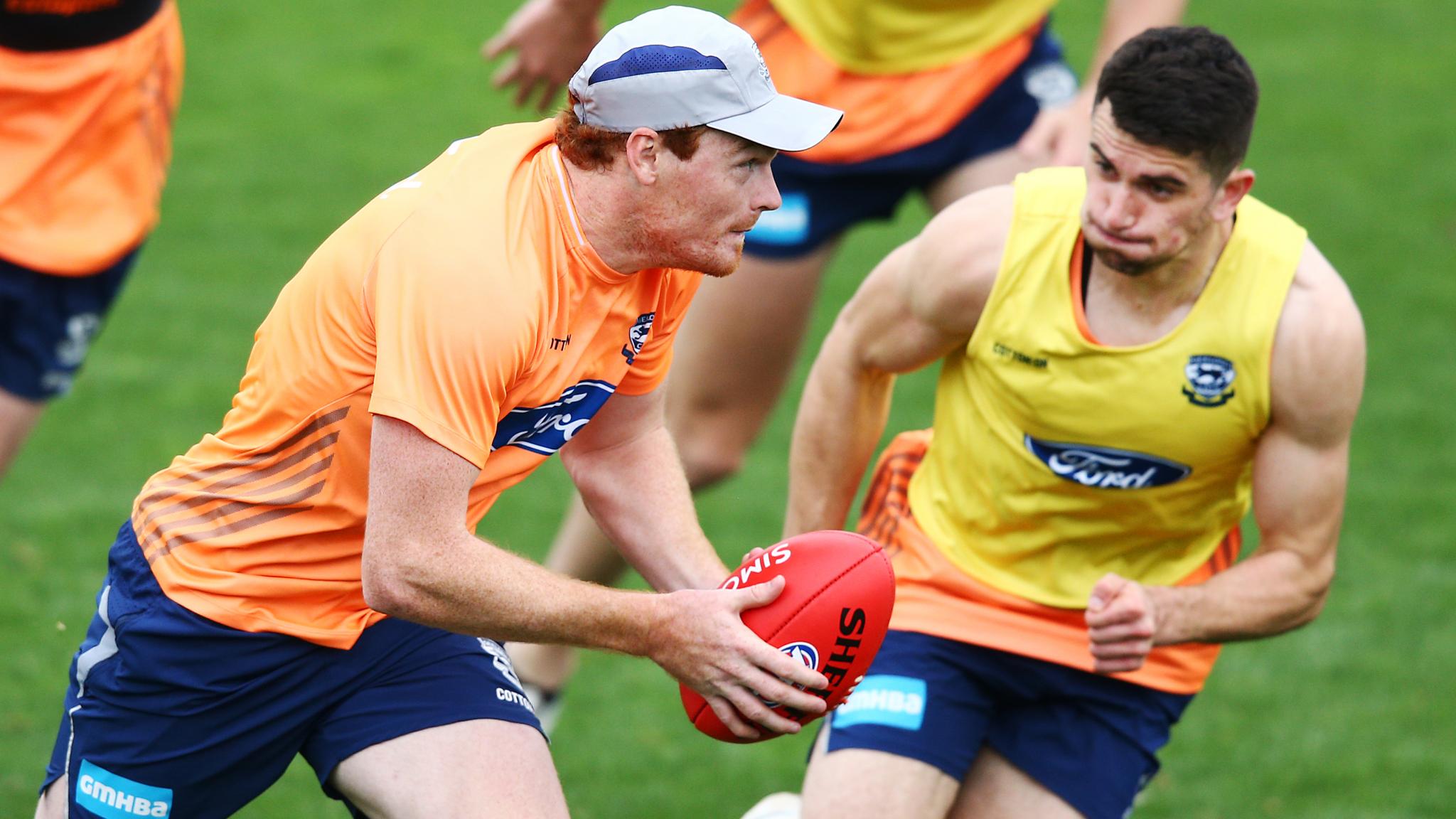 Dahlhaus had taken a mark on the half-back flank and decided to switch the play to the open side of the ground.
Rohan, standing on the wing up the line from Dahlhaus, was quick to recognise what was happening, dropping his hips, pushing off his opponent and making a beeline for his attacking 50.
The end result: Rohan beat every other player involved in the drill back to his forward 50 and he strolled in to an open goal after taking a mark in the goal square.
"You saw the speed, the pure speed," Lloyd says. "Hopefully Gary can take it to another level for us."
Stats supplied by Champion Data
Geelong struggles to mark its territory
| | | |
| --- | --- | --- |
| | 2018 H&A | Comp Rank |
| Fwd Half Intercepts | 23.5 | 12th |
| Pts from Fwd Half Intercepts | 27.9 | 8th |
| Fwd Half Tackles | 32.4 | 9th |
| F50 Tackles | 11.6 | Eq 7th |
| F50 Pressure Factor | 1.63 | 9th |