COLLINGWOOD coach Nathan Buckley has slammed supporters who booed Anzac Medal winner Scott Pendlebury after a fiery end to a thrilling victory over Essendon on Thursday.
The final siren of the hotly contested Anzac Day clash was met by a series of boos by Bomber fans after a host of contentious late umpiring decisions.
PIES IN A THRILLER Full match coverage and stats
Those boos continued when Pendlebury went to accept his Anzac Medal, after another brilliant individual display that featured 38 disposals and six tackles.
The Collingwood skipper was made to pause on the field as he waited for the boos to finish.
"Shame on anyone that booed a champion."#AFLDonsPies pic.twitter.com/3RiVXlaxDY

— AFL.com.au (@AFLcomau) April 25, 2019
However, while Pendlebury appeared nonplussed by the booing, Buckley didn't temper his frustration by saying: "Shame on anyone that booed a champion."
Speaking after the match, the Collingwood coach continued to convey his disappointment, but warned against continued commentary surrounding the issue of booing in the game.
WATCH Polished Pendles claims third Anzac Medal
"I don't think it really warrants further questioning or talking about it," Buckley said.
"It just makes it a greater focal point. With the way of the world now, if people talk about it then it just keeps going. But there we go, I've just done it again.
"We don't need to talk about it anymore."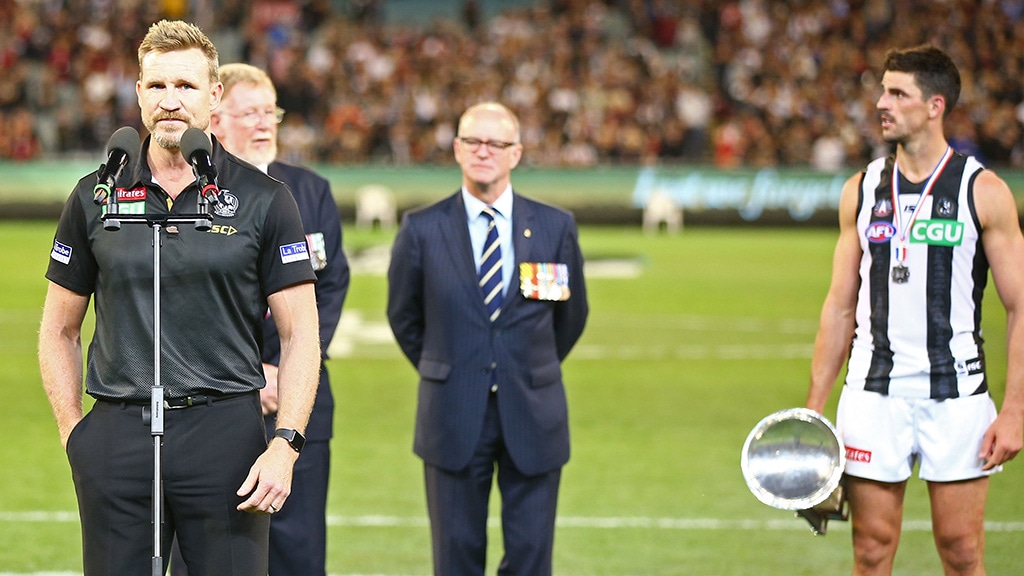 Buckley was asked to clarify the comments he made on the field, claiming he would have done similar had it been his supporters booing an opposition player.
"My comment speaks for itself," Buckley said.
"I hope that I would've been strong enough if an Essendon player had won the medal in that exact same moment and our Collingwood faithful had responded that way.
"I hope I would have been strong enough to say the same thing and I think I would have.
"I don't like it, but that's just my opinion."
WATCH The thrilling final two minutes
Speaking after the match, Pendlebury said he hardly noticed the booing on the field.
"I heard a lot of cheering as well," he said.
"That was good. I'm not sure who it was, but it was nice and loud and I enjoyed that."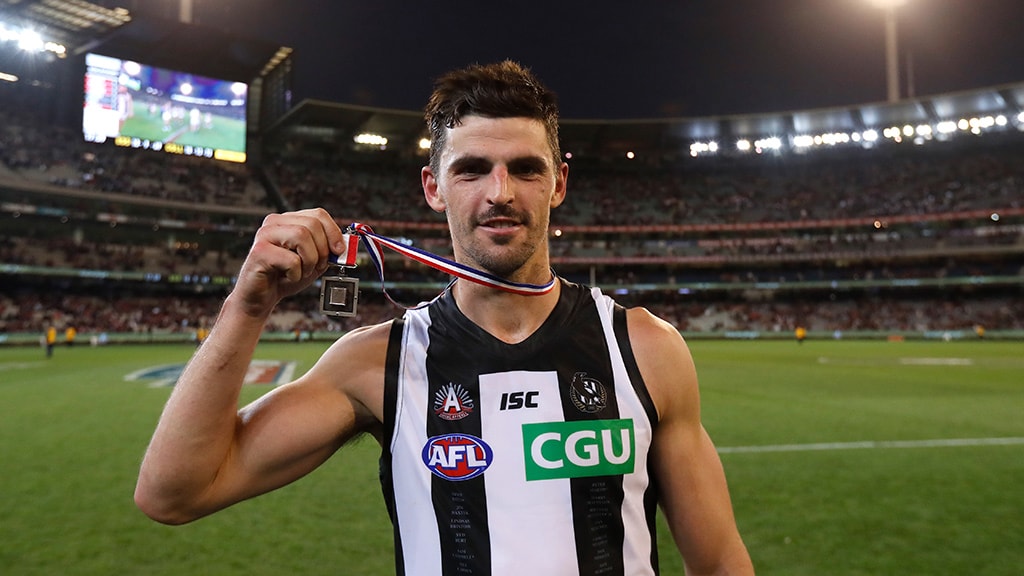 Pendlebury received nine out of a possible nine votes to claim his third Anzac Medal, becoming just the second player behind James Hird to win the award on three occasions.
"He keeps racking them up," Buckley said.
"Pendles has been a remarkably consistent performer over a long period of time.
"The best players identify and are aware of when the stage is at its biggest, whether it's finals or big home and away games. Invariably, this bloke stands up for his teammates when they need it most."
WATCH Nathan Buckley's full post-match media conference
Essendon coach John Worsfold said he did not know why the Bombers fans had started to boo.
"I'm not into booing. I like to appreciate sportspeople doing their best. I don't know what prompted it or what it was about," Worsfold said.
"It's hard to comment on it other than saying fans are passionate and there was something there that had frustrated them I assume."
'VERY DIFFERENT' Ablett booing not like Goodes saga: AFL
Booing has been a hot topic of discussion recently, after Geelong champion Gary Ablett was targeted by Hawthorn fans throughout the Easter Monday clash.
Find In the Game on Apple Podcasts, Google Podcasts or Spotify