A HALF-TIME melee, a black card that saw Joel Selwood dismissed, a Nat Fyfe screamer and a stirring Irish performance gave Domain Stadium the send-off it deserved in the second Virgin Australia International Rules Test on Saturday.
It took a piece of Dayne Zorko magic with 35 seconds to go to decide the match, the Brisbane Lions star's interception, dash and left-foot over breaking the deadlock to give Australia a 53-50 victory.
Zorko had been a standout all match but Ireland could hold their heads high after a spirited fightback following their 10-point loss in the first Test.
WATCH: Players stood up through 'genuine pride', says Scott
This was a match played with plenty of feeling.
Australia seemed unprepared for the Irish juggernaut in the opening half but dug deep with just three on the bench in the second half.
Australian coach Chris Scott said change was needed a half-time.
"Maybe could have been accused of, 'timid' is not the right word, but maybe not being as aggressive as they were early in the game," he said.
"We needed to dial that up a little bit but I don't think it's that different to AFL footy - players don't punch each other anymore."
Selwood clear as Irish fume over 'tortured' star
Ireland burst out of the gates and had erased the 10-point deficit from last Sunday's loss in Adelaide within eight minutes.
And they did it the easy way, with two goals to Gary Brennan and Chris Barrett which put them up by 12 points and well on top less than halfway through the opening stanza.
The visitors sliced through the forward third with ease to score those two and looked on track to add a third when Sean Powter gathered with options ahead.
But Geelong skipper Selwood who had started on the bench and had been brought on to marshal a disorganised defence, made a clutch tackle.
He won the free kick off Powter and the momentum was stopped.
Joel Selwood was dismissed at the end of the second quarter for a high hit. Picture: AFL Photos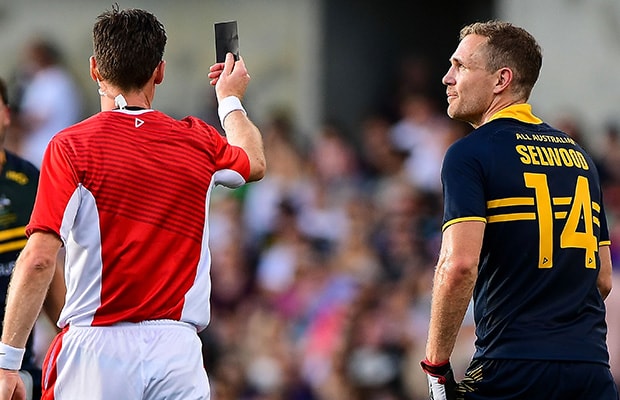 By quarter-time Australia had worked their way back to within six points, but more importantly had wrested some control in general play.
The home side raised the heat further at the start of the second term but the Irish held firm through the first five minutes when neither side scored.
Patrick Dangerfield was perhaps unlucky not to get a penalty when brought down in the box but otherwise the visitors' defence was superb.
All is fair in love and football ☘️#VirginIRS #AUSvIRE pic.twitter.com/jLgDkl9UQE

— AFL (@AFL) November 18, 2017
Kevin Feely was outstanding in the air for Ireland while County Kerry's Peter Crowley kept last weekend's hero Fyfe quiet.
Ireland's precision at the kick-outs started to prove pivotal and their effectiveness going forward saw them open up another handy lead.
Then just before half-time Selwood came in late and high on Barrett and got his marching orders, via black card, for the match.
Emotions boiled over as the first half ended. #VirginIRS #AUSvIRE pic.twitter.com/fZefMdl0mf

— AFL (@AFL) November 18, 2017
It left Australia with just three on the bench against the eight on the Irish bench.
The home side's expected fitness advantage looked gone in one moment, and they were also trailing 30-17 at the long break.
Feely let the Aussies know he wasn't happy about the Selwood clash and a bit of push and shove soon erupted into a melee involving all players except the Cats skipper.
Ireland ran to their rooms at half-time accompanied by boos from the Perth crowd while the shell-shocked Aussies tried to regroup.
Ireland added another to stretch the margin to 16 points early in the third term before Australia lifted.
Make it three tests, says victorious Scott
And it was led by Fyfe.
He set up a goal for Zorko, took a strong mark and booted an over himself, then snagged the last screamer at Subiaco.
He dragged another Brownlow medallist Dangerfield along for the ride, Luke Shuey got angry and Brendon Goddard pulled off his second terrific save of the day.
A wild melee broke out on half-time as Subiaco got a fiery farewell. Picture: AFL Photos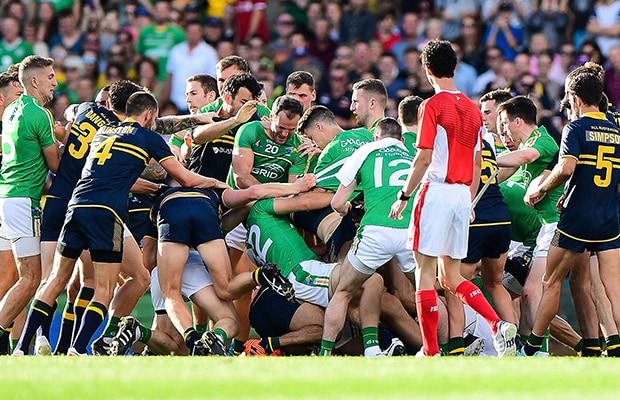 But just when the Aussies looked likely to take over, they missed a couple of shots and Conor McManus' fourth over of the day kept the margin at seven points at the last change.
Australia edged on top in a pulsating final term but Ireland didn't go away and scores were tied 50-all in the last minute before Zorko's heroics.
Ireland coach Joe Kernan said Australia had worn them down in the second half but he was proud of the spirit and insisted the hybrid game had a healthy future.
WATCH: Irish coach questions umpiring decisions
"In the last two quarters we turned it over seven times I think," he said.
"We had the game in our own hands."
McManus, who kicked five overs, won the Irish player of the series while Fyfe claimed the Jim Stynes Medal as Australia's best.
Well done Nat Fyfe! #AUSvIRE #VirginIRS pic.twitter.com/WmqGV2ohpq

— AFL (@AFL) November 18, 2017
AUSTRALIA: 0.3.2 0.4.5 0.9.7 0.15.8 (53)
IRELAND: 2.1.2 2.5.3 2.8.5 2.10.8 (50)
GOALS
AUSTRALIA: Nil
IRELAND: G.Brennan, C.Barrett
OVERS
AUSTRALIA: D.Zorko 3, C.Wingard, R.Sloane, E.Betts 2, Z.Merrett, R.Laird, B.Brown, N.Fyfe, S.Burgoyne, L.Shuey
IRELAND: C.McManus 5, M.Murphy 2, S.Walsh, C.Sheehan, N.Grimley
BEST
AUSTRALIA: K.Simpson, Z.Merrett, N.Fyfe, D.Zorko, B.Goddard
IRELAND: C.McManus, M.Murphy, S.Walsh, A.O'Shea, Z.Tuohy
REFEREES: Matt Stevic (Australia), Maurice Deegan (Ireland)
CROWD: 30,116 at Domain Stadium