JUST last Monday Jack Billings was sitting down to his final VCE exam.
Fast forward to Thursday night and he's at the Gold Coast Convention Centre, accepting a call from Leigh Montagna and reading a text from Aaron Hamill, welcoming him to St Kilda and his AFL career.

Draft wrap: What the clubs said, plus the fans take
And in five days' time he'll be boarding a plane to Colorado to start his training alongside Nick Riewoldt and co.
Billings, the No.3 selection overall in the NAB AFL Draft, has endured a whirlwind month that started on October 30 with his first of four year 12 exams - English - and ended when Alan Richardson handed him a St Kilda guernsey on Thursday night.

Analysis: Lions and Saints head list of draft winners
His father Graeme, who was at the draft with wife Letitia and daughters Kate and Sarah, said it had been an incredible journey for the Billings family.
"We've had it in our minds for a long time he was going to play AFL footy but when it comes, you really do need to pinch yourself," Graeme told
AFL.com.au
.
"It's something he's always wanted so you sort of picture it but when we see him out of the field and at training, it will be something very different.
"Now he's going to be full-time and get the right treatment and teaching and coaching … it's just fantastic."
Billings didn't know he was going to St Kilda.
Below: Jack Billings (third from left) on stage with the draft's other top selections. Picture: AFL Media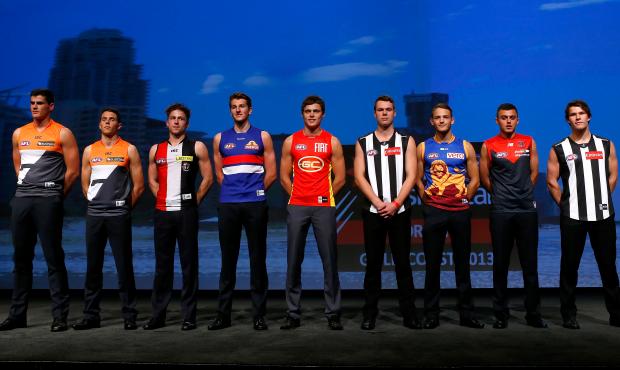 The Saints didn't decide until this week, and didn't tell him until they told the rest of the football world after Tom Boyd and Josh Kelly became Giants with picks No.1 and 2.
After his final exam - Australian history - last Monday, he's endured an action-packed lead up to the night that determined his fate as an AFL player.
He got his driver's licence last Thursday and picked up his new Toyota Rav 4 on Wednesday, which will now ferry him between the family home in Kew and the club's Seaford base.
Then, he spent the last few days with his Melbourne mates, who will leave for Schoolies' Week in Byron Bay on Saturday - something Billings will have to sacrifice in order to start his AFL dream.
"I miss out on that but I get a trip to America so I'm not complaining," Billings said.
"It was just good to see them and soak it up in the build-up and I'll catch up with them (Friday) when I get home."
In the lead up to Tuesday's overseas trip, Billings - and the Saints' other two acquisitions Luke Dunstan and Blake Acres - can expect even more frenetic action.
On Friday, Billings will fly home to Melbourne while Dunstan and Acres will start the process of their relocations from South and Western Australia respectively.
On Saturday, the players and their families will be given a tour of the Saints' Seaford facility before a function at South Yarra's Botanical Hotel.
They'll meet some of their new teammates before a day off on Sunday, which the club's player welfare development manager Tony Brown says will be a good opportunity for them to buy thermals ahead of Colorado.
On Monday, the draftees will experience an early Christmas when they go into the club and are given their St Kilda kit.
And on Tuesday, they'll board the long flight to the United States, with all of them cleared to go having confirmed with the Saints in previous meetings they're in the possession of valid passports.
"Their heads will be spinning, and, really, that's indicative of modern-day football," head of football Chris Pelchen said.
"We certainly won't be rushing the guys in any way and will be taking into account they're somewhat immature [physicality] so they won't take part in every aspect of the camp.
"But having said that, the experience itself and getting to know their new teammates will be outstanding."
The Saints took their draftees to Colorado last year in the same circumstance, which Pelchen said was the most beneficial component of their induction into the club.
"There's various opinions around altitude training but the one thing that can't be disputed is the life experience, the ability for the young boys to get to know their teammates very early in a very unique environment," he said.
Billings couldn't be more excited.
When he looks back on his speedy journey from year 12 schoolboy to professional footballer set to embark on an international elite training camp, he simply can't stop smiling.
"It's amazing. It's happened really quickly. It's gone so fast, I haven't really had time to think about it and let it sink in," he said.
"It's been awesome and it's what I've wanted to do all my life so I'll rock up on Tuesday to the airport ready to go and I can't wait."

Twitter: @AFL_JenPhelan