BRAD Scott's almost decade-long tenure as North Melbourne coach seems set to end as soon as Saturday, with a mutual parting of ways in the works.
With that in mind, which coaches are in the mix to replace Scott as the Kangaroos' next long-term man in charge, after a caretaker steers them through the rest of 2019?
AFL.com.au takes a look at the candidates.
Scott Burns (Hawthorn)
Has long had the tag of senior coach-in-waiting, and was most recently in the running for the Gold Coast job that went to Stuart Dew and also included John Barker. Was in the mix for the job Adam Simpson won at West Coast, too. Spent five years at the Eagles and four at Collingwood, where he was the Pies' midfield coach and one of Nathan Buckley's closest confidantes, before linking up with the Hawks and Alastair Clarkson last season.
Burns and Buckley in 2017. Picture: AFL Photos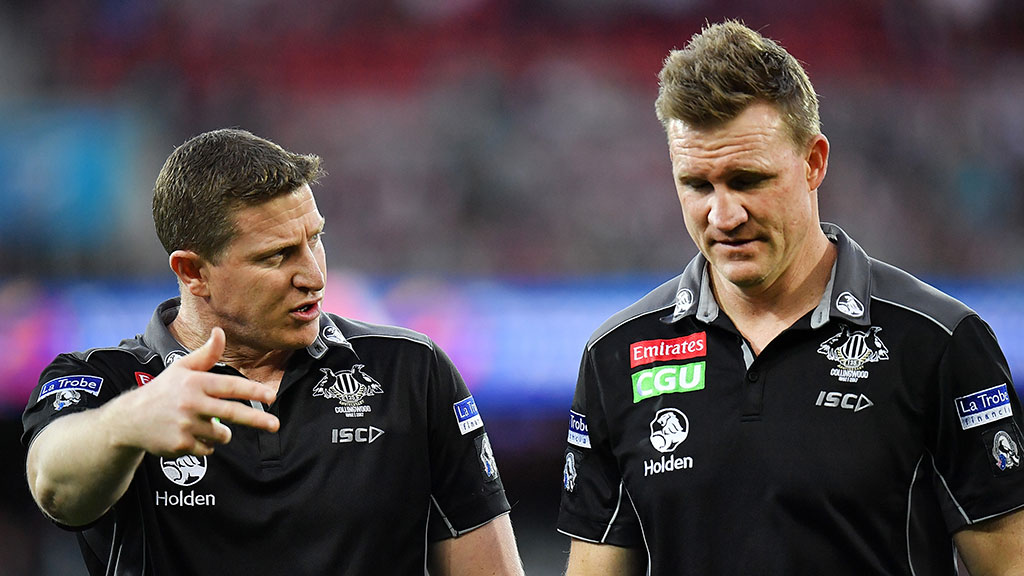 Matthew Nicks (Greater Western Sydney)
One of the inaugural Level 4 coaching intake, he is Giants coach Leon Cameron's right-hand man in 2019 after eight years at Port Adelaide. Earned a reputation at Alberton as a straight shooter who was equally adept at forming strong relationships with the playing group. His range of experiences there – good, bad and challenging – are viewed as a positive for him, along with his willingness to move to a new club.
John Barker (Carlton)
Was a close second to Stuart Dew to be the Gold Coast coach, was also runner-up to Chris Fagan at Brisbane, and made Carlton's and Adelaide's shortlist for jobs that went to Brendon Bolton and Don Pyke, respectively. It remains to be seen if Barker's best opportunity has come and gone, but his experience and the fact the Blues assistant has been so close previously suggests he'd be in the running again if he's keen.
Brett Kirk (Sydney)
Regarded as a future senior coach. Kirk, who was in the previous Level 4 coaching batch, played 241 games for Sydney, including the 2005 premiership, and excels as a coach in the way he uses his people skills and intelligence to develop players as individuals and competitors. A source pointed to Malcolm Blight as an example of how "different kinds of people can be successful" as senior coaches.
Kirk with Kieren Jack. Picture: AFL Photos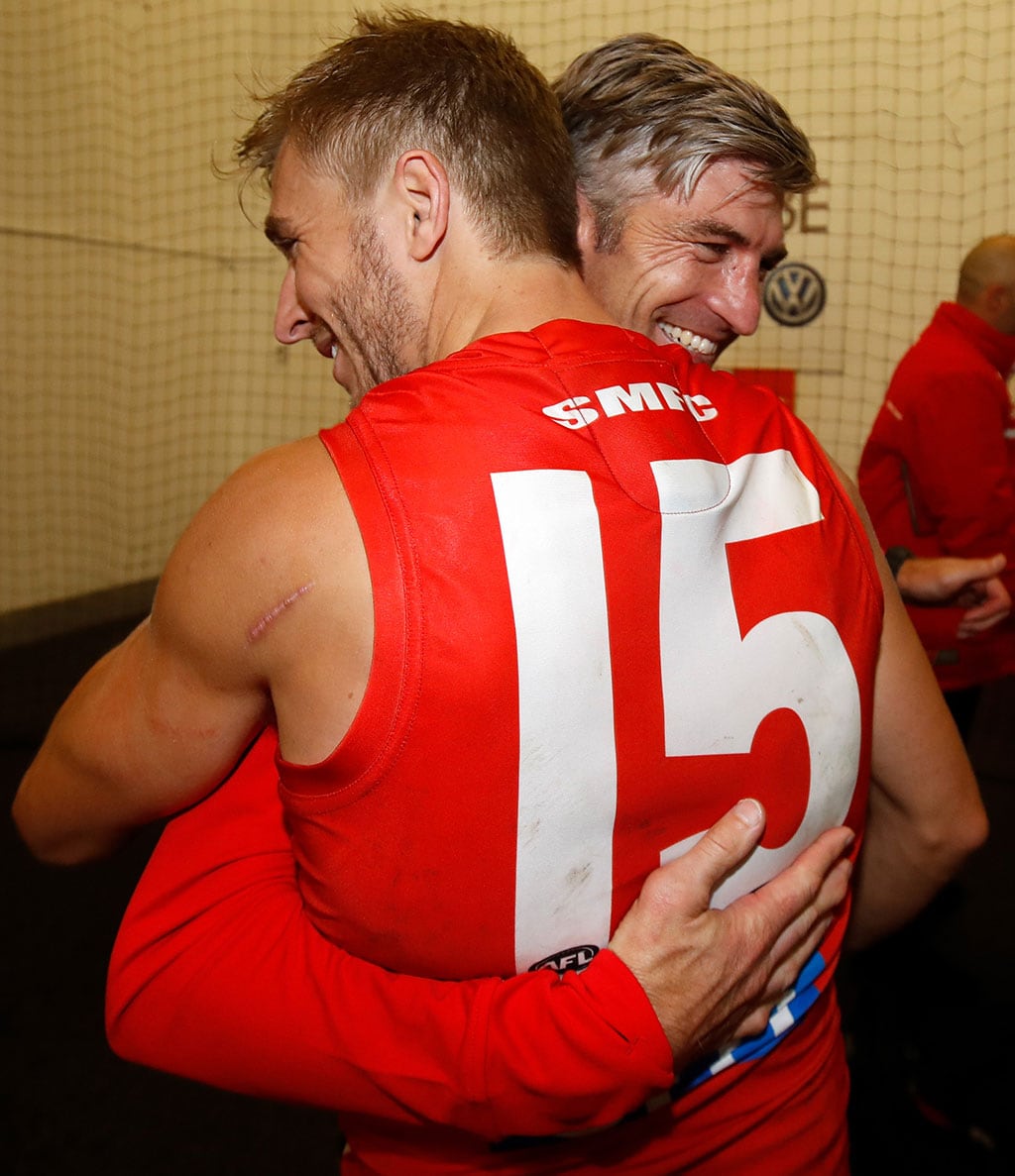 Steven King (Western Bulldogs)
The darkhorse. King's first season at the Kennel was 2012, after he spent a year as St Kilda's ruck and midfield coach. His first five seasons at the Dogs were spent with the midfielders, before he switched to the backline in 2017. Industry sources believe King would make a good senior coach "in the right set of circumstances" and that he has "enormous potential". Started the Level 4 coaching course last year.
King is the darkhorse for the Kangaroos role. Picture: AFL Photos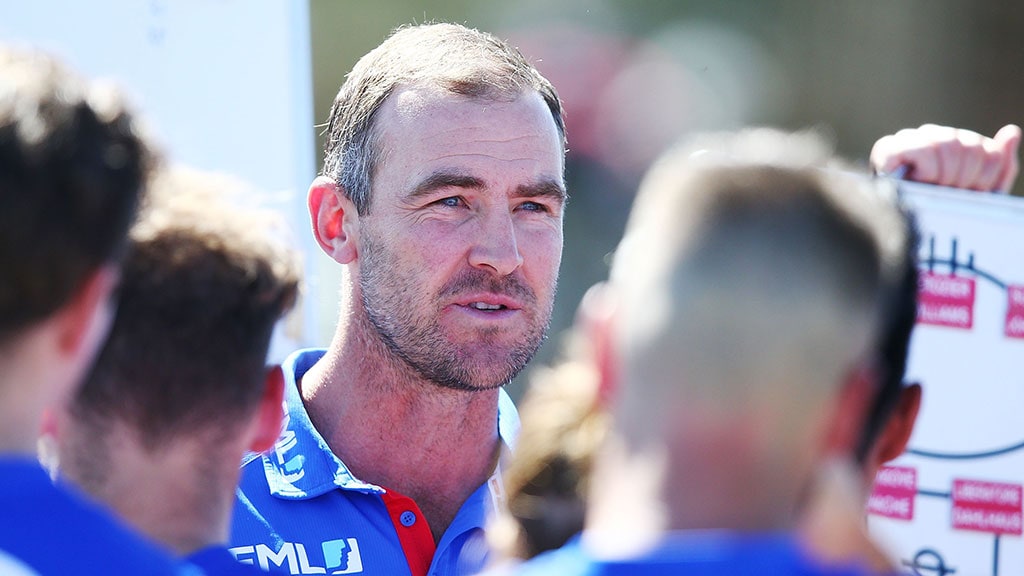 John Longmire (Sydney)
Booted 511 goals for the Roos and was part of the 1999 premiership, so the nostalgia of a Longmire return to Arden Street is immense. But would he leave Sydney, where he coached the Swans to their most recent flag in 2012? Sydney is rebuilding after making the finals in 15 of the past 16 seasons, but still sits a win ahead of North Melbourne this year.
Brett Ratten (St Kilda)
The Ratten name is a constant on these types of lists. The former Carlton coach is already earning plaudits for the work he's done since joining the Saints, after departing the Hawks at the end of last season. Ratten was at Hawthorn for its 2013-15 flag three-peat and put together a solid record in charge of the Blues (59 wins, one draw, 56 losses) that hasn't been forgotten.
Could Ratten juggle the job at North Melbourne? Picture: AFL Photos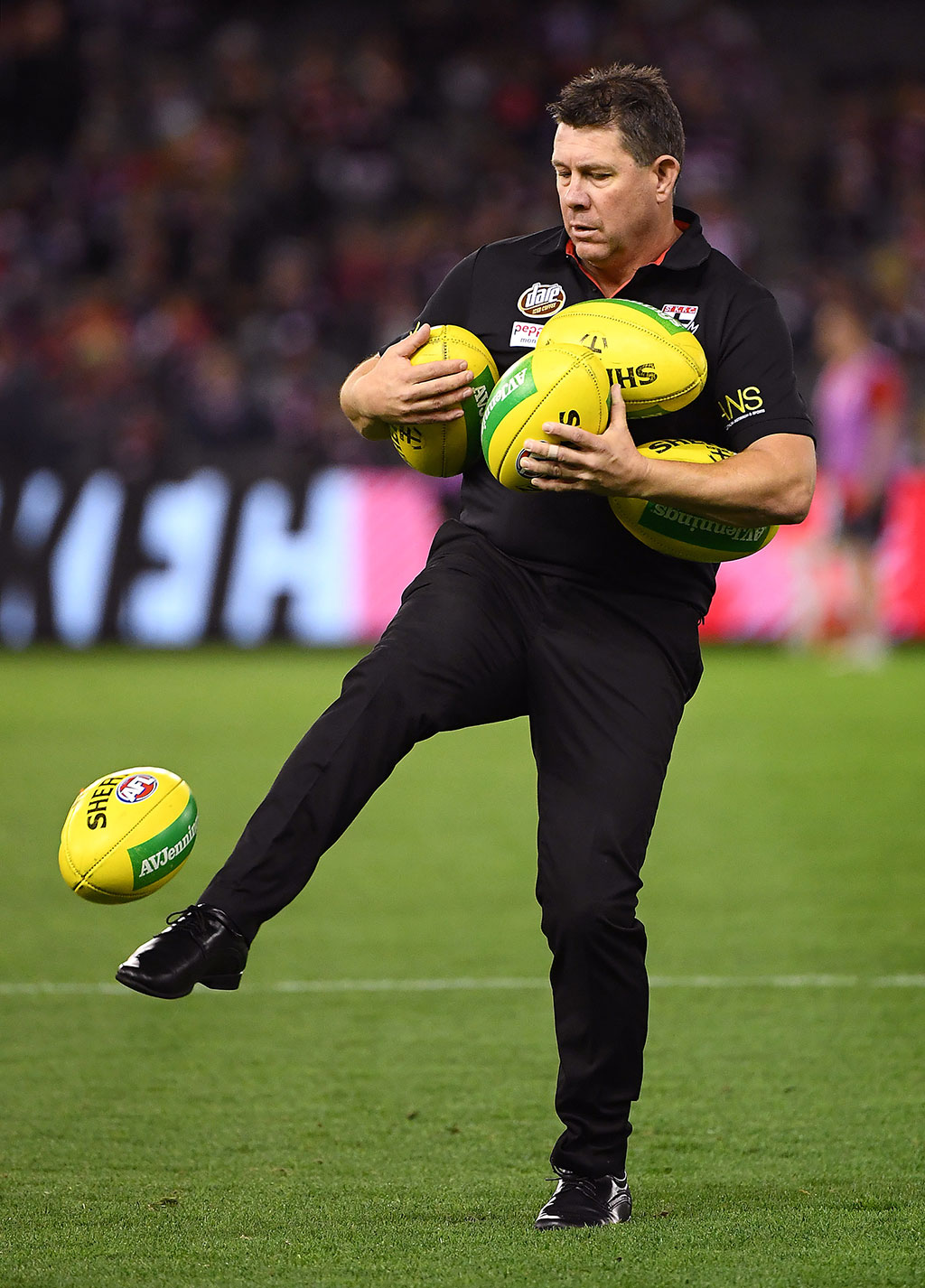 Other candidates:
Adam Kingsley (Richmond)
Blake Caracella (Richmond)
Ben Rutten (Essendon)
Jade Rawlings (Melbourne)
Justin Longmuir (Collingwood)
Dean Solomon (Gold Coast)
Rhyce Shaw (North Melbourne)
Josh Drummond (Gold Coast)
Craig Jennings (Melbourne)
Daniel Giansiracusa (Western Bulldogs)
Senior coach changes since 2008
Season
Club
Coach
Timing
Reason
Replaced by
2008
Brisbane
Leigh Matthews
End of season
Stepped down
Michael Voss
2009
North Melbourne
Dean Laidley
During season
Sacked after four wins, eight losses for season
Darren Crocker (interim)
Richmond
Terry Wallace
During season
Sacked after 37 wins, 60 losses, two draws
Jade Rawlings (interim)
2010
Essendon
Matthew Knights
End of season
Sacked after 25 wins, 41 losses, one draw
James Hird
Geelong
Mark Thompson
End of season
Stepped down
Chris Scott
Port Adelaide
Mark Williams
During season
Sacked with a 5-10 record in 2010 after missing finals in 2008-09
Matthew Primus
Sydney
Paul Roos
End of season
Pre-planned hand over to John Longmire
John Longmire
2011
Adelaide
Neil Craig
During season
Sacked after four wins, 12 losses for season
Mark Bickley (interim)
Collingwood
Mick Malthouse
End of season
Pre-planned handover to Nathan Buckley
Nathan Buckley
Fremantle
Mark Harvey
End of season
Sacked after missing finals with nine wins, 13 losses for season
Ross Lyon
Melbourne
Dean Bailey
During season
Sacked after 22 wins, 59 losses, 2 draws
Todd Viney (interim)
St Kilda
Ross Lyon
End of season
Resigned, joined Fremantle as senior coach
Scott Watters
Western Bulldogs
Rodney Eade
During season
Sacked after 7 wins, 12 losses for season
Paul Williams (interim)
2012
Carlton
Brett Ratten
End of season
Sacked after missing finals in 2012
Mick Malthouse
Port Adelaide
Matthew Primus
During season
Sacked after 5 wins, 13 losses for season
Garry Hocking (interim)
2013
Brisbane
Michael Voss
During season
8 wins, 11 losses for season
Mark Harvey (interim)
Essendon
James Hird
During season
Suspended by AFL with one game remaining in season
Simon Goodwin (interim)
Melbourne
Mark Neeld
During season
Sacked after 5 wins, 23 losses
Neil Craig (interim)
St Kilda
Scott Watters
End of season
Sacked after 17 wins, 27 losses, no finals
Alan Richardson
West Coast
John Worsfold
End of season
Stepped down
Adam Simpson
2014
Adelaide
Brenton Sanderson
End of season
Sacked after missing finals in 2013-14
Phil Walsh
Essendon
Mark Thompson
End of season
Replaced by James Hird returning from suspension
James Hird
Gold Coast
Guy McKenna
End of season
Sacked after 24 wins, 64 losses, no finals
Rodney Eade
Western Bulldogs
Brendan McCartney
End of season
Sacked after 20 wins, 46 losses
Luke Beveridge
2015
Carlton
Mick Malthouse
During season
Sacked after 1 win, 7 losses for season
John Barker (interim)
Essendon
James Hird
During season
Resigned after 5 wins, 14 losses for season
Matthew Egan (interim)
2016
Brisbane
Justin Leppitsch
End of season
Sacked after 14 wins, 52 losses
Chris Fagan
Melbourne
Paul Roos
End of season
Pre-planned handover to Simon Goodwin
Simon Goodwin
2017
Gold Coast
Rodney Eade
During season
Stepped down after board voted not to renew contract
Stuart Dew