ADAM Goodes' pride in his indigenous heritage was behind the Sydney Swans star's 'war cry' goal celebration at the SCG against Carlton, rather than any taunts from the stands.
The dual Brownlow medallist had 22 possessions and kicked two goals against the Blues in the Swans' 60-point win on Friday night, but it was his actions following his first major which sparked debate.
Goodes slotted a set shot to give his side a 47-point lead before charging towards a group of Blues fans seated in the right forward pocket at the city end of the SCG, while performing what he later revealed to be an indigenous war dance.
Police and ground security swarmed to the location of the Blues fans at half-time. An AFL spokesman said one supporter was taken away for questioning at the ground after a clash between rival supporters.
Goodes said after the match that his reaction was nothing more than a show of pride.
"I was just a little bit inspired by the under-16 Boomerang kids who taught us a little bit of a war cry, so it's just a little tribute to those guys," Goodes said.
The 35 year-old also denied he had any issues with the Carlton supporters in the area that he ran to during his celebration.
"No, not at all, mate. It's Indigenous Round, I'm proud to be Aboriginal and represent," Goodes said.
WATCH: Adam Goodes explains his 'war cry'
Adam Goodes performs his 'war cry' after a goal against Carlton. Picture: Channel Seven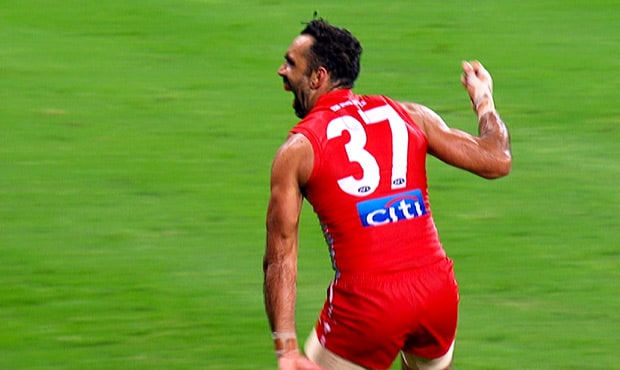 Swans' coach John Longmire said he was unaware of the reaction caused by the Goodes celebration, or the crowd incidents that followed.
"To be honest, as a coach, you don't sit there and look at players after goals, you're actually moving on to the next thing," Longmire said.
"I caught the very end of it on one of the replays, I didn't see it live. I was more concerned at beating Carlton."
WATCH: John Longmire's full press conference
Interim Carlton coach John Barker echoed Longmire's sentiments and paid tribute to Goodes.
"He is a great of the game," Barker said.
"I think our biggest issue is stopping him from kicking the goal or whatever it is.
"He is passionate about his people and there is nothing wrong with that."
Two years ago, Goodes took a very public stand against racial vilification when he identified a Collingwood supporter in the stands who had called him an ape during a match at the MCG.
The culprit was later identified as a 13-year-old girl, and while widely praised for his actions, the 2014 Australian of the Year was the target of criticism from some quarters after the incident.
Longmire revealed that he was at a loss to explain the constant boos directed at his star, both against the Blues, and at the MCG against Hawthorn last week, and ther Swans coach said he wasn't alone in that regard.
"I'm not sure whether everyone's completely sure what it's for. If there was anything at all regarding racial connotations to it that would be really disappointing, but I don't know," Longmire said.
"I'd certainly hope not."