- All over: Blues sack Malthouse
- The potential candidates to take over at Carlton
- Why two weeks more? Malthouse at odds with board
SOME day football historians will study the 54-game Michael Malthouse era as coach of the Carlton Football Club and ask themselves, "What on earth were they thinking?"
It was a relationship that never looked or felt right from the start and was doomed to failure thereafter.
The failings were many and can equally be apportioned to both the coach and the club.
It is hard to say 'no' when a sleeping giant of a club knocks on your door and offers you the coaching job as Carlton did at the end of 2012 after dispensing with the services of Brett Ratten.
Malthouse was coming off an enforced 12-month sabbatical, his first since he broke into League coaching in 1984 with Footscray, following his messy departure from Collingwood at the end of 2011.
It has become an unfortunate entry on the Malthouse resume that his last two coaching stops have ended in such acrimony. At Collingwood he was an unwilling participant in Eddie McGuire's much-heralded succession plan that saw him hand over the coaching position to Nathan Buckley just weeks after a losing Grand Final and 12 months after winning one.
That a coach seemingly at the top of his game was ready and available was an obvious attraction to Carlton, which is why at the first sign of stalled progress – the 10th place finish in 2012 after finals appearances the three previous seasons – the Blues swiftly showed Ratten the door.
10 things Carlton's interim coach must fix
Malthouse walked into the club and immediately bought into inflated opinion of the playing list, also the Carlton way. A detailed examination of Carlton's drafting in the five years before he arrived would have shown that the Blues nailed perhaps one first round draft pick – Chris Yarran.
Josh Bootsma in 2011 when Bradley Hill, Michael Talia, Elliot Yeo, Seb Ross, Sam Kerridge, Jack Newnes and Jackson Merrett were still available will haunt the Blues for years.
To be fair to Malthouse, they have fared a bit better since. Troy Menzel and Patrick Cripps were first round picks under his watch and are shaping as 10-year players for Carlton, although what 2014 first pick Blaine Boekhorst brings to the Blues – other than a lively Twitter feed – remains to be seen. Then, as now, the trade of pick seven to GWS for Kristian Jaksch, Mark Whiley and pick 19 (Boekhorst) shapes as mystifying.
Then there was the trade for Dale Thomas from Collingwood, which pretty much sums up where the Blues got things wrong. Formerly one of the most exciting players in the competition, his form and health had dipped well before joining Carlton.
Dale Thomas' move to Carlton signified Malthouse's mis-reading of the Blues' list. Picture: AFL Media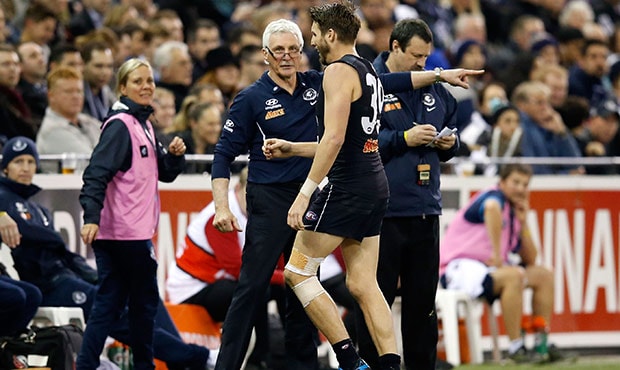 If the Blues had $700,000 per year to splash on a flanker like Thomas, surely a key position player would have given them more bang for their buck. Or they could have given some to the popular and talented Eddie Betts who wanted to stay at Carlton and was just looking for a bit of love from the coach.
Which leads to another complication for Malthouse. Two recruiting managers – Wayne Hughes and Shane Rogers – departed during his time at the club. There has been no cogent list management strategy, at least until the arrival of Stephen Silvagni as list manager at the start of the year when finally the word 'rebuild' dared be uttered in the corridors of Ikon Park.
But who could Malthouse turn to at Carlton to vent his frustrations? Loyal allies from previous coaching stops such as Rob Wiley, Dean Laidley and David Buttifant were part of his coaching staff, but in terms of management and board support, it thinned out after that.
Stephen Kernahan and Greg Swann, the president and chief who brought him to the club are no longer there. The mixed and often contradictory messages coming from their replacements, Mark LoGiudice and Steven Trigg, spoke of a complete absence of any unity of purpose at Carlton.
Have the Blues learned nothing from observing clubs such as Geelong, Hawthorn, the Sydney Swans and through gritted teeth, even Collingwood?
Perhaps when the dust settles and the emotion subsides, we will get some real clarity as to why Malthouse joined the Blues in the first place.
On his appointment in September 2012, he spoke of his drive "to see that mountain peak climbed," but was that simply code for making a point to a few people, most notably at Collingwood, that he thought he could still coach?
From the outside, it was hard to see a man who played in a Richmond premiership team, and coached Collingwood to a flag, being fully embraced by the Old, Dark Navy Blues. Tribalism still counts for something in footy. It seemed more of a marriage of convenience between two parties each with an addiction – Malthouse to coaching and Carlton to big names.
It was never likely to end well and it proved to be thus. The Blues were non-competitive through the first eight weeks of the seasons. Injuries didn't help, but only 35 tackles, as was the case against Geelong last Friday night spoke of a lack of effort and care on behalf of the players. The defensive pressure, for which Malthouse teams have been renowned for 30 years, just wasn't there.
So instead of 2015 being remembered as the year Malthouse became football's longest-serving coach, those same history books will instead tell the sad story of his undignified departure from the game.