EIGHT years ago, in an under-10s junior footy final, Noah Anderson was given a task: stop Matt Rowell.
Rowell had dominated the first half playing for the Canterbury Cobras against Anderson's Hawthorn Citizens, and was proving dangerous. Anderson's job after the main break was to curtail Rowell.
"We won by about 60 points, but he took one good clunk over me," Anderson recalled. "I still remember it."
Find Road to the Draft on Apple Podcasts, Google Podcasts and Spotify.
Nearly 10 years on, this season Rowell and Anderson will play together for four different sides – the Oakleigh Chargers, Vic Metro, the under-18 Australian side and for Carey Grammar.
They are teammates and best mates, live 10 minutes apart from each other in Melbourne's inner eastern suburbs, spend holidays and spare time mucking around, and are in the same physical education class at school.
They are also the likely first two picks at this year's NAB AFL Draft, with clubs viewing the midfield pair as the standout prospects in the pool.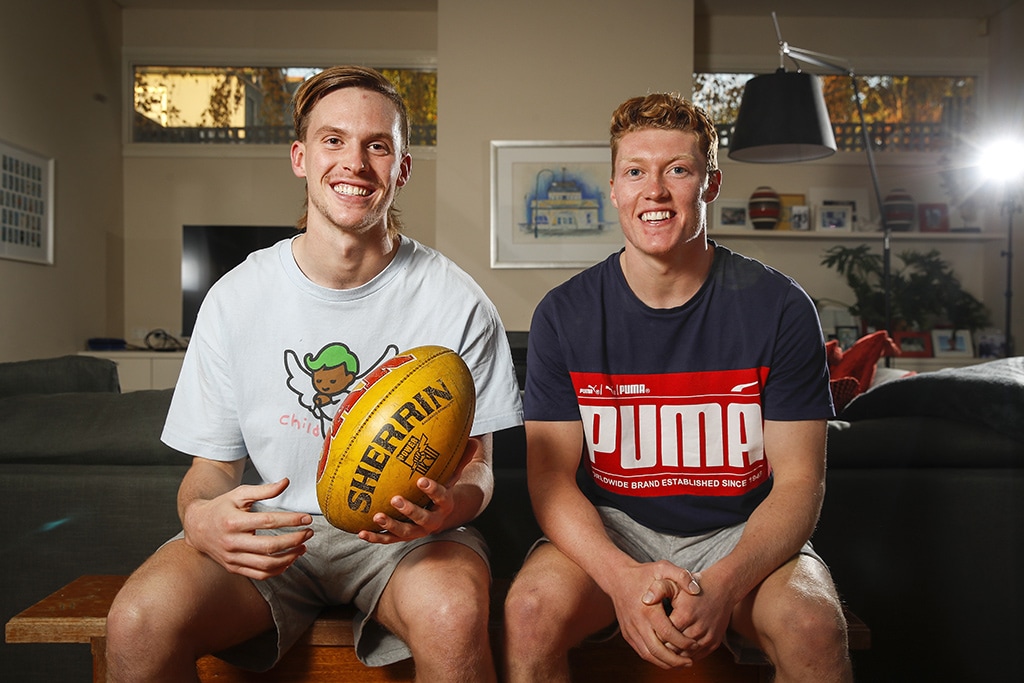 At first, though, they were opponents; on the field, in cross country races and facing off on the basketball court.
That was until year seven, when they joined forces at Carey. "It grew from there and we've been close ever since. We don't really leave each other's side," Rowell said.
They played for Victoria together at under-12 and under-15 level, and were picked in representative local games alongside their Carey performances (Rowell beat Anderson to the school's first XVIII side, debuting in year nine).
ROAD TO THE DRAFT All the latest news
Anderson estimates they would have played around 150 games as teammates, which has bred familiarity.
"I always look out for 'Rowelly'. It's how it is and how it's grown to be," he said.
"There's been a few pieces of funny footage where we pass to each other on the ground when we probably shouldn't have. He's a very good player so he makes my kicks look better if they're a bit off."
Matt Rowell in action for the NAB AFL Academy side. Picture: AFL Photos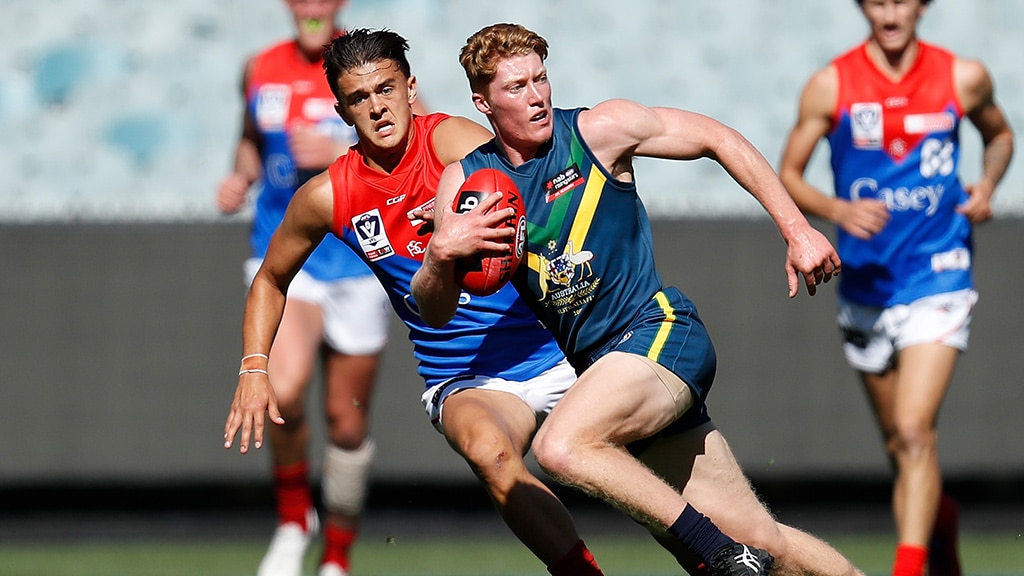 They are similar in many ways as players: both hard-working and long-running midfielders, tough ball-winners, and extremely consistent. They both starred for Vic Metro as bottom-agers last season, and then were influential in the Chargers' under-18 finals series (Rowell won the best afield medal in a losing side in the Grand Final).
"When he's around the ball he's got that ability to get it and then get somebody else in a better position, or he can get through a few players and then find that target," Rowell said.
"Whenever he's got the ball I feel safe when it's in his hands."
But they have their differences. Anderson is taller (190cm to Rowell's 178cm) and a more regular goalkicker, while Rowell is a bigger clearance specialist, with an explosive burst.
If Rowell has more grunt, Anderson has more flash. Rowell wears his footy jumper tucked in; Anderson has a mullet that at times has caught the ire of his schoolteachers.
"He's put a lot of time into his hair, he's always playing with the back," Rowell.
Noah Anderson puts a lot of time into his hair. Picture: AFL Photos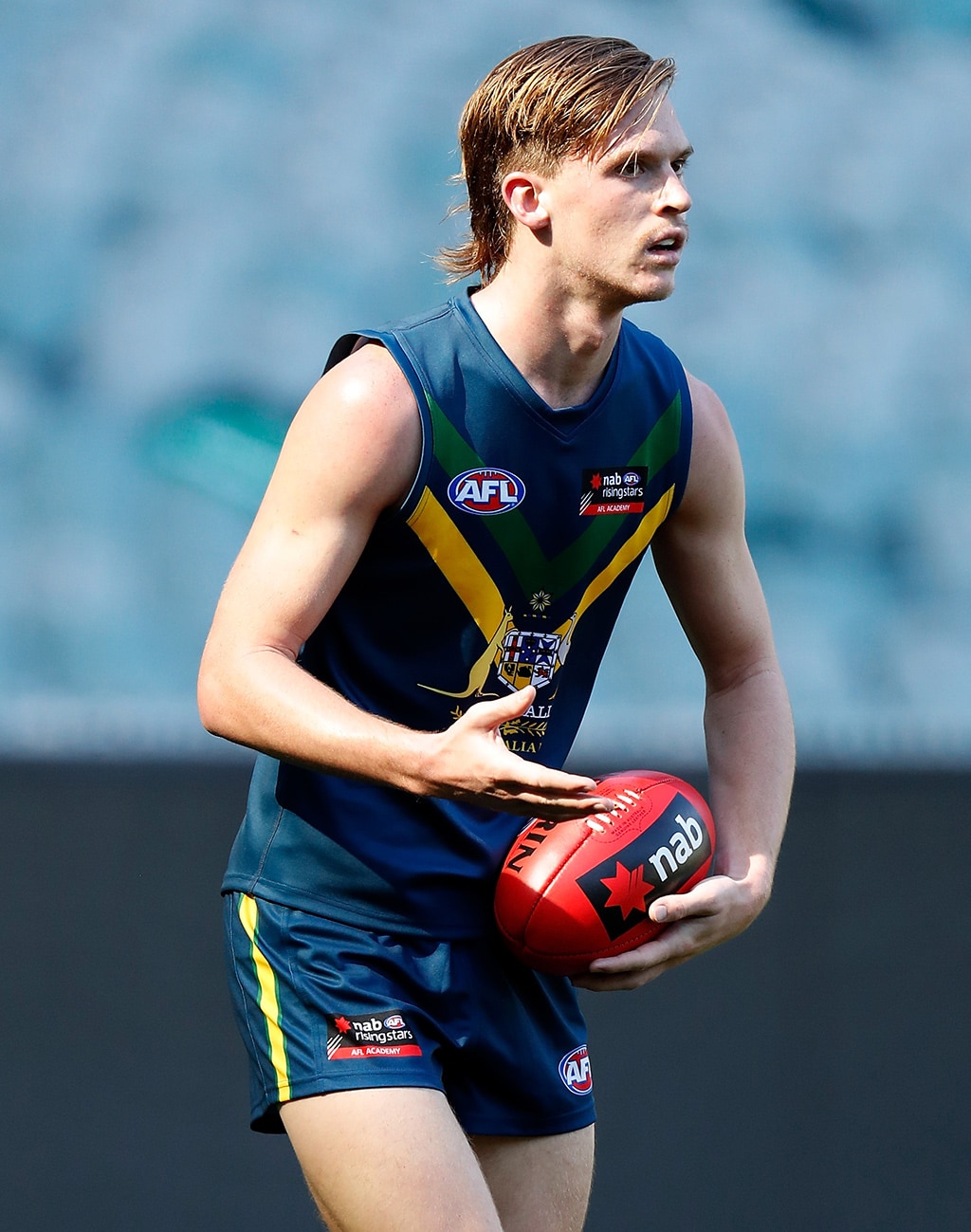 They also have their own quirks and interests. Anderson loves a cup of tea – on footy camps he might have three a night – while Rowell is a keen gardener.
For his 16th birthday, Anderson gave Rowell a Blue Moon rose, which is still going strong in his yard.
"When I was little my dad used to take me out in the garden. I just love being outside and outdoors, and I like my plants," he said.
"At home we redid the front and planted about six or eight roses. I've got some camellias and different things.
"Getting out in the garden relaxes me, I love after a Saturday game going out there on Sunday if it's a nice day and spending all my time there."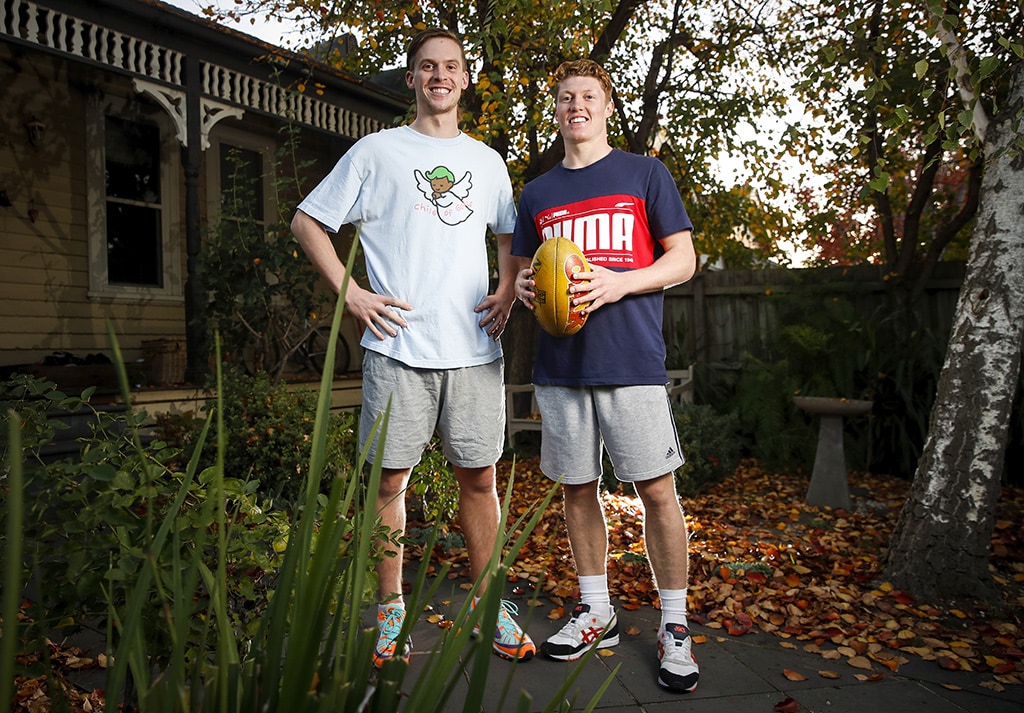 Football takes up most of their time, though. Away from their school, club and Vic Metro trainings, the pair like to fit in extra sessions: they'll go to the gym at Carey on Tuesday and Thursday afternoons, and then do some more skills work after that.
Rowell, a mad Carlton fan, goes to a chiropractor and osteopath to ensure his body is ready for the weekend, and is renowned for always having a footy in his hands.
BLOODLINE PROSPECTS Who's eligible for your club?
"He spends a lot of time kicking the footy at lunch as well just dominating these little schoolboys," said Anderson, whose father Dean played 83 games for Hawthorn (including two premierships) and 67 for St Kilda and is now a board member at the Saints.
"He comes in every lunch time and he'll be dripping in sweat."
It's rare their shared competitiveness has spilled into frustration, with their table tennis battles about as close as they've gotten. "He has his own table and his own rules, it's pathetic. He bends it so it's bigger at one side and he makes up rules on the go," Anderson said.
Rowell (half) denies those claims – "It's outdoor, so one side is a little warped because of the weather," he said – but claims bragging rights in backyard cricket contests.
"He's good at his home deck, but away from there he's terrible. I'll give it to him that he's a good batsman, but his bowling's crap," Rowell said.
Clubs see Rowell and Anderson as the prospects fighting it out to be the No.1 choice at November's draft, but there's no tussle between them for that.
"We like seeing each other succeed. There's no jealousy or anything like that. I love seeing him do well," Rowell said.
"It'll be a pretty emotional time [if we go to different clubs]. We've been playing a lot of footy together for a long time now, so it'd be kind of weird just not being on the same side as him. But we'll definitely keep that friendship."