TOBY McLean being dropped by the Western Bulldogs three weeks ago shocked most outside the club. But the player himself wasn't so surprised.
McLean returned to the Dogs' side for its come-from-behind win over Geelong on Saturday night after two weeks out of the senior side.
MASSIVE from McLean! #AFLDogsCats pic.twitter.com/y33zx8ODor

— AFL (@AFL) July 6, 2019
Playing mainly in the forward line before his omission ahead of round 14, McLean had struggled to impact games in the manner he knew how.
So when coach Luke Beveridge made the decision that a stint in the VFL might help the 23-year-old, McLean wasn't taken aback.
"It definitely didn't surprise me. I know I have the potential to be a better player than I had been, and I enjoyed going back and I got some confidence up which was good and was luckily enough to get a recall this week," McLean told AFL.com.au.
"I haven't played in the VFL for two years so to go back it definitely refreshed me."
Up, up, and away: Toby McLean takes off against the Cats. Picture: Michael Willson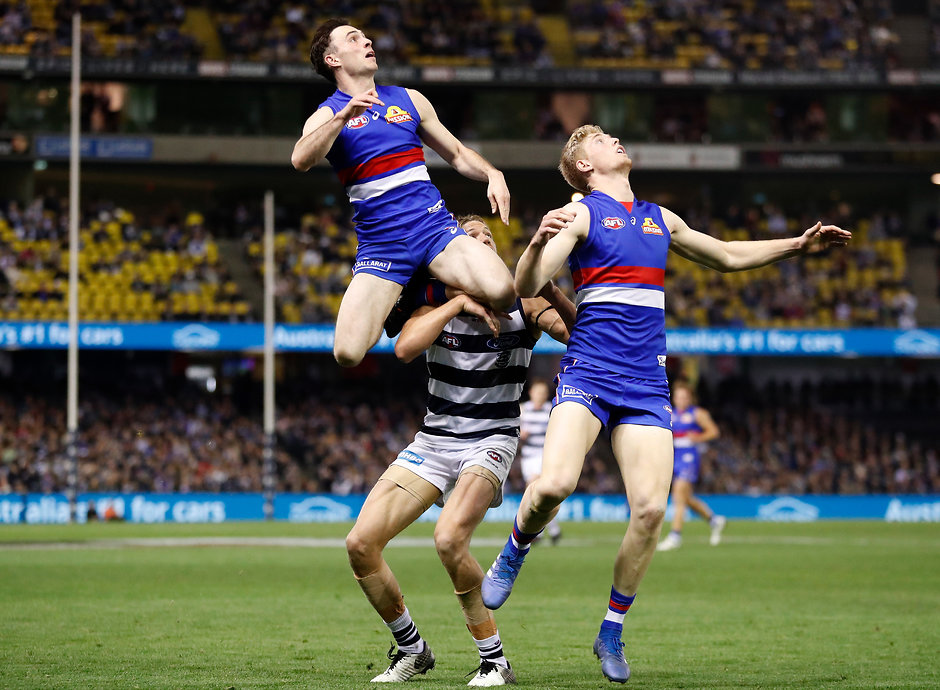 McLean's rise into a Western Bulldog regular was a sharp one. After playing four games in his debut season in 2015, he played 15 the following year, including being a key player in the Dogs' breakthrough Grand Final win over Sydney.
He missed just three games across the following two seasons, and had played 46 consecutive games before Beveridge decided he needed some time to get back to his best.
"Having the two weeks off was a bit disappointing, but I put my head down and played as well as I could in the VFL and I was lucky enough to get a recall," he said.
SEPTEMBER SNIFF Dogs season alive after downing top Cats
"I'm a fifth-year player now and he just wanted more out of me. He wanted me to influence games a lot more than I had been. I had been playing a lot of forward time this year and I found it difficult to adjust from the 50-50 midfield role that I had last year.
"Playing as a forward it wasn't about how many possessions I was getting, it was more about the want and the effort. I went back and got to play some midfield time in the VFL and enjoyed my time there."
McLean returned to form against the Cats, gathering 23 disposals in the Dogs' 10-point win. He also had a key moment in the final minute of the game, when he was able to secure a ball-up as Geelong were making a late charge.
WE'RE NOT A BAD SIDE Bevo thinking of finals
"I knew I was by myself and I wanted to get the ball as forward as I could. I think I was getting held a bit, which was a bit dodgy, but I was able to contain the ball and get another ball-up which was good for the team in the end," he said.
Beveridge was also pleased with McLean's return, particularly in the frantic final term.
"I felt like he made a really solid contribution. In that last quarter we needed a bit more one-on-one and aerial presence, and he's not a tall player, Toby, but he's a great competitor and I thought he had an enormous last quarter," Beveridge said.
THE RUN HOME Are there shades of 2017 about these Tigers?
"I felt like he really influenced the result with what he was able to do."