COLIN O'Riordan has played the past nine games for Sydney and this week signed a contract extension, but he's not ready to call his move from Ireland a complete success just yet.
FULL FIXTURE Every round, every game
O'Riordan, the Gaelic football star who took the gamble to travel from County Tipperary to Australia in 2016, looks finally ready to be a permanent part of the Swans defence.
His new deal ties him to the club until at least the end of 2021.
O'Riordan says the mental intensity of the AFL took some getting used to. Picture: AFL Photos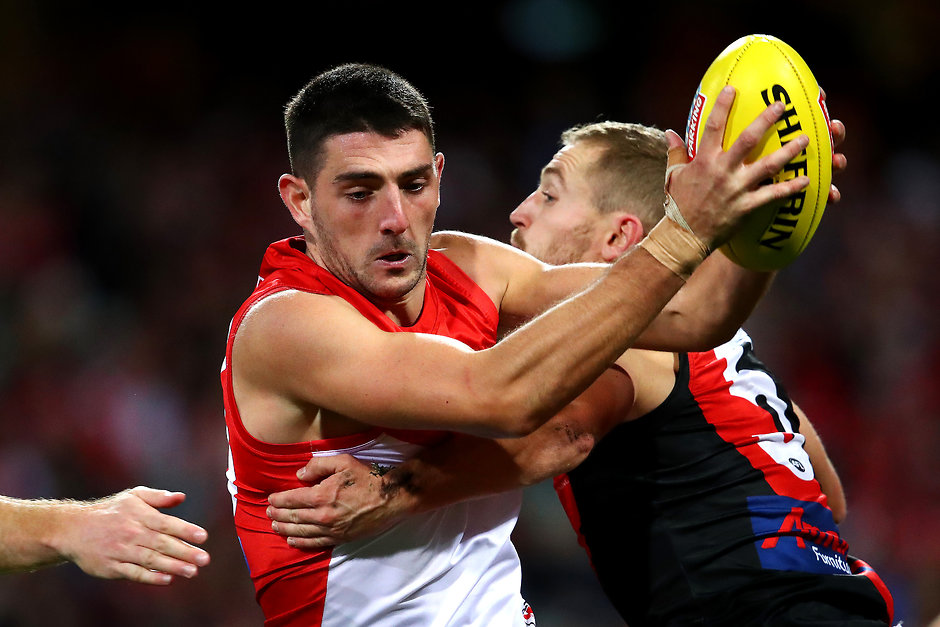 The 23-year-old has found it tough to earn his senior opportunity with Jarrad McVeigh, Callum Mills, Jake Lloyd and Nick Smith established as the club's best medium defenders, but his NEAFL form has been outstanding since he arrived in Sydney.
Injuries have seen McVeigh (quad/hamstring/calf) and Smith (hamstring) have little impact for the Swans this season, and O'Riordan has found his place across half back.
However, despite his breakout season, the security of the new contract and overcoming some doubts along the way that he'd make it as an AFL player, he's far from satisfied.
Shaun Higgins and Colin O'Riordan were not happy with each other. #AFLNorthSwans pic.twitter.com/bdG29QFTTg

— AFL.com.au (@AFLcomau) May 18, 2019
"You always have a point to prove, you always have to be a bit on edge and that's what I've tried to do, I don't think you can ever really feel settled," he said.
"Nobody has their spot guaranteed every week and you'd be pretty naïve to think that.
"There's 40-odd people on the list and only 22 spots in the team each week.
"I'm pretty happy with where I'm at, but there's always room for improvement.
"At times I thought I might not pick up the game, but you have to trust the coaches that keep telling you that you can make it."
You always have to be a bit on edge ... I don't think you can ever really feel settled - Colin O'Riordan
Sydney development coach and 2005 premiership hero Tadhg Kennelly has been an obvious ally for his countryman, and his choice to swap the round ball game for a Sherrin.
Irish players don't always get complete support from critics in their homeland when they leave the country, but O'Riordan said the opportunity to play professional sport was a lure he couldn't refuse.
Assistant coach Tadhg Kennelly barking orders at training. Picture: AFL Photos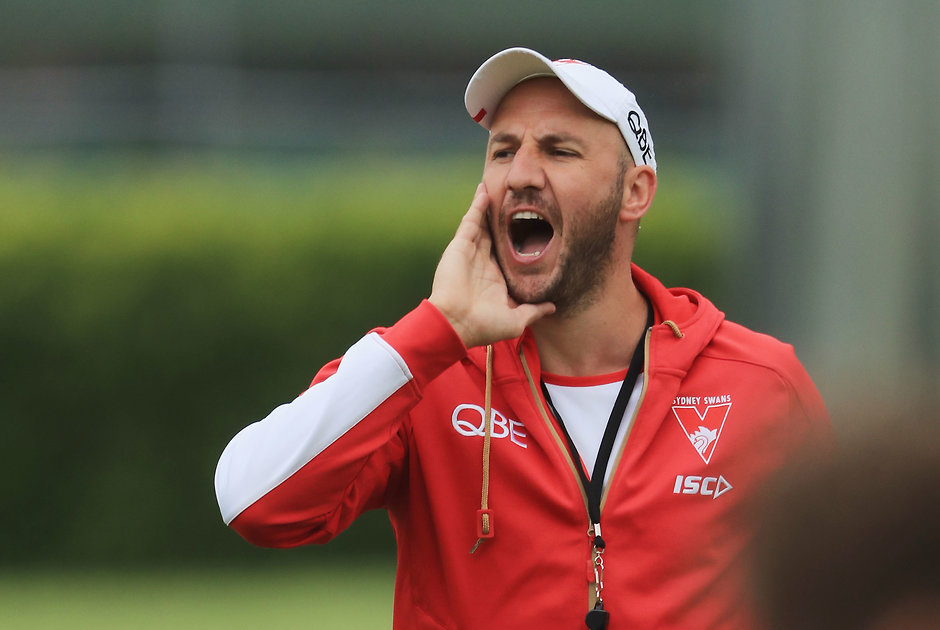 "Obviously the GAA (Gaelic Athletic Association) is an unbelievable organisation and I absolutely love it, but I always want to test myself against the best," he said.
"I have that opportunity here against elite athletes in a new sport, in a professional environment, and I want to see how far I can go.
Once I got here, I realised how mentally draining it was, and that's the biggest thing you have to get used to - Colin O'Riordan
"Back home you're playing at the highest level and you're set, then you come here and you're a small fish in a really huge pond.
"The boys here had 19 years' start on me, I guess. But I knuckled down and tried to take everything in from my coaches.
"I engrossed myself in the culture of the club and I'm ecstatic to get a new deal, it's really special to me."
O'Riordan said there's plenty more Irish prospects capable of becoming AFL regulars if they're willing to take the risk he did, following the path of the late great Jim Stynes, Kennelly, and current stars like Geelong defender Zach Tuohy.

"Can I make a pitch for them here?" he said with a laugh.
"I think there's a lot of talent back home, but you have to be willing to deal with the homesickness and the professional side of the sport, so a lot of it is mental," he said.
"Once I got here, I realised how mentally draining it was, and that's the biggest thing you have to get used to."
Find Trends on Apple Podcasts, Google Podcasts and Spotify