NEALE Daniher's mission to freeze motor neurone disease has been a giant success, with 11 media personalities plunging into a pool of icy water on Queen's Birthday at the MCG to raise more than $2.2 million.
Daniher, who played 82 games for Essendon and coached Melbourne in 223 matches, was on hand to send Tim Watson, Sam Lane, Ross Stevenson, Dermott Brereton, Sam Newman, Brian Taylor, Garry Lyon, Mick Molloy, Mark Robinson and Bryan 'Strauchanie' Strauchan (aka comedian Peter Helliar) down a giant slide into the minus-two degree pool below.
Neale Daniher gives journalist Sam Lane a good-luck kiss before she takes the plunge. Picture: AFL Media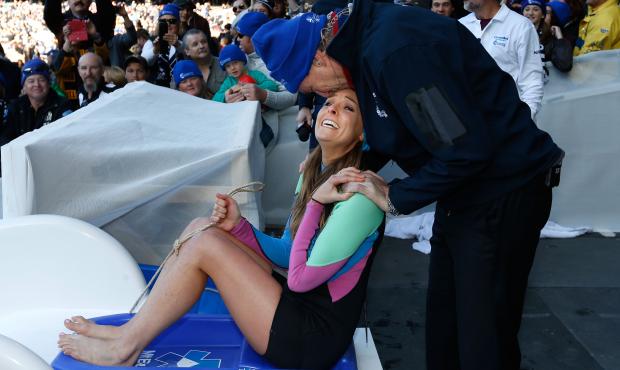 Raising money to find a cure for the MND Foundation has been Daniher's chief focus in recent months as he battles the disease. It was exceptionally well supported by those who attended the Melbourne-Collingwood clash with thousands of blue beanies dotted around the MCG.
Footy Show personality Sam Newman dons a mankini for his icy dip. Picture: AFL Media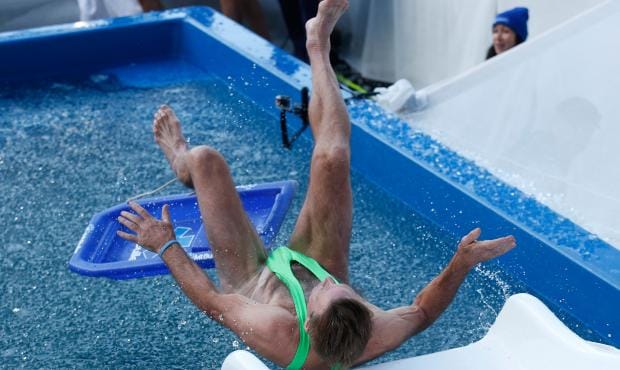 Comedian and Friday Front Bar host Molloy leaves little to the imagination in stripy budgie smugglers. Picture: AFL Media

"Every dollar counts, every dollar gives us hope," a beaming Daniher told Channel Seven.
More than $1.5 million was raised before the coverage ended at 3pm and the figure topped $2 million before three-quarter time of Monday's thrilling clash.
• Nine things we learned from round 10
• After the siren: There's opportunity in Judd's exit, but the Blues must trade
Daniher has acknowledged he will eventually succumb to the disease, but the idea behind Monday's event was to "slay the beast" so that future generations may live in hope.
"I'm overwhelmed with the support we got from everyone and it's been magnificent, the total we've got to so far."
Neale Daniher and his wife Jan joins thousands at Federation Square. Picture: Getty Images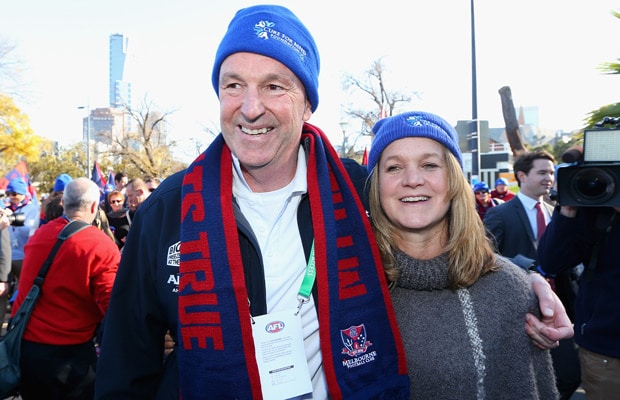 Access All Areas host Lyon said he could hardly fathom the levels of support his great mate had received.
"For those of who know him are not surprised that this is the way he's chosen to attack it," Lyon said.
"I spoke to him six to eight weeks ago and we thought $250k would be a good result, but it's a reflection of him and the standing he's held in.
"I want to congratulate everyone who got involved and most importantly Neale."
Commentator Brian Taylor opts for luminous green for Monday's event. Picture: AFL Media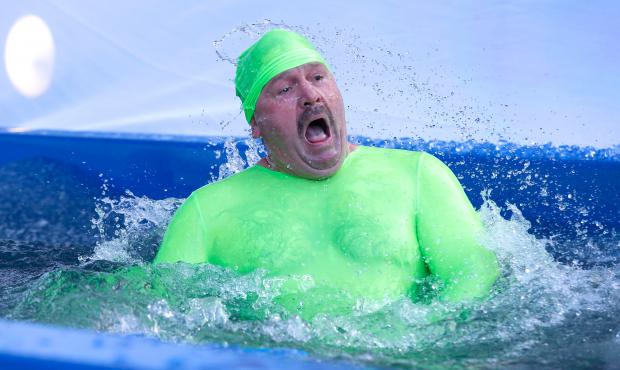 Earlier, Daniher led a march from Federation Square to the MCG and was joined by thousands of Melbourne fans who were showing their support for the coach that led them to the 2000 AFL Grand Final.
AFL CEO Gillon McLachlan joins the march to the MCG. Picture: AFL Media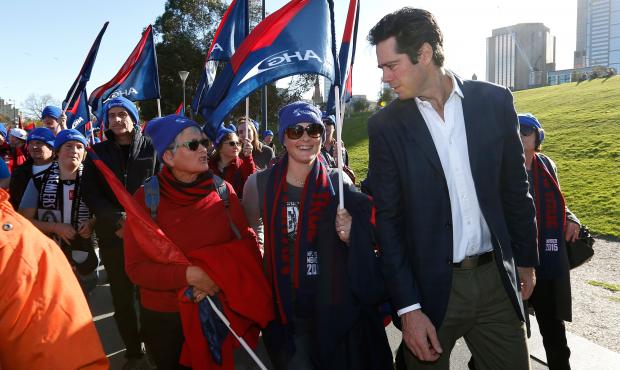 Collingwood was also involved, with Magpies president Eddie McGuire leading his club's march to the 'G, meeting up with Daniher and his cohort out the front of gate one.
It was announced pre-game that the player judged best on ground in Monday's annual match would be awarded the Neale Daniher Trophy.
HOW YOU CAN HELP
Click here to donate to help the Cure for MND Foundation freeze MND and find a cure. All money raised goes towards vital MND research.
AFL clubs have banded together to auction match-worn guernseys and match-used balls for the cause. Click here to bid on your favourite player's guernsey and do your bit to help freeze MND.