EXCITING Richmond forward Jack Higgins will be released from hospital on Thursday morning, but will take no further part in the season after suffering a bleed on his brain.
The issue was caused by an "abnormality" in his blood vessels, something he's had since birth but had not been previously identified.
Higgins, who has played the last three weeks in the VFL after losing his spot in the team, did not suffer the bleed due to a head knock and is expected to be fit to play in 2020.
He's got a group of blood vessels that aren't strong and naturally bleed - Damien Hardwick
"Without being a medico by nature, he has had an abnormality since birth, which has reared its head. It's a chance to pop up its head between the ages of 10 and 30, so obviously Jack falls into that time frame," coach Damien Hardwick said.
"He's got a group of blood vessels that aren't strong and naturally bleed. Obviously, he's had a bigger bleed that's caused the issue. He won't play again this year.
"He'll play footy again, which is really exciting for us and great for Jack. We're rapt. Our medicos did a terrific job detecting it and sending for scans. Now we know the solution, we just have to be patient and wait till that occurs."
Richmond released a statement on Thursday afternoon, saying Higgins will have surgery next week.
"Jack's neurosurgeon has decided the best course of action is for Jack to have surgery next week to repair the area of abnormal blood vessels responsible for the bleeding on his brain," club doctor Greg Hickey said.
"Following the surgery, there will be a period of recovery and rehabilitation for some months, but we certainly expect Jack to resume playing football next season."
Jack Higgins kicks goal of the year in 2018. Picture: AFL Photos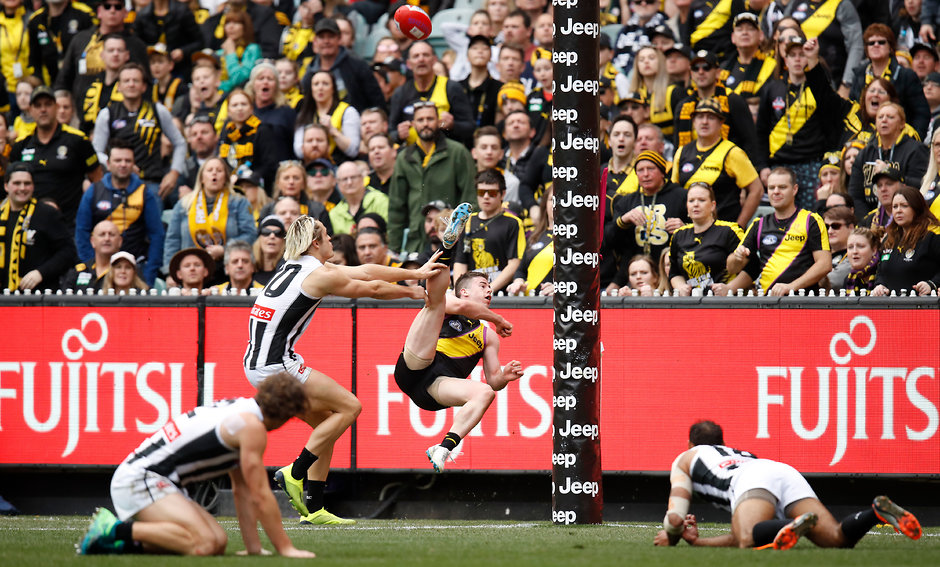 Hardwick said the playing group was continually kept informed after Higgins was hospitalised on Tuesday night, and the lively 20-year-old was in a typically upbeat mood.
"He was meant to have no visitors in hospital, and the doc rocks up and he's got 8-10 of his mates in the room with him," Hardwick said.
TOTALLY UNEXPECTED Young Tiger in hospital after brain bleed
"He's one of those guys – and it's what we love about this kid – you wouldn't know he's got a significant injury.
"So he's in good spirits and he's pumped to get out of hospital today. I think he would have been driving the staff in there insane with his questions, but the great thing for us is he's on the mend."
In other news from Punt Road, number one ruckman Toby Nankervis will play managed minutes in the VFL this Sunday against Box Hill after nine weeks on the sidelines with a major adductor injury.
Richmond ruckman Toby Nankervis at training. Picture: AFL Photos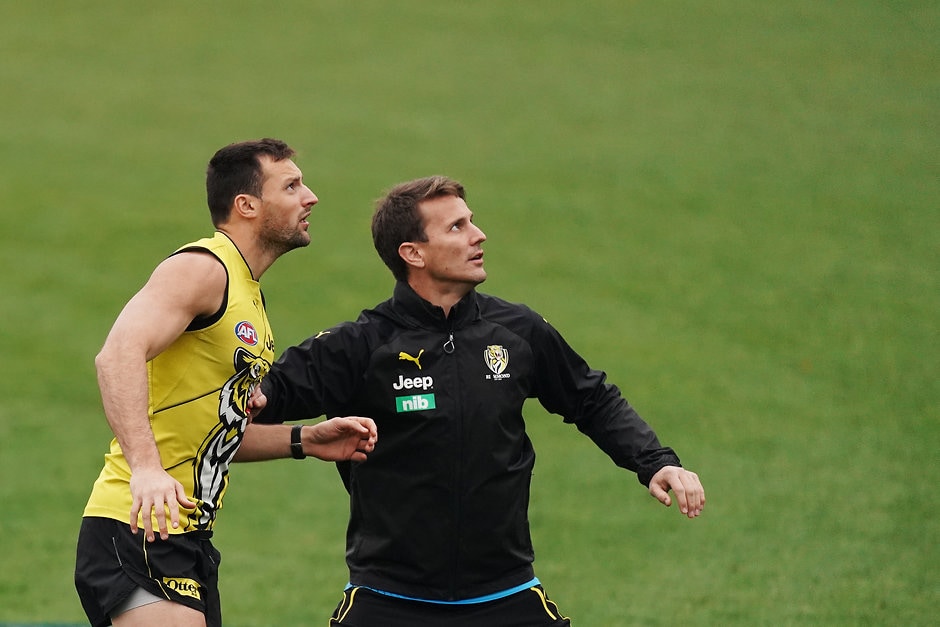 Mid-season draftee Marlion Pickett (finger) is also edging closer to his first game in the yellow and black.
"[Nankveris] missed a significant amount of football, and he'll be available for AFL selection hopefully next week against Collingwood," Hardwick said.
"[Pickett] will play some game time next week, which is really exciting. We didn't think we'd have him for the majority of the year. Balmey's got him winning the Brownlow off the remaining five or six games, so we're really excited to see what he's got to offer.
"You can just tell this kid knows how to play the game. He has to play a little bit of VFL football, obviously, but I think we're all excited as a coaching staff to see how he goes."