SYDNEY Swans star Lance Franklin says he's 'feeling good' after speaking publicly for the first time since he walked away from the game on the eve of last season's finals series to seek treatment for a mental health issue.
Franklin, sporting a new hairstyle, told the club's website that he was excited to get back to training with his teammates.
"It's been a really hard three months for me but I'm feeling healthy, happy. I just got back from a nice holiday overseas, and I'm looking forward to getting into training," Franklin said on Monday.
The triple Coleman medallist stunned the footy world when he took time away from the club ahead of the 2015 finals series, and played no part in either of the Swans' losses to Fremantle and North Melbourne.
Franklin admitted that confronting his problems under such intense media scrutiny has been difficult, but he was glad that he had taken the important step of asking for support.
"It's been extremely tough for myself but the best thing I've done is put my hand up, so if you are struggling, I definitely recommend that you ask for help because it will change your life definitely," he said.
"It was a tough time, leading into the finals I was really struggling.
"I took some time away and it's the best decision I've made.
"I've got such a great support network around me in my partner, family, friends, and the football club have been terrific through this tough time, and I couldn't be more thankful to have that support around me."
Lance Franklin says he can't wait to return to pre-season training. Picture: sydneyswans.com.au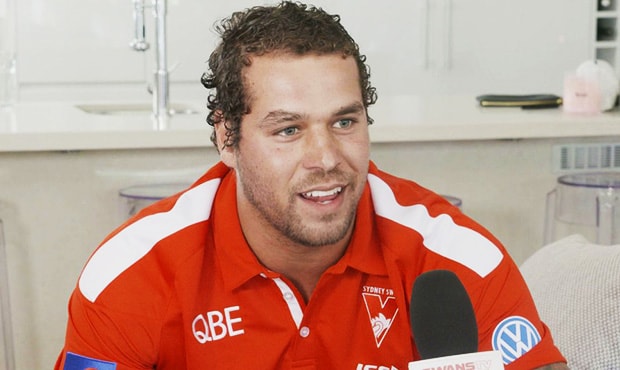 Both the Swans and Franklin have never disclosed the intimate details of his issues, but one of the competition's biggest names said that working on his communication has been a major focus over the time he'd spent away from the club.
"Over these past few months it's been about being able to build those relationships and being able to communicate a little bit better," Franklin said.
"Obviously that's ongoing and I'm slowly getting there but it's been tough."
The two-time premiership forward will return to start pre-season training with the rest of the Swans' more experienced players on Tuesday.
"I'm hungry to get back out there, obviously missing the finals last year was tough, it was tough watching," he said.
"For me it was more about getting myself right and getting my health back in order and getting back to being happy.
"I'm really looking forward to getting out there and playing football, and seeing my best mates."