• Draft order: Your club's provisional picks
•Get to know the next young guns at the NAB AFL Draft Hub
• Combine wrap: Who starred and moved up the order?
• Top performers from this year's draft combine

THIS year's draft has been one of the most challenging in years for experts to predict, with both the even spread of talent and the distribution of picks in the top 10 making it tough.
Here is how AFL.com.au's draft expert Callum Twomey sees the first 30 picks panning out, including the impact of the new bidding system. Be sure to click through all the links for exclusive stories and video telling the stories of this year's crop of young talent. 
After the top 30, keep reading for Cal's club-by-club rundown of how the remainder of the draft could pan out on Tuesday night. 

JACOB WEITERING
DOB: 23/11/97; Height: 195cm; Weight: 90kg
Dandenong Stingrays
Draft Trumps: Meet Jacob Weitering

Weitering is the best player in the draft and will be a deserving No.1 pick. The key defender pieced together an excellent season from start to finish and placed himself at the top of the draft with his imposing play in the backline. Weitering is a brilliant overhead mark and has a long accurate kick. He has carried the tag as the likely No.1 choice without fuss throughout the year and will welcome the big expectations that will be placed on him in the AFL. The Blues can pick him knowing he will be a long-term part of their plans.
If not him? It would be one of the all-time draft surprises if Carlton calls out anyone else's name at No.1. Weitering has been linked to the first choice all year and appears set to join the Blues. 
Click to read Jacob Weitering's profile and watch his highlight reel
Jacob Weitering has loomed as the likely No.1 pick all year.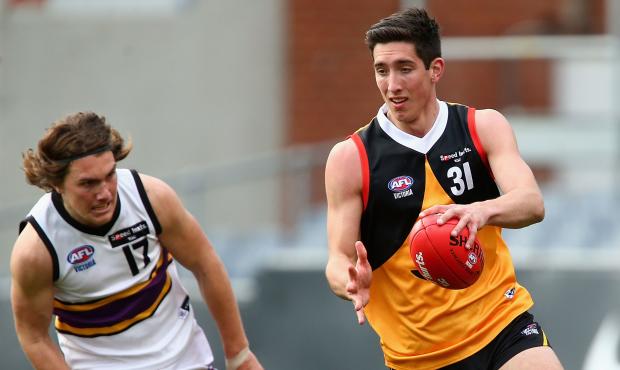 JOSH SCHACHE
21/8/97, 199cm, 96kg
Murray Bushrangers
Draft Trumps: Meet Josh Schache

Schache put his scores on the board early, and just kept kicking goals throughout this year to cement himself near the top of the draft order. The key forward is an excellent shot for goal, has a great engine plus the height to outmark most of the defenders he's matched up against. He kicked a record haul of 24 goals at the under-18 championships and is not a forward who needs heaps of touches to make a scoreboard impact. The Lions have identified the need for a key forward, Schache has a link there given his father Laurence played for the Bears in the 1990s, and he is happy to move from Victoria. It's a nice fit.
Schache keen to finish off his dad's work at Lions
  
If not him? The Lions are locked on to Schache. If they held pick one they might well have taken him in that spot too.  
Click to read Josh Schache's profile and watch his highlight reel
Josh Schache put together a record-breaking campaign at the championships.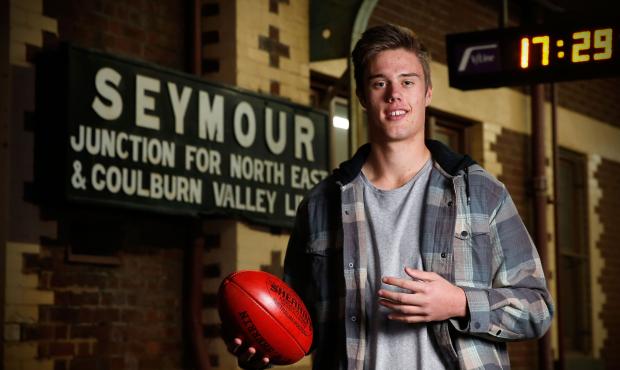 CALLUM MILLS (matching Melbourne's bid) 
2/4/97, 186cm, 80kg
North Shore/Sydney Swans Academy
Draft Trumps: Meet Callum Mills
Mills looks set to be the first player to have a bid made on him during a live draft as the AFL unveils its new bidding system. Melbourne has been tipped to place a bid on Mills at pick No.3, which would see the Swans asked to match the bid by moving up from pick No.33 and their next couple of picks move to the back of the draft. Mills is a competitive and tough midfielder who, despite missing most of this season with injury, is still one of the most talented players in the draft. He starred at NEAFL level last year as a bottom-ager and will play a significant amount of senior footy next year for the Swans.
Code-swapper Mills might be draft topper

If not him? The Swans' first selection won't be anyone else. They'll match the bid wherever it comes because Mills is too good to miss. 
Click to read Callum Mills' profile and watch his highlight reel
Callum Mills remains hot property despite missing most of 2015 through injury.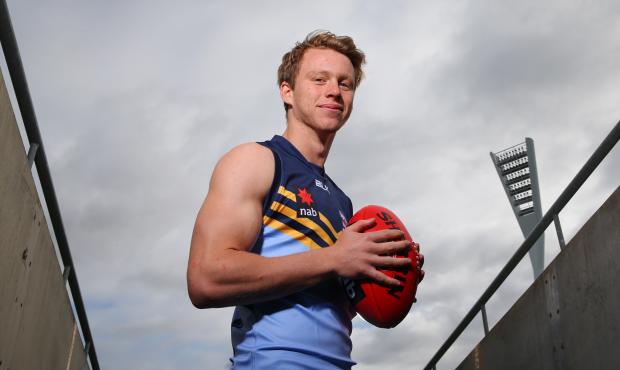 CLAYTON OLIVER
22/7/97, 187cm, 86kg
Murray Bushrangers
Draft Trumps: Meet Clayton Oliver
Few (none?) would have predicted six months ago that Oliver would be a top-10 pick. But now that seems one of the draft's most likely scenarios, with a clump of clubs keen on the tough, physical and big midfielder. The Morrish medallist kicks goals, marks well above his head and has an explosive streak that sees him dominate clearances. He also presented well and tested impressively at the combine last month, which further boosted his stocks. Melbourne has shown strong interest in Oliver, and he probably wouldn't be available at its next pick a few spots back. If they want him, they'll probably have to grab him here.
Morrish medallist adds top-10 twist to draft
If not him? Sam Weideman and Darcy Parish are the other main contenders here. Weideman would fill a need as a young developing key forward but has some fitness concerns, while midfielder Parish has always been in the mix for the Dees. And is Aaron Francis completely out of the equation?
Click to read Clayton Oliver's profile and watch his highlight reel
Explosive midfielder Clayton Oliver should be taken early in the draft.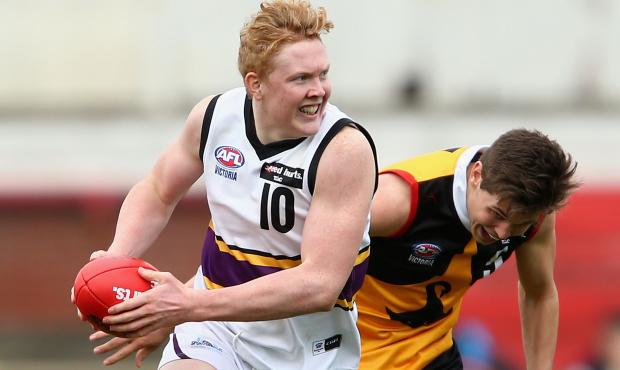 AARON FRANCIS
10/8/97, 191cm, 86kg
West Adelaide
Draft Trumps: Meet Aaron Francis
Francis was tipped as a contender for the first selection early in the year, but his form later in the season saw him drop in the eyes of some recruiters. The powerful defender is able to control games as a third tall, but in his stints up forward and in the midfield he has also been able to have a big say on games. The question is his endurance and whether he will be able to play the similar third tall role at AFL level, but clubs know his innate competitiveness will hold him in good stead. Essendon has liked him for some time and Francis is a Bombers supporter who has made it clear he wants to head to Tullamarine.
Francis stamps credentials in SA's big U18 win
If not him? The Bombers have a number of options here. Sam Weideman, Charlie Curnow and Harry McKay could be in the mix as talls, while Clayton Oliver and Wayne Milera are also possibilities. 
Click to read Aaron Francis' profile and watch his highlight reel
Aaron Francis' strength and versatility make him a compelling prospect.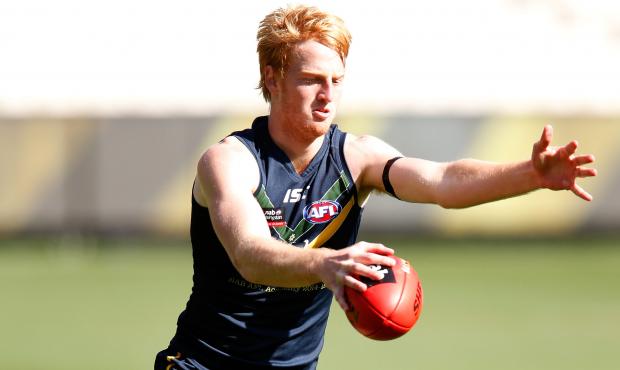 DARCY PARISH
25/7/97, 181cm, 73kg
Geelong Falcons
Draft Trumps: Meet Darcy Parish

The midfielder couldn't have done any more over two ultra-impressive seasons. He is a back-to-back under-18 All Australian, a member of the NAB AFL Academy and has been exceptional in nearly every important game he's played. Parish has dash and skill and is always on the move. He might look like an outside midfielder because of his run and flash, but he works brilliantly at the stoppages and fights above his weight. Towards the end of the season he also showed his overhead marking was developing nicely, and he's a steady kick at goal on the run. His size might see clubs place others ahead of him, but he has achieved more at under-18 level than any other midfielder in this draft. Dyson Heppell aside, Essendon's midfield stocks are quite bare beyond its veterans. Parish would be a smart choice.
If not him? The Bombers have said they will be picking the best players with their first two choices and then go for needs with their second-round picks. The aforementioned names should make up the Dons' duo.  
Click to read Darcy Parish's profile and watch his highlight reel
Darcy Parish has done everything right over the past two seasons.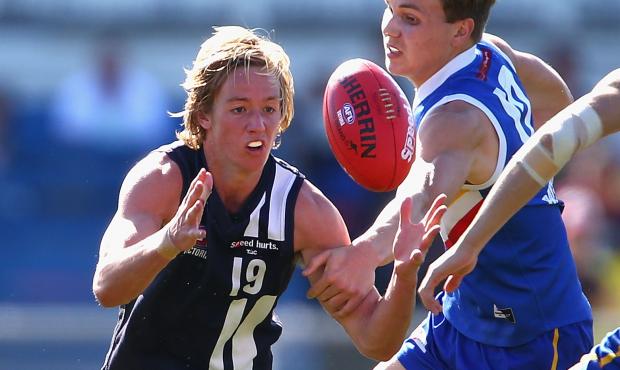 CALLUM AH CHEE
9/10/97, 182cm, 71kg
South Fremantle
Draft Trumps: Meet Callum Ah Chee
Despite an inconsistent season, Ah Chee remains a prodigiously talented player who can do things most other prospects can't. The West Australian half-forward played his best footy this season against senior opposition – for the NAB AFL Academy in April, and for South Fremantle's WAFL side late in the year. He can jump high, take big marks and kick classy goals, and he's also clever at ground level and has some toe. He has run a 2.88-second 20-metre sprint, so has the breakaway speed that few possess. Ah Chee has been linked to the Suns, who lack small forwards on their list. That's the spot where he'll start his career but with an improvement in his tank he should push up the ground in time.  
Going Places: Recruiters ask the hard questions of Ah Chee

If not him? Darcy Parish is a chance to still be available if the Dees and Dons overlook him. The Suns have been regularly linked to Wayne Milera, while bigger types Sam Weideman and Aaron Francis might also be hard to pass up at this spot. 
Click to read Callum Ah Chee's profile and watch his highlight reel
Remember this hanger? @AFLDraft prospect Callum Ah Chee is out to prove it's no fluke. https://t.co/hMmFSRbgnU pic.twitter.com/OSFGT0QmwP

— AFL (@AFL) November 9, 2015
Callum Ah Chee can do things other draft prospects can't.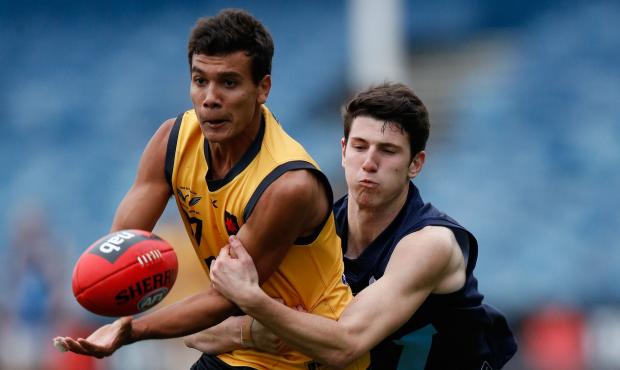 SAM WEIDEMAN
26/6/97, 196cm, 91kg
Eastern Ranges
The supply and demand for key forwards means Weideman was always going to be considered early in this draft despite missing so much footy over the past two years through injury. The imposing and pack-crashing big man kicks straight, knows the forward craft and is hard to beat on the lead. Clubs have done significant work on his body after his ankle issues over the past two years, and his last game this year was in May. But he has been back running for months, last week did a full fitness testing session and although the results were not brilliant, clubs placed more value on his medical assessment. The Demons need a partner for forward Jesse Hogan and traded out their first pick next year, so Weideman would be a good get at this spot. 
Footy's in the blood for Sam Weideman
If not him? Midfielders Darcy Parish and Clayton Oliver are possibilities should they fall through and Melbourne flips what it does at No.3 and goes with Weideman earlier. Aaron Francis, should he be available, will be considered too, along with Wayne Milera. Harley Balic is a slim chance. 
Click to read Sam Weideman's profile and watch his highlight reel
Sam Weideman has missed plenty of footy but his talent remains attractive.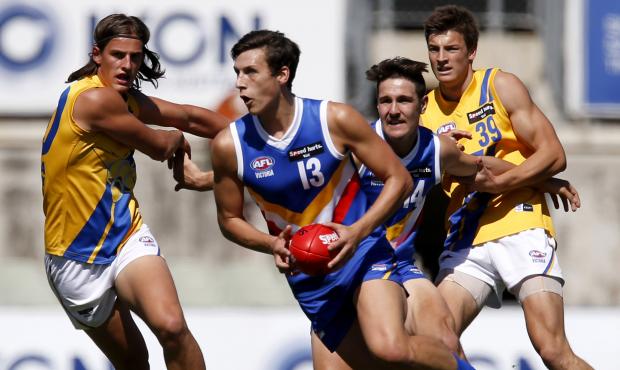 JACOB HOPPER (matching Carlton's bid)
6/2/97, 186cm, 82kg
North Ballarat Rebels
Draft Trumps: Meet Jacob Hopper

Hopper is a midfielder who changes games through sheer will: he puts his body on the line, is a star at the clearances and enjoys pushing forward to hit the scoreboard. Carlton might be in a position to make a bid on the Giants academy player with its second selection. GWS would slide up from its first pick (which starts the draft at No.10) to take him without their other selections being impacted. Hopper was a standout at the under-18 championships, he carries great potential as a leader, and has the rugged style that imposes himself onto games.
Driven Hopper won't take GWS link for granted

If not him? There's a chance that a bid comes for fellow Giants academy player Matt Kennedy before Hopper. Either way, GWS' first pick should be one of the academy players. They will match the bids.
Click to read Jacob Hopper's profile and watch his highlight reel
Jacob Hopper has produced an outstanding season and will end up a Giant.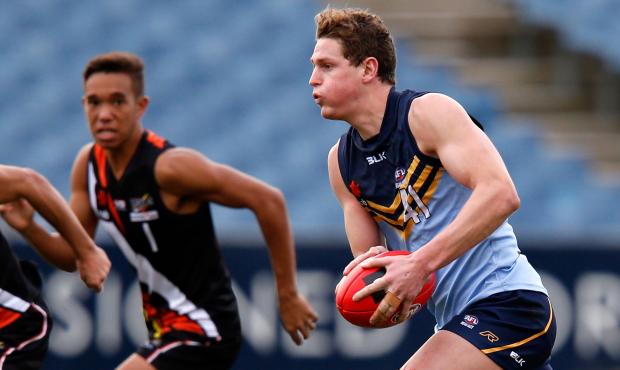 HARRY McKAY
24/12/97, 200cm, 85kg
Gippsland Power
Draft Trumps: Meet Harry McKay

The tall forward has real potential. He burst on to the scene at the start of the year with a four-goal bag at TAC Cup level and continued to show exciting signs. McKay is agile, versatile and likes to get on the lead and take some marks. He will also be able to pinch-hit in the ruck once he builds up his body, which will make him a difficult match-up. He took on this role at stages throughout Vic Country's championships campaign. The Blues have been linked as admirers for some time, and seem a good fit to bring in his talents in their developing forward line.
If not him? If Wayne Milera is still here, would they opt for his class? The Blues must also consider the machinations of taking Charlie Curnow at this point and hoping McKay could get through to their next selection.
Click to read Harry McKay's profile and watch his highlight reel
Harry McKay had recruiters talking with his blistering start to the season.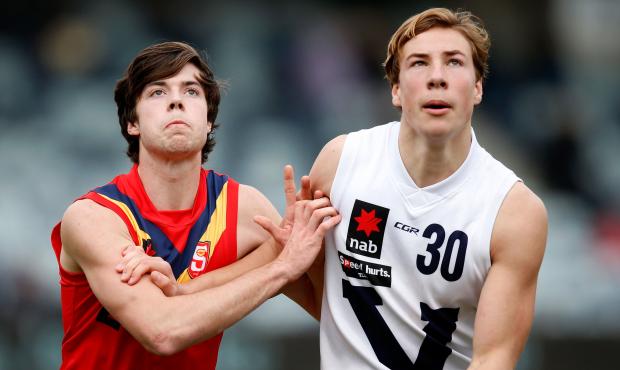 • Want even more vision of this year's draftees? Check out the Draft Machine

MATTHEW KENNEDY (matching Adelaide's bid)
6/4/97, 187cm, 84kg
Collingullie GP/GWS Academy
Draft Trumps: Meet Matthew Kennedy
Kennedy is of the premier midfielders available, but he's really only available to one club: Greater Western Sydney. Although Adelaide is a good chance to make a bid at this point on the tall and strong-marking on-baller, the Giants will have the option to match the bid and take on Kennedy, who has blossomed this season in his first year in the talent pathway. Kennedy missed a large chunk of the year with a knee injury, but he returned at the end of the season and performed well for the Allies on Grand Final day.
Country boy Kennedy lives his footy dream
If not him? There's a chance the bids could be flipped and one comes for Kennedy before Jacob Hopper, but it's only a matter of semantics really. The Giants will match the bids for both players and bring in two of the best midfielders in the pool. 
Click to read Matthew Kennedy's profile and watch his highlight reel
Matthew Kennedy has been one of the big improvers of the class of 2015.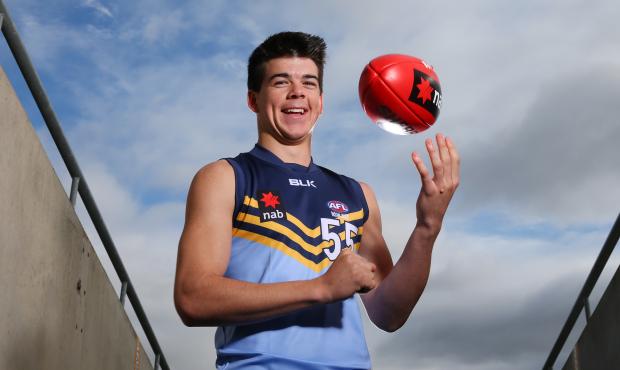 ERIC HIPWOOD (matching Adelaide's bid) 
13/9/97, 202cm, 82kg
Aspley/Brisbane Lions Academy
Draft Trumps: Meet Eric Hipwood

Hipwood's versatility makes him an appealing prospect. Throughout this year the 202cm prospect spent plenty of time in attack, where he ran hard on the lead, jumped for his marks and kicked some smart goals. But he was also more than comfortable across centre half-back, where he could use his leap and athleticism to shut down opponents. Adelaide stocked up on a tall defender at last year's draft in Jake Lever but could go again with a bid on Hipwood, however the Brisbane Lions will have first call on matching the bid for their academy player.
If not him? The Lions stocked up on points during the trade period so they could pay for Hipwood. They'll match the bid for him and push up the order. Attaining Hipwood and Josh Schache will give the Lions some first-class tall talent to add to their list. 
Click to read Eric Hipwood's profile and watch his highlight reel
At 202cm, Eric Hipwood cuts an imposing figure up forward.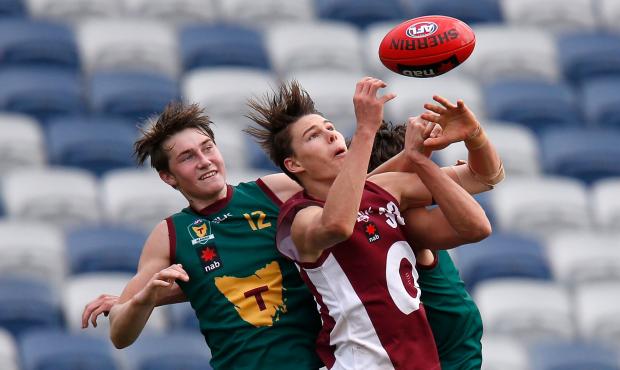 WAYNE MILERA 
14/9/97, 185cm, 75kg
Central District
Draft Trumps: Meet Wayne Milera

With a few shimmies and some very nice performances at senior level late in the season, Milera's stocks rocketed in the second half of the season. Some clubs see him as one of the most talented three or four players in the draft, such are his silky skills, smarts and evasiveness in traffic. He just doesn't get caught. Milera will start as a half-forward, but he can also move into the midfield and be used across half-back if required where his ball use sets up the play. He kicked three goals and starred in a senior SANFL final, and has real brilliance. The Crows have seen him develop his game this season and he would add a nice element of polish to their set-up.  
Heart scare no impediment to Milera's AFL dream

If not him? It will be a big, big call for the Crows if Milera and Charlie Curnow are both still available. Fellow local Ryan Burton could be a shot here for the Crows, while key defender Kieran Collins might also be in contention at one of their choices. 
Click to read Wayne Milera's profile and watch his highlight reel
Wayne Milera's blistering finish to the year has plenty of clubs keen. 


CHARLIE CURNOW 
3/2/97, 191cm, 95kg
Geelong Falcons
Draft Trumps: Meet Charlie Curnow

The powerful forward is an interesting prospect due to his capabilities, his positioning and his limited game time across 2015. Curnow started and ended his season playing as a key forward who can take strong marks and hit the scoreboard. In the middle of the year he was about to progress into a midfield role, but he went down with a knee injury and missed the championships. He came back towards the end of the year to show his grunt, and he tested well at the combine with his endurance. Curnow's police incident days before the draft – where he was arrested for allegedly refusing a preliminary breath test – might see him tumble down the order a few spots but he could join brother Ed at the Blues.
Talent manager hopes Curnow's 'poor choice' won't hurt him

If not him? The Blues might be able to flip their strategy to take Curnow with their second pick and hope Harry McKay gets through to here. SA products Wayne Milera and Ryan Burton might also be in the running. 
Click to read Charlie Curnow's profile and watch his highlight reel
Charlie Curnow (left) has endurance, power and footy smarts.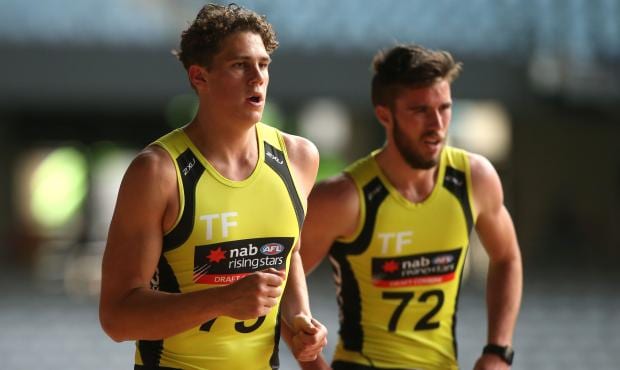 DANIEL RIOLI
16/4/97, 179cm, 65kg
North Ballarat Rebels
WATCH: Another Rioli ready to roll

Given his surname, clubs had already been watching Rioli closely throughout the season. But he really sprang up the draft order with his finish to the year, when Rioli kicked four goals in a TAC Cup final, was among the best players in the Grand Final day curtain-raiser for the Allies, and then tested exceptionally well over the week at the combine. There he underlined his elite mix of speed and endurance, which made clubs look even harder at him as a possible top-20 pick. The Tigers are in need of a crafty small forward and Rioli fits that bill.
Does Daniel Rioli have Uncle Cyril's measure?

If not him? Callum Ah Chee will probably be gone by this point of the draft, but Jade Gresham is another firmly in the mix. Ryan Burton and Harley Balic are others to have been linked with the Tigers. 
Click to read Daniel Rioli's profile and watch his highlight reel
Daniel Rioli's athleticism and eye for goal have pushed him up in recruiters' estimation.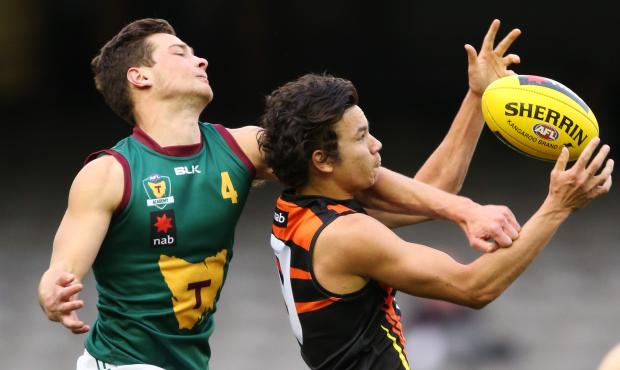 RYAN BURTON
31/1/97, 191cm, 90kg
North Adelaide
Draft Trumps: Meet Ryan Burton
Burton is perhaps the hardest player in the pool to assess, purely because he hasn't played for 15 months since a severe leg and knee injury last year. But with enough club medicos believing he will be able to recapture his best form and fitness, he is in the mix as a first-round prospect. Burton is a marking and leaping half-forward who has natural footy instincts: he twists and turns and makes space, and manages to step up when his team needs him. In the future, he wants to play in the midfield, where his size and smarts would make him an imposing player in that area.
Going Places: The moment that could have ended Burton's dream

If not him? The Crows like Harley Balic and could go with him here, they've been linked to Callum Ah Chee and Kieran Collins, and one of Charlie Curnow or Harry McKay could surprisingly get through. 
Click to read Ryan Burton's profile and watch his highlight reel
Ryan Burton hasn't played footy for more than a year but he's still in demand.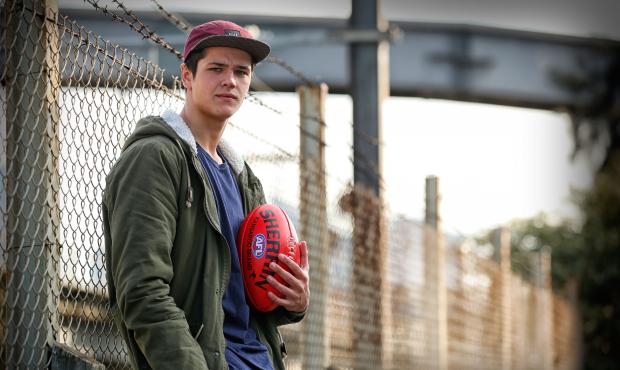 HARLEY BALIC
5/1/97, 186cm, 80kg
Sandringham Dragons
Draft Trumps: Meet Harley Balic
Balic creates things out of nothing. He's clever when the ball's at ground level, quick with his hands and rarely gets caught in traffic. His evasive skills get him out of trouble, and across the year he showed he could play in different roles across the ground – at half-forward, through the midfield and at half-back. St Kilda has been one of the most interested clubs throughout Balic's season, which was cut short by wrist surgery in August. He will be well on the way to full training by the time he lands at an AFL club.
Going Places: Will Balic's big decision pay dividends?

If not him? The Saints seem likely to discuss midfielders Rhys Mathieson, Ryan Clarke and Brayden Fiorini, as well as Jade Gresham, at this selection. 
Click to read Harley Balic's profile and watch his highlight reel
Harley Balic impressed through the midfield during his top-aged under-18 year. 


KIERAN COLLINS
14/12/97, 194cm, 95kg
Dandenong Stingrays
Draft Trumps: Meet Kieran Collins

Collins developed his game exceptionally well this season to become the second best pure key defender in the draft, only behind his close friend Jacob Weitering. The strongly built 194cm prospect defends tightly, but also added an attacking element to his game this season which saw his draft stocks jump. He was named in the All Australian team after a superb carnival, and beat some of the best key forwards in the draft across the season. The Hawks have lost Brian Lake and were unsuccessful in their chase of former Bomber Jake Carlisle during the trade period. They might be able to clinch Collins with their first pick.
Collins and Weitering's double act set to be separated - or is it?

If not him? The Hawks have spent time on Tasmanian midfielder Mitchell Hibberd, so could look at him here. Zippy on-baller Jade Gresham has also been linked to the Hawks, along with rebounding half-back Tom Cole. 
Click to read Kieran Collins' profile and watch his highlight reel
Strong frame, strong mind: Kieran Collins is among the draft's best defenders.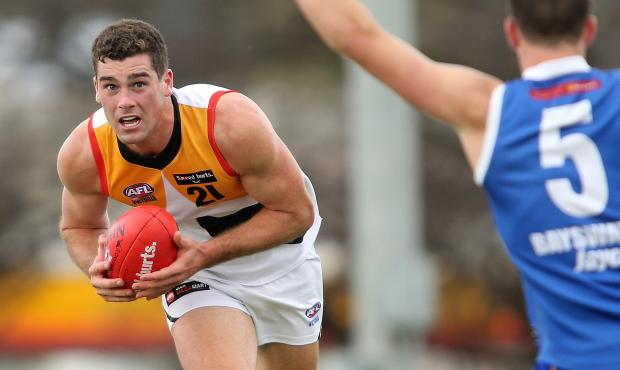 JADE GRESHAM
24/8/97, 177cm, 74kg
Northern Knights
Draft Trumps: Meet Jade Gresham
With pace, class and a nose for goal, Gresham pieced together an impressive season. He was an All Australian and Vic Metro's MVP for his under-18 carnival, and continued to lead the Northern Knights strongly at TAC Cup level. Being a smaller midfielder is really the only knock on Gresham, but he does everything well and with polish. His final game of the season – a 33-disposal and three-goal effort for the Knights – showed his quality. The Suns reaped the rewards by taking smaller midfielder Touk Miller at last year's draft. Gresham could come into the AFL and have a similar impact. 
Veteran sounding board Harvey gives Gresham a bounce
If not him? Harley Balic is on the radar, and he is a chance to be available at this spot. Brayden Fiorini and Ryan Burton might get a look-in here. 
Click to read Jade Gresham's profile and watch his highlight reel
Speed and skill give small midfielder Jade Gresham an edge. 

BEN McKAY
24/12/97, 199cm, 91kg
Gippsland Power
McKay's sample of games is small but he has shown enough to suggest he has some real qualities as a flexible tall at both ends of the ground. At the start of the year, McKay didn't believe he was good enough to play at TAC Cup level. But he picked up some self-belief and returned to the level mid-season and was terrific thereafter, showing his combative and aggressive streak in forward and defence. McKay is a strong overhead mark, attacks the contests and has a knack for kicking goals. North loaded up on talls at last year's draft but McKay will offer a more versatile option.
Strong performances dispel McKay's draft doubts
If not him? The Roos have been strongly linked to hard-running midfielder Ryan Clarke. Speedy option David Cuningham is another to have been talked about, but he might be there at their second-round picks. Harley Balic, should he get through, is a good shot.  
Click to read Ben McKay's profile and watch his highlight reel
Ben McKay looks set to follow twin brother Harry into the AFL.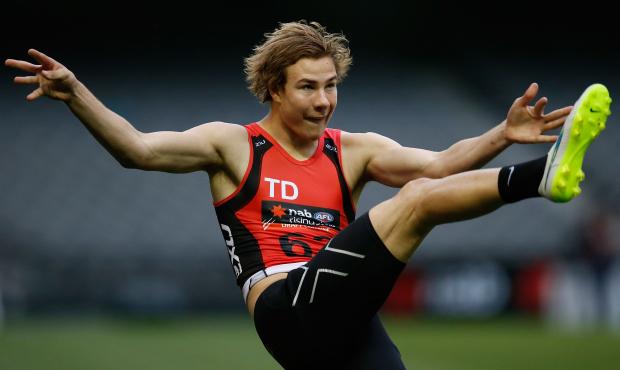 BEN KEAYS (matching Hawthorn's bid)
23/2/97, 185cm, 82kg
Morningside
The prolific midfielder continued to build his game this season after breaking onto the scene as a bottom-ager in 2014. Keays has a work ethic that pushes him a long way: he's tough in the clearances, good on the outside and he averaged 28 disposals for Queensland at the under-18 championships to claim the Harrison Medal as the best player in division two. He's ready to play at the next level. Hawthorn might be looking for extra midfield depth, but if a bid comes here it will be matched by the Brisbane Lions, who have first rights over the academy prospect who has lived in Queensland since he was five.
Lions prospect Keays relishes the pressure

If not him? The Lions are likely to have already matched a bid for Eric Hipwood before one comes for Keays, but they will be in a position to match both. Keays will head to the Lions and they will be rapt to add two local talents. 
Click to read Ben Keays' profile and watch his highlight reel
Ben Keays will add another prolific option to the Lions' midfield.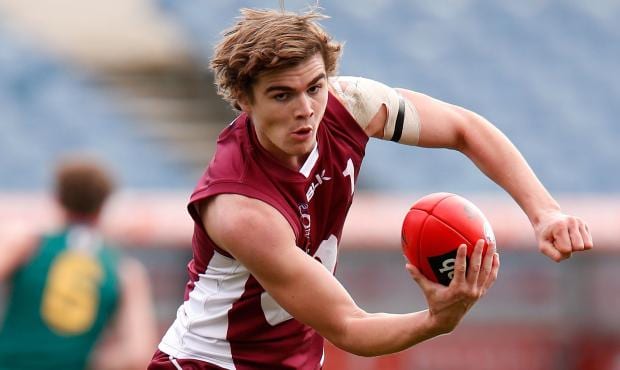 MITCHELL HIBBERD
23/9/96, 191cm, 85kg
Clarence
Draft Trumps: Meet Mitchell Hibberd
After being overlooked at last year's draft due to injury, Hibberd has struck back this season to be a legitimate first-round chance. The tall and athletic Tasmanian can be used in a number of spots. He's attacking off half-back and gives strong drive, he can slot nicely into a wingman's role, and isn't afraid of going for his marks in attack as well. After a knee reconstruction ruled him out of action last year, a shoulder operation interrupted his start to this season. But he's set to be considered by the Hawks, and he has some very nice traits.
If not him? Tom Cole is a possibility, and Daniel Rioli might be available at this spot too. An inside midfielder might also be on the agenda for the Hawks, which might bring Ryan Clarke or Rhys Mathieson into the equation. Riley Bonner has also been regularly linked to the Hawks. 
• Click to read Mitchell Hibberd's NAB AFL Draft profile and watch his highlight reel
With height and athleticism, Mitchell Hibberd would be well suited to the Hawks.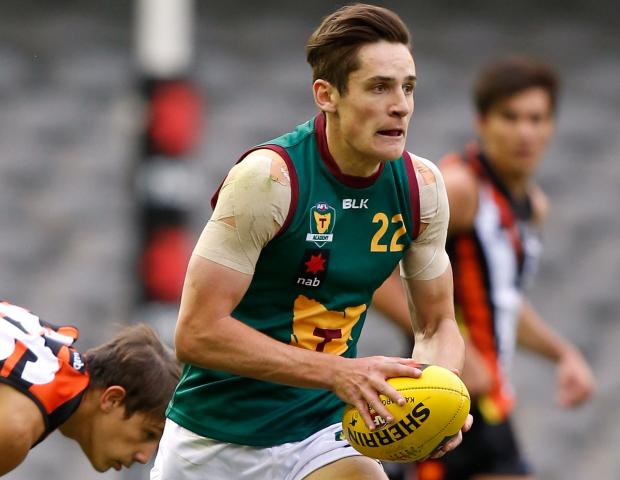 DARCY TUCKER
23/1/97, 184cm, 79kg
North Ballarat Rebels
Draft Trumps: Meet Darcy Tucker
Tucker's bottom-age season thrust him into top-five calculations at the start of 2015, but he'll fall a bit later than that after a solid year. He played some good games in the midfield but looked most at home across half-back, where he showed his zip, run and carry. Tucker likes to take the game on, stream down the wing and take his team with him. He captained the Rebels this season and is a professional, hard-working prospect who is determined to do well.
Going Places: Tucker cops the recruiters' wrath

If not him?  Tom Cole is a possibility, as is Jade Gresham. Ryan Clarke and Riley Bonner might also be around the mark for the Blues at this pick. 
Click to read Darcy Tucker's profile and watch his highlight reel
Once a prospective top-five pick, Darcy Tucker still offers draft value.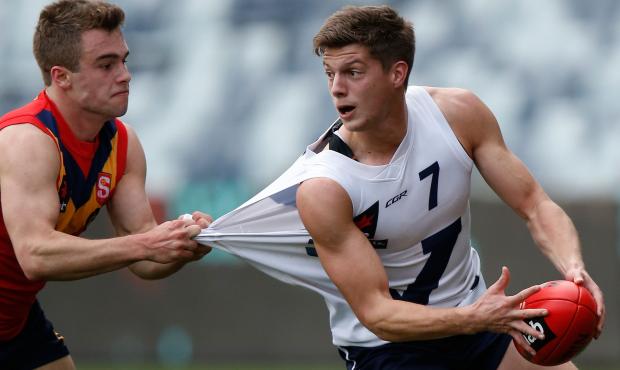 BRAYDEN FIORINI
22/8/97, 186cm, 75kg
Northern Knights
The smooth moving left-footer accumulates plenty of the ball. He averaged 30 disposals in the TAC Cup, and finished the season in a blaze of form, including a 41-disposal and two-goal effort in the final round. Fiorini can play across half-back as well, where he can help set up the play, and his ball use is solid. Although he didn't quite hit his straps in the national carnival, Fiorini's form towards the end of the season thrust him up the draft board and into top-20 consideration. The Bulldogs have kept on top of Fiorini's form through the year and he could be on their radar at this spot.

If not him? Darcy Tucker could be in the mix, having trained with the club last year and impressed. But the Dogs might also look hard at a tall defender – Sam Skinner or mature-ager Marcus Adams have been mentioned. Classy medium forward Mason Redman is another contender. 
Click to read Brayden Fiorini's profile and watch his highlight reel
Brayden Fiorini averaged 30 disposals a game in the TAC Cup.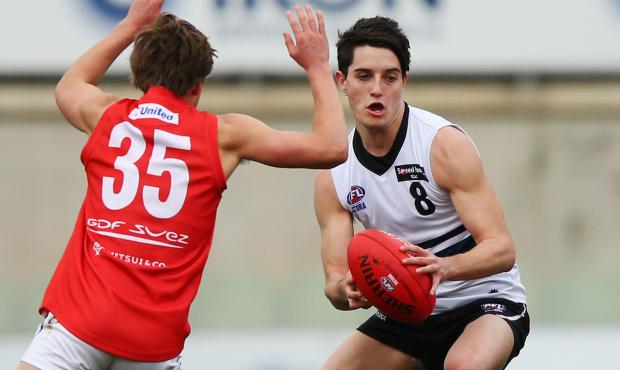 RILEY BONNER
7/3/97, 191cm, 80kg
West Adelaide
Draft Trumps: Meet Riley Bonner
Bonner's kicking is his outstanding trait. The half-back uses the ball brilliantly on his preferred left side but also cuts through traffic and sets up the play on his right, which makes him extra dangerous. Bonner was South Australia's go-to man at the championships and helped set up the play from half-back. Clubs like his size and athleticism, and he can play on a range of opponents. He would be a good choice for the Dogs, given his ability to run, rebound and deliver, as well as play a bit taller than he is. 
If not him? Could the Dogs bid on Sydney Swans father-son Josh Dunkley at this stage? He's been linked to them at this spot. Or do they make a bid on GWS academy tall Harry Himmelberg? 
Click to read Riley Bonner's profile and watch his highlight reel
Riley Bonner (right) has a brilliant left boot and his right side is good as well.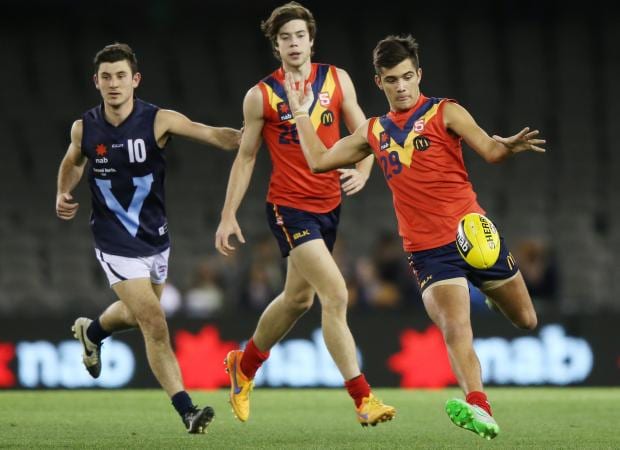 TOM COLE
28/5/97, 185cm, 76kg
Bendigo Pioneers
Cole has his admirers and it's easy to see why. He's smooth off half-back, moves at times through the midfield, and can also push forward to kick goals as well. Cole had a consistent season for the Bendigo Pioneers and Vic Country in the championships, and also performed well at VFL level for Geelong. His movement and rebound off half-back might appeal to the Dockers. They will be searching for a tall, but have shown a trend to just pick the best player available with their first choice at recent drafts.
If not him? Harry Himmelberg might come into the Dockers' thinking here as a tall forward who plays a little like Cameron McCarthy. To snap him up, the Dockers would rely on the Giants declining to match their. Darcy Tucker and Riley Bonner are others who might be in the mix. 
Click to read Tom Cole's profile and watch his highlight reel
Tom Cole's versatility has him in several clubs' sights on Tuesday night.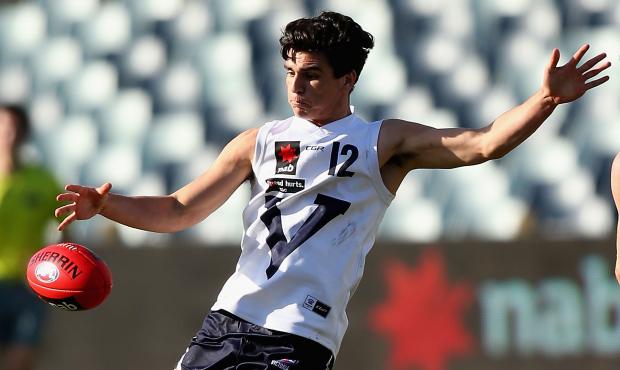 DAVID CUNINGHAM
30/3/97, 183cm, 79kg
Oakleigh Chargers
If the Eagles are hoping for more speed at the draft, that's what they would find in Cuningham, who has the breakaway pace to zip out of clearances and make things happen. His testing at the combine was exceptional – he ran 2.91 seconds over 20 metres and finished in the top-five of the repeat sprints test. Cuningham isn't a brilliant kick but there's enough there to work with, and he offers run and carry that few other midfielders can. He was a good contributor in the Oakleigh Chargers' ascent to the TAC Cup premiership this year.
If not him? The Eagles will wait and see what gets through to them. But names such as Darcy Tucker, Tom Cole, Riley Bonner and Brayden Fiorini are likely to be around the mark. Daniel Rioli, should he be available, is a good chance to be snapped up.
Click to read David Cunningham's profile and watch his highlight reel
David Cuningham offers a speed boost to the club that drafts him.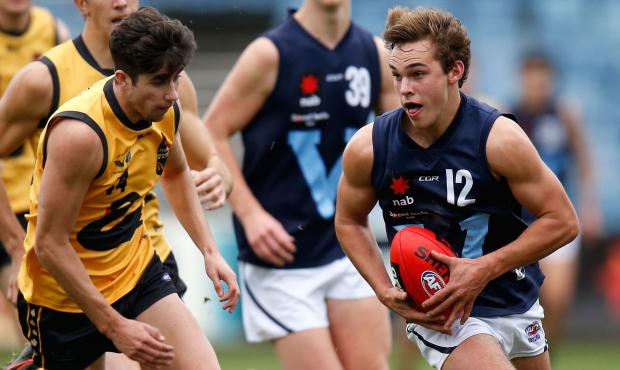 RHYS MATHIESON
10/1/97, 185cm, 79kg
Geelong Falcons
Draft Trumps: Meet Rhys Mathieson
A tough, hard inside midfielder who does the same things every week: fights for the ball, wins the clearances and imposes himself on games. Mathieson has had a brilliant couple of years, stepping up with each level he's played and showing he can find the ball. The back-to-back All Australian averaged 26 disposals and seven clearances in 12 games for the Geelong Falcons, he's dangerous overhead and likes to push forward to kick a goal. The Bombers showed this season they need inside ball-winners coming through.
Draft prospects Mathieson and Parish in a perfect double act
If not him? What they get with selections No.4 and 5 may dictate the Bombers' second-round choices. But names like Ben McKay, Riley Bonner and Brayden Fiorini will be in the mix. 
Click to read Rhys Mathieson's profile and watch his highlight reel
Rhys Mathieson won the footy in huge quantities all season.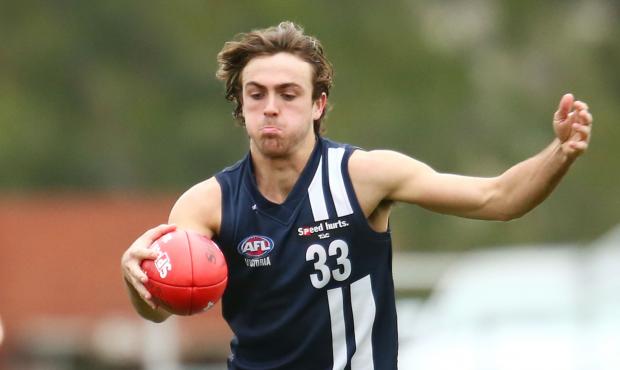 MASON REDMAN
26/8/97, 187cm, 76kg
Glenelg

Redman is a classy medium forward with pace, skills and bounce. His ability overhead and smarts around goal make him a dangerous forward. Redman has a mix of traits that will see him play all over the ground, and he can win his own ball but also deliver it well. He will continue to develop his frame, but is seen as one of South Australia's most exciting players and one who is likely to be taken in the second round of the draft.

If not him? The Bombers need more speed, which might bring Alex Morgan into the equation. Daniel Rioli, if available, will also surely be very, very closely considered here. Essendon could do with a crafty small forward like him. 
Click to read Mason Redman's profile and watch his highlight reel
Mason Redman shapes as one ofthe most exciting players out of SA this year.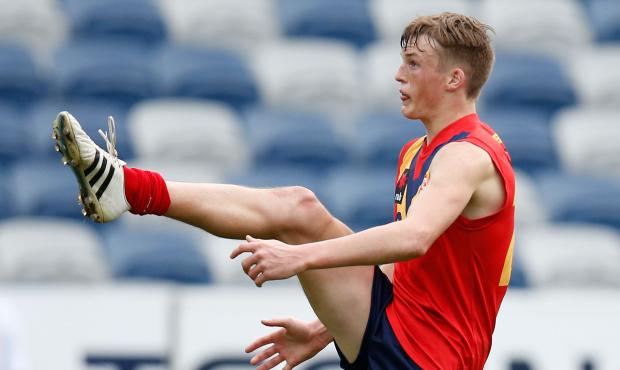 RYAN CLARKE
17/6/97, 186cm, 82kg
Eastern Ranges
Draft Trumps: Meet Ryan Clarke
The hard-running midfielder powered the Eastern Ranges into the TAC Cup Grand Final this year with a brilliant finals series, which topped a consistent season. Clarke averaged 31 disposals for the Ranges across the year, and with his bigger body, running strength and ability to push forward and kick goals, he should be able to play some senior AFL football next year. The Roos have been linked to Clarke at their first pick, where he might go, but he's also a chance to be available here where they can add one of the draft's best gut-runners.
If not him? The pace of David Cuningham and Alex Morgan might appeal to the Roos, or they might consider placing a bid on GWS academy forward Harry Himmelberg.
Click to read Ryan Clarke's profile and watch his highlight reel
Ryan Clarke helped drive Eastern Ranges to the TAC Cup Grand Final this year.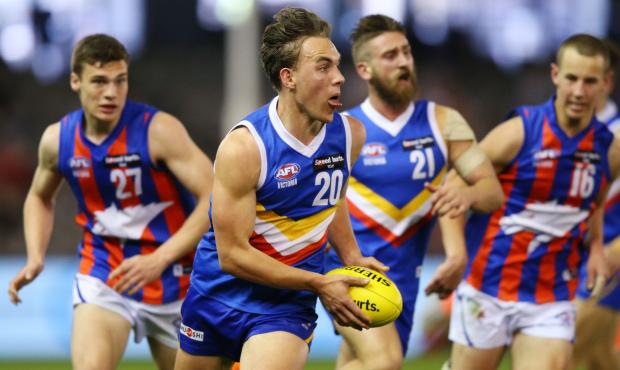 Who will your club target later in the draft?
Beyond the first 30 selections, a number of players have been linked to clubs with their later choices. AFL.com.au has found some of the possible options available for each club's picks deeper in the draft. 
We have listed every draft pick assigned to clubs by the AFL, but also predicted how many each club is expected to use on the night. 
The AFL's draft order is based purely on the list spots open to each club. Many clubs, including the Brisbane Lions, Sydney Swans and GWS, have extra picks that will open up if they are required to use more than one selection to match a bid under the new draft night system.
Unlike the Phantom Draft top 30 (where we have changed the draft order reflective to where bids may fall on academy prospects), for the below selections we have kept the order as it will start according to the AFL's official draft order. 

Draft picks: 9, 13 (will use two selections)
Hamish Ogilvie and his Adelaide recruiting team will have the quickest draft night of any club, with the Crows to start their draft at pick No.9 and finish at No.13. Adelaide is taking only two live selections to the draft with just two senior spots to fill after upgrading rookie Jake Kelly to the senior list. The Crows had another top-30 pick (no.28 overall) but it was traded as part of the deal that saw them attain Carlton forward Troy Menzel. They have put all their energies into their two first-round selections and should bring in some high quality players.

Draft picks: 2, 38, 39, 40, 41 (likely to use four or five selections)
Depending on where the bids fall for Ben Keays and Eric Hipwood, most of the Lions' group of picks in the 30s and 40s will disappear – two going up the order to match the bids, and the rest moving to the back of the draft. The club will look to secure fellow Queensland academy products Corey Wagner and Reuben William too, but that may depend on where the bids fall. If the Lions can hold on to one of their group of picks they might look players like medium goalkicker Blake Hardwick or midfielder Declan Mountford, a West Australian prospect who breaks the lines with pace.

Draft picks: 1, 8, 11, 19, 58, 59, 85 (likely to use five or six selections)
The bulk of Carlton's work will be done near the top of the draft, with the club holding four selections inside the first 20. Stephen Silvagni has shown in his previous role at GWS that he likes to be in and out of the draft at the top. Carlton's last pick could be No.59, where it is expected to draft father-son prospect Jack Silvagni. The tall forward showed his talent this season in attack (and at times in the backline) before shoulder surgery ended his season early. It's for this reason he might be a value pick under the new bidding system. 

Draft picks: 27, 64, 71, 74, 75 (likely to use three selections)
Once the first-round bids have come, Collingwood's first selection is likely to be pushed back to about No.31. They have shown some interest in Mason Redman, a South Australian medium forward, and have also put some time into Bailey Williams, a raw but talented 187cm prospect who has bolted in with a chance at the national draft. Brayden Fiorini and Aidyn Johnson are also in the mix should they get through the 20s, as might be potential Swans father-son Josh Dunkley. If they bid at 31, what would the Swans do? The Pies could also be looking for a mature-age option later in the draft, having shown some interest Marcus Adams and their VFL player Ben Moloney. Jake Lovett, who Melbourne overlooked as a father-son selection, is a shot perhaps in the rookie draft. 

Draft picks: 4, 5, 24, 25, 56, 73, 82, 86 (likely to use six selections)
The Bombers will make or break their draft inside 30, but will still take at least a couple of selections beyond then and they have spent considerable time trying to find some gems later on. Former Geelong defender Mitch Brown impressed in his time as a top-up player and the Bombers are definitely interested in taking him on full-time. They need a young ruckman and have kept very close tabs on Dandenong Stingrays big man Gach Nyuon through the year. He should be available with their fifth or sixth pick. Prolific midfielder Nick O'Kearney might be considered at one of their last selections. Tom Wallis, the son of two-time Essendon premiership player Dean Wallis, seems more likely to head to the Bombers as a father-son rookie rather than through the national draft.  

Draft picks: 22, 35, 60, 68, 80 (likely to use three or four selections)
Fremantle has been linked to former Cat Mitch Brown, and he has recently taken part in a fitness session for the club. He would be a nice addition to their defence after the departure of Luke McPharlin at the end of this season. If they don't get a tall with their first selection, local key defender Jesse Glass-McCasker might be one worth a look with the Dockers' later picks while Sam Skinner would be worth a shot at their second choice if still around. Skinner's recovery from his knee reconstruction is going well. 

Draft picks: 65, 76, 83, 87, 88, 89 (likely to use four selections)
The Cats' recruiters would have known from a long way out they were unlikely to have many early picks at this year's draft, so would have begun their search for talent deeper in the pool. There isn't much the Cats really seem to need, but later on the likes of small, hard-working midfielder Will Snelling and West Australian midfielder Brayden Hackett might appeal. Tom Doedee would be a nice addition later in the piece as an agile and mobile medium defender, small midfielder Nick O'Kearney would come in and work hard, while the Cats may look to beef up their key defensive stocks with Harry Taylor and Tom Lonergan coming towards the end of their careers. Jesse Glass-McCasker and Jack Firns might be possibilities in the Cats' half of the draft.

Draft picks: 6, 16, 29, 55, 72 (likely to use four selections)
The Suns' third pick is likely to be outside the first 30 on draft night after the bids come. Brandon White might be available at that spot and the Suns have shown an interest in the attacking half-back. He needs to work on his endurance but he gives great rebound. A mix of mature-agers might have caught their eye as possible late selections, with midfielder Sam Menegola, defender Michael Hartley and Queensland ruckman Paul Hunter all possibilities. 

Draft picks: 10, 34, 42, 52, 54, 57, 62, 63 (likely to use four selections)
Given the Giants will have to use most of their selections to pay for Jacob Hopper and Matt Kennedy, the rest of their draft night activity will come late in the piece. They will be hoping a bid doesn't fall too early for tall forward Harrison Himmelberg, and the same for ruckman Matthew Flynn. Lively academy prospect Lachlan Tiziani is also a chance to be listed by the club later in the draft as they look to stock up on local talent. It looms as a big year for the Riverina in NSW.

Draft picks: 15, 18, 47, 70 (likely to use three selections)
The Hawks have shown some interest in inside midfielder Kade Stewart, who missed most of the season with an ankle injury. Stewart can find the footy and works hard, but is a smaller type of contested ball winner. Another contested player is Reuben William, the powerful half-back who cannons into opponents, tackles hard and has a real go. The Hawks might have a look at him with their third and final pick if a bid hasn't already been placed on the Brisbane academy prospect. If key defender Sam Skinner is available late the Hawks might consider.
Draft picks: 3, 7, 45, 49 (likely to use four selections)
The Demons will control the top of the draft but have shown in recent years they can also find some talent later down the order. They have some interest in midfielder Kieran Lovell, and the short Tasmanian is a chance to be available at their third pick. They might also look at Bendigo Pioneers half-back Marty Hore. The 19-year-old is an elite left-foot kick and a smart user around the ground and could win an opportunity late or in the rookie draft. Mobile defender Tom Doedee is also a chance to be around at the Demons' third or fourth selections after a good finish to the year.

Draft picks: 17, 26, 28, 46, 67, 79 (likely to use four or five selections)
North's fourth selection is likely to move up the order on draft night with a bunch of Lions and Swans picks set to shuffle to the end of the draft. It might see them in the position to boost their tall stocks by taking Sam Skinner, an aggressive key defender who missed the second half of the season after having a knee reconstruction. The Roos might be in the mix for Bailey Williams, the high-production midfielder who amassed 56 disposals in a game late in the season. Medium forward Blake Hardwick will be in contention with the Roos' fourth pick, while marking forward Wylie Buzza could be worth a look but may be better placed as a rookie.  

Draft picks: 32, 48, 77 (likely to use two selections)
The Power will have the second-longest wait of any club (behind Geelong) before entering the draft. When they do, Aidyn Johnson would be a strong possibility if still available at their choice. Johnson missed most of the season with a quad injury but has electric speed and a turn of pace that separates him from the pack. Local product Mason Redman would also be a very good chance if he's still on the board. Half-forward Dan Houston has garnered some interest and may be still be up for grabs at their later choice.

Draft picks: 12, 51, 78, 84 (likely to use two or three selections)
If Ben Crocker is still on the board at pick 52, the Tigers might take a strong look at him. The powerful and competitive forward has his fans earlier in the draft but it wouldn't shock if he was still available in the 40-50 range. Richmond has been linked to Corey Wagner, a zippy midfielder from Queensland, but will need to bid on him as he is part of the Lions academy set-up. The Tigers will have a fair wait between their first and second choices so will be nervous as they see who is left.
Draft picks: 14, 44, 66 (likely to use three selections)
The Saints will wait to see where a bid comes for father-son prospect Bailey Rice, but should be in a good position to select him if it comes after pick 30 or so which is most likely, particularly after his underwhelming fitness results last week. The competitive half-back has listed St Kilda as his first preference in the bidding system ahead of Carlton. South Australian tall forward Matt Allen might come into their thinking later on and the Saints have shown some interest in him, while Brett Blair might also be a smokey for their last choice. The Geelong Falcons forward, who has strong hands and a good leap, may also get through to the rookie draft. 

Draft picks: 33, 36, 37, 43, 53 (likely to use three selections)
After matching the early bid for Callum Mills, the Swans will be relegated to the back of the draft for the rest of their selections. They have met with Wodonga Raiders midfielder Sam Murray and might look at him at the back end, while taller type Sam Collins as a mature-ager might also be in the mix. If the Swans can hold onto their pick in the 40s (after matching the bid on Mills) then the speedy Alex Morgan could be a contender to help replace the void left by Lewis Jetta. But that will also depend on what happens with Josh Dunkley, who on Friday nominated as a father-son to the Swans. They should be able to match a bid for Dunkley without going into deficit if it comes in the second half of the second round.

Draft picks: 23, 31, 61, 69, 81 (likely to use three or four selections)
Dan Houston finished his 2014 season in terrific form but injuries hurt his ability to recapture the same touch in his half-forward role this year. Nonetheless, he could be a shot later in proceedings for the Eagles. Hard-running half-back Kurt Mutimer might also be a chance after a promising season for Dandenong at TAC Cup level, while West Coast has also shown some interest in Stingrays captain Lachie Williams, a small goalkicking midfielder. Local product Greg Clarke might also get a look-in with one of their later selections, as might running defender Tommy Glen from the Stingrays.

Draft picks: 20, 21, 30, 50 (likely to use four selections)
The Dogs have shown strong interest in attacking half-back Reuben William, but will have to bid on him as he is a member of Brisbane's academy. They have also been linked to a possible bid on GWS academy ruckman Matthew Flynn, and are known to be looking to take on a young ruckman. Raw Western Jets big man Luke Goetz has spent some time at the club recently being medically assessed, and the Dogs could look at him as a late selection. Half-forward Nick Coughlan impressed at stages this season playing for the Footscray VFL team and has a shot of being a later pick having missed out last season. Liam Hulett is another tall forward who might be on the radar having missed most of this season through injury. 
AFL.com.au will publish a 'late mail' edition of the Phantom Draft on Monday night ahead of Tuesday's NAB AFL Draft in Adelaide.