NEWLY appointed St Kilda coach Alan Richardson is determined to mend the tarnished culture at the club.
Richardson's appointment as coach for the next three years, replacing the sacked Scott Watters, was announced on Thursday at the club's Seaford base.
With St Kilda often the backdrop for negative stories, including the Mad Monday dwarf incident and former player Stephen Milne's rape charges this season, Richardson arrived at the club determined to hold individuals accountable for their actions.
Day of drama: Saints' coaching announcement as it happened
"I think the senior coach plays a massive role from a cultural perspective, and I know in that space this footy club is going to have a really significant focus," he said.
"We want to make sure we're doing the right thing all the time because it's the right thing to do, not because we're told it's the right thing to do.
"That's on-field, that's off-field. As a leader, it doesn't happen unless I set an example and have really high standards and hold people accountable."

Choco disappointed but we didn't change our mind: Pelchen
Earlier Richardson had bunkered down while talks were held between the club and Port Adelaide, which was disgruntled at his exit from his director of coaching role with two years left on his contract.
The official announcement of his appointment came after St Kilda agreed to help fund the Power's search for a replacement.
Port president David Koch told Sunrise on Thursday morning the club wasn't going to release him from the contract that ran until the end of 2015.

Now Port to poach coach and the dominoes will tumble

He also branded the Saints as a club in "turmoil" and said the situation was "terribly disruptive" at this stage of the pre-season.
Richardson said he had spoken several times to Koch on Wednesday and the Power boss had been supportive of his new appointment, although disappointed that he was leaving.
St Kilda president Peter Summers described the money given to Port as "not a significant amount" and "certainly not" a six-figure sum. "We recognise that Alan's decision has an impact on the Port Adelaide Football Club and we thank them for their understanding and cooperation today."
Richardson said it was "an incredible honour" to be appointed as coach and understood the Power's angst at his departure.

Below: St Kilda president Peter Summers congratulates new coach Alan Richardson. Picture: AFL Media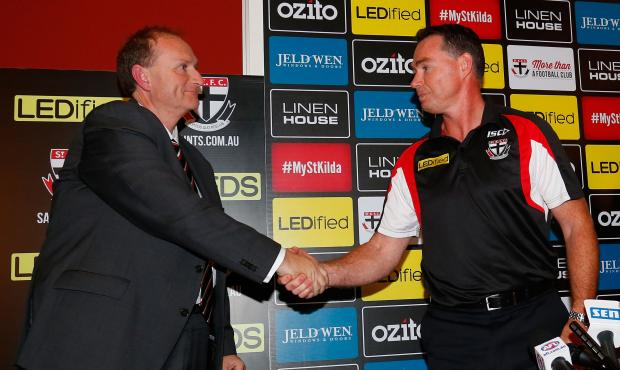 He said he had been encouraged the work St Kilda assistants Adam Kingsley, Danny Sexton and Tony Micale had done with the younger players since their return to training on Monday.
He described himself as a "calm, measured guy, not overly emotional" and said he wanted to make sure the coaching team was a cohesive unit.
"When I have been coaching my own team, albeit at a lower level or the game this year against the Kangaroos when Ken [Hinkley] was crook, it would be fair to say I was a bit more emotional than normal," he said.
"But, philosophically, it's about getting everything right. It's about making sure we work as a group of coaches and it certainly won't be about me."
Richardson said there was "no ceiling" on his expectations for St Kilda but added, "We certainly won't be talking about finals footy.
"We'll be talking about improving as a team and a club and at the risk of reeling out clichés, building the foundations in terms of contested footy and the way we want to move the footy," he said.
"There's a lot of work to do but there will certainly be no ceiling.
"I've seen some young guys and young teams do some amazing things but it's very hard for me, I haven't worked with the group and it's very early; I haven't met the group at all.
"It will all be about improvement and working hard to make sure we end up continuing to improve."
Port Adelaide CEO Keith Thomas congratulated Richardson on his appointment.
"Alan has been outstanding in his role as director of coaching and strategy here this season and has been important to our resurgence as a club," Thomas said in a statement.
"He helped develop our entire coaching group, facilitated our player leadership program and was closely involved in opposition analysis from a strategy perspective.
"Alan has been very patient in waiting for a senior coaching opportunity and now that he has his chance we hope it is a success for him and his family."
Richardson initially said he was not interested in pursuing the role and was happy at Alberton, but he told the club on Tuesday night he had reconsidered his position and would talk to the Saints.
He then met with the club on Wednesday night.
Richmond development coach Mark Williams was also in the running for the role, but will now remain at Punt Road.
Richardson was one of three candidates interviewed for the St Kilda job that was given to Watters in 2011.
Power coach Ken Hinkley was also one of them.
Richardson comes to the Saints with a wealth of coaching experience, having held assistant and development roles at the Western Bulldogs (2003-05), Collingwood (2006-08), Essendon (2009-10) and Carlton (2011-12).
He joined the Power for the 2013 season as the senior assistant under Hinkley.
Richardson played 114 games for Collingwood between 1987 and 1996.
ALAN RICHARDSON
Date of Birth: 17/05/1965

Player
1985-86 North Melbourne reserves (17 games)
1987-1996 Collingwood 114 senior games (four finals)
Missed out on being part of Collingwood's 1990 premiership side due to injury - played 70 reserves games with Collingwood

Coach
1999-2000 East Burwood
2001-2002 Coburg
2003-2005 Western Bulldogs assistant coach
2006-2008 Collingwood development coach
2009-2010 Essendon assistant coach
2011-2012 Carlton senior assistant coach
2013 Port Adelaide director of coaching and strategy