LATE, great Melbourne wingman Robbie Flower has been remembered as a unique footballer and an even better person, taken far too soon, at a packed MCG service on Monday afternoon.
A live broadcast of the event was also screened in the great stadium's Percy Beames Bar, which was opened to the public to honour a man who was worshipped in the footy world for his on-field genius and his humble, caring nature.
A veritable who's who of football attended the service, including Flower's former coaches Ron Barassi and Bob Skilton, opponents Kevin Sheedy, David Parkin, Peter McKenna, Bernie Quinlan, Robert DiPierdomenico, Wayne Schimmelbusch and Doug Hawkins, ex-teammates Greg Wells and Garry Lyon and Test cricketer Max Walker.
The AFL administration was represented by AFL Commission chairman Mike Fitzpatrick, League CEO Gillon McLachlan and football operations manager Mark Evans.
Emotional eulogies were delivered by Flower's brother Tom (who played 26 games for Melbourne in the late '70s) former teammate Todd Viney and work colleague Chris Reidy, while close mate Quinlan and former journalist and friend Mike Sheahan produced a sombre version of their Open Mike interview.
Fitzroy great Quinlan, who became close to Flower when they roomed together for three weeks on a Gaelic football tour of Ireland in 1978, also spoke at Flower's funeral on Saturday, a private affair attended by family and close friends.
Quinlan articulated the consensus view of Flower's inner circle: "I wish I could have played football like Robbie Flower, but he was my hero as a person … he was the best person I've ever met."
Sheahan agreed: "He was the best bloke of all time."
What emerged was a portrait of a special individual who was a family man, practical joker, storyteller and the "ultimate entertainer" who was most in his element hosting a wide range of guests at his 10-bedroom Sorrento holiday home. Yet a man who would be embarrassed by all the fuss.
Tom Flower revealed his brother was known by his family as simply "Bob" – "Robbie" only came into being when he started playing league football – a meteoric rise from the fourths (under-17s) to the seniors in the space of a single season.
Flower wasn't a great student, much preferring the playground and sporting oval to the classroom. Later in life, after enjoying a successful career as a founder of the Sportsco chain, he helped youngsters who were similarly disillusioned with traditional learning methods to gain education through SEDA (Sports Education and Development Australia), which the loving father of four and grandfather of three regarded as his greatest life achievement.
When beset by serious health problems, Flower also thought outside his own predicament. In 2000, at 45, he was diagnosed with prostate cancer, which he overcame and used his profile to urge other men to undergo tests.
Robbie Flower was remembered fondly at a service at the MCG on Monday. Picture: AFL Media

Viney recalled the wavelike momentum that accompanied Melbourne's push to "do it for Robbie" in 1987, when Flower ended a record 269-game wait to play his first finals series.
Viney, now the player personnel manager at Melbourne after stints with Hawthorn and Adelaide, described Flower as the most competitive person and humblest champion he had come across.
Even so, Viney recalled watching a Foxtel replay of the 1987 first semi-final, which Melbourne won by 76 points over the Sydney Swans, with Flower kicking a game-high 4.4.
After the final siren, Viney's phone rang. It was Flower, who gushed: "How good was that? And how tight were your shorts!"
Flower was affectionately known as "Tulip" – a nod to both his surname and his slender frame – and the floral tributes at the MCG service comprised, of course, tulips (supplied by Melbourne's past players).
Fittingly, Flower's favourite musician, Paul Kelly, performed a rendition of his favourite song, How To Make Gravy. Demons fan Kelly revealed that in recent times Flower had joined him and some mates for a leisurely kick-to-kick session, when his hero rose even more in his estimation.
Hundreds of mourners gathered at the MCG to pay their respects to the Demon legend. Picture: AFL Media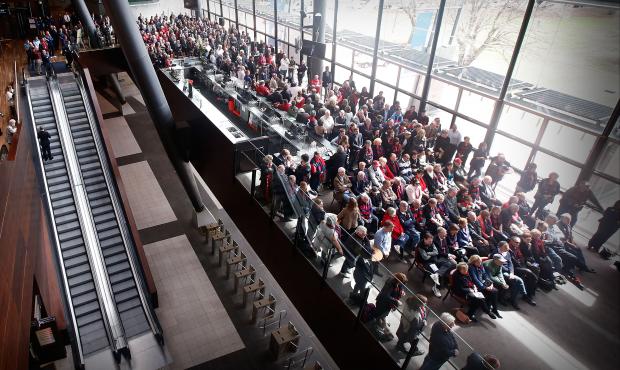 Continuing the lyrical theme, another longtime Melbourne supporter, Greg Shalless, delivered a passionate recital of his evocative 1987 poem Ode To Robbie Flower, which ends:
Round the Members' wing, it's a magical sight,
When he soars like an eagle in full flight,
And wouldn't it be a fantastic thing
If they renamed it, "The Robbie Flower Wing".
Quinlan went further, seizing the moment in front of powerbrokers of the AFL, MCG and Melbourne Cricket Club by declaring: "If we can't have a statue of Robbie Flower here, there's something wrong."
If the round of applause was any gauge, such a proposal would gain significant support.
CAREER SNAPSHOT
ROBBIE FLOWER
• Birth: 5/8/55
• Death: 2/10/14
• Recruited from: Murrumbeena
• Melbourne 1973-87: 272 games, 315 goals
• Melbourne captain 1981-87
• Australian Football Hall of Fame inductee, 1996
• Melbourne Team of the Century (wing), 2000
• All Australian 1980 (carnival), 1982, 1983, 1983 (carnival), 1984 (vice-captain)
• Victoria: 15 games, including three as captain
• 3rd Brownlow Medal 1979, 1984
• Best and fairest 1977
• 2nd best and fairest 1979, 1980, 1982, 1983
• 3rd best and fairest 1978, 1981
• Melbourne's leading goalkicker 1979 (33), 1983 (40), 1987 (47)
• International Rules v Ireland, 1984
• Melbourne board member 2002-03