GEELONG champion Gary Ablett's impeccable Match Review record remains, with his one-match striking suspension downgraded by the AFL Tribunal on Tuesday night.
Ablett, who conceded he wasn't blameless in the incident involving Essendon star Dylan Shiel, was able to successfully downgrade his charge from 'intentional' to 'careless' conduct.
His penalty was ultimately reduced to a $2000 fine, though Ablett had attempted to argue that there should be no financial penalty whatsoever due to his exemplary record.
BLOG RECAP Ablett's Tribunal case as it happened
"I'm obviously very happy with the outcome," he said afterwards.
"I've never intentionally struck anyone in my career, so I'm happy with the result.
"Obviously we were focused on what happened on the weekend. I didn't intentionally go to strike, so I'm glad it's all played out the way it did."
FULL FIXTURE Every round, every game
The marathon hearing lasted almost an hour and a half, with Ablett's lengthy stint in the witness stand – which lasted 29 minutes itself – proving telling in the case.
Ablett said he was "surprised" that he was reported by the field umpire, saying he felt like he brushed past Shiel and didn't believe there was enough contact to warrant a report.
The star Cat said he tried to spin away from his opponent when he realised he couldn't tackle him, claiming the action of raising his hands was an attempt to minimise contact.
He later said he felt like he'd done a "good job" in doing this.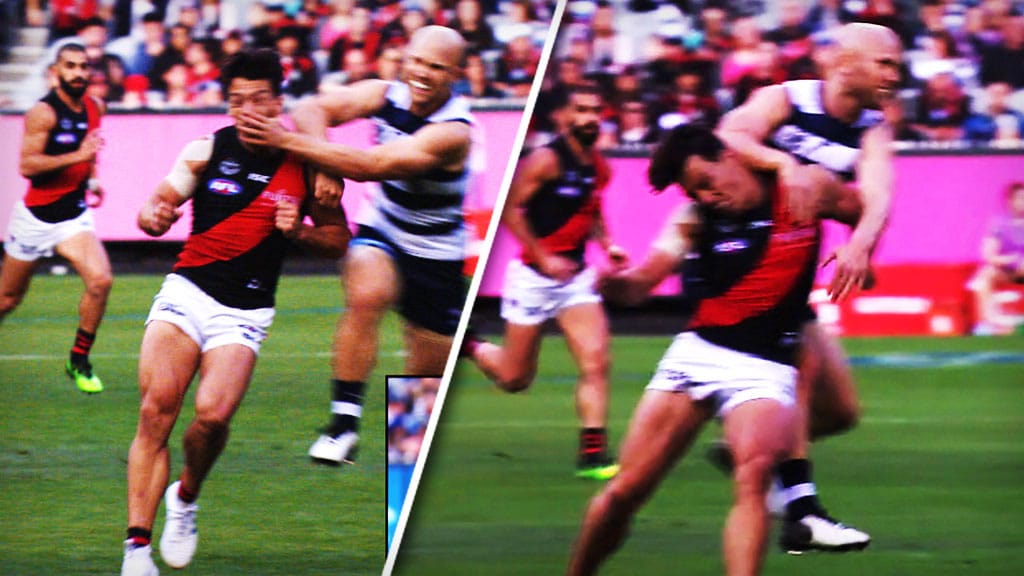 Ablett said he was attempting to close the space between him and Shiel, but Shiel moved into that space quicker than he imagined due to the fact he's a left-footer.
He also told of his belief that due to the fact both players were moving at top speed, if he'd kept his legs planted the two would collide in a much more dangerous fashion.
Finally, Ablett claimed that the initial point of contact with his raised forearm was to Shiel's own arm, before slipping up and striking the Essendon midfielder on the neck.
MID-SEASON ROOKIE DRAFT Former players, brothers of star on the list
Ablett's representative, Ben Ihle, argued the veteran's exemplary record at the AFL Tribunal as a 'highest-level footballer' should be taken as character evidence within the case.
The jury was made abundantly clear that in Ablett's 328-game AFL career, which is into its 18th season, the dual Brownlow Medal winner has been cited for just one single offence (for rough conduct back in 2006). That charge was later thrown out by the Tribunal.
However, in response, the AFL's legal representative Jeff Gleeson QC said the Tribunal should consider the charge the same way they would if Ablett was a first-game player.
Gleeson agreed that Ablett did spin prior to colliding with Shiel, but questioned whether the Geelong champion was attempting to avoid making contact altogether. He continued that a great player of Ablett's "nimble feet and dexterity" should have been able to do so.
But Ihle asked the Tribunal to consider whether a player of Ablett's character was more likely to intentionally commit a reportable offence or protect himself in a careless manner.
Ultimately, the jury agreed that the answer was the latter, taking just three minutes to decide that the charge did not constitute being classified as 'intentional' conduct.
While Ablett had pleaded guilty to 'careless' conduct, which would normally constitute a $2000 fine, he argued his excellent record should mean no financial punishment.
But the Tribunal took less than a minute to reject that claim, upholding Ablett's fine.