WEST Coast was the last club standing at the end of another eventful AFL season, while the Western Bulldogs reigned supreme in the AFLW Grand Final. There was controversy, brilliance – team and individual – and shattering lows in between. AFL.com.au will count down the year's top football storylines in order across the next six days, starting with 50-41.
TOP 50 STORIES Check out 40-31
TOP 50 STORIES Check out 30-21
TOP 50 STORIES Check out 20-11

50. 'That's a Rancey dive'
It wasn't the first time Alex Rance was questioned for 'diving' – otherwise known as staging for a free kick – but his acrobatic tumble in a contest with Bomber Shaun McKernan in round 11 sparked significant debate. He was fined $1000 for staging, but was hanged, drawn and quartered long before that by the court of social media. Wayne Carey and Kane Cornes were among Rance's biggest critics, while Matthew Lloyd – a self-confessed diver in his playing days – warned the Tigers defender the stigma would remain with him. However, Richmond coach Damien Hardwick went in to bat (with a sledgehammer) for his five-time All Australian, and Rance told AFL.com.au he would continue to play his way. Hawk Ben Stratton chimed in shortly after the controversy to describe Giant Harry Himmelberg's action against him as "a Rancey dive".
Alex Rance goes to ground in a contest against Shaun McKernan. Picture: AFL Photos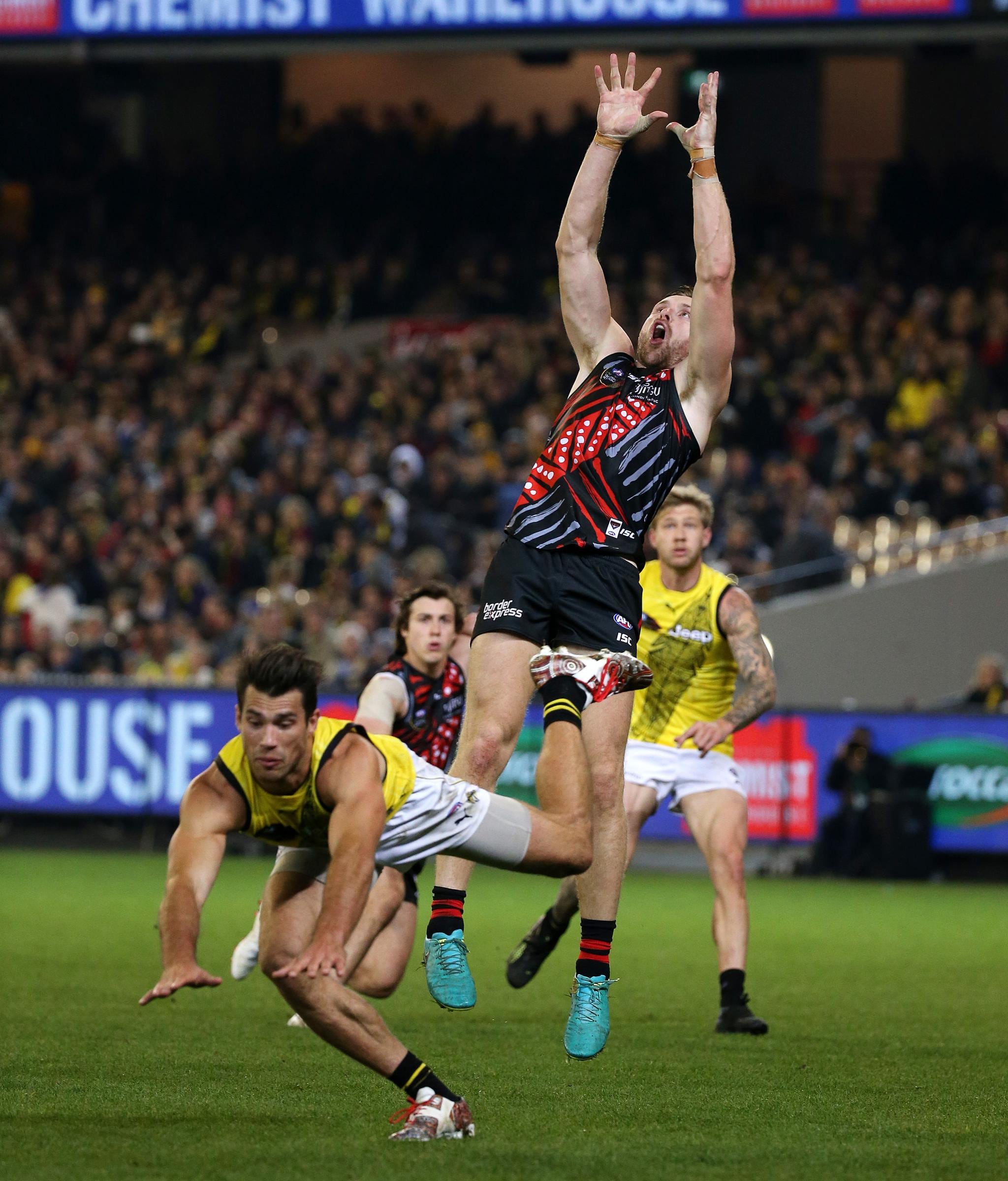 49. The Sloane Ranger remains a Crow
Adelaide vice-captain Rory Sloane was one of the big-name free agents on offer in 2018 and attracted interest from far and wide, including his home state of Victoria. His departure would have capped the Crows' horror year, but instead the gun midfielder re-committed in July for five seasons. Coach Don Pyke broke the news to Sloane's teammates with the cameras rolling. The circulated video went viral, with Sloane's teammates showering him with applause and breaking into a rendition of "Five more". Tom Lynch, who also spurned rival interest to stay at West Lakes, credited the 28-year-old's decision as positively changing the club's and fans' mood. Adelaide won five out of seven games after Sloane's re-signing, to narrowly miss the finals.
Adelaide coach Don Pyke and star Rory Sloane were all smiles after the midfielder re-signed. Picture: AFL Photos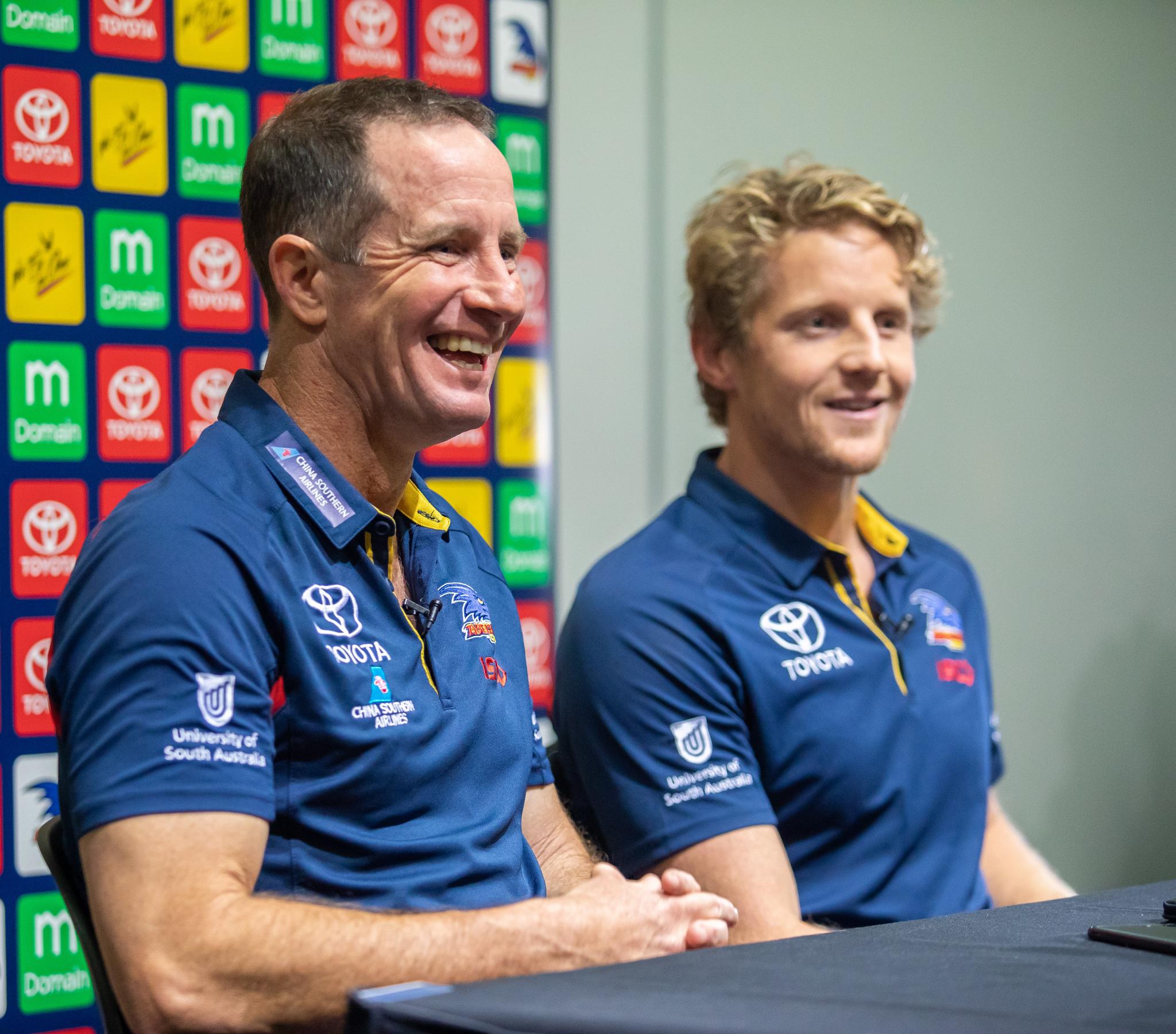 48. Those genius Swans are at it again
We were treated to our first taste of live trading at the NAB AFL Draft. There were 14 such trades in total, highlighted by the historic Sydney-West Coast swap. The Eagles moved up, but, more notably, the Swans traded their second-round pick to avoid using it to match any rival bid for Academy product Nick Blakey. Soon after, Sydney and West Coast completed their draft heist to bring the Swans back into the second round after Blakey was in their safe keeping. The loophole is expected to be closed for 2019. The other fascinating deal involved Carlton and Adelaide, which exchanged future first-round picks, on top of the Crows giving up selection No.19 this year. The Blues used it on Liam Stocker, who they rated at No.6, but will they finish high enough on the ladder next season to justify the call?
BRAVE NEW WORLD What we learned from the new-look draft
The Swans engaged in some live-trading gymnastics to secure Nick Blakey at a bargain price. Picture: AFL Photos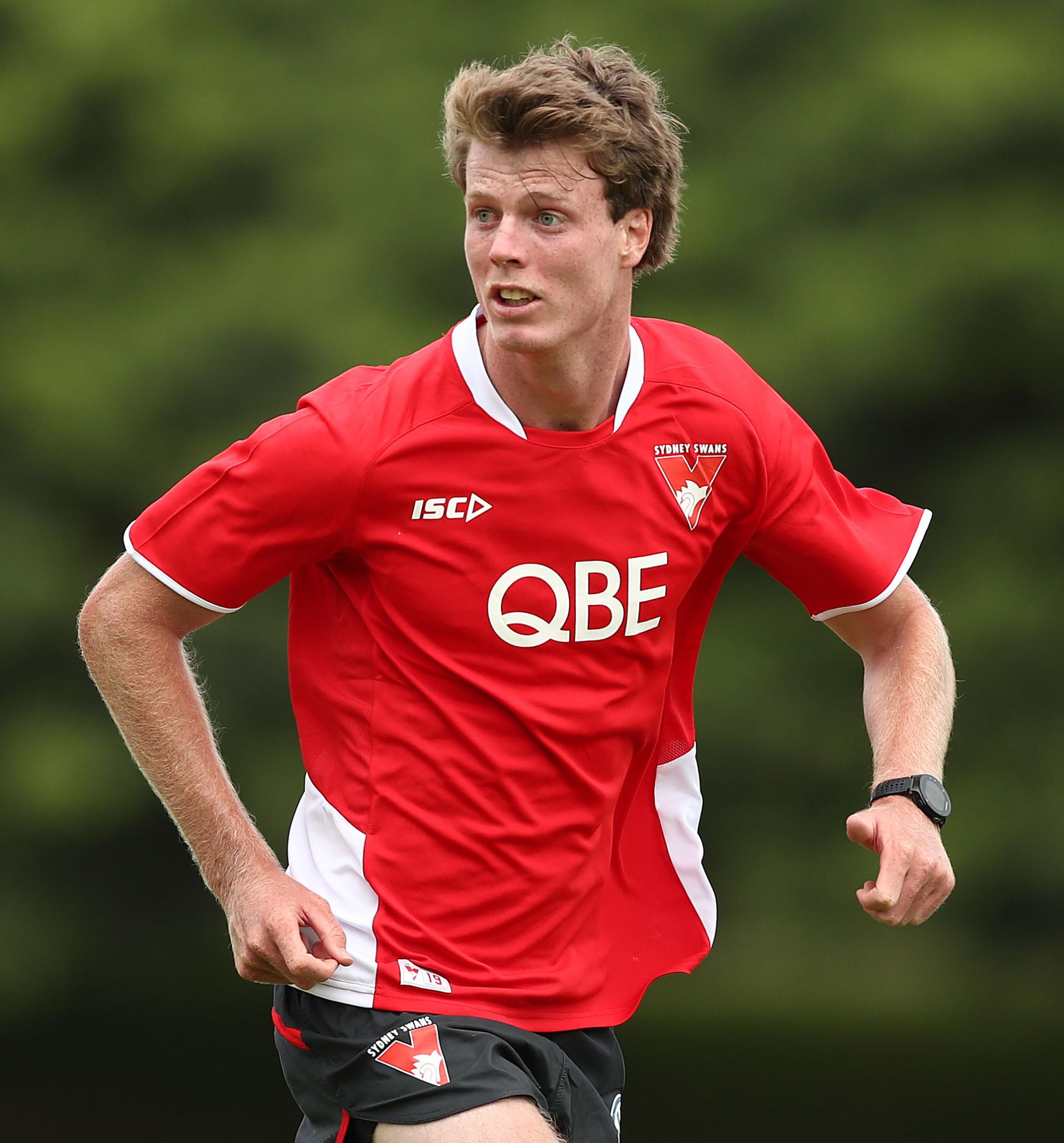 47. Kicking it up a notch
There's nothing like an acid test to get things going. New Match Review Officer Michael Christian's first case came on the opening night of the AFLW season, when Magpie Sarah D'Arcy lashed out with her left foot at Carlton's Sarah Hosking in a moment's madness. D'Arcy copped a two-match ban, in line with what the same incident would have received in the AFL. Her cause wasn't helped when Hosking admitted post-game: "Yeah, look, it hurt – I'm not going to lie. I'm just glad I'm not a boy." The first AFL footballer suspended under Christian's reign was Port Adelaide star Robbie Gray, who unsuccessfully appealed his one-game suspension for a high hit on Eagle Jeremy McGovern in the JLT Community Series. Gray missed round one and the Power scored a $10,000 bill for its trouble.
MOMENT OF MADNESS Pie 'devastated' by AFLW kicking ban
Sarah Darcy is reported for kicking Carlton's Sarah Hosking. Picture: AFL Photos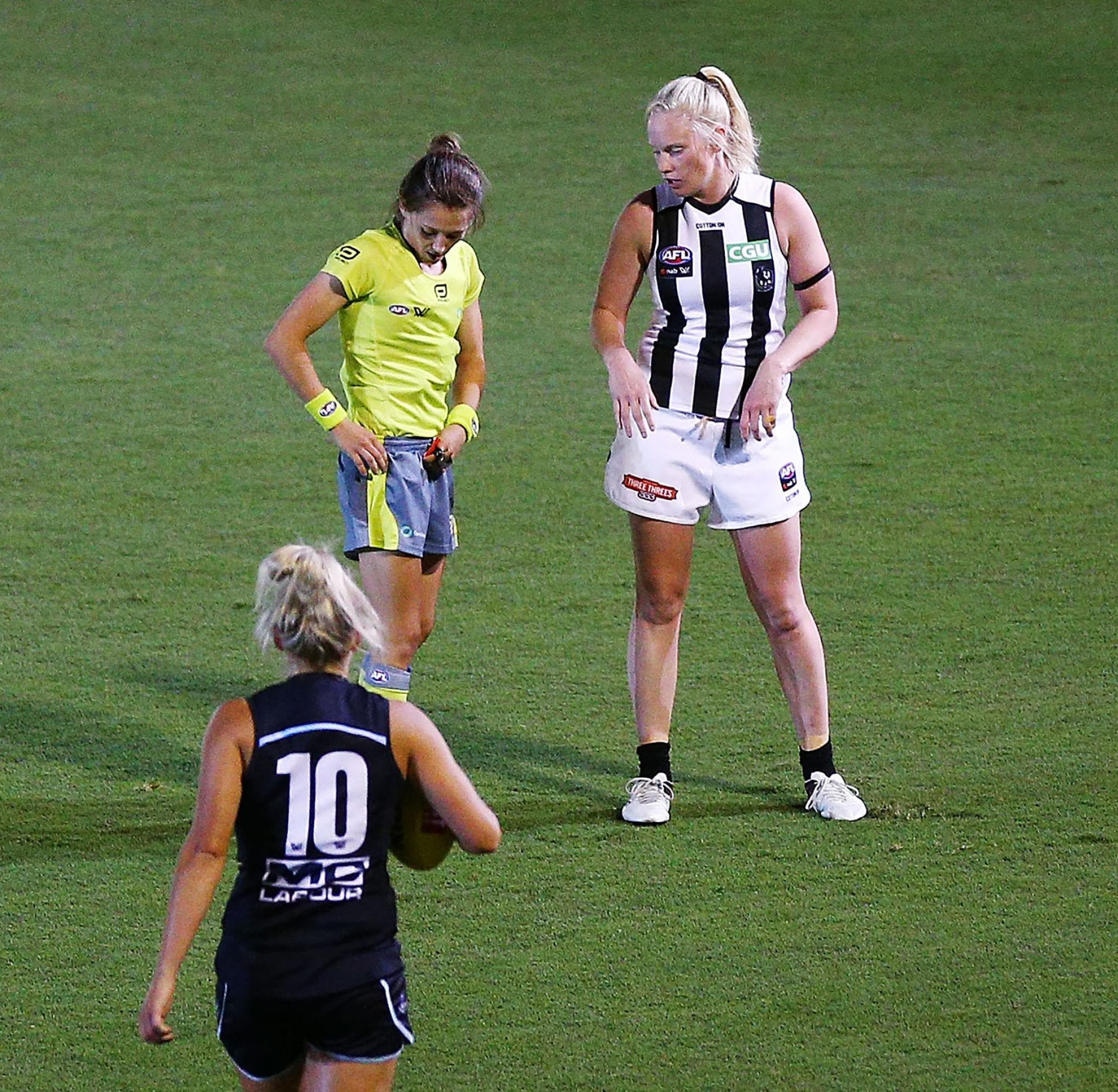 46. The Suns beat Sydney … at the SCG?
The Swans won only five times out of 12 attempts at the SCG in one of the season's strangest statistics. They did well to even qualify for September with that home record, but it was fitting their year finished at the venue with a loss to Greater Western Sydney in an elimination final. No defeat will linger more than the 24-point capitulation to Gold Coast in round 18. The Suns had lost 11 consecutive matches, went down in the five games after beating Sydney – which was in the top four at the time – and trailed the Swans by five goals early in the second term. Coach John Longmire conceded post-match his players might have thought the contest was over at quarter-time: "You'd like to think not, but … the evidence suggests that."
BEST WINS Five victories that have shaped the Suns
Jubilant Suns celebrate the upset of the season against Sydney. Picture: AFL Photos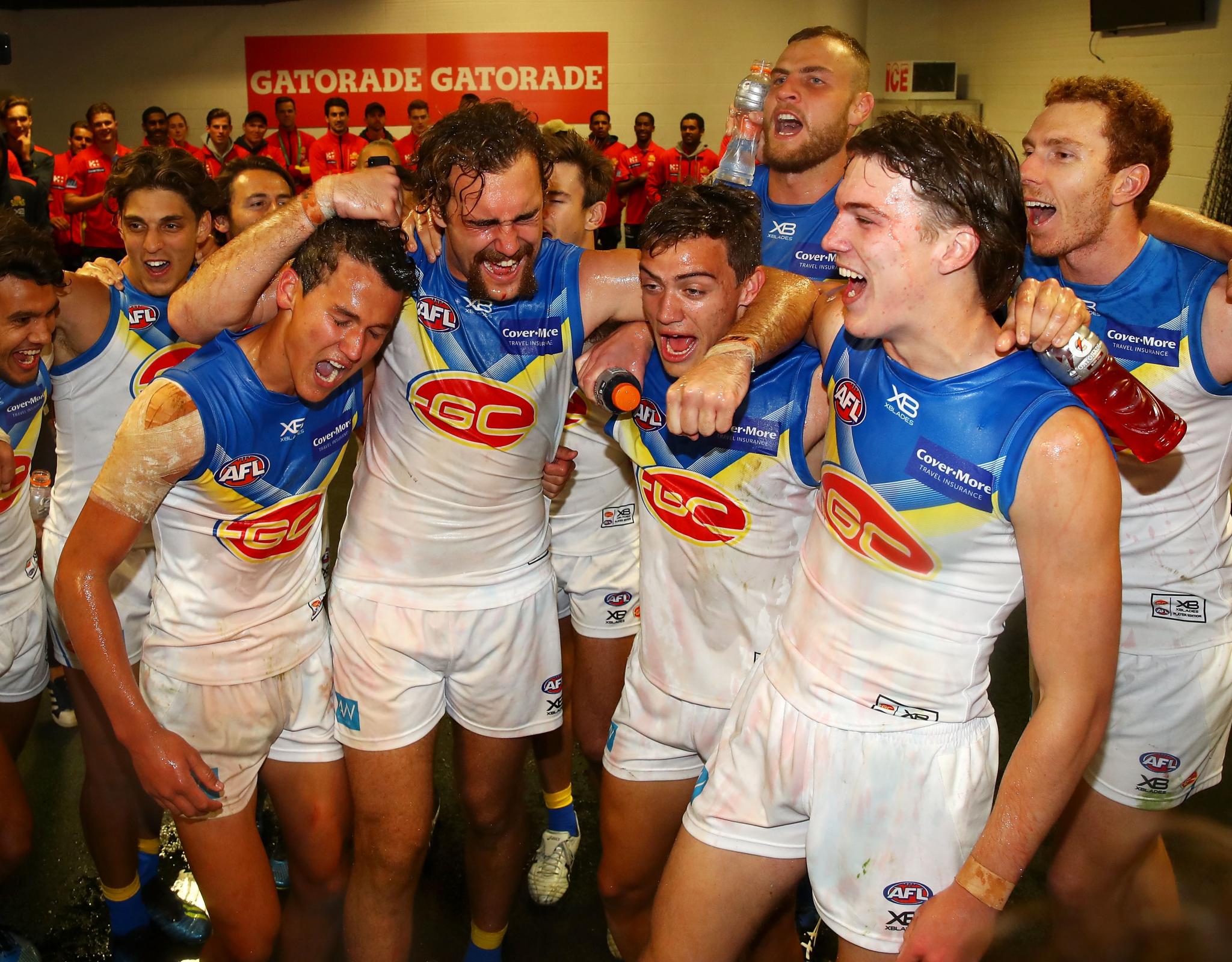 45. Richmond sets record in roar numbers
The Tigers' 2017 premiership captivated their supporters, many of whom jumped on board this past season after the Grand Final triumph ended a 37-year wait. They became the first VFL/AFL club to bust through the 100,000 members barrier, giving the yellow and black a strong case to be recognised as the competition's super power. "The Tiger Army continues to amaze us," chief executive Brendon Gale said. Collingwood would hate that suggestion, but at least got one back when it dismantled Richmond in their preliminary final. It was a successful year on this front for the AFL, which attracted 1,000,000 club members for the first time. There were also record home and away season (7,595,165) and finals (700,395) attendances to celebrate in 2018.
The Tiger Army turned out in record numbers again in 2018. Picture: AFL Photos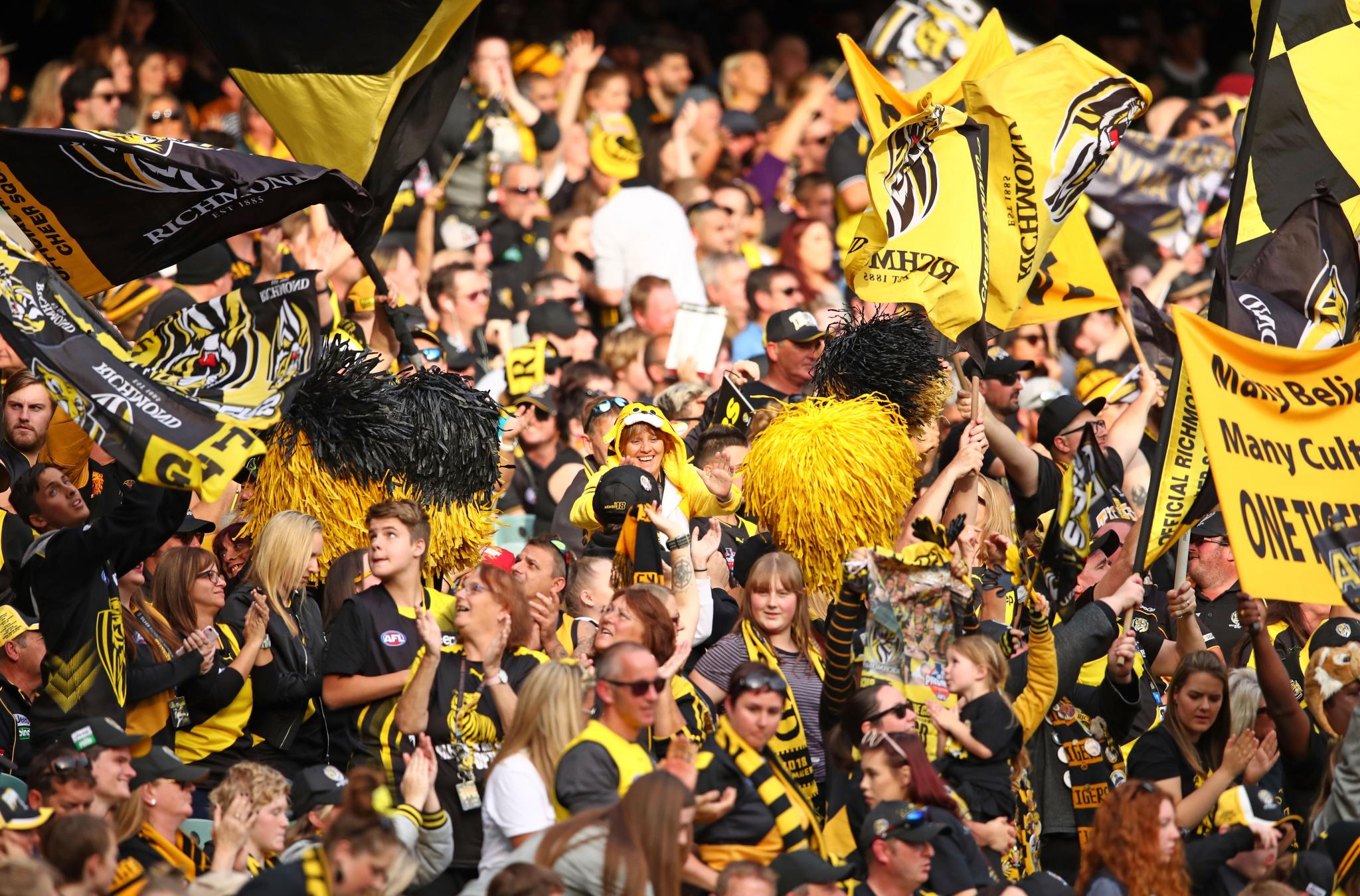 44. Controversy strikes WA's home of football
Optus Stadium heralded a new era for West Australian sport, but the $1.6 billion stadium also experienced some early teething problems. A series of lower-leg injuries to West Coast players saw coach Adam Simpson query the hardness of the surface, while his Sydney counterpart John Longmire blamed it for Lance Franklin's heel issue. Optus Stadium CEO Mike McKenna defended the venue, but teams agreed not to train there for three weeks to allow the ryegrass to grow longer and soften the surface. Cats Mark Blicavs and Zach Tuohy also required stitches after cutting themselves on the stadium's LED fencing in round three. The AFL Players' Association called for a review of LED signage at all AFL venues after Jack Ziebell cut his knees the same way at Simonds Stadium. Roos coach Brad Scott didn't hold back, either. The AFL ordered venues to place a protective plastic across LED signage to ward off the danger.
A sore Gary Ablett limps from the Optus Stadium turf in round three. Picture: AFL Photos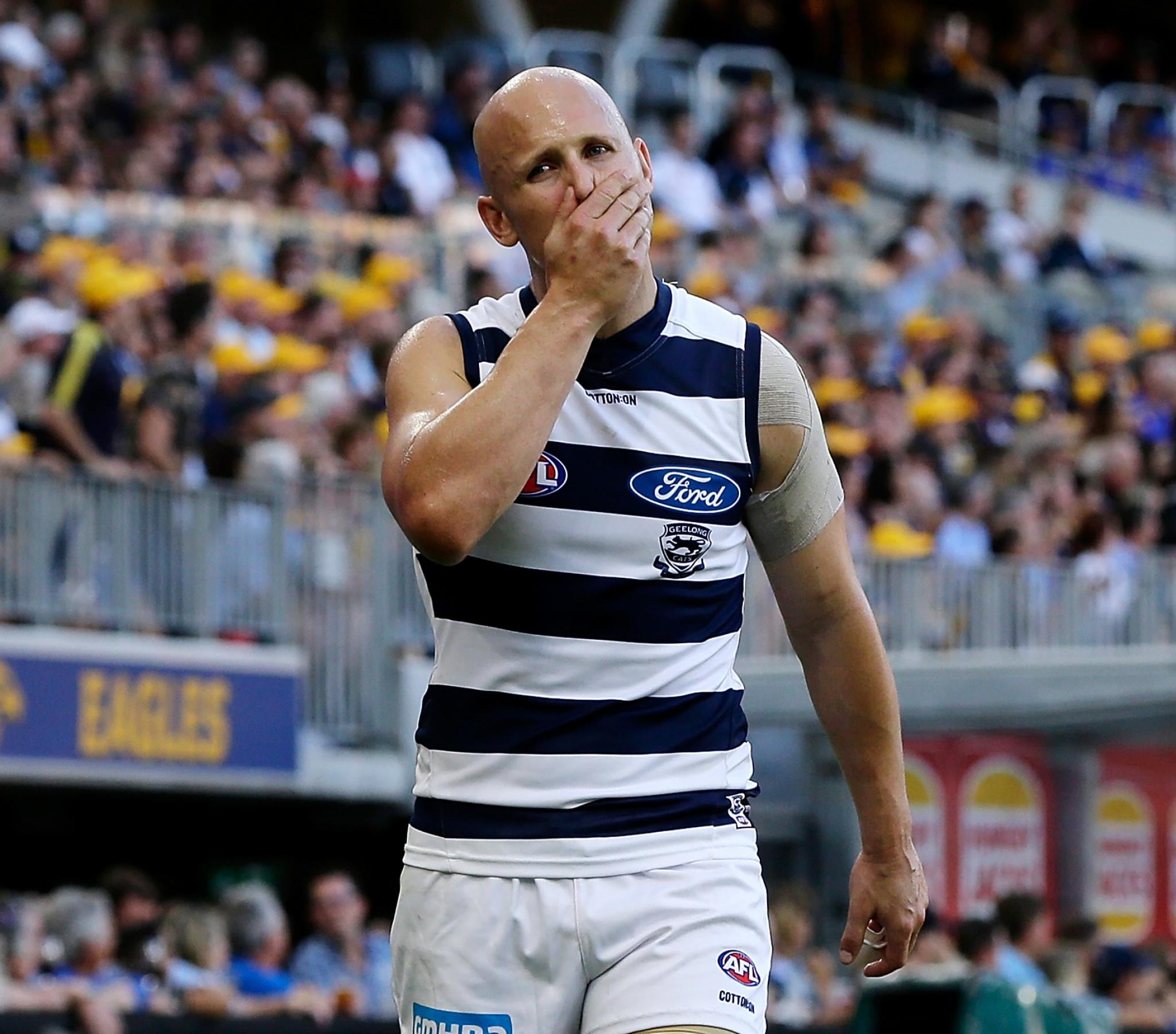 43. Touk and Dayne light fire under QClash rivalry
Queensland's two AFL clubs have enjoyed precious little success since Gold Coast entered the competition in 2011, so promoting their QClash is tough work. That might have changed this year, with the Suns and Lions splitting single-digit victories and a spiteful Dayne Zorko-Touk Miller storyline developing. It started when Miller restricted Zorko to 10 disposals – using every niggling tactic possible – and won the Marcus Ashcroft Medal for best afield in round five. Miller questioned Zorko's sportsmanship after he refused to shake his hand afterwards, others labelled it "embarrassing" and a Brisbane statement conceded the Lion would do things differently if he had his time over. However, the return bout was just as nasty. Zorko thrust his hand at Miller post-match and offered some vigorous verbal advice, drawing the Sun's ire again – although he accepted the handshake.
42. The record-shattering Western Derby thriller
This was one occasion where the match lived up to the hype. West Coast and Fremantle's maiden Western Derby at the new Optus Stadium in round six had a bit of everything, including pre-match bickering over whether the Ross Glendinning Medal should be renamed. Both sides enjoyed a 20-point lead at different stages of an engrossing and physical contest, but it was the Eagles who prevailed by eight points in front of a then-record 56,521 fans. That figure was about 13,000 more than the previous Western Derby high and also broke Optus Stadium's best attendance by 2000. The clubs' second match there in round 20 is best known for Andrew Gaff's infamous strike on Andrew Brayshaw, but it also saw 57,375 supporters pile into the stadium. Footy is alive and well out west.
A then-record crowd piled into Optus Stadium for the season's first Western Derby. Picture: AFL Photos

41. Double the pain for Blue
Carlton's All Australian defender Sam Docherty was eyeing a potential midfield move at the end of his brilliant 2017 campaign. Fast-forward little more than 12 months and the Blues' co-captain is facing a second knee reconstruction in a shocking turn of events. The ACL in Docherty's left knee first ruptured in an innocuous training incident in November last year and it went again on Monday. The ex-Lion last played in round 23, 2017, but could now miss a second straight season. Docherty's situation is a bitter blow to the Blues' hopes of finally climbing the ladder next year under coach Brendon Bolton. The injury also has potential ramifications for Carlton's draft-night trade with Adelaide, which saw the clubs swap next year's first-round picks as part of the deal.
Carlton co-captain Sam Docherty faces a second successive season on the sidelines. Picture: AFL Photos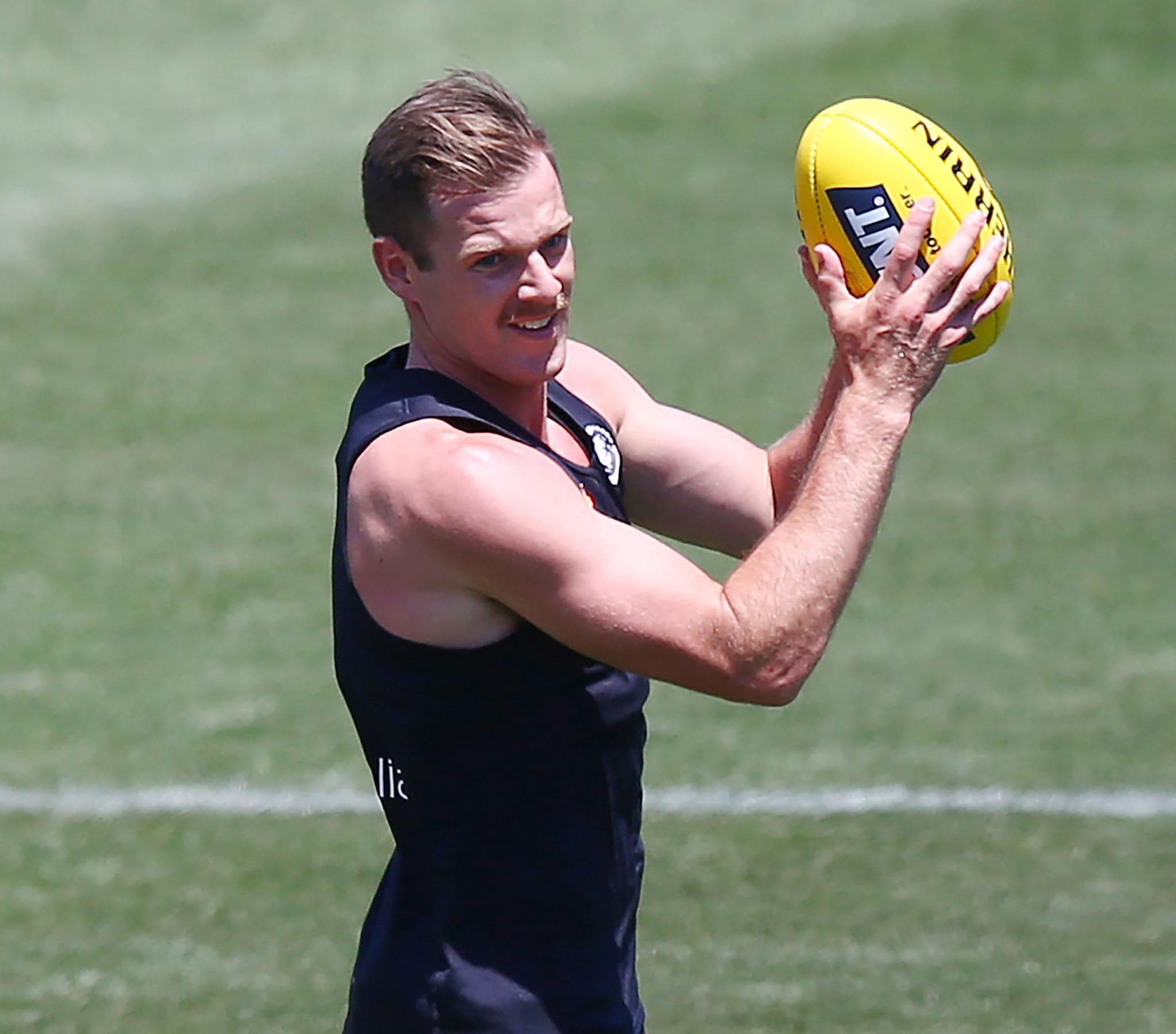 Read more
TOP 50 STORIES Check out 40-31
TOP 50 STORIES Check out 30-21
TOP 50 STORIES Check out 20-11