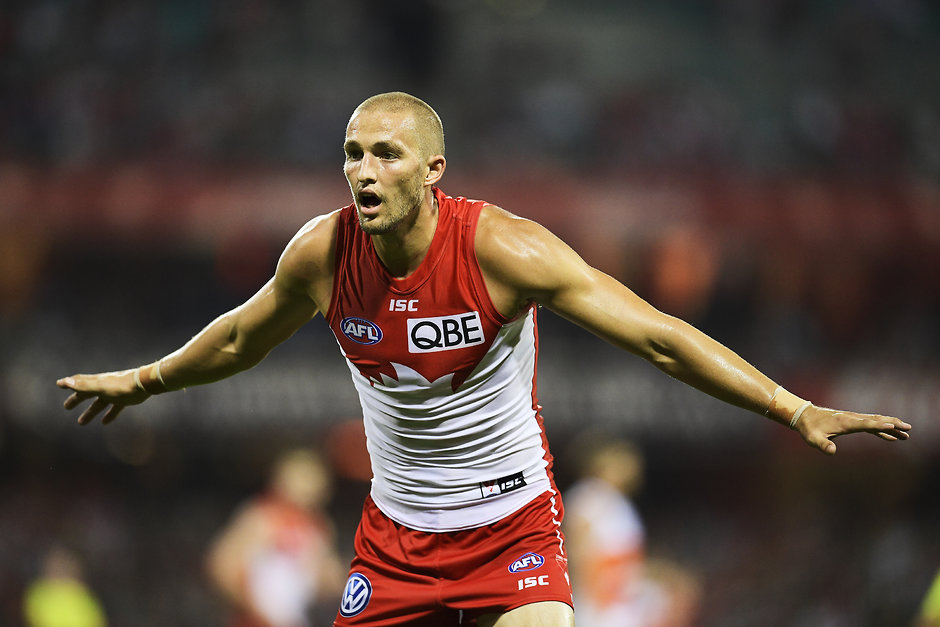 THERE'S a pattern of injury and recovery that suggests Sydney forward Sam Reid is set to bounce back from another nightmare year on the injury front – and this time he's confident his fitness issues are behind him.
Reid played just one senior game last year because of a serious quad injury, followed by problems with the calf and Achilles in his left leg.
The 27-year-old's absence was frustratingly similar to his 2016 season, when he failed to make an appearance because of recurring issues with his right Achilles.
In between those wasted years, the athletic big man kicked 30 goals from 22 games to show his importance to the Swans forward line.
FULL FIXTURE Every round, every game
Like he did two years ago, Reid had the plantaris tendon removed in 2018 to help his mobility, but he ran out of time to make it back onto the field.
Reid is aware of the question marks over his body heading into this season, but fresh off a sparkling training session on Friday, he told AFL.com.au he understands the doubters.
"Luke Parker calls it 'footy fartlek' because I have one season on, one season off," he said with a laugh.
My problem last year was pretty much the identical injury I had in 2016, just on the other side of my body.
"Amazing stuff I know, but there wasn't much I could do about it.
"I'm confident I can step back in this year and have a good impact.
"I've had a strong pre-season so far and touch wood hopefully that continues.
"I'm learning to listen to my body a lot more as I'm getting older and I'm a lot smarter about the extra work I have to do to make sure I stay strong.
"Hopefully the 'fartlek' is behind me now and I can put together a few good years in a row."
WHO MAKES FINALS? Do the 2019 Ladder Predictor
Reid could have been forgiven for dropping his head at times last season, especially when he broke down on several occasions just when he thought he was ready to get back onto the field.
"It's weird because I was always two or three weeks away for the majority of the year, so I could see the light, which kept me motivated," he said.
"But I'd get really close to getting back then I'd have to back off for another three weeks.
"It was frustrating, but I knew I was still a chance to play finals if I could get it right.
"I just ran out of time, which cost me."
Reid remains positive that in the coming season he can quickly regain the chemistry he had with superstar teammate Lance Franklin and form a new bond with off-season recruit Dan Menzel inside 50.
Despite the countless setbacks that robbed him of almost two entire seasons, the key forward said he carries no mental scars and can't wait for the new season to begin.
"I don't think about what's happened because we've got a pretty good grasp on what works for me," he said.
"The slow build is the best course of action and we just can't rush it.
"My body craves consistency and continual loads, so I can't jump into high intensity training straight away, I have to slowly work my way up to it."