What Tom Mitchell's 50 touches say about the Hawks
DEBATE on the value of Tom Mitchell's 50-disposal game does not diminish his performance against Collingwood on Saturday night at the MCG.
• Bucks, Clarko split on Mitchell's impact
It merely shines a light on the effectiveness of his teammates as Mitchell could not have done much more than he did on the night, becoming only the seventh man to crack the half-ton:
| Disposals | Player | Match | Percentage of team's disposals |
| --- | --- | --- | --- |
| 53 | Greg Williams | Sydney v St Kilda, 1989 | 17.6 |
| 53 | Gary Ablett | Gold Coast v Collingwood, 2012 | 14.6 |
| 52 | Barry Price | Collingwood v Fitzroy, 1971 | 14.4 |
| 51 | Scott Thompson | Adelaide v Gold Coast, 2011 | 11.7 |
| 50 | John Greening | Collingwood v Geelong, 1971 | 14.7 |
| 50 | Tony Shaw | Collingwood v Brisbane Bears, 1991 | 13.1 |
| 50 | Tom Mitchell | Hawthorn v Collingwood, 2017 | 13.4 |
Mitchell almost always handballs more than he kicks, and he followed that trend with his 28 handballs and 22 kicks, gaining a regulation 337 metres.
He also laid eight tackles and racked up 32 pressure acts – which has only been bettered 26 times.
Mitchell is not a metres-gained player (he is ranked 123rd for metres gained in 2017) but he puts teammates into space, playing his role to perfection as he leads the AFL for assisted metres gained.
The tale his game tells is the Hawks' over-reliance on too few midfielders in recent seasons.
Mitchell, who still holds the record for the most disposals in a state league or under 18 competition since 2006 after he racked up 64 touches in the NEAFL in 2014, has gathered 9.3 per cent of Hawthorn's disposals this season.
Tom Mitchell squeezes out one of his 28 handballs against the Pies. Picture: AFL Photos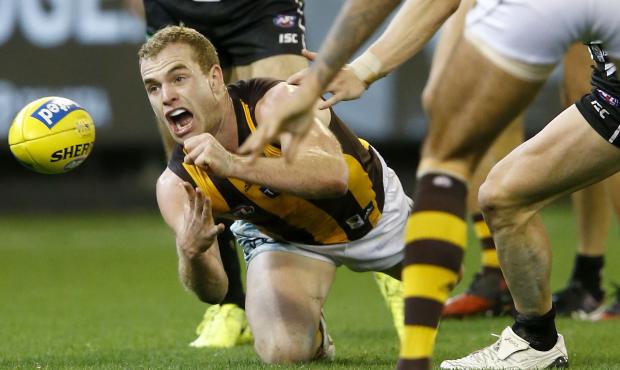 Last season it was Sam Mitchell and Jordan Lewis who did too much of the heavy lifting, gathering 16 per cent of the Hawks disposals, and there were occasions when Luke Hodge and Josh Gibson also had more than 40 touches.
That quartet could also give the ball to the damaging Brad Hill and Isaac Smith, whereas the 2017 Hawks minus Hill (and Grant Birchall through injury) lacks line-breaking run, hence Collingwood's unwillingness to sit on Mitchell.
When you examine the list of all-time top five disposal winners after nine rounds, all bar Nat Fyfe (who won the Brownlow that season) were in teams that finished in the bottom five rungs of the ladder.
Those players worked their butts off but couldn't get their team over the line because individual performances alone never do in football.
That simple principle was shown in round nine when North Melbourne defeated Melbourne despite having just three of the top 10 disposal winners on the ground.
Mitchell is a ball-getting genius, who would never have got 50 touches at the Sydney Swans because the load would have been shared.
That's the challenge for Will Langford, Liam Shiels, Jaeger O'Meara (when he returns), Luke Breust and Daniel Howe for the rest of 2017.
Help Mitchell out.
Two stats that show why the premiership is anyone's
There are only two games between first and 10th spot on the ladder. We've not seen such a close race since 2007, when ladder-leader West Coast had seven wins and the Bulldogs, placed 10th, had won five.
After nine rounds, 12 games have been decided by less than a goal. That's the most at this point of the season for 37 years. Way back in 1980, 14 games only had a kick in it at the finish.
Giants break Tiger hearts in record time
Not even Jamaican superstar Usain Bolt could have covered the ground faster than the Giants when they condemned Richmond to a third straight close defeat on Saturday.
At 12 seconds from start to finish, Jeremy Cameron's was the fastest coast-to-coast goal for the season.
It was also the equal-fastest goal from a kick-in since the stats was first kept in 1999.
The last team to suffer three consecutive losses by less than a goal, back in rounds 16-18 2012? Also Richmond.
Cats can't tackle? Think again
After they were accused in this space of not being able to tackle a problem last week, the Cats responded. And how.
In round eight's capitulation against Essendon, Geelong laid just 14 tackles to half time. By half time on Friday night they had 73, the third highest half time total since 1999.
They continued after the long break, scratching and clawing their Bulldog opponents to set a club record for tackles with 134.
The Bulldogs were pretty tough, too. They stuck 104 tackles, making the game's total tackle count the fourth highest in AFL history.
Holding the ball free kicks were 7-1 in the Cats' favour.
Run, Magpies, run
Ron Barassi's legendary instruction in the 1970 Grand Final was to "handball, handball, handball", but for Nathan Buckley's Pies in Saturday's second half it was "run, run, run".
Trailing by 34 points at half-time, the Magpies recorded their highest mark to play-on percentage in a quarter for the season.
They played on from 65 per cent of marks - the 10th highest percentage recorded for that statistic this season.

Want more?
• Read more from the Stats Files
• Who starred for your club in this weekend's state leagues?